State's trade-related job losses on the rise
Washington is among the hardest hit states for trade-related job losses in recent years
The following is from the Washington Fair Trade Coalition: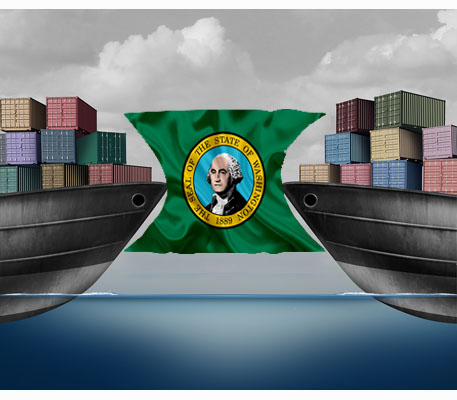 SEATTLE (Aug. 10, 2020) — Washington's trade-related job loss has increased over the last three years, according to a new analysis of U.S. Labor Department data conducted by the Washington Fair Trade Coalition Education Fund (WFTCEF). As such, Washington ranks among the hardest hit states in the country.
"The numbers don't lie. Things aren't getting better," said WFTCEF's Hillary Haden.  "Washington is hemorrhaging more and more jobs to offshoring week after week, with devastating effects on the state's working families, our communities and our economy."
Trade policy experts from WFTCEF compiled and reviewed data from the federal government's Trade Adjustment Assistance (TAA) program, which provides extended unemployment benefits to a subset of workers that the Department of Labor certifies as having lost their jobs either due to direct offshoring or displacement by imports.  The government data reveal:
●  Trade-related job loss is on the rise in Washington — Washington experienced a 133% increase in trade-related job losses over the last three years in comparison to the three years before that, with 10,323 job losses certified for TAA on petitions filed between 2017 and 2019 compared to 7,780 between 2014 and 2016. The state likewise suffered an uptick in trade-related job losses in 2019 over the year before.
●  Washington is among the hardest hit states in the country — Despite only being the thirteenth largest state by population, Washington experienced the ninth highest overall trade-related job loss numbers in the country from 2017–2019. When measured by population, Washington experienced the fifth highest trade-related job loss over that period. These rankings are worse than Washington's historically predictable position as the state with the 13th most TAA certifications in the country from 1994–2019.
●  All corners of the state have been affected —  Cities and towns with more than 100 TAA certifications over the last three years include: Arlington (436 certified job losses); Auburn (126 certified job losses); Bellingham (253 certified job losses); Camas (845 certified job losses); Everett (188 certified job losses); Kirkland (118 certified job losses); Longview (147 certified job losses); Metaline Falls (299 certified job losses); Moses Lake (175 certified job losses); Port Angeles (118 certified job losses); Redmond (176 certified job losses); Renton (160 certified job losses); Republic (165 certified job losses); Seattle (281 certified job losses); Spokane (310 certified job losses); Sumner (250 certified job losses); Sunnyside (300 certified job losses); Tukwila (5,275 certified job losses); and Vancouver (650 certified job losses).
Additional data from the U.S. Census Bureau also shows that the U.S. trade deficit in goods has been on the rise over the last three years, reaching over $852 billion in 2019. While Washington itself is one of the rare states in the country with a trade surplus in goods, it experienced a roughly 56% drop in its cumulative surplus in 2017, 2018 and 2019 compared to that of 2014, 2015 and 2016.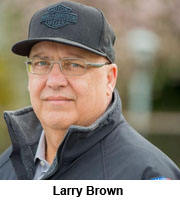 "Outsourced jobs have consequences for Washington communities — less income, cut-off benefits, and instability for the families directly affected — but the wider community is also often hurt," said Larry Brown, President of the Washington State Labor Council, AFL-CIO.  "When thousands of Washington's jobs are shipped overseas there is less tax revenue to invest in education, workforce training, and infrastructure. These investments are vital for our state to compete for good jobs in the future. Offshoring our state's jobs also reduces revenue for other vital public services and for health care. There's less money remaining for people to spend at local businesses, and there's also a very real downward pressure on the wages and benefits of the jobs that are left."
"The last three years of trade policies that were supposed to put 'America First' actually continued putting corporations first. If we're going to stop bleeding jobs in Washington, the administration needs to stop advancing bad policies that actively encouraging outsourcing — like the 2017 tax bill that gave a better tax rate to companies that offshore production or January's China trade deal that created new safeguards for companies that move jobs overseas," said Greg Pallesen, President of the Association of Western Pulp and Paper Workers.
"If we want corporations to stop sending our jobs around the globe to wherever workers are most exploited and regulations are the weakest, we need to negotiate trade deals that require enforcement of labor and environmental provisions, and raise wages and living standards," said Jackie Boschok, a retired Machinist from IAM 751.
The TAA data used for this analysis is particularly reliable as it provides a hard count of actual jobs lost at actual worksites, rather than relying on the economic modeling found in most government, academic and industry group reports about job effects of U.S. trade policy. That said, the TAA certification numbers included here fall far short of the true number of jobs in Washington lost due to trade — both because the TAA program has never covered all categories of work adversely affected by trade and because worksites where no one actively applies for TAA are not captured in the dataset.
A full copy of the WFTCEF analysis is online here.
---
Recent TAA Certifications in Washington
COMPANY NAME
CITY
PETITION
DATE
JOB
LOSSES
Grays Harbor Community Hospital
Aberdeen
26-Feb-18
27
McFarland Cascade Holdings, Inc.
Arlington
15-Feb-17
22
Senior Aerospace AMT
Arlington
6-Mar-20
414
Zones, Inc.
Auburn
21-Feb-18
120
Loud Audio, LLC
Auburn
16-Oct-18
6
Valente Global
Bellevue
18-Dec-18
10
Lionbridge Technologies, Inc.
Bellevue
16-Feb-17
32
Healthcare Management Administrators, Inc.
Bellevue
18-Sep-18
15
Lumedx Inc.
Bellevue
7-May-19
22
Smartfocus US Inc.
Bellevue
12-Jun-19
6
Zodiac Aerospace
Bellingham
3-Jul-17
253
Georgia-Pacific Consumer Operations LLC
Camas
8-Mar-18
419
Sharp Laboratories of America, Inc.
Camas
6-Apr-17
143
Sharp Electronics Corporation
Camas
17-Aug-17
60
Karcher North America
Camas
20-Aug-19
223
Hearth and Home Technologies
Colville
28-Sep-17
85
Jamco America, Inc.
Everett
19-Apr-17
163
M.Torres America, Inc.
Everett
5-Dec-17
25
E. Roko Distributions, Inc.
Kent
4-Oct-19
23
Lowe's Home Centers, LLC
Kirkland
22-Mar-19
118
Itron Inc.
Liberty Lake
16-Apr-18
12
North Pacific Paper Company, LLC
Longview
2-Oct-17
147
Boyd Coffee Company
Lynnwood
27-Oct-17
5
Honeywell International Inc.
Lynnwood
3-Jul-18
15
Teck Washington Incorporated
Metaline Falls
29-May-19
299
Joyson Safety Systems
Moses Lake
2-May-18
61
REC Solar Grade Silicon LLC
Moses Lake
7-Sep-18
114
Stampede Forest Products, Inc.
Omak
8-Mar-17
35
Nippon Paper Industries USA Co. Ltd
Port Angeles
9-Mar-17
118
Wyndham Vacation Ownership, Inc.
Redmond
14-Nov-19
176
Providence Health & Services-Washington
Renton
18-Jul-19
141
Kaiser Foundation Health Plan of Washington
Renton
4-Feb-20
19
Echo Bay Minerals Company
Republic
24-Oct-17
97
Alaska Aggregate and Aspect Consulting
Republic
24-Oct-17
10
Echo Bay Minerals Company
Republic
19-Nov-19
45
HR Advantages LLC, Republic Security
Republic
19-Nov-19
13
McFarland Cascade Holdings, Inc.
Rochester
15-Feb-17
23
GM Nameplate, Inc.
Seattle
13-Sep-17
22
The Seattle Times
Seattle
16-Feb-17
3
International Business Machines (IBM)
Seattle
25-Sep-17
9
Avanade Inc.
Seattle
13-Dec-17
3
CellNetix
Seattle
12-Feb-18
65
Aviation Partners Boeing Inc.
Seattle
26-Mar-18
31
Star Forge LLC
Seattle
10-May-18
110
Filson Manufacturing
Seattle
6-Aug-19
39
McFarland Cascade Holdings, Inc.
Shelton
15-Feb-17
8
Boyd Coffee Company
Spokane
27-Oct-17
3
Triumph Composite Systems, Inc.
Spokane
23-Jan-17
138
Lincare Inc.
Spokane
13-Sep-17
6
Allianz Global Corporate & Specialty
Spokane
11-Apr-18
9
Web.com Group, Inc.
Spokane
8-May-19
79
Triumph Composites Systems, Inc.
Spokane
5-Sep-19
75
Ciena Corporation
Spokane Valley
10-Sep-18
28
Kellogg Sales Company
Sumner
5-Dec-17
250
Seneca Foods LLC
Sunnyside
9-Aug-19
300
TrueBlue, Inc. and StaffManagement, Inc.
Tacoma
6-Nov-17
46
KeyBank NA
Tacoma
11-Jul-18
1
The Boeing Company
Tukwila
19-May-17
5,275
Columbia River Logistics
Vancouver
17-May-18
467
Windstream Services, LLC
Vancouver
4-Oct-17
31
Sunlight Supply Inc.
Vancouver
6-Dec-17
47
Sigma Design, Inc.
Vancouver
4-Feb-19
50
HP Inc.
Vancouver
27-Jun-19
52
Workers of Insight Global, Inc.,
Accion Labs Inc., Adea Solutions, etc.
Vancouver
27-Jun-19
3
Loud Audio, LLC
Woodinville
16-Oct-18
93
Source: "Petitions and Determination Data," U.S. Department of Labor, Employment and Training Administration, Office of Trade Adjustment Assistance (OTAA). https://www.dol.gov/agencies/eta/tradeact/data/petitions-determinations
Short URL: https://www.thestand.org/?p=90721
Posted by
David Groves
on Aug 10 2020. Filed under
STATE GOVERNMENT
. You can follow any responses to this entry through the
RSS 2.0
. Both comments and pings are currently closed.