WSLC seeking Director of Racial and Gender Justice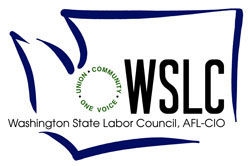 SEATTLE (Aug. 12, 2020) — The Washington State Labor Council (WSLC), AFL-CIO, the largest union organization in the State of Washington, is seeking to hire a Director of Racial and Gender Justice as a full-time, permanent staff position.
The Director of Racial and Gender Justice will be responsible for implementing the internal and external racial and gender justice programs and campaigns as outlined by WSLC Convention Resolutions. This position will also adhere to the mission and constitution of the Council, which states, "We shall combat resolutely the forces that seek to undermine the democratic institutions of our nation and to enslave the human soul. We shall strive always to win full respect for the dignity of the human individual whom our unions serve."
THE ROLE
The Director of Racial and Gender Justice will:
► Review, develop programs and meet the goals of WSLC Convention Resolutions on Race in 2015, 2017, and 2019, ending gender-based violence and gender discrimination, in fighting for reproductive justice and respect for all working people as well as defending our immigrant siblings and friends in the movement and our communities.
► Provide technical assistance to all affiliates of the WSLC who seek to develop racial and gender justice programs within their unions.
► Staff Committees and focus on achieving the goals of respective committees and affiliate participation.
► Provide resources (or direction in order to obtain resources) that WSLC affiliates can access regarding racial and gender justice programs.
► Coordinate and/or conduct educational programs for the WSLC and, upon request, for central labor councils and affiliates of the WSLC.
► Engage in outreach to community-based organizations that are committed to social justice who wish to engage the WSLC in campaigns, legislative efforts, etc., in the interest of racial and gender justice.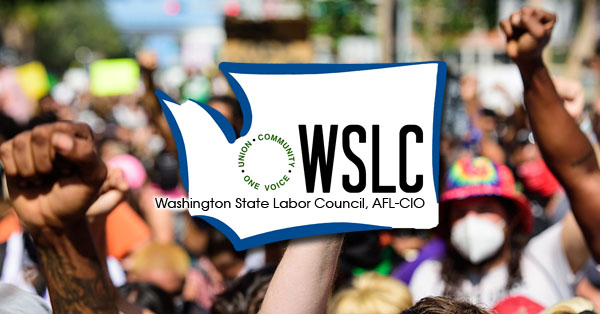 BACKGROUND
Delegates at the 2015 WSLC Convention passed a resolution to examine and address Race & Labor in Washington state. As a movement, we witnessed the murders of Sandra Bland, Michael Brown, a bible study group in South Carolina (Cynthia Marie Graham Hurd, Susie Jackson, Ethel Lee, Depayne Middleton-Doctor, Clementa C. Pinckney, Tywanza Sanders, Daniel Simmons, Sharonda Coleman-Singleton, and Myra Thompson), as well as local Black and Brown people, too many to name. We also witnessed the creation of the #BlackLivesMatter movement, and the rising leadership of young people, women, and LGBTQ+ leaders here is the Northwest and around the world. The 2015 resolution is a call to action for the Labor Movement to look within ourselves, to address our shared history of racism share a collective journey towards freedom. A Race & Labor task force was created, assembled by the President and Secretary-Treasurer of the WSLC, who developed a training that was shared across the state. Much work remains with regard to conducting trainings and building the capacity of the WSLC's affiliates to conduct their respective racial justice programs. Work remains, also, with regard to evaluating what has been accomplished.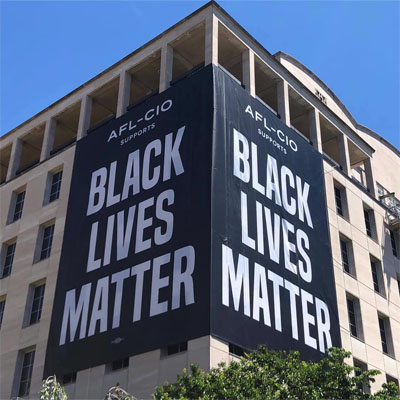 Fast forward to 2020, this moment calls on us to be clear and focused in our racial and gender equity work. Organized labor faces unprecedented, orchestrated, and frequent attacks from billionaires and bosses that seek to break the power of working people's solidarity. We continue to witness the murder of more Black and Brown people, Black Trans siblings and young people: George Floyd, Ahmaud Arbery, Breonna Taylor, Monika Diamond, too many to name. All while battling the disproportionate impacts of COVID-19 on communities of color, people are taking to the streets and to the workplace. Working people are confronting a hostile economic environment, attacks on our dignity, and existential threats to our jobs and our communities. Our sisters, brothers, and siblings face these challenges against the backdrop of racism in our systems and in our movement.
The Director of Racial and Gender Justice for the WSLC will be a mediator for the labor movement. They will be educating but they will also be flagging problems, including problems within the movement as well as between organized labor and other social movements. The Director of Racial and Gender Justice will do this work in conjunction with a team of representatives from affiliates of the WSLC who will help in the design and implementation of further education programs; delivering appropriate programs; highlighting challenges facing organized labor; and assisting in outreach to other social movements. To truly be responsive to our affiliates' directives, and the moment we are in, we must support the whole working person, fighting threats to the livelihood and well-being of working people on and off the job.
The Director of Racial and Gender Justice position will lead the work in these critical areas, assist our affiliates who are looking to implement equity programs, and allow us to fulfill the constitutional call to "fight the forces that seek to enslave the human soul." We honor those who came before us, resilient ancestors who endured generations of oppression, and youth leadership to help envision a new future that includes healing and justice for all.
REQUIREMENTS
The requirements for this position include:
●  Extensive knowledge and experience in the trade union movement (at least five (5) years), preferably in leadership and/or staff position.
●  Excellent communication skills
●  Demonstrated ability to develop and facilitate basic training and education modules
●  Demonstrated ability to work in coalitions
●  Demonstrated ability to develop and successfully organize campaign teams, with a focus on union member and worker leadership development
●  Critical thinking and the demonstrated understanding of Intersectionality (as defined by Kimberlé Williams Crenshaw) and other anti-racist, pro-equity models
●  Available to travel, primarily within Washington state
●  Flexible schedule: ability to work long hours, evenings and weekends while also balancing a sustainable work schedule
Black, Indigenous, people of color, immigrant, womxn, LGBTQ+ and people with multilingual skills are strongly encouraged to apply. WSLC is an equal opportunity employer. We offer an excellent wage and benefit package including medical and pension benefits under the OPEIU 8 staff union agreement.
HOW TO APPLY
Send your resume and cover letter to Willa Kamakahi at wkamakahi@wslc.org or mail them to:
Washington State Labor Council, AFL-CIO
321 16th Ave. S.
Seattle, WA  98144
The deadline to apply for this position is Aug. 26 and the start date for this position is as soon as possible.
Short URL: https://www.thestand.org/?p=90795
Posted by
David Groves
on Aug 12 2020. Filed under
W.S.L.C.
. You can follow any responses to this entry through the
RSS 2.0
. Both comments and pings are currently closed.