State's labor movement convenes this week
AFL-CIO's Liz Shuler to deliver keynote as WSLC Convention begins Wednesday. But pre-convention workshops begin Tuesday night.

(Sept. 22, 2020) — The Washington State Labor Council, AFL-CIO will be conducting its 2020 Constitutional Convention via the Zoom video conference starting Wednesday, but the action begins Tuesday night with pre-convention workshops.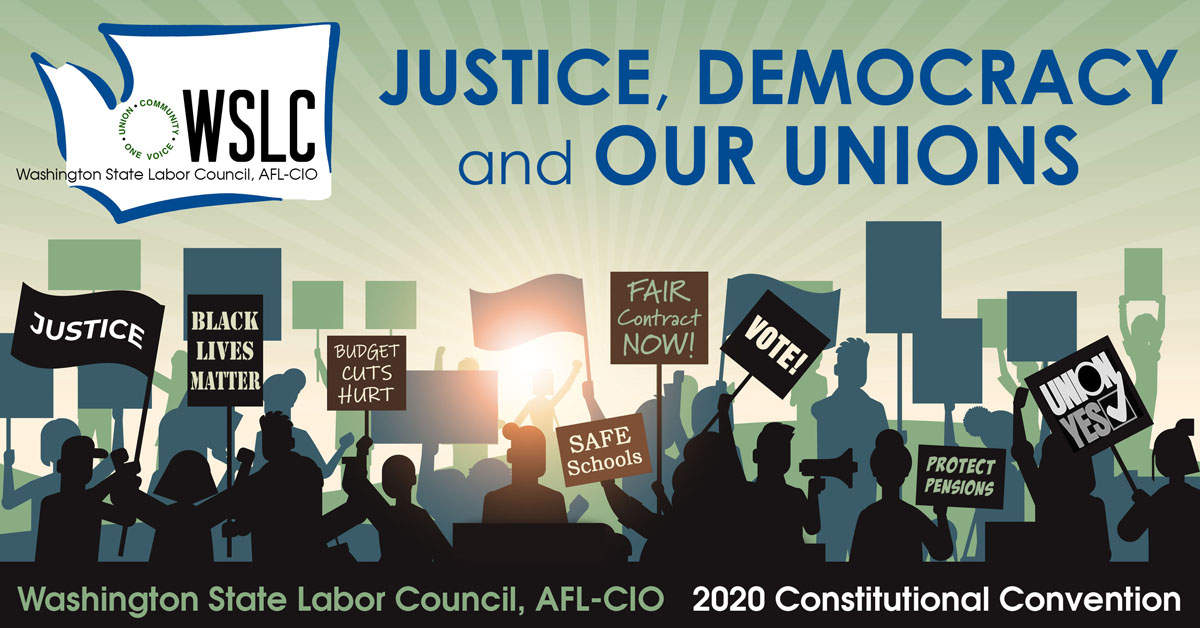 The theme of this year's convention will be "Justice, Democracy and Our Unions." It will feature distinguished speakers, including AFL-CIO Secretary-Treasurer Liz Shuler, and breakout workshops on racial and economic justice amid the pandemic, and how we can transform our unions to meet those challenges. It will also address the importance of the 2020 elections in achieving that justice.
Check the convention webpage for details, but here are some highlights from the convention agenda:
TUESDAY — A round of pre-convention workshops begin tonight (Tuesday) from 5:30 to 7 p.m. Click the title to register and get the Zoom meeting link.
WEDNESDAY — WSLC President Larry Brown will convene the 2020 WSLC Constitutional Convention at 5 p.m. on Wednesday, Sept. 23.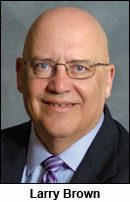 "This is a critical time for working families in our state and the nation," said WSLC President Larry Brown. "Many of us are feeling angry, frustrated, grief stricken, and anxious in this moment. It can be overwhelming and leave us feeling isolated and powerless. But we can use these emotions as bricks — material we use to build a better labor movement that demands racial and economic justice for all. This convention is an opportunity to turn the rage, sadness, and anxiety we share into a collective voice that cannot be silenced.
After his opening address on Wednesday, Brown will introduce the keynote speaker, AFL-CIO Secretary Treasurer Liz Shuler.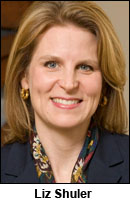 As a graduate of the University of Oregon with a degree in journalism, Liz Shuler, like many young people today, pieced together part-time jobs, lived at home and struggled to find decent work in the early 1990s. Experiencing uncertainty in the economy made her realize that every job is an opportunity to stand up for the underdog. Today, as secretary-treasurer of the AFL-CIO, the second-highest position in the labor movement, Shuler serves as the chief financial officer of the federation and oversees operations. Shuler is the first woman elected as the federation's secretary-treasurer, holding office since 2009. She is also a former WSLC convention delegate, having represented Portland-based IBEW Local 125, where she worked as a union representative.
Following a panel on "COVID-19 and the Economy," Wednesday's plenary session will end and there will be a second round of workshops from 6:45 to 8 p.m. See the convention web page for subjects and details.
THURSDAY — The convention will reconvene on Thursday at 5 p.m. and will feature Governor Jay Inslee, WSLC Secretary Treasurer April Sims, and a panel on "The Work of the WSLC," followed by a final round of workshops from 6:45 to 8 p.m.
FRIDAY — This is the day that delegates get down to business. The conventions reconvenes at 9 a.m. and delegates will consider making additional endorsements to supplement its 2020 Election Endorsements to date. A two-thirds majority vote is necessary for endorsement. Participants in the WSLC political endorsement (COPE) conventions held earlier this year will be familiar with the format and procedures of this interactive virtual convention.
Then delegates will consider, debate and vote upon the resolutions that are a key part not just of the WSLC Convention, but of the organization itself. It is through the debate and passage of these resolutions that WSLC positions and policies are established. (See the resolutions approved in 2019 for examples.)
The convention will conclude after action on resolutions is complete.
If you are a delegate attending the convention, make sure you visit this webpage in advance  where you'll find training information on using Zoom and the WSLC's rules and order or business, committee meetings and assignments, workshop descriptions and registration links, reports, forms, and everything else you'll need to participate.
If you have questions about registration and credentials, email Willa Kamakahi. If you need technical assistance, email Richard Cox.
The Entire Staff of The Stand will see you there!
Short URL: https://www.thestand.org/?p=91899
Posted by
David Groves
on Sep 22 2020. Filed under
W.S.L.C.
. You can follow any responses to this entry through the
RSS 2.0
. Both comments and pings are currently closed.