COVID surge ● Voting surge ● Amazon injury surge ● Devo's got a surge
Wednesday, October 21, 2020
---
COVID-19
► LIVE from the Seattle Times — Coronavirus daily news update, Oct. 21 — The latest count of COVID-19 cases in Washington totals 99,150 infections (7-day average of new infections per day: 606) and 2,282 deaths (7-day average of deaths per day: 8)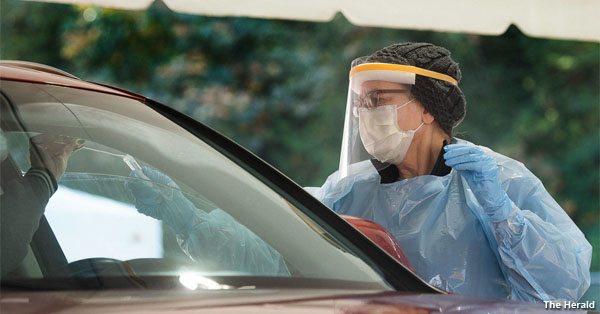 ► From the (Everett) Herald — Local leaders sound the alarm over the surge in COVID cases — Snohomish County's third wave of COVID cases, which started in September, is already worse than the previous spike of virus activity during the summer.
► From the Olympian — State changes COVID-19 higher ed rules in response to campus outbreaks — The governor's proclamation in June said universities, colleges, technical schools and apprenticeship programs could resume in-person classes Aug. 1 as long as they followed certain requirements. Inslee said the changes: "will require masks at all times in living areas on campus, except outside or in sleeping areas."
► From the Oregonian — Oregon now requires employers to provide masks to workers — New guidance from the Oregon Health Authority released Monday requires businesses owners with indoor and outdoor spaces open to the public and employers with public or private workplaces to make free masks, face coverings or face shields available to employees.
► From the Wenatchee World — Chelan schools change course after staff member tests positive for COVID
► From the Tri-City Herald — Rising spread of COVID in Tri-Cities linked to social gatherings without face coverings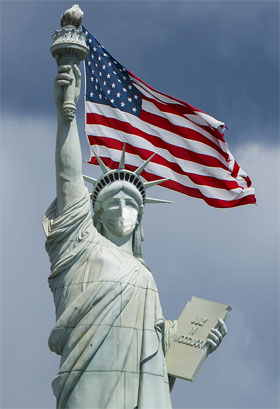 ► From the NY Times — 'It has hit us with a vengeance': Virus surges again across the United States — As the coronavirus races across the country, it has reached every corner of a nursing home in Kansas, infecting all 62 residents inside. There are so few hospital beds available in North Dakota that patients sick with the virus are being ferried by ambulance to facilities 100 miles away. And in Ohio, more people are hospitalized with the virus than at any other time during the pandemic. After weeks of warnings that cases were again on the rise, a third surge of coronavirus infection has firmly taken hold in the United States. The nation is averaging 59,000 new cases a day, the most since the beginning of August, and the country is on pace to record the most new daily cases of the entire pandemic in the coming days. Colorado, Illinois, Kentucky, Michigan, Montana, New Mexico, North Dakota, Ohio, South Dakota, Utah, Wisconsin and Wyoming each set seven-day case records on Tuesday.
► From MarketWatch — 'I wish there were more and better protections': Do you feel unsafe going to work because of COVID-19? Here are your options — Workers who fear for their on-the-job safety due to preexisting health conditions could have the right to reasonable accommodations under federal disability law. But people whose employers simply aren't providing safe working conditions might have to take matters into their own hands, some experts say.
EDITOR'S NOTE — Learn more at the WSLC COVID-19 Resources for Workers. If you are interested in "taking matters into your own hands," get more information about how you can join together with co-workers and negotiate for better working conditions. Or go ahead and contact a union organizer today!
► From The Hill — As frontline workers contract COVID-19, we're not doing enough to protect the traveling public (by Sen. Richard Blumenthal, Rep. Jesus "Chuy" Garcia (D-Ill.), and Larry Willis) — Requiring passengers on transportation systems to wear masks is the bare minimum this administration could do. As Trump receives world-class treatment unavailable to working class families, his administration continues to refuse frontline workers this basic protection. It is unconscionable, but regrettably not surprising.
---
ELECTION



► From the AP — More than 17% of Washington voters have returned ballots — Voters in Washington state are returning their ballots much earlier than in previous years, with 17.6% of the state's more than 4.8 million voters already having cast their votes two weeks before Election Day.
MORE voter turnout reports from the (Everett) Herald, Kitsap Sun, Peninsula Daily News, Seattle Times, Skagit Valley Herald, and the (Vancouver) Columbian.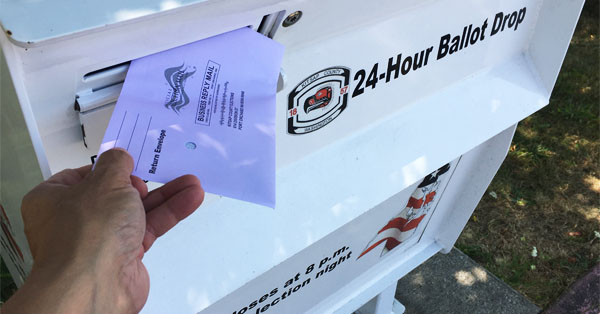 EDITOR'S NOTE — Have you voted yet? DON'T WAIT… DO IT TODAY!
► From Crosscut — Election fact check: WA, OR ballots can't be 'cancelled' online — The states' online portals won't invalidate your original paper ballot — even if malicious actors try to do so from afar.
► From the Seattle Times — How to tell if your ballot's been counted
► From the News Tribune — Vote by mail has increased minority participation in Washington but other hurdles remain — People of color vote more often in Washington than they did 15 years ago when most counties switched to vote by mail. Still, hurdles to registration and voting that seldom plague white people remain persistent in some communities of color, including language barriers, lack of community outreach, distrust of government, and a lack of confidence in the voting process.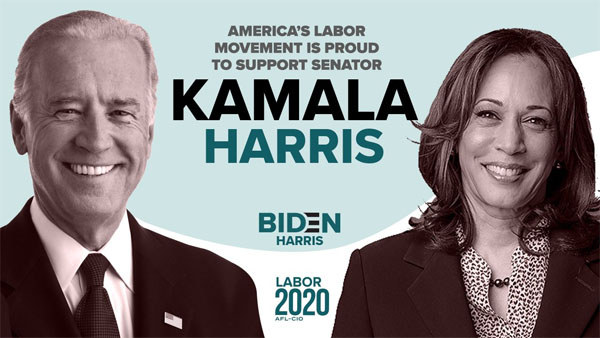 ► From The Hill — To restore trust, fight pandemic, American government needs new leadership (by AFGE President Everett Kelley) — I want to assure my fellow citizens that what's missing from our government right now isn't skill and expertise in the ranks. It's not know-how and can-do spirit. We have a federal government that mirrors our country — full of proud Americans ready to overcome the biggest challenges of this generation and the next. We can tackle this pandemic and beat it, together. The only thing that's missing is leadership. This pandemic has shown us all the importance of leadership — of having a government we can rely on, that's led by people we can trust, who will give us the facts and tell us the truth so we can make informed decisions in our own lives. This president hasn't lived up to that obligation, but Joe Biden will.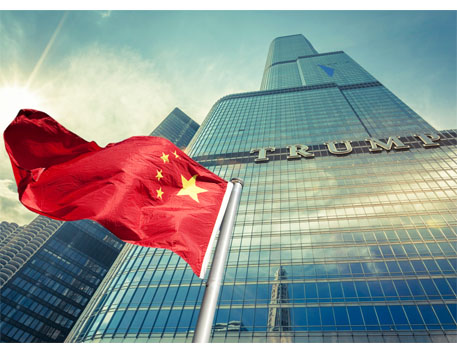 ► From the NY Times — Trump records shed new light on Chinese business pursuits — Trump and his allies have tried to paint the Democratic nominee, Joseph R. Biden Jr., as soft on China, in part by pointing to his son's business dealings there. But Trump's own business history is filled with overseas financial deals, and some have involved the Chinese state. He spent a decade unsuccessfully pursuing projects in China, operating an office there during his first run for president and forging a partnership with a major government-controlled company. And it turns out that China is one of only three foreign nations — the others are Britain and Ireland — where Trump maintains a bank account. The foreign accounts do not show up on Trump's public financial disclosures, where he must list personal assets, because they are held under corporate names. The Chinese account is controlled by Trump International Hotels Management L.L.C., which the tax records show paid $188,561 in taxes in China while pursuing licensing deals there from 2013 to 2015.
EDITOR'S NOTE — Remember when we had presidents that didn't have secret bank accounts in China? Also, Trump paid just $750 in U.S. income tax both 2016 and 2017.
► From The Hill — Threatening emails sent to Democratic voters in multiple states — Voters in Pennsylvania, Arizona, Alaska and Florida all said they received threatening emails purporting to be from the "Proud Boys" warning them to vote for Trump in the upcoming election, adding that the mysterious sender claimed to have access to voter history and "will come after you" should they fail to vote for the president.
EDITOR'S NOTE — Ballot secrecy is guaranteed by law in all 50 states.
► From The Hill — Court rejects GOP effort to block absentee ballot agreement in North Carolina — A federal appeals court on Tuesday upheld North Carolina's plan for counting absentee ballots that arrive after Election Day, in a loss for Trump's campaign.
---
THIS WASHINGTON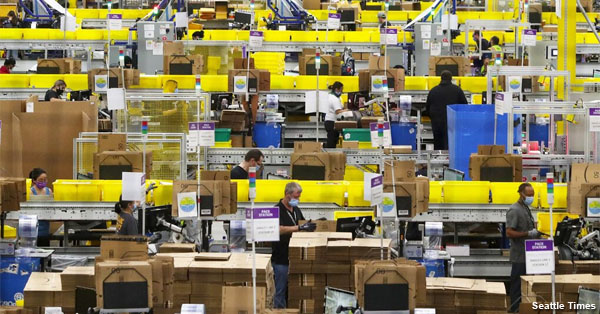 ► From the Seattle Times — Amazon's warehouses have more costly workplace injury claims than meatpacking or logging, Washington state says — To reflect the greater risk of injury to workers inside Amazon's warehouses, state officials propose charging the commerce giant a higher workers' compensation premium for its fulfillment centers than for mechanized logging operations, law enforcement agencies, meatpacking plants and more than 260 other Washington industries. Public hearings are scheduled next week on the proposal, which follows several years of steadily increasing workers' comp claims from injured fulfillment center workers. The plan would effectively put Amazon's flagship logistics operations in their own classification, while other warehouse operations with lower average claims would see their workers' comp premiums sharply reduced.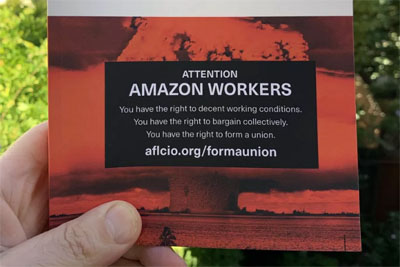 Brenda Wiest of Teamsters 117, which represents 18,000 workers in King and Pierce counties, including many in warehouses, said the higher rate of workers' comp claims from Amazon is "indicative of the kind of work that happens inside the fast-paced fulfillment center model." She pointed to high rates of turnover — more than double that of the transportation and warehousing industry as a whole — and "no real check to the power of the employer … no way to hold the employer accountable to make change."
EDITOR'S NOTE — Amazon workers: You can hold your employer accountable to protect your safety. Find out how you can join together with co-workers and negotiate for safer working conditions — and better wages. Contact a union organizer today!
---
AEROSPACE
► From the (Everett) Herald — A Boeing executive delivers good and bad news for Everett — Boeing's cost-cutting measures could put Everett in the running to be the new headquarters for the company's commercial airplane division, Boeing's Bill McSherry confirmed on Tuesday. But all the cost-cutting measures in the world can't revive Boeing's commercial airline order book.
---
LOCAL
► From the Spokesman-Review — After delay, Spokane city leaders plan police reform talks — More than four months will have elapsed since Mayor Nadine Woodward and City Council President Breean Beggs separately introduced police reform proposals, and nearly three months since the two leaders outlined tenets for a community-centered conversation about police reform. Still, the Spokane City Council has yet to vote on a single piece of police reform legislation. Now, city leaders say they are poised to embark on a collaborative process that they believe could lead to substantive – and lasting – change in the Spokane Police Department.
► From the News Tribune — Glimmer of improvement appears in latest Tacoma and Seattle port cargo statistics — The ports in September had their best month so far this year with the highest monthly container volume since October 2019.
---
THAT WASHINGTON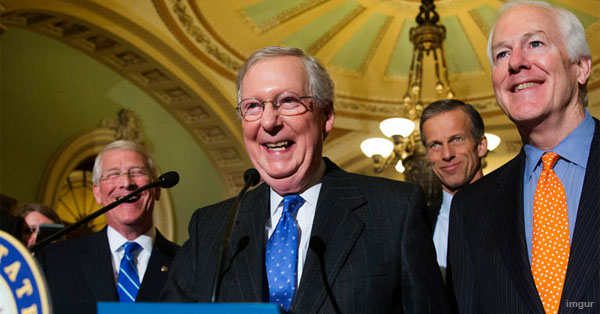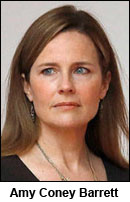 ► From the NY Times — McConnell moves to head off stimulus deal as Pelosi reports progress — Sen. Mitch McConnell (R-Ky.), the majority leader, privately told Republican senators on Tuesday that he had warned the White House not to strike a pre-election deal with Speaker Nancy Pelosi on a new round of stimulus, moving to head off an agreement that Trump has demanded but most in his party oppose. With coronavirus cases continuing to rise across the country and tens of millions of American families and businesses going without critical federal benefits they relied on for much of the year, economists and the chair of the Federal Reserve have said now is the time for a substantial infusion of federal money to fuel a still-shaky economic recovery. A majority of voters agree, saying they would support a $2 trillion stimulus package… Above all, Republicans fretted that a vote on such a package could interfere with their hasty timetable for confirming Judge Amy Coney Barrett to the Supreme Court by early next week.
► From NBC News — Lawyers say they can't find the parents of 545 migrant children separated by Trump administration — About two-thirds of the 1,000-plus parents separated from their kids under a 2017 pilot program were deported before a federal judge ordered that they be found.
---
NATIONAL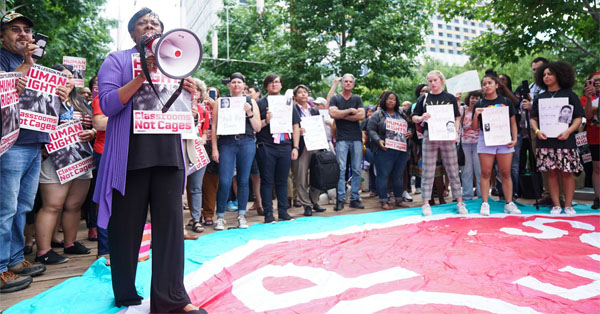 ► From Politico — New teachers union boss leader fighting Trump, school reopening battles — As newly elected president of the 3 million-member National Education Association, the nation's largest union, Betty Pringle, 65, is now the highest-ranking Black female labor leader in the country. Only two other Black women have held the job before her, in the late 1960s and 1980s. Personal experience drives her work leading a national rebellion against Trump's education policies and systems, which she says continue to marginalize students of color.
► From the Seattle Times — Most home health aides 'can't afford not to work' — even when lacking PPE — During the pandemic, home health aides have buttressed the U.S. health care system by keeping the most vulnerable patients — seniors, the disabled, the infirm — out of hospitals. Yet even as they've put themselves at risk, this workforce of 2.3 million — of whom 9 in 10 are women, nearly two-thirds are minorities and almost one-third are foreign-born — has largely been overlooked.
---
T.G.I.W.
► "Got an urge, got a surge and it's outta control. Got an urge I want to purge 'cause I'm losing control." Great lyric. Also, "Yeah, yeah, yeah, yeah, yeah, yeah, yeah, yeah, yeah, yeah, yeah!"
The Entire Staff of The Stand is off until next Tuesday, so this will be the final news posting of the week. Yeah, yeah, yeah, yeah, yeah, yeah, yeah, yeah, yeah, yeah, yeah!
---
The Stand posts links to Washington state and national news of interest every weekday morning by 10 a.m.
WASHINGTON IS A UNION STATE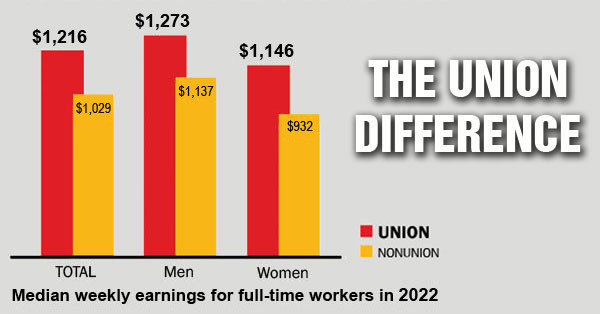 CHECK OUT THE UNION DIFFERENCE in Washington state: higher wages, affordable health and dental care, job and retirement security.
FIND OUT HOW TO JOIN TOGETHER with your co-workers to negotiate for better working conditions and respect on the job. Or go ahead and contact a union organizer today!