A source of strength ● Working to Live ● Tomorrow is a new day
Tuesday, January 19, 2021
---
COVID-19
► LIVE from the Seattle Times — Coronavirus daily news update, Jan. 19 — The latest count of COVID-19 cases in Washington totals 289,939 infections (7-day average of new infections per day: 2,573) and 3,903 deaths (7-day average of deaths per day: 12)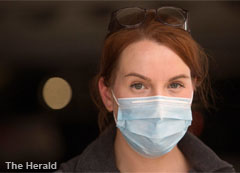 ► From the (Everett) Herald — For Providence ICU nurse, 2020 was a year of isolation — Last year was a lonely one for intensive care unit nurse Sara Gering. She spent her 12-hour shifts at Providence Regional Medical Center Everett trying to comfort patients' family members on the worst days of their lives. And when she finally returned to her home in Mount Vernon after those grueling days, the residual anguish felt too heavy to unload on her own loved ones.
► From Grocery Dive — Biden calls on grocers to give workers retroactive hazard pay — President-elect Joe Biden is pushing food retailers to provide their workers with back hazard pay as part of a $1.9 trillion economic stimulus plan the incoming administration released Thursday and wants Congress to swiftly approve.
The Stand (Jan. 14) — Hazard Work = Hazard Pay: UFCW 367 day of action
► LIVE from the NY Times — Biden moves to take charge as U.S. deaths near 400,000 — President-elect Joseph R. Biden Jr. will attend a virus memorial event on the eve of his inauguration, and his team said he would revoke a Trump order loosening travel restrictions before it takes effect.
► From the NY Times — Pandemic teacher shortages imperil in-person schooling — The nation's schools need thousands of more teachers, full-time and substitute, to keep classrooms open during coronavirus outbreaks.
---
LOCAL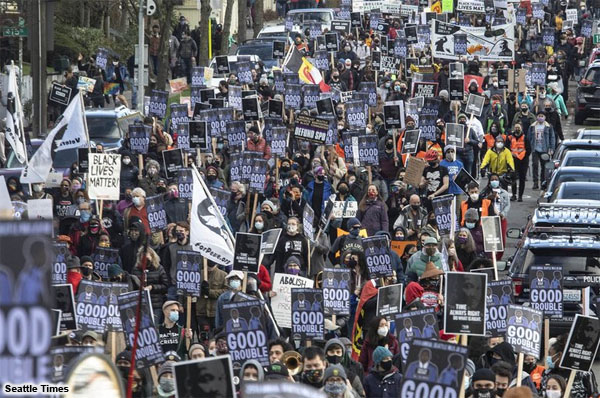 ► From the Seattle Times — Amid a swarm of strife, a source of strength at annual Seattle MLK Day march — A multigenerational crowd of hundreds marched to downtown Seattle from Garfield High School on Monday to honor the legacy of Martin Luther King Jr. — and amid a rising swarm of strife, to exhale, gather the strength of community and fortify themselves for what many acknowledged will likely be another year of struggle against racist institutions. The 39th annual rally and march, coordinated by the Seattle Martin Luther King Jr. Organizing Coalition, took place against a backdrop of a rising death toll from a pandemic that has disproportionately sickened Black and brown people, scant progress on police reform despite a summer of thunderous protest and mounting threats from white supremacist and alt-right groups in the days before President-elect Joe Biden's inauguration.
► From the Yakima H-R — Caravans, virtual celebrations replace MLK marches and gatherings across the Yakima Valley
---
BOEING
► From the AP — Canada OKs return of Boeing 737 MAX aircraft — The Boeing 737 MAX can return to Canadian airspace beginning Wednesday, officials said, concluding nearly two years of government review after the aircraft was involved in two deadly crashes that saw the planes grounded worldwide.
► From the AP — European aviation agency: 737 MAX to be cleared next week
---
THIS WASHINGTON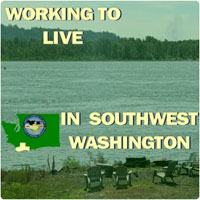 ► From the Working to Live podcast — Sharing your views with your government (the RIGHT way) with special guests Monica Stonier and Annette Cleveland — With the legislative session now under way, Washington has a lot of very important issues to be dealt with during this session, and it's crucial that working people engage with their legislators. But between increased security and legislators' absence from the state Capitol in Olympia, how are they supposed to do that? In the Southwest Washington CLC's latest Working to Live podcast, Shannon and Harold dig into these issues with state Rep. Monica Stonier (D-Vancouver) and Sen. Annette Cleveland (D-Vancouver). Also, WSLC Government Affairs Director Joe Kendo joins them to talk about the issues the WSLC is prioritizing for working people in the Evergreen State.
► From the Bellingham Herald — Gov. Inslee announces vaccine plan changes to ramp up pace as state moves into Phase 1B — After a slow start here and across the U.S., Inslee announced changes to the state's COVID-19 vaccine administration and distribution plan and a new public-private partnership Monday with a goal to accelerate the pace. The announcements included expanding who is eligible in Phase 1B, which starts immediately, and setting a goal of 45,000 potential vaccinations per day. People age 65 and older are now eligible for the vaccine in the first tier of 1B, along with people over age 50 who live in multi-generational households.
► From the Columbian — Move teachers to head of the class for vaccine (editorial) — As state officials work to increase the accessibility of coronavirus vaccines, they should pay particular attention to educators. Desires and plans to further open schools for in-person learning place teachers near the front lines in the battle against the disease.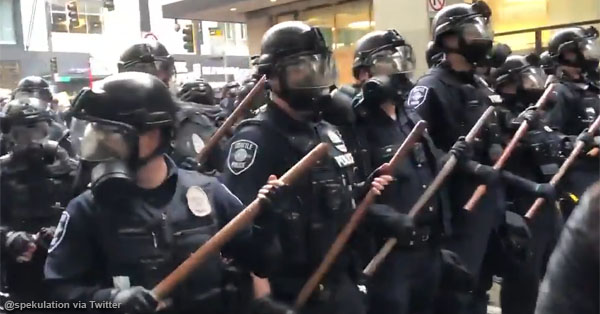 ► From The Stranger — Olympia drills down on police misconduct — This year the legislature is going hard on police reform. One bill calls for a ban on chokeholds, no-knock warrants, and tear gas. Other bills would establish a statewide body to review use-of-force cases. None of those bills would mean anything and officers could still get away with breaking those new rules, Sen. Jesse Salomon (D-Shoreline) argued in a committee meeting yesterday, if "we don't change the accountability system."
► From the News Tribune — Here's what would be funded in Gov. Inslee's extra-large capital budget proposal — Gov. Jay Inslee has proposed an extra-large capital budget for the 2021-23 biennium that would tap future bond capacity with an aim to jump-start the state's ailing economy and expedite key infrastructure projects. Highlights of the plan include investments across the state in areas ranging from housing to K-12 school seismic retrofits to wildfire prevention efforts.
From the News Tribune — Washington's HealthPlanFinder used by more than 2 million in 2020 — A record number of Washington residents secured health coverage through Washington's Healthplanfinder. About 2 million residents received free or low-cost Apple Health coverage, and the remaining 215,000 enrolled in qualified health plans.
► From the Spokesman-Review — New state Rep. Rob Chase hires former Spokane County GOP chairwoman who resigned after defending white nationalist — Newly elected state Rep. Rob Chase (R-Liberty Lake) has hired former Spokane County Republican Party Chair Cecily Wright as his legislative assistant. Wright resigned from her position at the Spokane County Republican Party in 2018 after a video surfaced of her defending a white nationalist.
---
THAT WASHINGTON
► From The Hill — Biden's inauguration unprecedented in U.S. history — Joe Biden will take the oath of office Wednesday in front of a sparse crowd amid a global pandemic, and with an unprecedented military mobilization in Washington, D.C., aimed at security a U.S. Capitol where police were overwhelmed just two weeks ago by a mob whipped up over conspiracy theories about his electoral win.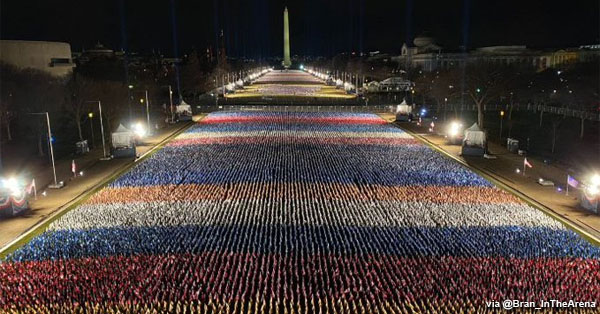 ► From HuffPost — Stunning 'Field of Flags' lights up in National Mall ahead of Biden inauguration — Nearly 200,000 flags are on display, representing the American people unable to attend.
► From the Washington Post — Biden to propose overhaul of immigration laws on first day in office — The centerpiece of the plan from Biden and Vice President-elect Kamala D. Harris is the eight-year pathway, which would put millions of qualifying immigrants in a temporary status for five years and then grant them a green card once they meet certain requirements such as a background check and payment of taxes. They would be able to apply for citizenship three years later.
► From the Washington Post — Trump's 11th-hour assault on the civil service by stripping job protections runs out of time — Trump's last-ditch effort to remove civil service protections from tens of thousands of career federal employees appears to have lost steam, facing time constraints and legal hurdles as the administration prepares to leave office, officials said.
► From Politico — Census Bureau director stepping down after outcry over immigrant count — Pressure mounted on Steven Dillingham after an inspector general memo alleged he pressured employees to rush a report on the number of unauthorized immigrants.
► From the NY Times — Trump prepares pardon wave for final hours — Among those under consideration for grants of clemency are the former New York Assembly speaker Sheldon Silver and the rapper Lil Wayne.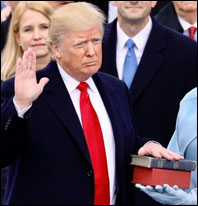 ► From HuffPost — 'American Carnage' is Donald Trump's legacy — Donald Trump's 2017 inaugural speech was dark. "That was some weird shit," former President George W. Bush reportedly said at the time. Trump portrayed an America overrun by undocumented immigrants, "poverty in our inner cities," "rusted-out factories scattered like tombstones across the landscape of our nation" and "crime and gang and drugs." He was going to take back America and make it great again. "This American carnage stops right here and stops right now," he declared. But the past four years with Trump in the White House have been just as violent and dark as his inaugural speech. It's been a time of immense pain and suffering, particularly for minorities and people of color who have been demonized by the president.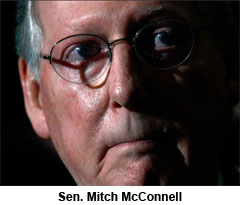 ► From the NY Times — Good riddance, Leader McConnell (by Jennifer Senior) — So tell me, Mitch, in these, your final hours as Senate majority leader: Were the judges and the tax cuts worth it? Were they worth the sacking of the Capitol? The annexation of the Republican Party by the paranoiacs and the delusional? The degradation, possibly irremediable, of democracy itself? Those close to him say that Mitch McConnell has his eye on his legacy, now more than ever. But I wonder whether he already understands, in some back bay of his brain where the gears haven't been ground to nubs, that history will not treat him well.
---
INSURRECTION



► From Politico — 5 things to watch at Trump's second impeachment trial — In the shadow of Joe Biden's inauguration as the 46th president of the United States, the Senate is set to put his predecessor on trial for high crimes and misdemeanors — potentially barring him from holding federal office ever again.
► From Politico — Poll: Republican support for convicting Trump growing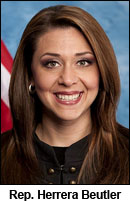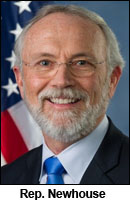 ► From Crosscut — What's next for the two WA Republicans who voted to impeach Trump? — Observers say the votes to impeach from U.S. Reps. Jaime Herrera Beutler and Dan Newhouse signal a "civil war" playing out within the GOP nationwide.
► From the Washington Post — GOP Rep. Boebert gave Capitol tour to 'large' group before the riots, Democratic lawmaker says — Amid a push to investigate whether any GOP lawmakers aided rioters at the Capitol, several Democrats last week accused an unnamed House Republican of leading groups on "reconnaissance" tours of the building before the Jan. 6 attack. Now, two Democratic lawmakers say they personally saw one Republican — Rep. Lauren Boebert of Colorado — with a "large" group in a tunnel connected to the Capitol days before the attempted insurrection that left four rioters and one police officer dead.
► From Politico — Pelosi says any lawmaker who helped insurrectionists could face criminal prosecution
► From The Hill — Woman accused of trying to sell Pelosi laptop to Russians arrested
► From the Seattle Times — White folks trashed the U.S. Capitol. Guess who cleaned it up? (by Naomi Ishisaka) — These snapshots tell an all too familiar story: People of color, who were least responsible for the damage, were left to literally and figuratively clean up a mess made by unchecked nationalist violence. It's gutting to see people who are themselves threatened and targeted by racism having to do the dirty work of picking up garbage and begging our supposed leaders to protect themselves and others by simply wearing a mask.
---
NATIONAL
► From the Washington Post — Amazon to face first U.S. unionization vote in seven years next month — The National Labor Relations Board called an election at an Alabama warehouse where roughly 6,000 employees work for the e-commerce giant, setting the stage for one of the biggest labor battles in the United States in years.
► From the NY Times — Big tech unionizing (letter by the AFL-CIO's Liz Shuler… scroll down) — Workers at Google and other Alphabet companies have started the Alphabet Workers Union, in partnership with the Communications Workers of America. This is a breakthrough. It includes all workers. It follows union victories at Kickstarter and Glitch. This is Labor 2.0.
The Stand (Jan. 5) — New union at Google invites all Alphabet employees to join
► From the NY Times — Gig workers are employees. Start treating them that way. (by Veena Dubal and Juliet Schor) — The Biden administration has an opportunity to restore basic labor protections to the people who deliver our groceries and drive for Uber and Lyft.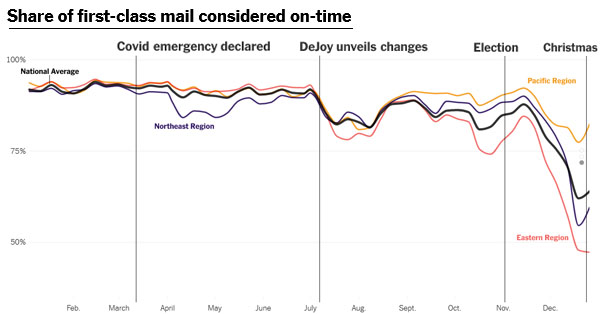 ► From the NY Times — The Postal Service survived the election. But it was crushed by holiday packages. (interactive) — In December, amid a crush of packages and new records for coronavirus cases, service performance across the U.S. Postal Service network plummeted to the lowest levels in years, with only about 64 percent of first-class mail delivered on time around Christmas.
► From CBS — 1,400 workers at Bronx grocer Hunts Point Produce Market on strike amid wage dispute — Every member of Teamsters Local 202 at the Hunts Point Terminal Produce Market is now on a full strike after the market denied their request for a $1-per-hour raise.
---
TODAY'S MUST-READ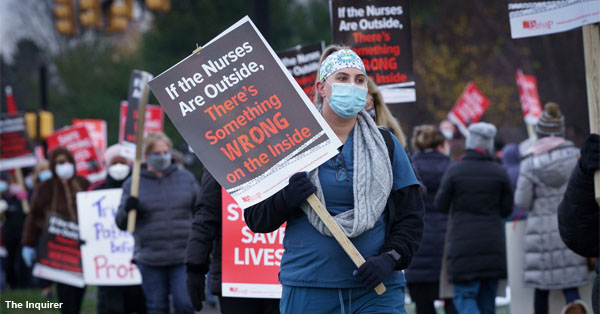 ► From Time — The challenges posed by COVID-19 pushed many workers to strike. Will the labor movement see sustained interest? — Across the country, workers who have never gone on strike and did not consider themselves activists have been moved to organize protests, sick-outs and strikes over COVID-19. Unions report a surge in workers taking action and an increased interest in organizing. Grocery stores, warehouses, hospitals, nursing homes, fast food restaurants, schools, and health clinics—unionized and not—all saw walkouts in 2020. While the National Labor Relations Board temporarily froze union representation elections last spring, and COVID-19 has continued to complicate some elections, unions of all types say the pandemic has fueled interest in their work. National unions across industries including health care, food service and retail say they are continuing to field more calls from from workers who want to join up and seeing thousands of current members eagerly volunteering to take action.
---
The Stand posts links to Washington state and national news of interest every weekday morning by 10 a.m.
Short URL: https://www.thestand.org/?p=94594
Posted by
David Groves
on Jan 19 2021. Filed under
DAILY LINKS
. You can follow any responses to this entry through the
RSS 2.0
. Both comments and pings are currently closed.