Murray: More federal support needed to speed vaccinations
Sen. Murray holds roundtable discussion to hear from — and thank — frontline healthcare workers battling COVID-19 in Washington state
WASHINGTON, D.C. (Jan. 15, 2021) — U.S. Sen. Patty Murray (D-WA), the top Democrat on the Senate Health Committee, held a video roundtable with health care workers from across Washington state to thank them for their tireless and lifesaving work during the COVID-19 pandemic, and to uplift their stories of how serious and deadly the virus continues to be. The month of December saw rising COVID-19 case numbers and deaths, putting a tremendous strain on Washington's hospitals and health care system — and on those on the front lines working at those facilities.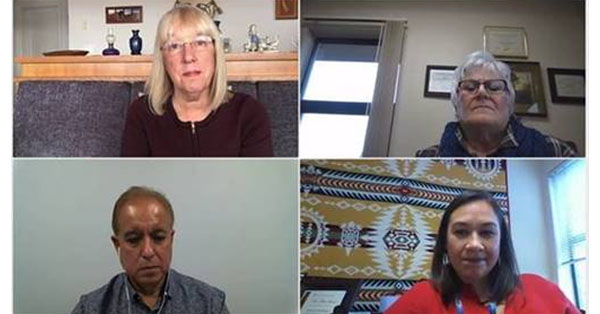 During the discussion, both Murray and the participating health care workers called on Washingtonians to continue following public health guidelines. Murray also emphasized that the current rollout of the COVID-19 vaccine must be improved.
"I have been incredibly frustrated with the lack of federal support that has slowed down vaccine distribution and I want you to know I'm going to keep pushing for the national planning, communication, and leadership that has been sorely missing," Murray said. "I also have heard from a lot of public health experts about the double-burden we are seeing on people who are responding — our frontline workers and our health care workers — to this pandemic itself. They are also the same people that we are relying on to ramp up administration of COVID vaccines, and that is really stretching our entire healthcare system, and not to mention our healthcare providers themselves."
Murray was joined on the call by Dr. Socia Love-Thurman, a family medicine physician at the Seattle Indian Health Board, who discussed her work with the Tribal communities during the pandemic; Dana Fox, Executive Director at Mattawa Community Medical Clinic, who highlighted some of the challenges that she and her staff work to overcome with regard to rural care; and Roy Cantu, a physician assistant with Community Health Association of Spokane, who talked about his work with providing testing and health care to underserved populations, such as people facing housing insecurity, during this crisis.
All three participants emphasized how important it is that people across Washington state continue wearing masks, practicing social-distancing, and following public health guidelines in order to keep their friends, families, and neighbors safe.
"We're now focused on vaccinating our higher risk groups, including our Native American and Alaskan Natives, as well as our elders," said Dr. Love-Thurman. "There is still a lot of work to do, and now with this vaccine it has been the light at the end of the tunnel for us frontline workers, but with that has come new hurdles. There are many people I'm encountering in my community who are hesitant to receive the vaccine because of historical trauma resulting in mistrust and with the ongoing spread of misinformation. We have our research division, the Urban Indian Health Institute, which has been providing great resources to our people across the country to ensure that they are making informed decisions around the vaccine. What I do know is that our indigenous community is incredibly resilient and that we will not stop fighting for them."
"We need to have the vaccine available, continued supply of the testing, supplies, and funding to continue to support our small community," Fox said. "It's important to remember that to enable us to move through this crisis we must continue to mask up, we must continue to social distance, maintain handwashing, and other hygiene measures that have become so important during this time of Covid-19. As always, the Mattawa community medical clinic will continue to do what's necessary to keep our efforts – to keep our community safe."
"As a community health center who works closely with the homeless community in our area, there's certainly obstacles in the pandemic," Cantu said. "People who experience homelessness or housing insecurity are less able to safely isolate if it's close to COVID. We've worked closely with community partners, namely Spokane Regional Health District, to establish isolation facilities in the area. Early on, CHAS took a lead in these efforts and, more recently, provided clinical and pharmacy support to those facilities. These facilities provide individuals with a place to safely isolate while having access to basic amenities and meals."
Since the first COVID-19 cases in Washington state, Sen. Murray has led efforts in the Senate to bolster the federal government's pandemic response, securing billions in federal funds for vaccines, testing, hospitals and other health care providers, public health agencies, PPE, and more. Senator Murray has also introduced and championed legislation to strengthen investments in our nation's public health infrastructure and bolster the PPE supply chain, pushed for additional funds for testing and vaccines throughout COVID-19 relief negotiations, and released national proposals for testing and vaccines.
Short URL: https://www.thestand.org/?p=94547
Posted by
David Groves
on Jan 15 2021. Filed under
NATIONAL
. You can follow any responses to this entry through the
RSS 2.0
. Both comments and pings are currently closed.