WSLC announces Workers' Recovery Agenda for 2021
Legislators must protect workers, support struggling families, invest in our state
UPDATED (Jan. 28, 2021) — Printable PDF one-pagers added on multiple issues below.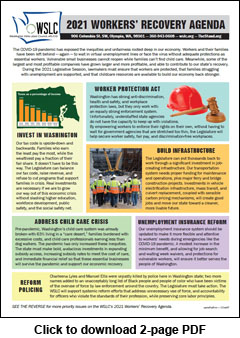 OLYMPIA (Jan. 8, 2021) — The Washington State Legislature will begin its 2021 session on Monday at the State Capitol, but after that day hearings, debate and floor action will be conducted remotely amid the COVID-19 pandemic. Given that legislators must approve the 2021-23 biennial budget amid a revenue shortfall, the technical challenges of an online session are expected to slow action and limit consideration of bills to those that are truly important and urgent.
With that in mind, the Washington State Labor Council, AFL-CIO — the state's largest union organization, which represents the interests of approximately 550,000 rank-and file members in more than 600 different unions — today released its Workers' Recovery Agenda for the 2021 legislative session. (Download a printable PDF.)
The COVID-19 pandemic has made clearer than ever the inequities and unfairness rooted deep in our economy. Workers and their families have been left behind – again – to wait in virtual unemployment lines or face the virus without adequate protections as essential workers. Vulnerable small businesses cannot reopen while families with young kids can't find child care. Meanwhile, some of the largest and most profitable companies have grown larger and more profitable – and able to contribute to our state's recovery. During the 2021 legislative session, state lawmakers must ensure that workers are protected, that families struggling with unemployment are supported, and that childcare resources are available to build our economy back stronger.
Here's how: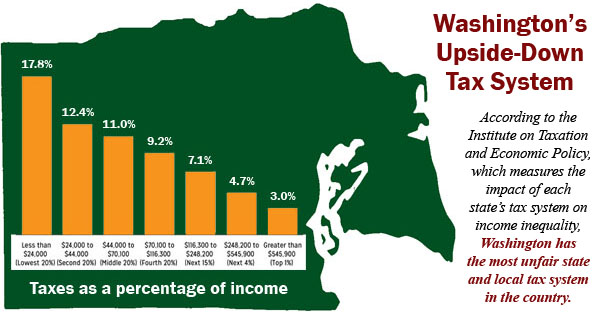 Our tax code is upside-down-and-backwards. Families who earn the least pay the most, while the wealthiest pay a fraction of their fair share. It doesn't have to be this way.  The Legislature can balance our tax code, raise revenue, and invest in programs that support families in crisis. Budget gimmicks and short-term solutions won't keep the economic heart of Washington beating. Real investments are necessary if we are to grow our way out of this economic crisis while protecting higher education, workforce development, public safety, and the social safety net. Download PDF.
ALSO at The Stand (Dec. 14) — We must invest in post-COVID Washington (by WSLC President Larry Brown)
Pass the Worker Protection Act
Washington has strong anti-discrimination, health and safety, and workplace protection laws, but they only work with an equally strong enforcement system. Unfortunately, understaffed state agencies do not have the capacity to keep up with violations. This gap is most keenly felt by essential workers in front-line industries, like farm labor, food processing, and grocery who are more likely to be women and workers of color. By empowering workers to enforce their rights on their own, without having to wait for government agencies that are stretched too thin, the Legislature will help secure worker safety, fair pay, and discrimination-free workplaces. Download PDF.
Build Infrastructure for Jobs and Our Climate
The Legislature can meet several needs with one act by putting thousands back to work through a significant investment in job-creating infrastructure. Our transportation system has long gone without proper, reliable funding for maintenance and operations. By leaning in to this immediate need, in addition to some additional major projects like hybrid ferries, and the Columbia River and West Seattle Bridges, our state can put people back to work right away, and for many years to come. Further investments in vehicle electrification infrastructure, mass transit expansion, culvert replacement to support salmon runs, coupled with sensible carbon pricing mechanisms, will progress our state toward a cleaner, more livable future. Lawmakers should also use the Capital Budget to create good construction and maintenance jobs by repairing and retrofitting state institutions like Rainier School and funding Fircrest's construction of the Skilled Nursing Center. Download PDF.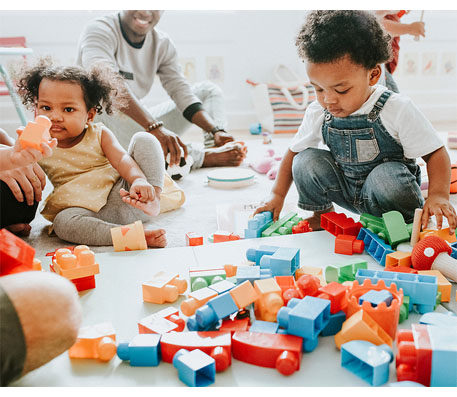 Address Washington's Child Care Crisis
The pandemic has driven home the critical role that affordable, accessible child care plays in a functioning economy. Pre-pandemic, Washington's child care system was already broken, with 63% of the state in a care desert, families burdened with yearly costs rivaling yearly tuition, and child care professionals making less than dog walkers.  The pandemic has only increased the inequities:  child care workers have been classified as essential workers, but most have no access to health insurance, let alone other benefits that stabilize a workforce.  The state must make bold, audacious investments in expanding subsidy access, increasing subsidy rates to meet the cost of care, and immediate financial relief so that these essential businesses will survive the pandemic and support our economic recovery. Download PDF.
Unemployment Insurance Reform
Our unemployment insurance system should be updated to make it more flexible and attentive to workers' needs during emergencies like the COVID-19 Pandemic. A modest increase in the minimum benefit, and allowing for job search and waiting week waivers, and protections for vulnerable workers, will ensure it better serves the people of Washington.
Reform Policing
Charleena Lyles and Manuel Ellis were unjustly killed by police here in Washington state; two more names added to an unacceptably long list of Black people and people of color who have been victims of the overuse of force by law enforcement around the country. Policing in America is too often violent, and disproportionately directed at Black communities. There are clear, systematic root causes that lead to the hyper-policing of Black people and other people of color, and the Legislature must take action. The WSLC will support systemic reform efforts that address unnecessary use of force and accountability for officers who violate the standards of their profession, while preserving core labor principles.
The WSLC will also support the following priorities:
Buy Clean / Buy Fair — Establish reporting requirements on the carbon content of structural materials, and the labor conditions at production facilities, purchased for public works.
Clean Energy Siting Reform — Streamline energy facility siting to provide more predictability without undermining environmental standards.
Collective Bargaining for AAG Tort Staff — Remove the collective bargaining exemption for Assistant Attorneys General in the Torts unit so these workers can negotiate alongside their peers at the Attorney General's office.
HEAL Act — Define "environmental justice" in state law, make government accountable to and collaborative with frontline communities, and direct environmental investments to communities highly impacted by pollution.
Health Emergency Labor Standards — Ensure that ours laws have automatic triggers to protect workers during periods of pandemic, including improving sick leave access, L&I authority to adopt rules, infection reporting requirements, and the ability of workers to access and use effective PPE.
Health System Transparency — Improve health system data disclosure so we know better how healthcare dollars are spent, including hospitals' community benefit investments in Black and Brown communities.
Paid Family & Medical Leave Update — Improve our PFMLI program by securing job protection for workers at smaller employers, including health insurance continuance, and lower the qualifying threshold to increase access. This will bring Washington's program in line with other states.
Shared Work & Furlough Pension Protections — Workers who are furloughed to help the state save money, and those engaged in Shared Work Programs, should not be have their pensions harmed. The Legislature should honor their sacrifice by protecting their pensions.
Support Immigrant Workers — Fund a new program that provides immigrant workers with income support when Unemployment Insurance fails to do so.
Workers' Comp IME Reform — Follow up on the 2020 Legislature's Independent Medical Exam workgroup by implementing improvements for injured workers undergoing IMEs.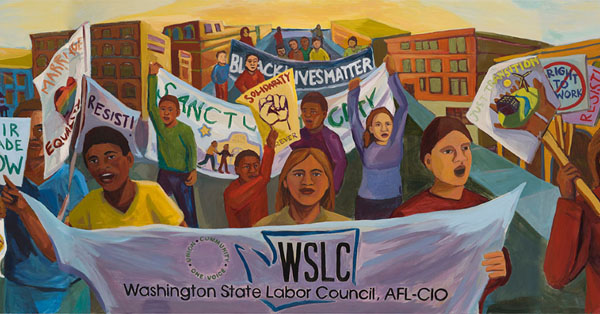 In addition to this 2021 Workers' Recovery Agenda, the WSLC will support other legislation championed by its affiliated unions and a range of issues to address economic opportunity and justice.
In the coming days, the WSLC will be posting more information on these legislative priorities. Look for that information at the State Government section of The Stand and at the Legislative Advocacy section of wslc.org.
WASHINGTON IS A UNION STATE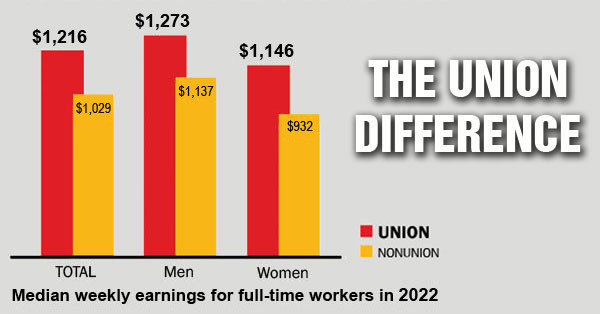 CHECK OUT THE UNION DIFFERENCE in Washington state: higher wages, affordable health and dental care, job and retirement security.
FIND OUT HOW TO JOIN TOGETHER with your co-workers to negotiate for better working conditions and respect on the job. Or go ahead and contact a union organizer today!