Will we wake up? | Boeing: No status quo | Unions back Equality Act
Tuesday, February 23, 2021
---
BLACK HISTORY MONTH

► Each day during Black History Month, the unions that comprise the Washington State Labor Council, AFL-CIO are honoring Black leaders, past and present, including Tyree Scott! Please share this graphic via Facebook, Twitter and Instagram as #LaborCelebratesBHM!
Today as #LaborCelebratesBHM we're honoring Tyree Scott and the organization he co-founded, LELO (Legacy of Equality Leadership & Organizing). You can learn more about LELO's work through the Seattle chapter (https://t.co/JrG3KhNISy). #1u #BHM pic.twitter.com/Fl20KX2pkY

— Washington State Labor Council, AFL-CIO (@WAAFLCIO) February 22, 2021
---
COVID-19
► LIVE from the Seattle Times — Coronavirus daily news update, Feb. 23 — The latest count of COVID-19 cases in Washington totals 334,962 infections (7-day average of new infections per day: 886) and 4,857 deaths.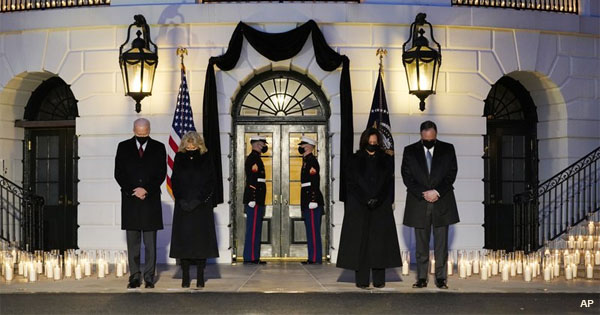 ► From the AP — Biden mourns 500,000 dead, balancing nation's grief and hope — With sunset remarks and a national moment of silence, President Joe Biden on Monday confronted head-on the country's once-unimaginable loss — half a million Americans in the COVID-19 pandemic — as he tried to strike a balance between mourning and hope.
One Year. 365 Days. 500,000 Lives Lost to #COVID19. pic.twitter.com/fuCf9gZ9oJ

— AFL-CIO (@AFLCIO) February 22, 2021
► From The Guardian — 500,000 Americans have died of COVID. Will we wake up to our own callousness? (by the Rev. William Barber) — Eighty-seven million Americans are uninsured or underinsured in the midst of a global pandemic and many of them have not been able to follow public health advice about social distancing because their economic circumstances require them to go to work at frontline service jobs. These are the families that have borne the brunt of half a million deaths.
---
THIS WASHINGTON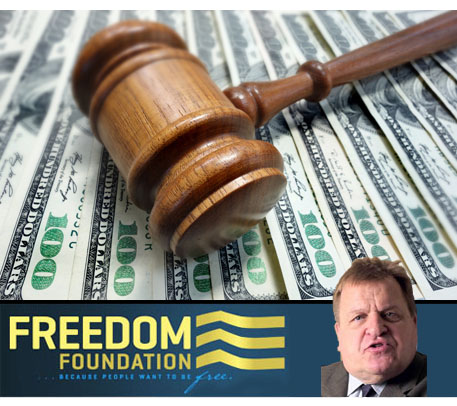 ► From the News Tribune — WA Supreme Court throws out think tank's attack on union political activity — The Freedom Foundation failed to meet a deadline in several campaign finance lawsuits it brought against unions, the Washington State Supreme Court ruled in a recent 5-4 decision… Teamsters 117 secretary-treasurer John Scearcy said in a statement Monday: "We agree with the Court's ruling in the case. But ultimately the issue is not whether the Freedom Foundation adhered to statutory timelines. They clearly did not. Instead, the case represents another failed attempt by an anti-union organization to strip away the rights of workers and deprive working families of a voice."
EDITOR'S NOTE — The out-of-state billionaires who fund the "Freedom" Foundation sure are paying a lot of money for lawyers who can't meet deadlines, much less win their lawsuits intended to "defund and discredit" unions.
► From the Tri-City Herald — Blueberry grower near Tri-Cities to pay $350,000 for worker rape, harassment claims — The money will go directly to four women Jose Luis Contreras Ramirez is accused of harassing at The Great Columbia Berry Farms in Burbank. "Companies that know or should know that powerful managers are harassing and assaulting their employees, but do nothing to stop it, bear responsibility," Attorney General Bob Ferguson said in Monday's announcement. "Agricultural workers deserve to be heard — and they deserve a safe work environment free from abuse."
---
LOCAL



► From KUOW — Seattle Public Schools delays reopening plans as teachers union agreement stalls — Originally planning for March 1, the district has pushed back reopening its doors to a few student groups to March 8. In the meantime, the district and its teachers union still have yet to reach a reopening agreement. The Seattle Education Association said the district has not yet agreed to provide adequate COVID protections. The union said its bargaining team "is working tirelessly to reach an agreement with SPS as quickly as we can, but we're unwilling to cut corners on safety precautions in order to meet arbitrary deadlines."
---
BOEING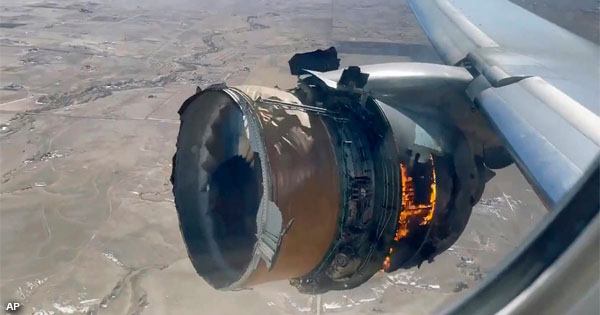 ► From Bloomberg — Metal fatigue seen as trigger for 777 engine failure — A preliminary investigation suggested a crack that grew gradually over time prompted the failure.
► From the AP — Boeing 757 flying to Seattle makes emergency landing — The 16-year-old jetliner was powered by Pratt & Whitney engines.
► From the Seattle Times — Boeing 747 engine catches fire, drops parts over the Netherlands, injuring 2
► A MUST-READ from Leeham News — For Boeing, the future is a new airplane, not the status quo (by Scott Hamilton) — Tunnel-vision pundits, analysts, and even some experts say Boeing shouldn't launch a new airplane program within the next few years. Why? They say doing so will cannibalize the 737 MAX 9 and MAX 10. They say it will undermine sales of the entire MAX family… Playing the status quo, as the new airplane-naysayers suggest, sends Boeing down the path of the 30-year decline of McDonnell Douglas. Richard Aboulafia, the highly regarded aerospace consultant for The Teal Group, wrote last week:
"It has been nearly 25 years since Boeing and McDonnell Douglas merged. Given Boeing's significant engineering cuts, program execution problems, clear prioritization of shareholder returns, extremely uncertain product development road map, and deteriorating market share outlook, it is time to consider whether Boeing Commercial Airplanes (BCA) is destined to share Douglas' fate."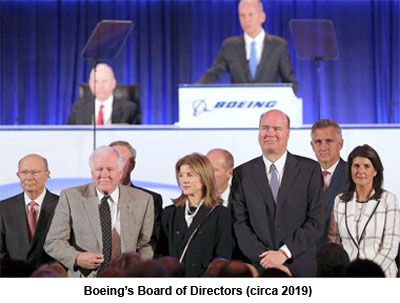 The GE business model doesn't work. This model emphasized finances above all else. Stock price. Shareholder value. Dividends. Margins. These shareholder-oriented goals are necessary, of course. But these emphasize short-term goals rather than the long-term health of the company. The decades-long GE influence in the CEO suite and on the Board of Directors is the second-worst thing to hurt Boeing. (The McDonnell Douglas merger was the first.) Boeing's future is that of an engineering-based company — not a financial powerhouse. One looks no further than at today's GE to see how this strategy worked. While Boeing was building shareholder value, Airbus was overtaking it in its product strategy. Reversing this trend will take at least a decade and probably two. This assumes that Airbus will rest on its laurels — which it won't. Boeing must begin the turnaround with a new airplane entering service before this decade is out. Otherwise, it may as well change its name to McDonnell Douglas.
► From the P.S. Business Journal — Boeing supplier XPO Logistics cuts 104 jobs in Everett after reporting record revenue — The job cuts come after XPO Logistics Chairman and CEO Brad Jacobs (who makes $8 million/year) said on Feb. 12 that the Greenwich, Conn.-based company had generated record fourth-quarter revenue, and its strong profits and free cash flow "were all much better than expected."
---
THAT WASHINGTON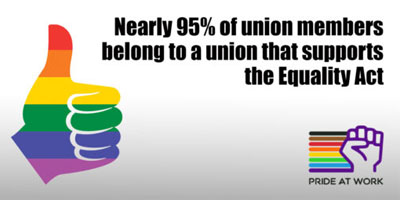 ► From Pride at Work — Historic union support for LGBTQ equality legislation — With the reintroduction of the Equality Act (H.R. 5) in the U.S. House of Representatives, the legislation is drawing more support from the labor movement than ever. More than 90% of all union members belong to a union that supports the Equality Act and the number continues to grow by the day. In June 2020, the U.S. Supreme Court ruled that LGBTQ people cannot be fired for their sexual orientation or gender identity due to the protections against discrimination on the basis of sex. Unions have been negotiating these protections for decades in our collective agreements, but now it is the law nationwide. The Equality Act will take those protections confirmed by the Supreme Court, and apply that same standard to other places where LGBTQ people face discrimination in their daily lives.
► From The Hill — Democrats want businesses to help get LGBTQ bill across finish line — The House this week is set to pass legislation that would expand LGBTQ protections, but Democrats are looking for help from the business community to get it through the Senate with GOP support. Major companies and trade associations are largely endorsing the Equality Act and putting their lobbying weight behind the bill in an attempt to get enough Senate Republicans on board.
► From Politico — Democrats plot their Plan B to save minimum wage hike — The Senate's parliamentarian's ruling (on including the minimum wage increase in reconciliation) could follow soon after Wednesday's arguments. In the meantime, Democrats are already weighing several options to try to save the wage hike from fully imploding and make it more palatable for moderates in their own party.
► From Politico — Congress finally gets first chance for answers about the Jan. 6 insurrection — Former Capitol Police Chief Steven Sund, who resigned after the Jan. 6 attack, could shed light on all aspects of the security response at a rare joint oversight hearing.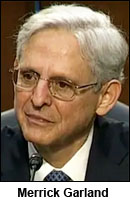 ► From the Washington Post — Merrick Garland finally speaks. His words were worth the wait. (by Robin Givhan) — It had been five years since the white-haired federal judge was nominated to the Supreme Court by President Barack Obama, five years since a Republican-controlled Senate decided that it would simply ignore him… He revealed a sharp legal mind that could explain and reassure, but balanced with a diplomat's restraint. He talked and he talked, but he refused to criticize his predecessors. He displayed no animus about how his previous nomination had been tossed aside. He filled the room with long sentences and generous paragraphs — a rare feat when committee members are typically racing against the clock to personally pontificate. But all that talking wasn't really necessary. In a few words surrounding a singularly long and emotion-laden pause, he succinctly summed up his definition of justice, which is that it must be blind but it should not be heartless.
► From Vox — The Supreme Court is about to hear two cases that could destroy what remains of the Voting Rights Act — A 6-3 Republican Court will hear one of the most aggressive attacks on voting rights since Jim Crow.
---
NATIONAL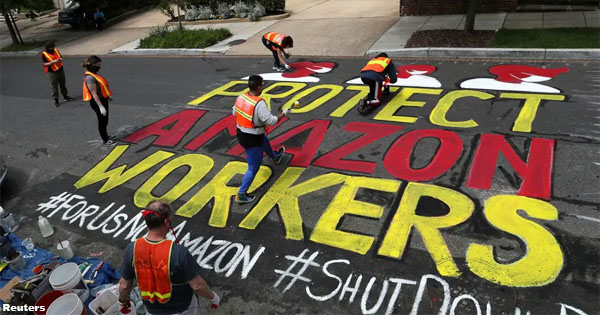 ► From The Guardian — 'We deserve more': an Amazon warehouse's high-stakes union drive — Last August, five months after the warehouse opened, Darryl Richardson began pushing for a union in what is not only the first effort to organize an entire Amazon warehouse in the United States, but also the biggest private-sector union drive in the South in years. "I thought the opportunities for moving up would be better. I thought safety at the plant would be better," Richardson said. "And when it comes to letting people go for no reason – job security – I thought it would be different."
EDITOR'S NOTE — Do you deserve more? Get a union! Find out more information about how you can join together with co-workers and negotiate a fair return for your hard work. Or go ahead and contact a union organizer today!
► From Vice — Amazon is paying employees to quit right before critical union vote — An annual program in which Amazon offers to pay workers at least $1,000 to quit their jobs could threaten a unionization drive in Bessemer, Alabama.
---
TODAY'S MUST-SEE
► From Last Week Tonight — The pandemic has thrown into high relief some of the longstanding issues surrounding working conditions in meatpacking facilities. John Oliver explains why greater oversight is needed, and how we can go about getting it.
---
The Stand posts links to Washington state and national news of interest every weekday morning by 10 a.m.
WASHINGTON IS A UNION STATE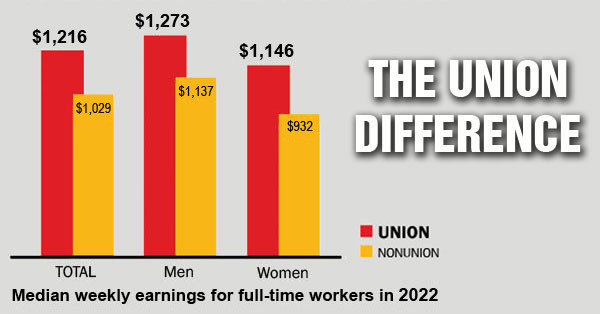 CHECK OUT THE UNION DIFFERENCE in Washington state: higher wages, affordable health and dental care, job and retirement security.
FIND OUT HOW TO JOIN TOGETHER with your co-workers to negotiate for better working conditions and respect on the job. Or go ahead and contact a union organizer today!