5,000 lost in a year | House OKs Rescue Plan | Biden defends right to unionize
Monday, March 1, 2021
---
COVID-19
► LIVE from the Seattle Times — Coronavirus daily news update, March 1 — The latest count of COVID-19 cases in Washington totals 339,773 infections (7-day average of new infections per day: 882) and 4,956 deaths.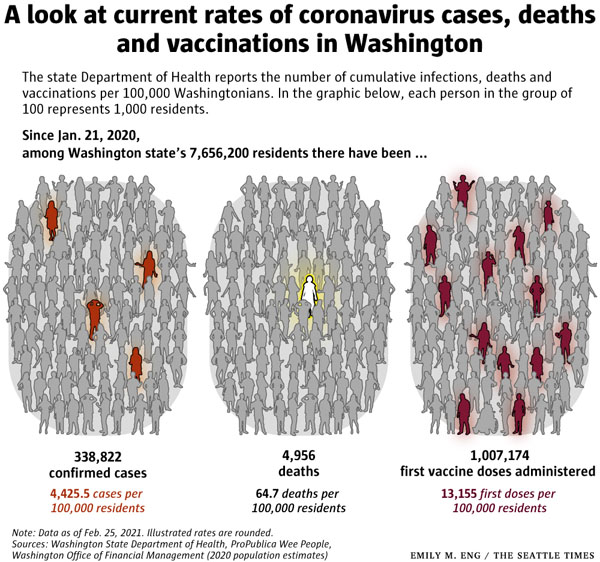 ► From the Seattle Times — One year after seeing first COVID-19 death, Washington expected to surpass 5,000 this week — Washington is expected to surpass 5,000 COVID-19 deaths this week — almost exactly a year after the first was announced in the United States. But while the state absorbs that painful milestone, health officials are hopeful that a recent, consistent decline in deaths, combined with a ramp-up of vaccine distribution and continued masking and social distancing, mean better days are ahead.
► From the NY Times — Thousands of farmworkers are prioritized for the coronavirus vaccine — A landmark initiative in California is taking vaccines to the fields, targeting an immigrant work force that is at high risk for COVID-19.
► From The Guardian — 'It's a powder keg': How COVID made work even more dangerous for security officers — They have been spat on, accosted by COVID-19 deniers and assaulted for merely enforcing state rules. At least 90 security officers died of COVID-19 last year. But many still lack access to PPE, and none receive hazard pay.
EDITOR'S NOTE — There's a union for that. Get more information about how you can join together with co-workers and negotiate for safer and better working conditions, plus a fair return for your hard work. Or go ahead and contact a union organizer today!
---
LOCAL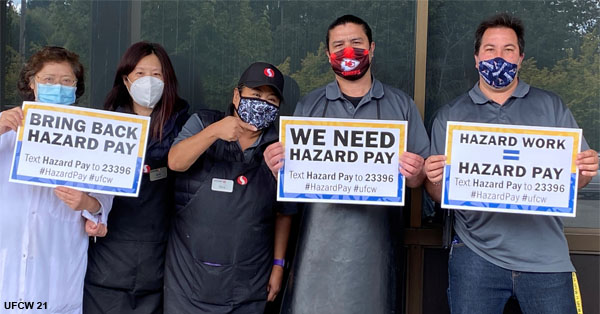 ► From the Seattle P-I — UFCW 21 pushing to expand hazard pay across Puget Sound region — UFCW 21 is continuing to push the movement forward, starting conversations with even more local leaders across the Puget Sound about putting into place hazard pay ordinances that will help more employees earn additional income throughout the pandemic.
► From the News Tribune — Hazard pay measures for grocery workers approved elsewhere. Is Tacoma next? — Local grocery workers are calling on the Tacoma City Council to pass an ordinance requiring their employers to give them pandemic hazard pay, as has been done in other cities across the state and country.
► From the Spokesman-Review — Spokane, North Idaho community colleges contend with plunging enrollment during COVID-19 pandemic — A total of 8,400 students attended Spokane Community College this past fall, down nearly 4,100 – or approximately 33% – from the previous year. Likewise, the number of students (4,260) that attended Spokane Falls Community College in fall 2020 was down nearly 1,100 from the previous year, or 20%. Administration of China.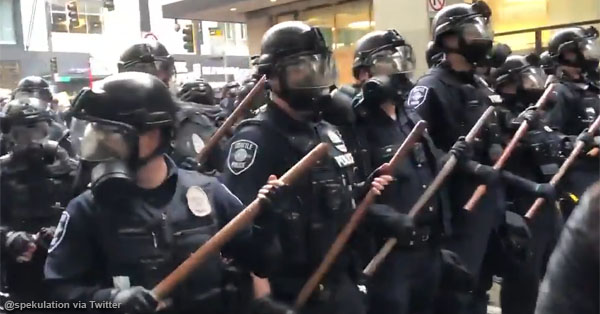 ► From the Seattle Times — As negotiations with city loom, Seattle's police union has had an outsized influence on police accountability measures — The Seattle Police Officer's Guild (SPOG) can claim few powerful friends or allies heading into critical contract negotiations with the city, with the fate of federal oversight of the Seattle Police Department hanging in the balance. City officials and agencies who have traditionally tolerated SPOG, even supported it, have distanced themselves over a summer of police violence and racial reckoning following the death of George Floyd in Minneapolis. Even some other King County labor unions have had enough, a majority voting to expel the guild from the MLK Labor Council in June — a nationally unprecedented rebuke after the labor council said SPOG failed to acknowledge its role in institutional racism.
---
THIS WASHINGTON

► From the Seattle Times — Washington state has never pulled an officer's badge for excessive force. That may be changing. — A contentious bill that passed the state Senate could transform Washington's police oversight agency from an anemic watchdog into a formidable instrument for police accountability. While other reform efforts in Olympia focus on high-profile police tactics, such as prohibiting chokeholds and neck restraints, this bill takes aim at a more obscure but powerful aspect of police policy: decertification.
► From the Seattle Times — 'We should have been better prepared': COVID-19 draws attention to Washington state's underfunded public health programs — The COVID-19 pandemic that marched across Washington encountered a public health system gradually starved of money, staff and attention over the past two decades. Rural health offices — like in Asotin, Okanogan and Mason counties — have lost roughly half their full-time staff since the Great Recession, local officials say… Now, as Democratic lawmakers and Inslee draft a new, two-year operating budget, they're vowing to make amends.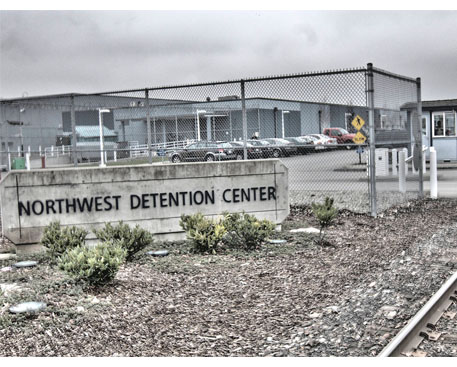 ► From the News Tribune — Two decades after welcoming it, Tacoma fights to close the NW ICE Processing Center (by Matt Driscoll) — More than 20 years ago, elected leaders in Tacoma gave their full support to a plan to build the privately operated facility that would become the Northwest ICE Processing Center. This week, a legislative effort designed in part to correct that grave mistake took a significant step toward becoming a reality. On Tuesday, the state House of Representatives passed HB 1090. Sponsored by Rep. Lillian Ortiz-Self (D-Mukilteo), the bill would ban private prisons and detention facilities, including the one operated by the Geo Group on the Tideflats. It passed the House with significant bipartisan support, and now moves on to the state Senate.
► From the Tri-City Herald — 'Extraordinary concern.' WA state wants Biden to overturn Trump rule on Hanford nuclear waste — The state of Washington and other groups are asking the Biden administration to overturn a Trump administration rule that would allow the federal government to potentially clean up the Hanford nuclear reservation to less stringent standards.
► From the P.S. Business Journal — Room for improvement — Experts say having women on boards is just good business — and now it will be required for companies incorporated in Washington.
---
BOEING
► From the AP — China not ready to allow the Boeing 737 MAX back in the air — "Major safety concerns" raised by Chinese regulators have not been fully resolved, said Dong Zhiyi, deputy administrator of the Civil Aviation
---
THAT WASHINGTON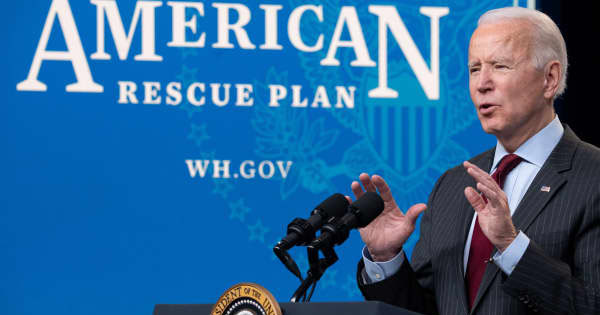 ► From Politico — House passes Biden's $1.9 trillion coronavirus aid package — The bill would send $1,400 stimulus checks to millions of Americans, boost unemployment payments and increase the Child Tax Credit.
EDITOR'S NOTE — Washington Democratic Reps. Suzan DelBene, Rick Larsen, Derek Kilmer, Pramila Jayapal, Kim Schrier, Adam Smith and Marilyn Strickland voted "yes," and Reps. Jaime Herrera Beutler, Dan Newhouse and Cathy McMorris Rodgers joined all of their fellow Republicans in voting "no." Rep. Kurt Schrader (D-Ore., 5th) was one of only two Democrats who voted "no."
► From the AFL-CIO — Following House vote, AFL-CIO calls on Senate to get COVID-19 relief into the pockets of working people — AFL-CIO President Richard Trumka: "This is not a moment for timid half-measures. The House has done its job, and now it's time for the Senate to deliver long-overdue relief to millions of working families."
► From the AFL-CIO — AFL-CIO Retirement Security Working Group applauds House passage of multiemployer pension relief — "Reckless Wall Street behavior, industry deregulation and employers' deviant use of corporate bankruptcy have threatened the financial security of millions who've worked hard only to have that promise robbed from them. The provisions included in this package are important steps that will help eligible retirement funds protect the retirement benefits we earned by sacrificing wage increases."
► From The Hill — This week: Senate takes up coronavirus relief after minimum wage setback — The House passed the COVID-19 legislation over the weekend with language included that would hike the minimum wage to $15 per hour by 2025. But that language is expected to be stripped out in the Senate after the parliamentarian advised key offices that the language does not comply with key budget rules that govern reconciliation, the process lawmakers are using to bypass the 60-vote legislative filibuster.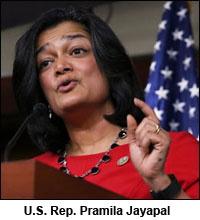 ► From Politico — Progressives push to squash Senate filibuster after minimum wage defeat — "We promised a $15 minimum wage," said Rep. Pramila Jayapal (D-Wash., 7th), chair of the Congressional Progressive Caucus. "So if that $15 minimum wage isn't in this package, we are going to have to figure out a way to get it through. And if that means reforming the filibuster, then we should reform the filibuster."
► From the USA Today — Supreme Court to debate voting rights case that advocates worry will limit access to polls — Five years after Arizona criminalized what critics call "ballot harvesting," and four months after a presidential election in which the practice was bitterly debated, the Supreme Court will hear arguments in a pair of cases that will determine when states may limit voting and, potentially, whether a provision of the 1965 Voting Rights Act will stand.
► From the Washington Post — Rewriting January 6th: Republicans push false and misleading accounts of Capitol riot — A legion of conservative activists, media personalities and elected officials are seeking to rewrite the story of what happened at the Capitol on Jan. 6, hoping to undermine the clear picture of the attack that has emerged from video and photo evidence, law enforcement officials, journalistic accounts and the testimonials of the rioters themselves: that a pro-Trump mob, mobilized by the former president's false claims of a stolen election, stormed the seat of American government to keep Trump in power through violent means.
► From the Spokesman-Review — McMorris Rodgers: Effort to block disinformation really tries to silence conservatives
---
NATIONAL
► From Reuters — Biden urges workers to 'make your voice heard' as Amazon employees vote on union — President Joe Biden defended workers' rights to form unions and warned against intimidation of workers in a video posted on Twitter on Sunday night, as Amazon.com Inc employees in Alabama vote on whether to unionize. Biden didn't mention Amazon, but specifically referenced "workers in Alabama" in the video and a tweet introducing it. He said every worker should have a free and fair choice to join a union, and no employer could take that away. "It's your right… So make your voice heard," he said.
► From the Seattle Times — Race, labor and the South (by Jamelle Bouie) — The size, scope and sophistication of the union drive in Bessemer should complicate commonly held ideas of Alabama and the Deep South as backward and relentlessly hostile to progress. It should be a reminder of the ways in which the fight for racial equality has historically been one for the dignity of labor as well. And it stands, as well, as an opportunity to explore a side of the state's history that gets worse than short shrift in our collective memory.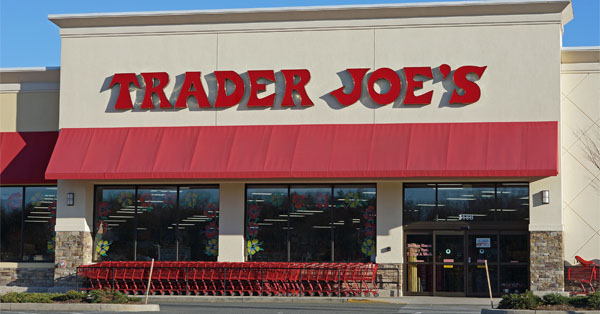 ► From the Washington Post — A Trader Joe's employee called for stronger coronavirus measures. The company fired him. — In a letter citing a medical journal and experts who study respiratory transmission of the coronavirus, Ben Bonnema called on the grocery chain's head, Dan Bane, to adopt more stringent safety protocols. Among his requests: improving filtration, requiring masks without exception and adopting a "three-strikes" policy for removing uncooperative customers from stores. The company responded soon after, he says. It fired him.
EDITOR'S NOTE — Union contracts can protect you from this kind of arbitrary retaliation by your boss. Get more information about how you can join together with co-workers and negotiate for a real voice at work. Or go ahead and contact a union organizer today!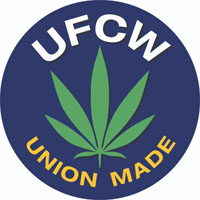 ► From Jabobin — A Chicago weed worker explains why he and his coworkers are unionizing — As the legal marijuana industry continues to expand across the United States, unions are expanding with it. We spoke to a weed worker in Chicago who's in the middle of a union drive at Windy City Cannabis about how low pay, dangerous working conditions under COVID-19, and a lack of "democratic control" on the job led him and his coworkers to organize.
---
The Stand posts links to Washington state and national news of interest every weekday morning by 10 a.m.
Short URL: https://www.thestand.org/?p=96068
Posted by
David Groves
on Mar 1 2021. Filed under
DAILY LINKS
. You can follow any responses to this entry through the
RSS 2.0
. Both comments and pings are currently closed.