Tell Congress to begin fixing our unjust immigration system
H.R. 6 would create pathway to citizenship for Dreamers, immigrants with TPS status
WASHINGTON, D.C. (March 15, 2021) — The AFL-CIO's Workers First agenda is about expanding rights and protections for all working families, with no exclusions. That's why union members and others across the United States are fighting for a pathway to citizenship for everyone who lives and works here.
The American Dream and Promise Act is an important first step toward fixing our unjust immigration system. It will provide permanent protections to vital members of our workforce, our communities and our unions and help spur a just recovery for us all. It previously passed the House in 2019, so it doesn't have to got through the committee process and is expected to get a vote this week. In 2019, all members of Washington's congressional delegation voted "yes," except Rep. Cathy McMorris Rodgers (R-5th) who voted "no" and Rep. Jaime Herrera Beutler (R-3rd) who did not vote.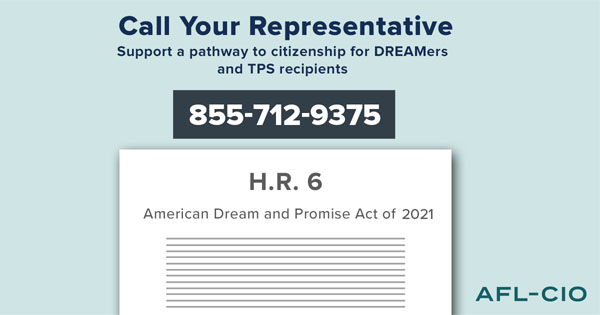 TAKE A STAND — Please click here to be connected to your member of Congress and urge them to support H.R. 6, the American Dream and Promise Act of 2021. Or go ahead and call 1-855-712-9375 right now to be connected to your U.S. Representative.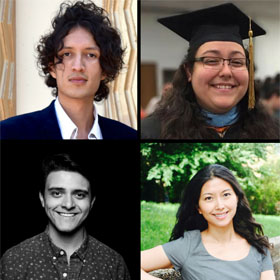 The American Dream and Promise Act offers a pathway to citizenship for about 2.5 million Dreamers, young undocumented immigrants who were brought to the United States as children, and have lived and gone to school here. More than 825,000 Dreamers have been allowed to live and work here under the Obama-era Deferred Action for Childhood Arrivals (DACA) program, which Trump unsuccessfully sought to undo. H.R. 6 would also help immigrants with Temporary Protected Status, a humanitarian protection for people suffering from natural disaster, armed conflict, or other extraordinary circumstances. About 400,000 citizens of countries including El Salvador, Honduras, Haiti and Liberia have TPS status, something Trump also sought to take away starting in November 2017.
H.R. 6 would allow people with TPS status to apply for green cards immediately if they have resided in the U.S. for at least three years and were eligible for TPS on Sept. 17, 2017, or had deferred enforced departure status as of Jan. 20, 2021. After five years of holding a green card, they would be able to apply for citizenship.
Dreamers would be granted "conditional permanent residency" if they:
Arrived in the united States before turning 18 and lived here for at least four years.
Have no felony convictions or fewer than three separate misdemeanors involving total jail time of 90 days.
Have a high school diploma or GED, or are enrolled in a program to get either one.
Pass a background check and meet other eligibility requirements.
This "conditional status" designation would last for 10 years after which they could apply for citizenship, but they would be allowed to work in the meantime.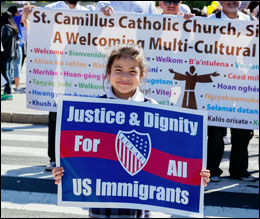 Unions represent workers of all types of immigration status, including both Dreamers and those with TPS status. The Trump-era attacks on immigrants have been an attack on our members and our unions, and are part of the larger war on working people. Nearly 1 in 5 workers in our country is foreign born, with countless more who are the children or grandchildren of immigrants. We all belong here, and we are all under threat from an anti-worker agenda that has further rigged the economic rules against us and in favor of the wealthy few.
When our country extends rights and protections to more workers, everyone benefits. When more people are forced to work in fear and without rights, we are all at greater risk.
That's why the unions that comprise the AFL-CIO support H.R. 6, the American Dream and Promise Act of 2021 and other immigration reform legislation. It directly affects our ability to lift labor standards, keep all workers safe, and build worker power.
Please urge your member of Congress to support H.R. 6. Or go ahead and call 1-855-712-9375 right now to be connected to your U.S. Representative.
Short URL: https://www.thestand.org/?p=96562
Posted by
David Groves
on Mar 15 2021. Filed under
NATIONAL
. You can follow any responses to this entry through the
RSS 2.0
. Both comments and pings are currently closed.