Call out Kroger/QFC for bullying, store closures on Thursday
Kroger/QFC announced closures of 7 neighborhood stores in Seattle, Long Beach and LA to avoid paying workers a temporary wage increase. The company did this after profiting $2.6 billion during the pandemic and spending its windfall earnings on stock buybacks instead.
The following is from UFCW 21:
SEATTLE — On Thursday, April 8, essential frontline grocery workers, community members, and supporters in California and Washington will host a symbolic "donation collection" in front of stores set to close, to help raise funds for the top supermarket chain in the country to pay its workers temporary hazard pay and call on Kroger Co. to keep stores open.
In a theater performance style, workers and community members will ask shoppers to donate pennies in a collective piggy bank to pitch in and help pay essential workers to shame Kroger over its greedy behavior.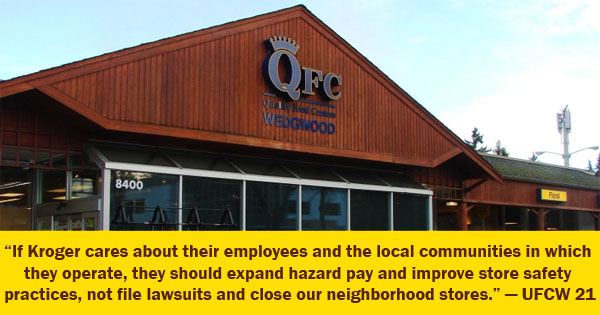 Kroger owns the California Ralphs and Food 4 Less stores and Washington QFC stores slated to shut down. The corporation falsely claims that these supermarkets are closing as a result of hazard pay when in reality it was a clear effort to intimidate workers, the community, and elected officials in an attempt to discourage any additional hazard pay ordinances from passing.
Thursday's actions will symbolize the extreme disparity between the company's windfall COVID profits and its decision to cut workers' pay since May 2020, despite persistent elevated sales and risk to employees.
TAKE A STAND — All union members, customers, and community supporters are invited to participate in this masked and socially distanced demonstration on Thursday, April 8 starting at 11 a.m. outside the Wedgwood QFC, 8400 35th Ave NE in Seattle, which the company announced it would close in retaliation for Seattle's passage of its hazard pay ordinance.
Local hazard pay ordinances have been passed in cities across California and in Washington, honoring workers for the sacrifice they make coming to work in a pandemic while others can work from home. In response to these temporary ordinances, Kroger Co. is the only grocery company announcing they will close stores instead of complying with the laws. Numerous requests for injunctions by the grocery industry challenging the hazard pay laws have been denied.
According to a Brookings Institution analysis, many of the United States' top retail companies have earned record-breaking profits during the pandemic, but this increase in profit has not made its way back to workers. Grocers nationwide instead used their excess pandemic profits to buy back shares all the while threatening to close down stores and misleading the public that hazard pay would have to be passed onto consumers.
PREVIOUSLY at The Stand:
UFCW 21 decries Kroger/QFC's 'greed, bullying' in Seattle (Feb. 17)
UFCW 21 celebrates victory on $4/hour hazard pay in Seattle (Jan. 26)
Short URL: https://www.thestand.org/?p=97335
Posted by
David Groves
on Apr 7 2021. Filed under
LOCAL
. You can follow any responses to this entry through the
RSS 2.0
. Both comments and pings are currently closed.