Inslee signs historic farmworker OT pay law
At Yakima union hall, governor signs multiple bills to protect frontline workers
YAKIMA (May 12, 2021) — Governor Jay Inslee on Tuesday signed legislation at the UFCW 1439 union hall in Yakima that will make Washington the first state in the nation to bring the 40-hour work week and overtime pay to all agricultural employees. Inslee also signed bills that will increase worker safety protections and expand support for frontline workers during public health emergencies.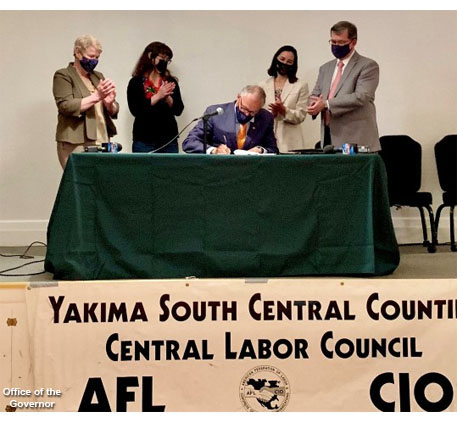 "The COVID-19 pandemic has brought a new focus on the challenges faced by frontline workers," Inslee said. "They have kept our state moving through one of our most challenging times, working through personal hardship and challenges. The bills I am signing today represent an acknowledgement of the lessons we've learned and offer hope for a stronger path forward."
Passage of legislation assuring the 40-hour workweek and overtime pay rights for all Washington farm workers has been a priority for the Washington State Labor Council, AFL-CIO and its affiliated unions, including the United Farm Workers (UFW) and Familias Unidas por la Justicia (FUJ). SB 5172 establishes a three-year phase-in period for the new requirement that agricultural employers pay overtime to their employees. Beginning in January 2022, overtime would be due after 55 hours of work in a week; in January 2023, after 48 hours; and in January 2024, after 40 hours. Dairy workers, unlike other agricultural workers, will immediately be due overtime pay after 40 hours of work in a week, in keeping with the state Supreme Court's decision in Martinez-Cuevas v. DeRuyter Brothers Dairy, Inc.
"SB 5172 will end a racist legacy and correct an injustice that has existed for too long," said Larry Brown, President of the Washington State Labor Council, AFL-CIO. "Washington's labor movement thanks Governor Inslee and all the representatives and senators who voted to approve this bill, and the hundreds of supporters who contacted their legislators urging them to do so."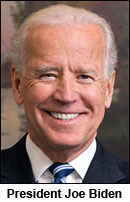 This major victory for farm workers has drawn national attention, including from the White House. President Joe Biden issued a statement Tuesday congratulating Inslee and Washington's Legislature on the passage of SB 5172.
"Agricultural workers in Washington and across the country have helped carry our nation through this pandemic — working long hours, often at great personal risk, to meet the needs of their communities and keep America healthy and well-nourished," Biden said. "These overtime protections will ensure that agricultural workers in Washington are paid for all of the vital work they do."
Ana Cruz, a UFW leader, activist and champion for her fellow farm workers, spoke at Tuesday's bill signing with translation from the WSLC's Dulce Gutiérrez.
"During my five years as a dairy worker, I saw firsthand how much workers sacrifice. Injuries are constant in dairies. Many of us worked 16-hour shifts with no overtime pay. Agriculture is Washington's second largest industry. Farm workers feed all of us. Farm workers deserve overtime pay,," Cruz said. "Today's bill signing puts an end to 83 years of racist exclusion of farm workers from Washington state's overtime pay laws. Thank you to Senator Karen Keiser and all of our allies. Most importantly, a massive thank you to all the workers who never gave up the fight to be treated as equally as other workers."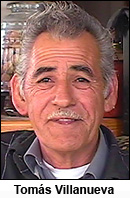 Inslee officially proclaimed SB 5172 to be the Tomás Villanueva Overtime Protection Bill to honor the legendary farmworker leader, advocate and organizer in the Yakima Valley who passed away in 2014. Read more about Tomás and his legacy here.
EDITOR'S NOTE — California also has approved overtime pay for farm workers. Under its phase-in schedule, larger agricultural employers have to pay overtime after 40 hours/week in 2022, but smaller growers have until 2025 to comply. Under SB 5172, Washington would be the first state in the country to have its overtime pay standard apply to ALL farm workers in 2024.
---
Also Tuesday at the UFCW hall in Yakima, Inslee signed: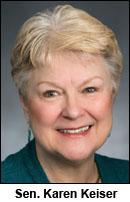 SB 5115, sponsored by Sen. Karen Keiser (D-Des Moines), that will help protect high-risk frontline workers by ensuring that they know when they've had a potential exposure to an infectious disease and make it easier for frontline workers to receive workers' compensation if they're infected on the job.
"SB 5115 takes a big step to assure frontline essential workers that they will have a safety net to protect them in a statewide health emergency," Keiser said. "I hope it will also reduce their anxiety and worry as they get up and go to work every day to face potential COVID-19 infection in their workplace."
"SB 5115 will ensure added protections for frontline workers by notifying them and their union representatives of a known COVID-19 exposure," said UFCW 1439 President Eric Renner, whose union represents grocery and retail workers. "This along with new reporting requirements for positive COVID-19 cases to Labor and Industries will promote worker safety for those who have sacrificed so much during this pandemic. UFCW Local 1439 is very appreciative of Governor Inslee for signing this bill into law."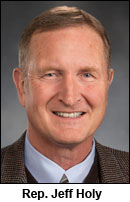 SB 5190, sponsored by Sen. Jeff Holy (R-Cheney), addresses conditions specific to healthcare employees to use unemployment insurance benefits if they leave work to quarantine during a public health emergency and have clear access to workers compensation if they are exposed to the infectious or contagious disease that is subject to the a public health emergency.
"I'm glad the Legislature showed strong bipartisan support in passing this common-sense bill," Holy said. "Health-care workers face a very direct and immediate threat when they have to treat patients with infectious diseases. I was approached by constituent healthcare workers who had been told to take unpaid leave while quarantining due to exposure or infection from COVID-19 — we must do better by them. When we are facing this type of emergency in our state and country, we need to take care of the people who are being asked to step-up and take care of the public."
HB 1097, governor-requested legislation sponsored by Rep. Mike Sells (D-Everett), protects workers who raise health and safety concerns on the job from retaliation. It also establishes a grant program for small employers to help cover the costs of additional health and safety measures during a public health emergency.
"The worker protections legislation we passed this session will make a significant difference in the lives of many Washington working families," Sells said. "Some of these bills were needed before the pandemic, and COVID-19 only made them that much more urgent. Some things were unfortunately left on the table, but I am committed to continue pushing these issues because our workforce deserves a government that provides support and solutions. I think these bills put us on the right track."
Short URL: https://www.thestand.org/?p=98370
Posted by
David Groves
on May 12 2021. Filed under
STATE GOVERNMENT
. You can follow any responses to this entry through the
RSS 2.0
. Both comments and pings are currently closed.