BCS strike gets results | Retro pay for dairy workers | Get your child tax credit
Tuesday, June 22, 2021
---
COVID-19
► LIVE from the Seattle Times — Coronavirus daily news update, June 22 — The latest count of COVID-19 cases in Washington totals 447,724 infections (7-day average of new infections per day: 493) and 5,838 deaths.
► From the Washington Post — Models predict U.S. coronavirus infections could surge this fall if vaccination rates lag, former FDA chief says — The transmission of the more contagious delta variant in the United States could spur a fall surge in coronavirus infections if only 75 percent of the country's eligible population is vaccinated, former Food and Drug Administration chief Scott Gottlieb said.

The Stand (June 16) — Union members can do this: Let's all get vaccinated
---
LOCAL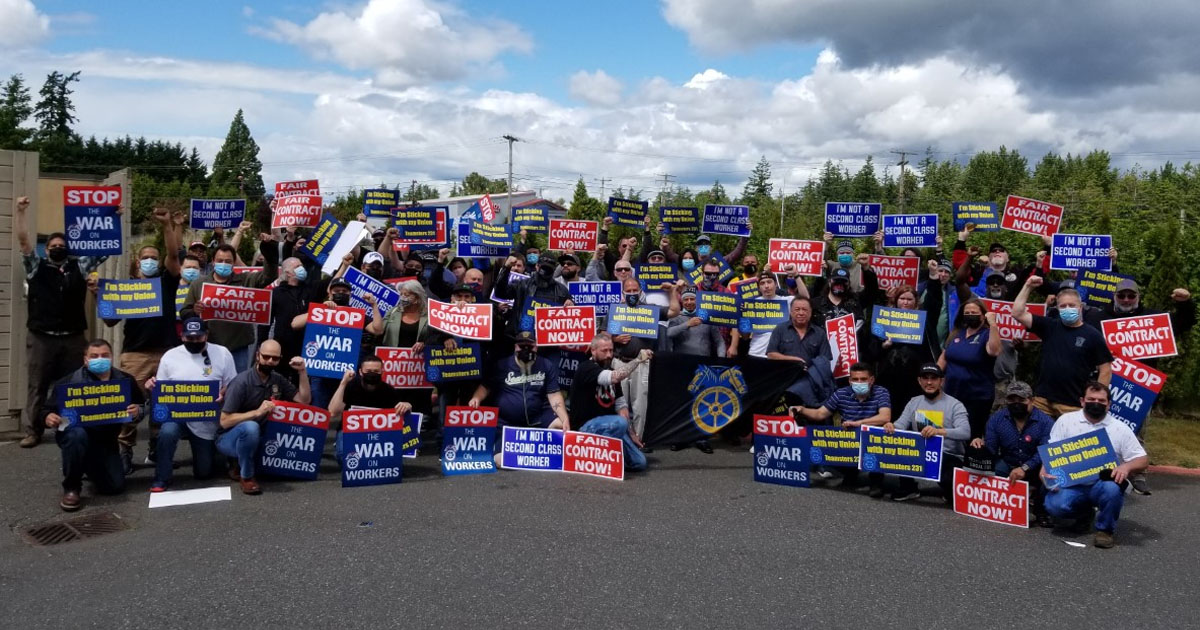 ► From the Bellingham Herald — Bellingham Cold Storage, union going back to negotiating table — Some progress appears to have been made between Bellingham Cold Storage and its workers after a 30-hour strike took place over the weekend. On Monday, June 21, an attorney representing Bellingham Cold Storage told the union it is willing to come to the table to discuss a contract with a federal mediator, said Rich Ewing, secretary-treasurer of the Teamsters Local 231. He said in an email that they are currently working to set up meeting dates. The new development comes after about 110 workers picketed the Bellingham facilities on Friday and Saturday, June 18-19. Ewing said. "The Unfair Labor Practice strike action last Friday and Saturday clearly showed that the Teamster employees at (Bellingham Cold Storage) are 100% unified in their quest for a fair contract," Ewing said.
The Stand (June 15) — Teamsters on brink of strike at Bellingham Cold Storage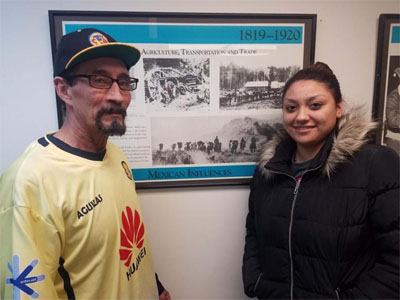 ► From the Yakima H-R — $1M settlement provides retroactive overtime pay to workers at Yakima Valley dairy — Yakima County Superior Court has granted final approval for a $1 million settlement that provides retroactive overtime pay for workers at a Lower Yakima Valley dairy. The settlement wraps up a class-action lawsuit filed in 2016 by Jose Martinez-Cuevas and Patricia Aguilar on behalf of nearly 300 workers of DeRuyter Brothers Dairy of Outlook. Martinez-Cuevas and Aguilar alleged that they worked nine to 12 hours a day, six hours a week without rest breaks, meal pay or overtime pay.
EDITOR'S NOTE — It was this case, and the growers' fear of future lawsuits, that spurred state lawmakers this year to pass historic legislation granting all farm workers overtime pay. Jose Martinez-Cuevas and Patricia Aguilar are heroes.
► From the South Seattle Emerald — OneAmerica announces new executive director, Roxana Norouzi — Norouzi has been a part of OneAmerica for nearly 12 years, beginning as an intern and working her way up the organizational ladder.
---
AEROSPACE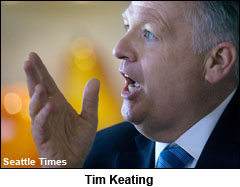 ► From the Seattle Times — Boeing ousts longtime head of government relations in Washington, D.C. — Tim Keating, Boeing's executive vice president of government operations, the company's chief lobbyist and political strategist in Washington, D.C., and a leading figure on the jet maker's leadership council, is "no longer with the company." … Keating's closeness with Rich Michalski, his counterpart at the headquarters of the International Association of Machinists union, played a critical role in the bitterly contested Machinists vote in 2013 that secured the building of the 777X in Everett (but cost Machinists their pensions). In 2014, Keating launched an unusual public attack on SPEEA, Boeing's engineering union, and particularly the union's executive director Ray Goforth.
---
THIS WASHINGTON



► From the (Everett) Herald — 7,000 tenants, waiting for help, fear eviction after June 30 — With the June 30 end of the state eviction moratorium approaching, Snohomish County's Dispute Resolution Center's Homelessness Prevention Team is still working through a more than 7,000-case backlog, which could represent 17,500 to 21,000 people. Those waiting for rental assistance fear they won't benefit from new tenant protections without an extension of the moratorium.
► From KUOW — Washington rolls out 'duty to intervene' training for new police recruits — A new law in Washington State requires members of law enforcement to intervene when they see excessive force, and to report wrongdoing. Instructors at the state academy emphasize that intervening is an act of loyalty to the colleague involved, to the officer's agency, and their community.
► From the Oregonian — Oregon lawmakers won't pay 'essential worker' stimulus this year — Oregon Democrats said Monday they won't fund an additional stimulus bill for the state's essential workers this session.
---
GET YOUR CHILD TAX CREDIT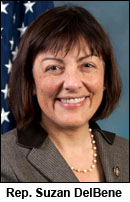 ► From the Seattle Times — Expanded child tax credit to reach 1.4 million Washington children, Rep. DelBene says — Starting next month, most families with children in Washington state can expect to begin receiving up to $300 in monthly payments as part of the new expanded child tax credit. Tucked into the federal government's COVID-19 aid package known as the American Rescue Plan, the expanded credit is a key part of what some consider a breakthrough anti-poverty initiative. Nearly 90% of children are in households that are slated to begin receiving money without needing to take further action. DelBene and others are touting a new Internal Revenue Service website that allows people who didn't file returns for 2019 or 2020 to get into the system to receive their tax credits.
► From the Spokesman-Review — New tax credit could cut child poverty in half, but White House and Northwest tribes fear poorest families could miss out
---
THAT WASHINGTON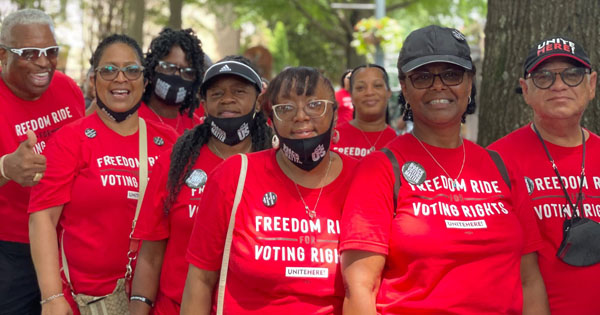 ► From the AFL-CIO — Get on the Bus: UNITE HERE joins Freedom Rides with Black Voters Matter — On the 60th anniversary of the 1961 Freedom Rides from Washington, D.C., through the South, UNITE HERE will join Black Voters Matter in the Freedom Ride for Voting Rights. As voter suppression laws targeting people of color sweep the nation, this multiracial coalition will conduct a voter outreach campaign to protect the freedom to vote.
► From the NY Times — Democrats unite behind voting rights bill as it faces a Senate roadblock — A push by Democrats to enact the most expansive voting rights legislation in generations is set to collapse in the Senate on Tuesday, when Republicans are expected to use a filibuster to block a measure that President Biden and his allies in Congress have called a vital step to protect democracy.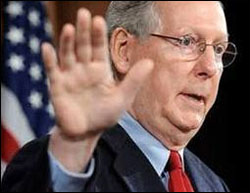 ► From the Washington Post — Manchin just got Republicans to admit their 'election fraud' concerns are nonsense (by Catherine Rampell) — By ceding ground on "election security" and effectively taking the issue off the table, Manchin just proved Republicans never actually cared about election security. Not election security in the past — i.e., the 2020 presidential election they pretend was "stolen" — and not at some hypothetical point in the future. Their goal was always to use gerrymandering and voter suppression just to make it harder for Democrats to win elections.
► From the Washington Post — We have more to lose than gain by ending the filibuster (by Sen. Kyrsten Sinema) — I understand bipartisanship seems outdated to many pundits. But the difficult work of collaboration is what we expect in Arizona. And I still believe it is the best way to identify realistic solutions — instead of escalating all-or-nothing political battles that result in no action, or in whipsawing federal policy reversals.
► From the AFL-CIO (March 11) — Senate rules cannot be used to block a Workers First Agenda — Standing in the way of a Workers First Agenda is an archaic Senate procedure that allows the minority to block the majority — the filibuster. An artifact of Jim Crow. A creature of white supremacy. A procedure that was said to encourage robust debate but has turned into an instrument of government paralysis. A tool used by those seeking to preserve the social, economic and political status quo, that the AFL-CIO has long opposed, as a matter of principle as undemocratic and rooted in racism.
► From Politico — Senate's bipartisan infrastructure deal nears its big reveal — A group of senators has circulated a tentative plan on how they want to divvy up $579 billion in new spending on infrastructure, according to an outline obtained by Politico.
► From Reuters — Even after Biden tax hike, U.S. firms would pay less than foreign rivals — The analysis undercuts arguments by some company executives and trade groups that Biden's plan would leave U.S. firms paying some of the world's highest taxes and struggling to compete against foreign rivals.
► From Politico — Biden weighs ban on China's solar material over forced labor — Lawmakers have pushed Biden to impose import restrictions on polysilicon similar to ones the Trump administration imposed on cotton, tomatoes and other products from Xinjiang.
---
AMAZON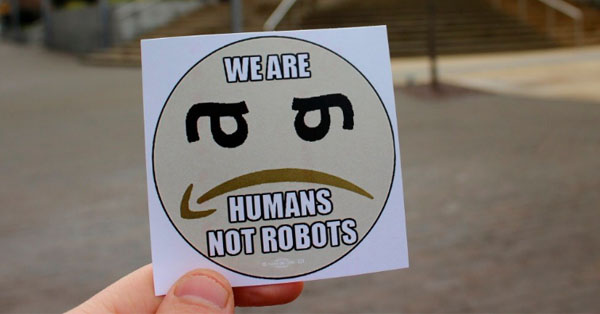 ► From CNN — What it's really like to be an Amazon warehouse worker during Prime Day — Several full-time Amazon warehouse employees told CNN Business they will put in a minimum of 55 hours this week as their regular 10-hour shifts grow to a mandatory 11 hours. An extra day will also be tacked onto their schedules, according to the employees, to help meet the flood of sales spurred by Prime Day, the highly anticipated two-day sale.
► From Vice — Amazon workers call for strike on Prime Day in Germany — Germany's second largest trade union, Verdi, called Sunday for Amazon warehouse workers across the country to go on strike as the retail giant launches its annual Prime Day. The workers grievances range from low pay to poor working conditions, especially during the COVID-19 pandemic.
---
NATIONAL
► From the WSJ — Wage gains at factories fall behind growth in fast food — Pay for factory jobs has grown so slowly in the U.S. that manufacturers are having trouble competing with fast-food restaurants. For years, factory jobs paid significantly more than those in many other fields, especially for less-educated workers. That is changing, according to economists, manufacturers and federal data.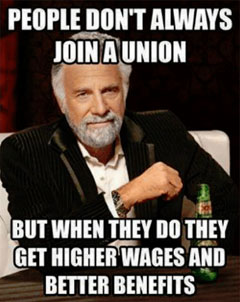 EDITOR'S NOTE — Manufacturing jobs can be family-wage jobs again…. if you form a union. Get more information about how you can join together with co-workers and negotiate a fair return for your hard work. Or go ahead and contact a union organizer today!
► From the AP — Airlines, unions demand crackdown on unruly passengers — In a letter to Attorney General Merrick Garland Monday, the trade group Airlines for America and unions for pilots and flight crew cited a "substantial increase in and growing escalation of passengers' unruly and disruptive behavior onboard aircraft, particularly toward crewmembers. These incidents pose a safety and security threat.''
► From HuffPost — American Airlines cuts hundreds of flights as travel demand rises — The airline said it hopes the cancellations will help avoid future disruptions as it deals with a labor shortage and inclement weather.
► From Reuters — Delta aims to hire over 1,000 pilots by next summer — Several other U.S. carriers have also said they plan to hire more pilots and staff.
► From The Hill — United CEO warns of possible pilot shortage — United Airlines CEO Scott Kirby said the United States could face the shortage because the military is not producing as many pilots as it did previously.
► From Bloomberg — Most Americans can be fired for no reason at any time, but a new law in New York could change that — "Just-cause" protections will revolutionize job security for 70,000 fast-food workers — and millions more Americans may benefit soon, too
---
The Stand posts links to Washington state and national news of interest every weekday morning by 10 a.m.
Short URL: https://www.thestand.org/?p=99479
Posted by
David Groves
on Jun 22 2021. Filed under
DAILY LINKS
. You can follow any responses to this entry through the
RSS 2.0
. Both comments and pings are currently closed.