Snohomish steps up | WFSE rises up | Our fathers, who fought suppression…
Thursday, June 24, 2021
---
COVID-19
► LIVE from the Seattle Times — Coronavirus daily news update, June 24 — The latest count of COVID-19 cases in Washington totals 448,945 infections (7-day average of new infections per day: 499) and 5,889 deaths.
► From the Seattle Times — Biggest COVID outbreak hits Northwest detention center as 29 immigrants test positive — Since the beginning of June, as federal authorities transferred hundreds of detainees from the southern border, 29 of those held at the Tacoma facility have tested positive.
► From TVW — Watch live: Gov. Inslee gives update on COVID-19 at 10:30 a.m.
EDITOR'S NOTE — He is expected to announce a "short-term" extension of the state's eviction moratorium to allow time for rental assistance funds to be disbursed.
---
LOCAL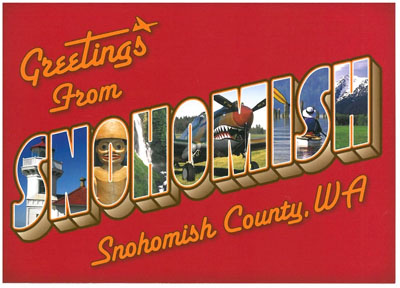 ► From the (Everett) Herald — Snohomish County Council OKs $1,250 payments to essential county staff — One-time payments of $1,250 will soon head to about 1,500 Snohomish County government employees. On Wednesday, the County Council approved two ordinances — one uses federal relief money to send bonuses to county employees deemed essential during the pandemic, and another mandates $4-per-hour pay raises for some grocery workers in unincorporated Snohomish County.
EDITOR'S NOTE — For some background about how unions organized for passage of these measures, check out this Facebook post by WSLC Vice President Debbie Gath, Business Representative for Teamsters Local 38.
► From the Peninsula Daily News — One-boat service to remain in place for Port Townsend-Coupeville ferry route — The Port Townsend/Coupeville ferry route will continue with only one-boat service for the foreseeable future, due to staffing and vessel constraints, Washington State Ferries has announced.
---
THIS WASHINGTON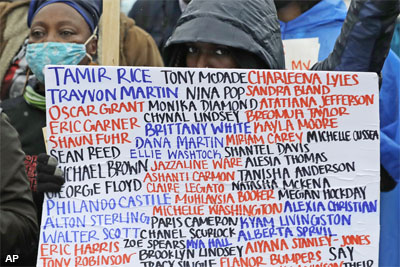 ► From the Seattle Times — The hard work to uplift Black lives is far from done (by Sakara Remmu and Amber Rodriguez) — The past year's work was about the whole of Black life. Beyond changing policing, people demanded and passed laws to restore voting rights, support families caring for kin, tax the rich and protect our communities from environmental racism. The people demanded and ensured that a half-billion dollars of lifesaving policy, legislation and direct investment passed in 2021. It was a session hailed as historic. Because it was. But it wasn't enough, and it can't be fast enough. The rate of death by law enforcement across the country hasn't dropped. The painful reality here in Washington is that we won't know if new police laws work until the next person is killed or harmed by police. These efforts to protect and liberate Black lives are not one-off actions. Staying vigilant and doing the work for Black lives must be the new normal.
► From the AP — Washington state revenues continue to rise above projections — An increase in sales tax revenue that came as people bought more durable goods during the COVID-19 pandemic led to another positive quarterly state revenue forecast Wednesday, with Washington's economy projected to have about $2.6 billion more that previously assumed through mid-2023.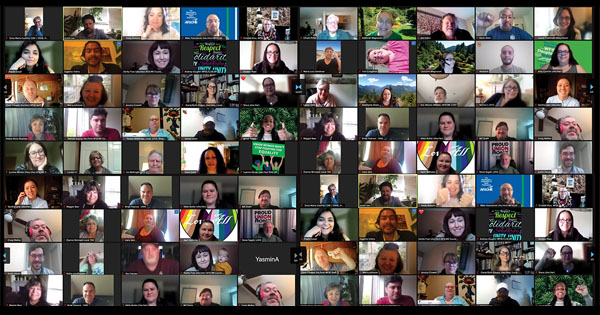 ► From WFSE — 2021 Rise Up: Strength, Solidarity, Resilience — One hundred and twenty WFSE members from all parts of our union gathered virtually June 6 and 7 for the 2021 Rise Up Conference. The first-ever virtual Rise Up included a panel on WFSE Member Action Team wins, a showing of the film PRIDE, an array of workshops tailored to building power in our union, and more.
► From WFSE — Union activists protect vacation days at SOLA Spokane — When management upended vacation scheduling practices at SOLA Spokane, which operates community-based homes for adults and children with developmental disabilities, the Member Action Team mobilized to protect their coworkers' vacation days.
► From the (Longview) Daily News — Former state legislator Mark Doumit dies at 59 — Mark Doumit, a respected former legislator for the 19th Legislative District and advocate for Washington's forests and rivers, died Monday at the age of 59.
---
THAT WASHINGTON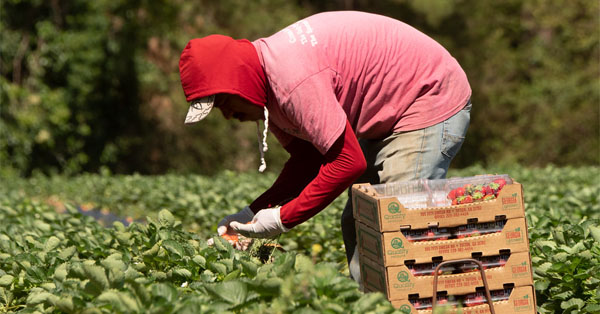 ► From NPR — Supreme Court hands farmworkers union a major loss — The Supreme Court on Wednesday tightened the leash on union representatives and their ability to organize farm workers in California and elsewhere. At issue in the case was a California law that allows union organizers to enter farms to speak to workers during nonworking hours — before and after work, as well as during lunch — for a set a number of days each year. By a 6-3 vote along ideological lines, the court ruled that the law — enacted nearly 50 years ago after a campaign by famed union organizer Cesar Chavez — unconstitutionally appropriates private land by allowing organizers to go on farm property to drum up union support.
ALSO TODAY at The Stand — Court's latest anti-union ruling shows why we need PRO Act
► From HuffPost — Supreme Court decision could doom Trump holdovers at Social Security — Biden has resisted calls from prominent Democrats on Capitol Hill to fire Social Security Commissioner Andrew Saul, at least partly because federal law says the commissioner can only be fired for "neglect of duty or malfeasance in office." But the Supreme Court said Wednesday that a similar restriction was unconstitutional in the case of the Federal Housing Finance Agency director.
► From the Washington Post — Biden removes Rodney Scott as head of U.S. Border Patrol

► From Politico — Obamacare supporters see opening to shore up law after court win — Pressure is building on Biden to address the law's underlying problems now that it has survived the latest Supreme Court challenge. Health policy experts say worrying trends like high levels of claim denials and narrow provider networks have already emerged in the marketplaces, which risk growing worse unless the Biden administration takes a tougher line with Obamacare health plans.
► From the Washington Post — Bipartisan group of senators to brief Biden on infrastructure 'framework' after potential breakthrough in talks — A bipartisan group of senators tentatively reached an agreement with White House officials Wednesday on hundreds of billions of dollars in new spending for the nation's infrastructure system, giving a significant boost to one of Biden's biggest domestic policy ambitions. The senators will go to the White House on Thursday to brief Biden personally on the details.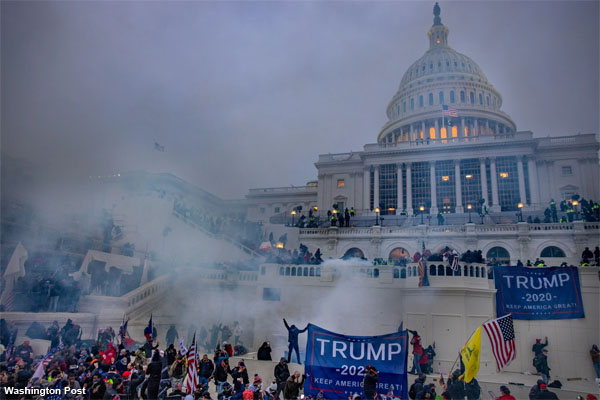 ► From the Washington Post — In sentencing regretful Capitol protester, federal judge rebukes Republicans — U.S. District Judge Royce C. Lamberth castigated Republican lawmakers on Wednesday for downplaying the violence of the mob that stormed the Capitol on Jan. 6, saying in handing down the first sentence to a charged defendant that those who break the law must pay a penalty. "I'm especially troubled by the accounts of some members of Congress that January 6 was just a day of tourists walking through the Capitol," he said. "I don't know what planet they were on. . . . This was not a peaceful demonstration. It was not an accident that it turned violent; it was intended to halt the very functioning of our government."
► From The Hill — Defense contractors ramp up donations to GOP election objectors — Nearly every major defense firm paused political contributions following the Jan. 6 insurrection, and many expressed disgust at the sight of rioters storming the Capitol. Those same companies have quietly resumed political donations and even increased their giving to election objectors in May. Boeing, Northrop Grumman, General Dynamics and BAE Systems declined to comment on why they are now contributing to the lawmakers after hitting the brakes earlier.
EDITOR'S NOTE — And then, there's this…
EDITOR'S NOTE — Rep. Dan Newhouse (R-Wash., 4th) is the only U.S. Representative from Washington state who has co-sponsored Republican legislation to defund schools that teach Critical Race Theory.
---
NATIONAL
► From Deadline — SAG-AFTRA teams with AFL-CIO to offer new health options for Medicare-eligible members — SAG-AFTRA and the AFL-CIO have teamed up to provide two new affordable health plan options to all Medicare-eligible SAG-AFTRA members and their spouses, many of whom might have lost, or are in danger of losing, their union health coverage due to recent changes in the guild's Health Plan eligibility rules. The Motion Picture & Television Fund and the Actors Fund are administering the application process.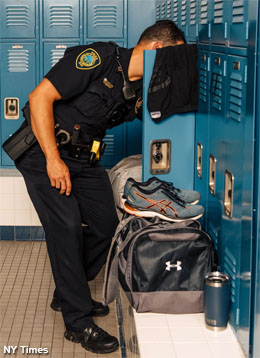 ► From the NY Times — Why police have been quitting in droves in the last year — A survey of almost 200 police departments indicated that retirements were up 45 percent and resignations rose by 18 percent in the year from April 2020 to April 2021 when compared with the previous 12 months. Resignations in Seattle increased to 123 from 34 and retirements to 96 from 43. The fact that the George Floyd protests were directed at them pushed many officers to quit, one officer said. "They said that we have become the bad guys, and we did not get into this to become the bad guys."
► From The Hill — Florida governor signs law requiring students, faculty be asked to declare their political beliefs — Florida Gov. Ron DeSantis (R) on Tuesday signed legislation mandating public colleges and universities survey students and faculty about their beliefs in an effort to promote intellectual diversity on campuses.  The bill does not specifically say what will be done with survey results, but DeSantis suggested budget cuts could be imminent if universities and colleges are found to be "indoctrinating" students.
► From the Washington Post — States across the country are dropping barriers to voting, widening a stark geographic divide in ballot access — The overall result is a widening difference in ballot access depending on where voters live — one shaped by how lawmakers have reacted to the pandemic and to former president Donald Trump's false claims that he lost the 2020 election because of massive fraud.
---
TODAY'S MUST-READ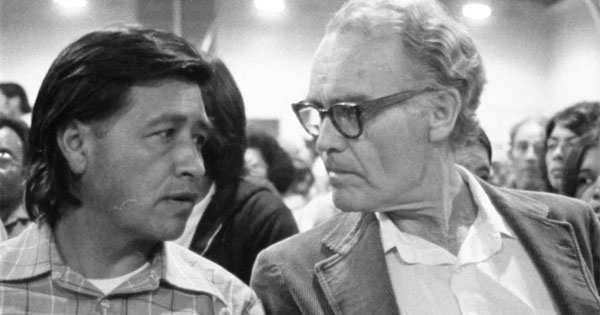 ► From The Nation — Our fathers fought GOP voter suppression 70 years ago (by Paul Chavez and Fred Ross Jr.) — Together, Fred Ross Sr. and Cesar Chavez created 22 Community Service Organization chapters throughout California that signed up more than 500,000 voters and helped 50,000 legal residents become citizens. Leaders developed such as Edward Roybal, Herman Gallegos, Cruz Reynoso and countless others. CSO battled voter suppression, police brutality, job discrimination and school segregation. It formed a diverse coalition of Latinos, African Americans, Jews, Catholics, Japanese Americans, and labor leaders. … Fulfilling his dream of organizing farm workers in 1962, and with Ross's help, Chavez — joined by Dolores Huerta and Gilbert Padilla — used the community organizing principles they learned in CSO to build the UFW. They knew only a union could address abuses in the fields. But they also believed it would take more than a union to overcome the crippling dilemmas field workers faced upon returning to their communities; it would take a movement. The same voter suppression CSO fought in the '50s is now experiencing a resurgence. So passing HR 1, the For the People Act, and then organizing to turn out voters would be the truest tribute to Cesar Chavez, John Lewis, and Fred Ross.
---
The Stand posts links to Washington state and national news of interest every weekday morning by 10 a.m.
Short URL: https://www.thestand.org/?p=99545
Posted by
David Groves
on Jun 24 2021. Filed under
DAILY LINKS
. You can follow any responses to this entry through the
RSS 2.0
. Both comments and pings are currently closed.