Stand with IBEW 77 line crew in Richland
Blaming pandemic, city insists on sub-standard wages for the folks who keep the lights on
The following is from IBEW Local 77:
RICHLAND (June 17, 2021) — The highly trained local line workers who keep Richland's lights on, respond to electrical outages 24/7, and provide year-round maintenance of the city's power lines and emergency dispatch network for first responders are at the breaking point in their fight for fair wages and are asking the community to stand with them. The workers kicked off a campaign last weekend to help Richland residents understand the fiscal and public safety costs of losing local, veteran line crews to part-time, outside contractors.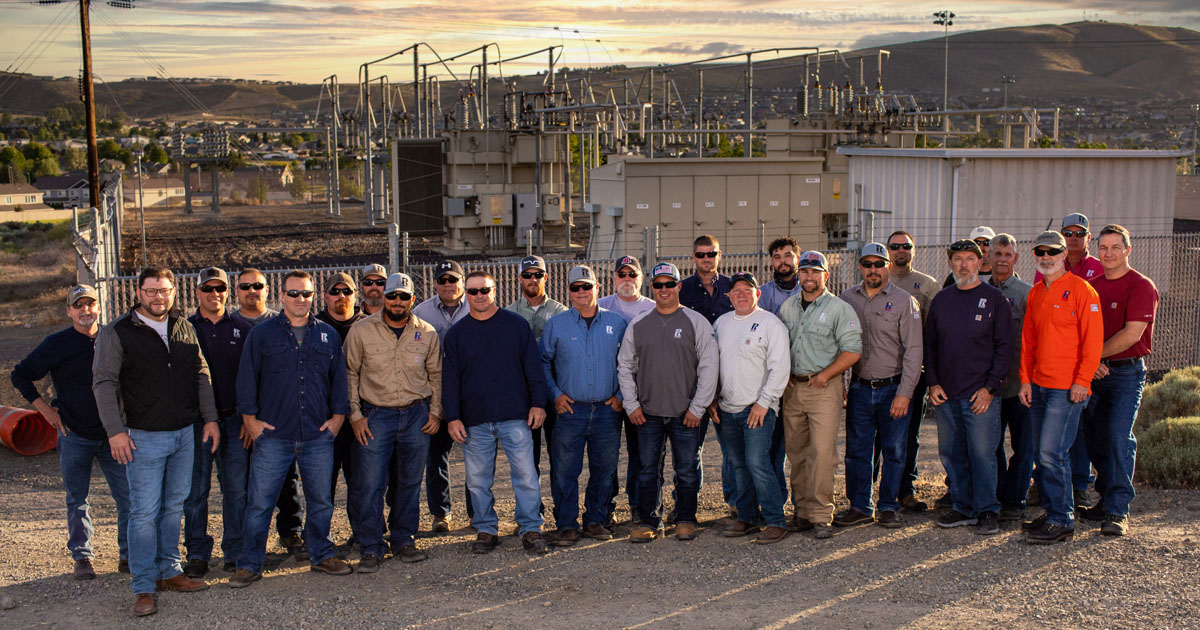 The unit's 30 employees have long been the lowest-paid utility workers in the Tri-Cities and the second-lowest statewide. Now, officials are blaming COVID-19 for the city's failure to pay area-standard wages for jobs that are among the nation's most dangerous.
"We've been very patient, but enough's enough," said Al Scott, a Richland meter power protection technician for 13 years. "City administrators are making a costly mistake if they think they can maintain this system on the cheap. We love our jobs and love this community, but we can't afford to stay if everybody else treats their workforce better. If we're forced to leave, we'll be replaced by contract crews with no stake in Richland and no experience with the electrical infrastructure that we know like the back of our hands."
TAKE A STAND — Visit the Richland Exploits the Pandemic to Undercut Fair Wages website. There, you'll learn how you can show support for these workers by following them on Facebook, by sending a letter to Richland city officials, and by putting up a yard sign if you live in the community.
City officials claim that costs associated with the pandemic are the reason they can't afford to pay wages that are competitive with the area's other utilities. In fact, the city has received $7.3 million in federal COVID-19 relief funds intended to help local governments recover.
The modest raises that workers proposed at the start of bargaining in late 2020 would still leave them below the Tri-City average. City negotiators refused, and after announcing the pandemic windfall, added only a half a percentage point to their offer. With contract talks in mediation, the city declared the 2.5% increase its "last, best and final" offer. The bargaining unit, represented by International Brotherhood of Electrical Workers Local 77, rejected it unanimously.
The workers risk their lives every day maintaining and repairing Richland's high-voltage power lines, a career nationally that averages 21 deaths per 100,000 linemen every year. Despite extensive safety precautions and regulations, one wrong move can mean a life-changing or fatal injury.
IBEW linemen undergo at least five years of apprenticeship training and are the highest-quality line workers in the nation. They are in high demand as a result.
"We could go anywhere," Scott said. "But that doesn't mean we want to pull up stakes and leave the town our families call home. Unlike us, the contract crews that pass through won't be on call day and night, they won't be doing full-time maintenance, and the money they earn is going to leave with them instead of helping our local economy."
Contractors are also expensive, charging municipalities more than they'd pay for services provided by a local line crew. Repairs on unfamiliar systems also take longer, and the risks to linemen are even greater.
Two members of the Richland crew have left in recent months and others are leaning toward it.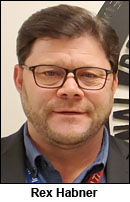 "These hardball negotiations will backfire if Richland loses its line crew to other communities, which is already starting to happen," said Rex Habner, Business Manager of statewide Local 77 and a journeyman lineman who has seen the effects of contracting out utility jobs. "It's penny wise and pound foolish to try to underpay these workers. If Richland wants to be a city that attracts good jobs and investment in the community then it has to walk the walk. Otherwise, you lose your talent, you lose local jobs, and you're paying for contractors who live elsewhere and take their wages home with them."
One of the largest IBEW locals in the United States, Local 77 represents more than 8,000 working men and women throughout the State of Washington and in parts of Idaho and Montana. It represents a variety of classifications within the electrical industry, including Journeyman Linemen, Journeyman Line Clearance Tree Trimmers, Journeyman Metermen, Journeyman Cablesplicers, Power Dispatchers, Customer Service Representatives, Call Center Responders, Protection Relay System Operators, Journeyman Substation Wiremen, and Journeyman Hydro Operators, among many others. Learn more at IBEW77.com.
---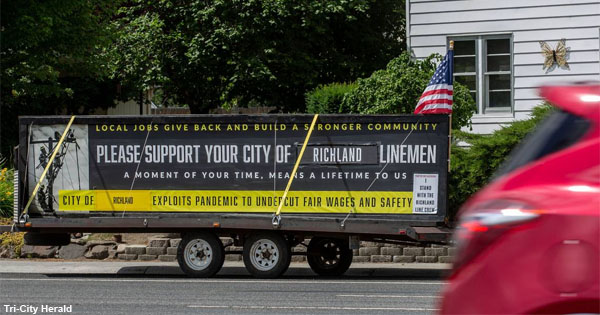 ► From the Tri-City Herald — Richland linemen haven't had a contract for 6 months. Now they're going door to door — Richland residents may see a future where power outages drag on for hours. Even now frustrated electrical department workers are saying construction projects are being held up and positions remain unfilled because the city of Richland isn't paying them a fair wage. And they are taking their case to the streets, even door to door, to Richland residents. Richland Energy Services employees along with their union, the International Brotherhood of Electrical Workers, are visiting neighborhoods, printing yard signs and posting to a new website in hopes of getting the city to agree to pay raises.
Short URL: https://www.thestand.org/?p=99396
Posted by
David Groves
on Jun 17 2021. Filed under
LOCAL
. You can follow any responses to this entry through the
RSS 2.0
. Both comments and pings are currently closed.