BCS strike continues | COVID, still | No shame | $300 per child
Wednesday, July 14, 2021
---
LOCAL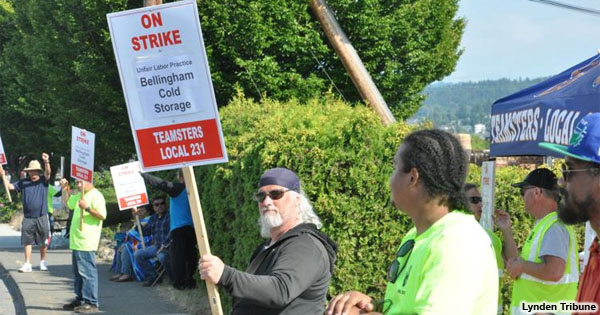 ► From the Lynden Tribune — Teamsters Local 231 still on strike at Bellingham Cold Storage — Teamsters Local 231 members at Bellingham Cold Storage began striking in June following months of bargaining since November. "In the first week of June, the company gave us a last best and final offer before the bargaining process had concluded, in our view," said Rich Ewing, Teamsters Local 231 secretary-treasurer. The issues stem from the entire economic package related to BCS workers, Ewing said, which includes healthcare costs, wages and pension contributions.
The Stand (July 2) — Bellingham Cold Storage workers are out on strike — again
TAKE A STAND — Show your support for striking BCS workers by joining them on the picket lines at 600 Orchard Dr. and 2825 Roeder Ave. in Bellingham. Also, contact BCS President/ CEO Doug Thomas at 360-733-1640 or doug.thomas@bellcold.com or JGC Chairman Joshua (Jay) Green III at 206-622-0420 or using this web form. Tell them to negotiate in good faith for a fair contract that shows respect for their hard-working employees.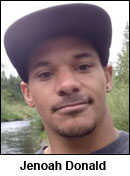 ► From the Columbian — Prosecutors find Clark County deputy acted in 'good faith' in Jenoah Donald shooting — A statewide panel of prosecutors tasked with reviewing the shooting of Jenoah Donald, a Black motorist killed by a Clark County deputy, found the deputy acted in "good faith." That is, a similarly situated law enforcement officer would have also used deadly force under the circumstances. The first-of-its-kind review was created by the Washington Association of Prosecuting Attorneys to help assess whether Deputy Sean Boyle's actions were legally justified.
---
COVID-19
► From HuffPost — U.S. COVID-19 cases rising again, doubling over 3 weeks — The COVID-19 curve in the U.S. is rising again after months of decline, with the number of new cases per day doubling over the past three weeks, driven by the fast-spreading delta variant, lagging vaccination rates and Fourth of July gatherings.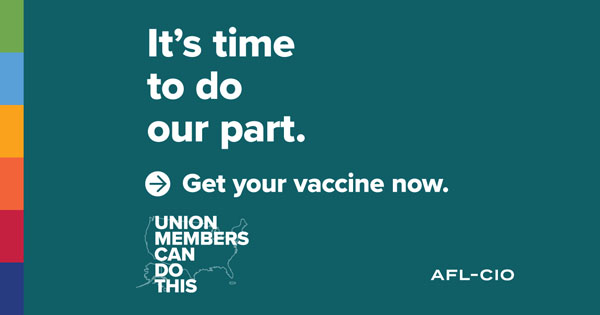 EDITOR'S NOTE — Unless you want restrictions on businesses and public gatherings reestablished, GET VACCINATED. Visit Washington state's Vaccine Locator to find vaccine appointments near you.
► From the Tri-City Herald — Tri-Cities hospitals are busier as new daily case counts keep rising
► From the Seattle Times — We had our chance to stomp the coronavirus in Washington state. We the people blew it. (by Danny Westneat) — Walla Walla, Benton and Franklin counties, as of Monday, the highest current COVID rates of any counties on the West Coast. What's happening is as simple as it is frustrating: Only about half, or fewer, of the eligible people in these counties have gotten vaccinated. In Walla Walla, where 45% of the 62,500 residents have been fully vaxxed, 90% of the recent COVID patients hadn't gotten the shot, health officials said.
► From the NY Times — Despite outbreaks among unvaccinated, Fox News hosts smear shots — Months after Rupert Murdoch got a COVID-19 vaccine dose, one of his network's stars, Tucker Carlson, called a Biden vaccination proposal "the greatest scandal in my lifetime."
► From the LA Times — Tough tactics for the unvaccinated may be needed to stop surge — Door-to-door outreach and vaccine requirements at work would help curb coronavirus spread, experts say.
---
CLIMATE

► From the Spokesman-Review — Nespelem evacuated after lightning fire burns over 10,000 acres, 7 homes — A wildfire ignited by lightning raced across 10,000 acres and burned seven homes overnight Monday. Four were vacant. The entire town of Nespelem evacuated safely before the fire arrived, said Colville Tribal Chairman Andrew "Badger" Joseph Jr.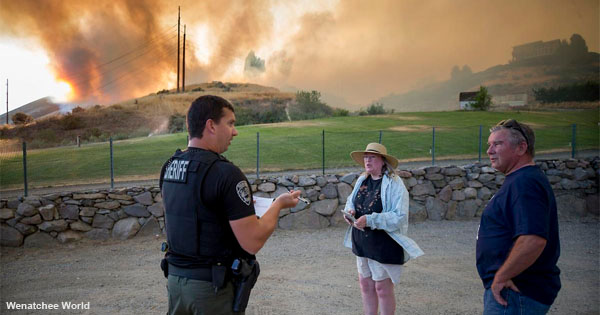 ► From the Wenatchee World — Red Apple Fire grows to 4,000 acres, new evacuations issued Wednesday morning — The Red Apple Fire is now estimated at 4,000 acres in size, according to the Central Washington Interagency Communications Center.
► From the Tri-City Herald — Smoke fouls Tri-Cities air to levels unhealthy for many. Red flag fire warning issued. — Air quality in the Tri-Cities deteriorated Tuesday to a level considered unhealthy for sensitive people. Smoke blew over the Tri-Cities from wildfires burning in Oregon, increasing to a level considered unhealthy for children and others by about 2 p.m.
► From the Yakima H-R — Air quality declining in Yakima area as wildfires intensify
► From the AP — Thousands of firefighters battle big blazes across the West — An army of firefighters labored in hot, dry and windy weather Tuesday to contain fires chewing through wilderness and burning homes across drought-stricken Western states already sweltering in the second heat wave of the year.
---
THIS WASHINGTON



► From the (Everett) Herald — With fewer inmates, state prepares to close prison units — State corrections officials are beginning this month to consolidate partially filled housing units at the Washington State Reformatory in Monroe as part of a plan to deal with thousands of empty beds in correctional facilities statewide. By mid-August, housing units at seven prisons, including two minimum security units in the Monroe Correctional Complex, are to be closed.
► From Politico — Washington vs. Washington: How one state became the center of the tech privacy fight — Members of Congress from Washington and those in the state Legislature are leading the push for laws to protect consumer privacy. But, while the state's lawmakers in Congress and the state Legislature agree on the need for such protections, they don't see eye to eye on how to get there and are moving at drastically different paces on legislation — with Congress slowing down as lawmakers in Washington and other states speed up.
---
VOTING RIGHTS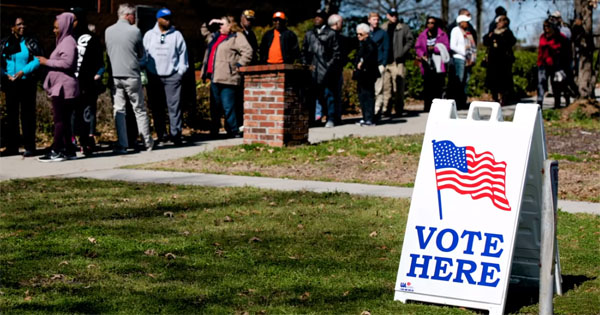 ► From the NY Times — 'Have you no shame?' Biden frames voting rights as a moral reckoning — President Biden said on Tuesday that the fight against restrictive voting laws was the "most significant test of our democracy since the Civil War" and called Donald J. Trump's efforts to overturn the 2020 election "a big lie." In an impassioned speech in Philadelphia, Biden tried to reinvigorate the stalled Democratic effort to pass federal voting rights legislation and called on Republicans "in Congress and states and cities and counties to stand up, for God's sake… Help prevent this concerted effort to undermine our election and the sacred right to vote," the president said. "Have you no shame?"
► From The Guardian — Biden defends voting rights – but no word on ending the filibuster — The president gave an impassioned defense of the right to vote, but while the 60-vote Senate rule is in place, reform looks a pipe dream.
► From The Hill — Democrats under new pressure to break voting rights stalemate — Senate Democrats are getting squeezed by members of their own party to pass voting rights legislation, amid growing frustration that GOP-led states are moving forward with their own laws. But a sweeping voting rights bill remains stalled in the Senate roughly three weeks after Republicans blocked the legislation from advancing.
► From the Reuters — More than 150 companies urge passage of voting rights act
► From CNN — Texas Dems on a desperate mission to stop GOP voting bills
---
THAT WASHINGTON
► From the Spokesman-Review — 'A grand experiment': With first monthly payments to parents set to arrive Thursday, Democrats push to make them permanent — Starting Thursday, families across the United States will receive the first in a series of monthly payments of up to $300 per child that could dramatically cut child poverty and offer a preview of what might become a major part of the American social safety net for years to come – if Democrats get their way.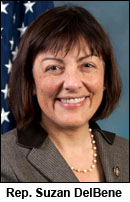 ► From the Seattle Times — When families do well, America succeeds: Make expanded Child Tax Credit a permanent benefit (by Rep. Suzan DelBene) — Thursday will be a historic day for American families as we recover from this pandemic. Parents will start receiving monthly payments of up to $300 per child thanks to the expansion of the Child Tax Credit. It is hard to overstate how significant this benefit will be to families. I fought so hard for these payments because when families do well, America succeeds. While this development is historic for American families, it should be the beginning, not the end, of this story. The expanded Child Tax Credit is only a one-year version of my proposal, and we cannot stop here. I am fighting to make this permanent because the benefits would be immense. It would help more families reach and maintain a middle-class lifestyle and lift more than 4 million children out of poverty — 65,000 kids in Washington.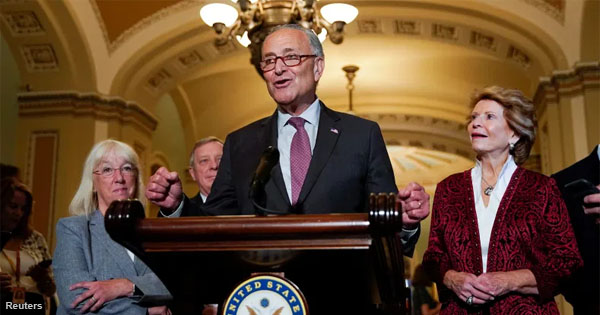 ► From the Washington Post — Senate Democrats announce plans for $3.5 trillion budget package to expand Medicare, advance Biden priorities — Senate Democrats on Tuesday reached an early agreement to pursue a sweeping $3.5 trillion reconciliation package that would expand Medicare benefits (adding dental, vision and hearing coverage), boost federal safety net programs and combat climate change, aiming to sidestep Republican opposition and deliver on President Biden's top economic priorities. Democrats see the still-forming package as a critical companion piece to the roughly $1 trillion infrastructure deal that lawmakers from both parties are assembling to improve the nation's roads, bridges, pipes, ports and Internet connections.


► From The Hill — Labor, environment groups push Congress for 'bold' manufacturing investments — The BlueGreen Alliance, a coalition of major labor unions and environmental organizations, is kicking off a campaign to demand "bold" investments in climate-friendly manufacturing jobs as Congress wrestles with advancing President Biden's economic agenda. The campaign, called "For America, By America," will focus on lifting up voices of working Americans in key battleground states to build support for robust investments in clean technology and manufacturing and put pressure on Democrats in Congress to follow through with plans for a big reconciliation package.
► From the Washington Post — Biden targets high shipping costs as pandemic ravages global supply chains — The smooth movement of goods has perhaps never been more essential, amid the explosion of e-commerce that accompanied the pandemic. Transport bottlenecks in June helped fuel the highest inflation in 13 years, rattling Americans with sticker shock on goods such as used cars, airfare and bacon. Some warn that abnormally high shipping costs and related supply chain disruptions could lead to scattered shortages this year as the U.S. economy heals.

► From the Washington Post — Biden nominates Rich Trumka Jr. to fill safety regulator seat — President Biden on Tuesday nominated Rich Trumka Jr., a Capitol Hill attorney focused on consumer policy and the son of a powerful labor union leader, to a seat on the Consumer Product Safety Commission, the federal agency that regulates more than 15,000 everyday products.
---
NATIONAL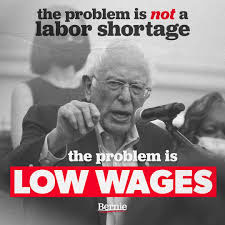 ► From The Hill — Massive flight delays, cancellations prompt finger-pointing — Airlines are racking up an unprecedented number of delays and flight cancellations just months after Congress gave the industry $54 billion so that carriers could retain their employees and facilitate a seamless return to air travel as the nation emerged from the pandemic. Industry experts said poor weather conditions grounded many of those flights but also blamed the almost unprecedented uptick in delays and cancellations on a shortage of trained pilots and airport employees… The worker shortage extends beyond pilots. The aviation industry is finding it difficult to find employees to clean airplanes, transport baggage and handle reservations, among other roles.
► From Food & Wine — Frito-Lay workers go on strike with some claiming they face 84-hour work weeks — Last Monday, around 600 employees (reportedly about 80 percent of the full-time workforce) went on strike at the Frito-Lay plant in Topeka, Kansas — one of more than 30 manufacturing plants the company operates in the United States. Brad Schmidt of the Bakery, Confectionery, Tobacco Workers and Grain Millers said the union was striking for better pay, better working conditions, and less mandatory overtime.
---
TODAY'S MUST-READ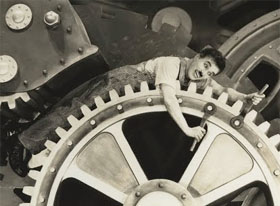 ► From Vox — The five-day workweek is dead — The five-day workweek is so entrenched in American life that everything, from vacation packages to wedding prices to novelty signs, is built around it. When you live it every Monday through Friday, year in and year out, it can be hard to imagine any other way. But there's nothing inevitable about working eight hours a day, five days a week (or more). This schedule only became a part of American labor law in the 1930s, after decades of striking by labor activists who were tired of working the 14-hour days demanded by some employers. And now, more than 15 months into the pandemic, there's a growing conversation about how American workers can take back more of their time. The trauma and disruption of the last year and a half have a lot of Americans reevaluating their relationships to work, whether it's restaurant servers tired of risking their safety for poverty-level wages or office workers quitting rather than giving up remote work. And part of that reevaluation is about the workweek, which many say is due for a reboot.
---
The Stand posts links to Washington state and national news of interest every weekday morning by 10 a.m.
Short URL: https://www.thestand.org/?p=99988
Posted by
David Groves
on Jul 14 2021. Filed under
DAILY LINKS
. You can follow any responses to this entry through the
RSS 2.0
. Both comments and pings are currently closed.