Tell UW Medicine: Respect nurses, caregivers
SEATTLE (July 19, 2021) — Nearly 4,000 nurses and caregivers at Harborview Medical Center and UW Medical Center–Northwest represented by SEIU Healthcare 1199NW are in the fight of their careers, and they need your help.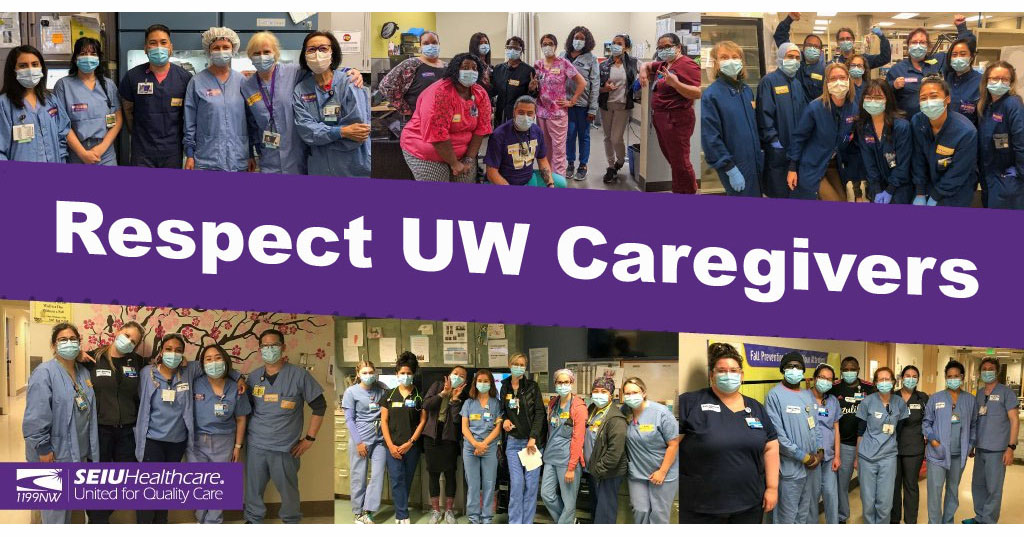 Throughout the COVID-19 pandemic, these frontline workers have done everything they can to provide the best quality care to their patients, even in conditions of inadequate Personal Protective Equipment and chronic short staffing. But during contract bargaining this year, rather than respect their sacrifice, the UW Medicine has offered their frontline healthcare heroes paltry 1 percent raises and has refused to consider COVID hero pay in recognition of their work and sacrifice during this unprecedented healthcare crisis. While other hospitals are offering generous raises and incentives for taking extra shifts to cover staffing shortages, UW Medicine seems content to let their caregivers struggle. Meanwhile, UW Medicine continues to fundraise off the pandemic, asking for donations to "support healthcare workers" — but healthcare workers haven't seen a penny.
These workers are united across the UW Medicine system for quality care and higher standards for all caregivers. They have taken action many times over the last two months of bargaining, marching on the boss, stickering up, and standing with their coworkers across departments. Now, they need their labor family's support.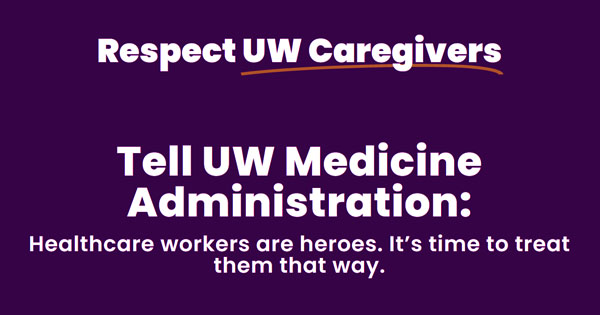 TAKE A STAND — There are two ways you can stand with them today:
► Sign this community petition calling on UW Medicine Administration to respect, protect and pay healthcare workers at Harborview and Northwest.
► Pledge to join our picket line and any other public action at Harborview and Northwest to show UW Medicine administration that labor stands with healthcare workers.
SEIU Healthcare 1199NW members at at Harborview Medical Center and UW Medical Center–Northwest are fighting for:
●  Safe staffing guarantees and ending illegal usage of call
●  Wages, market adjustments and premium parity for recruitment and retention
●  COVID Relief and Recovery so our sacrifices are honored
●  Organizational Equity and Inclusion so we can create a Culture of Belonging
On June 30, UW Harborview caregivers marched on the Chief Nursing Officer to sound the alarm on Harborview's serious staffing crisis.
Please join Washington's labor movement in calling on UW Medicine to protect these workers and their patients from COVID-19 and future pandemics, and to pay them what is necessary to recruit and retain the top-quality caregivers our community deserves.
Short URL: https://www.thestand.org/?p=100156
Posted by
David Groves
on Jul 19 2021. Filed under
LOCAL
. You can follow any responses to this entry through the
RSS 2.0
. Both comments and pings are currently closed.