This week's WSLC convention workshops open to members
Informative WSLC workshops begin Monday and are open to all union members
(July 16, 2021) — Next week, the Washington State Labor Council, AFL-CIO, the largest union organization in the state, will hold its 2021 Convention on July 21-23 via the Zoom video conferencing. But the action will begin on Monday and Tuesday with pre-convention workshops and all members of WSLC-affiliated unions — whether they are convention delegates or not — are invited to register and attend these informative workshops. They will cover a range of topics and issues facing Washington's working families — from childcare resources to new state benefit programs for workers, from racial and economic justice to the PRO Act.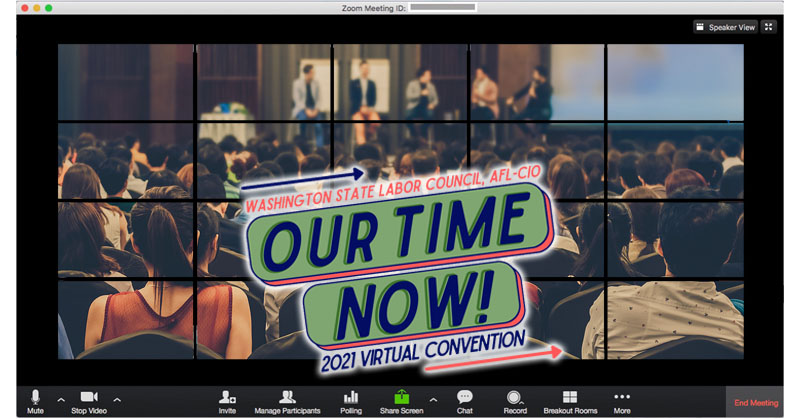 Following are the workshops planned for before and during the 2021 WSLC Convention. Union members can click the title to register and receive the Zoom meeting link. Descriptions and presenters are tentative and subject to change.

●  Monday, July 19 pre-convention workshops (5:30 – 6:45 p.m.)
●  Tuesday, July 20 pre-convention workshops (5:30 – 6:45 p.m.)
●  Wednesday, July 21 workshops (6:45 – 8 p.m.)
●  Thursday, July 22 workshops (6:45 – 8 p.m.)
---
MONDAY, JULY 19 — PRE-CONVENTION from 5:30 – 6:45 p.m.
●  Opening the Door to Lifelong Learning: Where Education Justice and Economic Justice Meet — In recent years Washington State has made substantial investments to increase access to post-high school education and career preparation opportunities. Working families have much to gain from these investments and the Labor Movement can play a role in making sure union members and their families know what is available and how to access it. Panelists in this workshop will discuss various programs available to Washingtonians as well as how we continue to advocate to increase and expand education opportunities in an ever-changing world. This is part of our equity and economic fight. This is OUR FUTURE.
FACILITATOR: Karen Strickland, AFT President and Chair to the Education, Training, and Apprenticeship Committee
PRESENTERS: Racheal Geyer, Apprenticeship Director for the Pierce County Roofers Joint Apprenticeship Training Committee; Robin Wright, Journey Person in the trade of roofing, Roofers Local 153; Sam Washington, Washington Student Achievement Council: AIM Higher; Fernando Mejia-Ledesma, Communities for Our Colleges Coalition, SB 5194 "Our Colleges, Our Future"; Maureen Shadair, Dean of South Seattle College – Georgetown
●  Protecting the Right to Organize and You — The PRO (Protecting the Right to Organize) Act is a generational opportunity and the cornerstone of the AFL-CIO's Workers First Agenda. Our woefully outdated labor laws are no longer effective as a means for working people to have our voices heard. The PRO Act is the most significant worker empowerment legislation since the Great Depression and will make America's economy work for working people. Join this workshop to learn more about the PRO-Act and learn what you can do make sure it becomes law.
FACILITATORS: WSLC Political and Strategic Campaigns Director Cherika Carter and WSLC Organizer Ingrid Chapman
●  Understanding New State Programs – Sick Leave, Paid Family and Medical Leave, and Long-Term Care Insurance — In recent years, voters and the Legislature have passed new programs meant to support working families. In 2016, voters approved a minimum wage increase that brought with it minimum sick leave standards, in 2017 the Legislature passed the Paid Family and Medical Leave Act, and in 2019 the Long Term Care Trust Act. Panelists will outline each of these programs, and provide information you need to know to better equip you and your members for bargaining and accessing these benefits.
FACILITATOR: WSLC Government Affairs Director Joe Kendo
PRESENTERS: Marilyn Watkins, Policy Director, Economic Opportunity Institute; Joe Kendo WSLC Government Affairs Director; and Adam Glickman, Secretary-Treasurer, SEIU Local 775
●  Workers' Compensation in 15 Steps — Work injuries/illnesses happen when we least expect it. As a business representative or union leader, workers may come to you for guidance. They want to know their rights, responsibilities and benefits within the workers' compensation system so they can heal and return to work safely. Learn the tools and tips necessary to best guide your members while they navigate through a vulnerable time. Join our workshop to learn valuable information regarding industrial insurance in Washington State.
FACILITATOR: Project Help Director Jessica Gallardos
---
TUESDAY, JULY 20 — PRE-CONVENTION from 5:30 – 6:45 p.m.
●  The Charge of the Washington State Labor Council, AFL-CIO: Resolutions Updates — Every year, delegates to the Washington State Labor Council convention discuss, deliberate and act on resolutions submitted by the affiliated union locals and councils. These resolutions establish policy, programs and action for the WSLC. Join this workshop for an update of the work the WSLC continues to do fighting for worker, racial and gender, and economic justice through our organizing and political and legislative advocacy.
FACILITATOR: WSLC Political and Strategic Campaigns Director Cherika Carter
●  Get to Know the Legislative Class of 2021 — Every election cycle union members plug in to various campaign efforts to elect worker-friendly legislators through the WSLC's Labor-Neighbor program. Due to the Covid-19 pandemic, the 2020 election was exceptionally challenging but that did not stop us from helping to elect a new class of worker advocates to the state House and Senate. Come hear from three WSLC endorsed women whose commitment to working families shined during the 2021 session.
FACILITATORS: WSLC Government Affairs Director Joe Kendo and WSLC Legislative Director Sybill Hyppolite
PRESENTERS: Senator T'wina Nobles, 28th Legislative District (Fircrest); Representative Liz Berry, 36th Legislative District (Seattle – Queen Anne); Representative April Berg, 44th Legislative District (Mill Creek)
●  Self Care and Community Healing for Labor Activists — What is self-care and community healing and how are they related to strong (vibrant) unions? Why is it important as a practice? How do we begin (or continue) the practice of radical self-care and healing within our unions? Join us in conversation with Restorative Justice Facilitator, Consultant and Life Coach Yvette Murrell — yvettemurrell.com — to explore these questions and more, as well as share some resources to bring into your own practice of self-care.
---
WEDNESDAY, JULY 21 — From 6:45 – 8:00 p.m.
●  Growing Washington's Clean Manufacturing Economy — Industrial decarbonization is vital to fighting climate change. Done right, it is also an opportunity to grow our local industrial economy and create a new generation of good manufacturing careers. With its low-carbon electric grid, highly skilled workforce, and existing industries, Washington is well-positioned to capture escalating demand for low-carbon materials and advanced clean energy technologies. This workshop will provide an overview of the current policy landscape and outline opportunities for workers and unions to help shape the future of Washington's clean manufacturing economy.
FACILITATOR: Jessica Koske, Washington State Policy Coordinator for the BlueGreen Alliance
●  From Language Access to Language Justice – Expanding Participation & Leadership Within Our Unions — (English & Spanish Interpretation will be provided.) Language access is crucial to expanding justice and equity within our labor movement. All workers need to be able to participate fully and lead regardless of what language a person speaks. Organizing and building an inclusive union requires mindful preparation and intentionally working to create a level playing field for non-english fluent members. Join this workshop as we cover success stories and best practices for increasing participation and building leadership within unions using Language Justice. The workshop will close with an introduction to the new WSLC Immigrant and Worker Justice Toolkit.
FACILITATORS: Milena Calderari-Waldron, Interpreters United 1671 WFSE/AFSCME; Diana Salazar, SEIU 775; Alex Chuang, Washington Immigrant Solidarity Network; Amy Leong, Asian Pacific American Labor Alliance; Dulce Gutiérrez, WSLC Union, Community & Naturalization Organizer: and Emilie Slater, WA Labor Education & Research Center
●  Organizing a New Future: Racial and Economic Justice — In an era of extreme polarization, nearly two-thirds of Americans approve of labor unions. As Washington and states across the country re-open, we must reorganize our workplaces and rebuild strong unions for all working people. In this workshop we will hear from workers, union and community leaders about organizing victories from across the state over the last year that center equity. By centering communities of color, women, immigrants and workers most at risk, these victories build power for all working people.
FACILITATORS: WSLC Racial and Gender Justice Director Kasi Perreira and WSLC Organizer Ingrid Chapman
PRESENTERS: Andrea Torres and Eunice How, UNITE HERE 8; Peter Kuel and Nurayne Fofana, Drivers Union/Teamsters 117; Brenda Rodriguez, WAISN Immigrant Relief Fund; Sierra Turner and Tonya Burnett, UFCW367; and Rigo Valdez and Diana Perez, MLK Labor President's Organizing Initiative
●  Recovery or Reconstruction of a Labor Market: How Will the Nature of Work Change Post-Pandemic? — As industries rebound from the pandemic-driven economic crisis, the nature of some jobs may permanently change. Companies have already adopted new ways to manage work and technology, increasing the need for certain skills. And for many working families their priorities in a job have dramatically shifted. As the economy recovers there's a looming question about how much the labor market will be transformed in the process and who will lose and who will gain by the changing nature of work. Join labor market analysts to discuss what we know from current trends and what we can project about the post-pandemic workforce.
FACILITATORS: WSLC Workforce Development Department Directors
PRESENTERS: Lewis McMurran, Future of Work Policy Analyst, Workforce Training Board; Scott Bailey, Regional Economist, Employment Security Department: and David West, Researcher, WA State Labor Education & Research Center
---
THURSDAY, JULY 22 — From 6:45 – 8:00 p.m.
●  New Resources for Union Members and Employers to Support Childcare Needs — Families are having to make tough choices around child care. Availability, costs, location; all are impacting workers' ability to get child care and to afford being able to offer child care. This workshop will explore what progress is being made within Washington state and what role labor can play in finding solutions.
FACILITATOR: WSLC Lead Workforce Development Director Kairie Pierce
PRESENTERS: Jill Bushnell, Department of Commerce; Shana Peschek, Machinists Institute; and Erin Haick, SEIU 925.
MATERIALS: Workshop PowerPoint presentation — Find a Union Child Care Provider with Carina — Working Connections Child Care Eligibility
●  Organizing for Economic Justice for All People — The Washington State Labor Council, AFL-CIO is a diverse and inclusive family of working people. We advocate for all workers. Our constituency groups address the challenges that workers from diverse backgrounds face. These groups reach out to the communities they serve, build solidarity, help out with organizing efforts and ensure full participation in our movement. Join this workshop to learn more about the work of the WSLC's Constituency Groups are learn ways you can become involved.
PRESENTERS: Representatives of the WSLC Constituency Groups
●  Culture Shift: Building Capacity for Racial Justice in Our Workplaces and in Our Unions — Union members are in every job sector in every region of Washington. Anti-racist work within our movement has positive equity impacts in not only workplaces, but in working people's communities as well. We will hear from union members, staff and leaders who have taken on the work of racial justice and equity, bringing capacity and creative strategies to our workplaces, committees, constituency groups, unions and labor councils across WA. Additionally, in this workshop you will get a sneak peek into WSLC's Race & Labor Certification Program, launching in Summer 2021, which will broaden our work across the state through a stipend-based model that will connect and honor rank and file members and union activists doing the work of racial justice in our movement.
FACILITATORS: WSLC Racial and Gender Justice Director Kasi Perreira and WSLC Racial Justice Committee
Short URL: https://www.thestand.org/?p=100102
Posted by
David Groves
on Jul 16 2021. Filed under
W.S.L.C.
. You can follow any responses to this entry through the
RSS 2.0
. Both comments and pings are currently closed.