Check in with union veterans amid crisis in Afghanistan
The following message is from William Attig, Executive Director of the Union Veterans Council, AFL-CIO:
WASHINGTON, D.C. (Aug. 18, 2021) — Veterans from all generations are processing the news of what is currently unfolding in Afghanistan and could be experiencing a wide range of emotions and feelings right now. From union presidents to first-year apprentices, many of these veterans are our brothers, sisters and siblings in the labor movement, and we want to support them during this concerning time.
With over 1 million working union veterans and countless retirees, the Union Veterans Council, AFL-CIO wants to ensure that the labor community and our veterans are educated, informed, and prepared with the right resources and support to face this moment head-on. We will be proactively sharing resources via social media, email lists, and our overall labor networks during the upcoming days and weeks.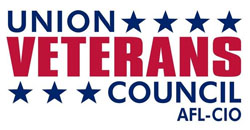 Let's be clear this will not affect all veterans, but our goal is to be prepared for any union vet or family member that needs support to get it, even if it is just a check-in.
We have also compiled a list of resources, accessible to veterans, veterans' supporters, and the general public, to share with your local unions, networks and veterans. Please share these resources with your unions' members.
RESOURCES

●  Veterans Crisis Line – If you are having thoughts of suicide, call 1-800-273-8255, then PRESS 1 or visit http://www.veteranscrisisline.net/
For emergency mental health care, you can also go directly to your local VA medical center 24/7 regardless of your discharge status or enrollment in other VA health care.
●  Vet Centers – Discuss how you feel with other Veterans in these community-based counseling centers. 70% of Vet Center staff are Veterans. Call 1-877-927-8387 or find one near you.
●  VA Mental Health Services Guide – This guide will help you sign up and access mental health services.
●  MakeTheConnection.net – information, resources, and Veteran to Veteran videos for challenging life events and experiences with mental health issues.
●  RallyPoint – Talk to other Veterans online. Discuss: What are your feelings as the Taliban reclaim Afghanistan after 20 years of US involvement?
●  Download VA's self-help apps – Tools to help deal with common reactions like, stress, sadness, and anxiety. You can also track your symptoms over time.
●  Tragedy Assistance Program for Survivors (TAPS) –  Request a Peer Mentor
●  VA Women Veterans Call Center – Call or text 1-855-829-6636 (M-F 8AM – 10PM & SAT 8AM – 6:30PM ET)
●  VA Caregiver Support Line – Call 1-855-260-3274 (M-F 8AM – 10PM & SAT 8AM – 5PM ET)
●  Together We Served –Find your battle buddies through unit pages
●  George W. Bush Institute – Need help or want to talk? Check In or call:1-630-522-4904 or email: checkin@veteranwellnessalliance.org
●  Elizabeth Dole Foundation Hidden Heroes – Join the Community
●  American Red Cross Military Veteran Caregiver Network – Peer Support and Mentoring
●  Team Red, White & Blue – Hundreds of events weekly. Find a chapter in your area.
●  Student Veterans of America – Find a campus chapter to connect with.
●  Team Rubicon – Find a local support squad.
---
► From KNKX — The simple steps you can take right now to help Afghan refugees — Afghans who are arriving in the U.S. will be coming to the Washington, D.C., area; Houston and Fort Worth, Texas; and Seattle and Tacoma, Wash. Here's how you can help them and organizations on the ground in Afghanistan"
●  Volunteer to help resettled refugees: Lutheran Immigration and Refugee Service is asking for volunteers to help refugees upon arrival with airport pickups, meal assistance, mentorship, tutoring and more. You can participate if you're in one of the areas where refugees are arriving, and there's a standby list to join for other areas too. You can also donate.
●  Take up a challenge: Women for Women International says a "generous member of our community" will match up to $500,000 in donations for its Afghanistan program.
●  Open your wallet: Consider donating to Women for Afghan Women, which says it is the largest women's group in Afghanistan; the International Refugee Assistance Project; and the Afghan Journalists Safety Committee, which works to protect journalists on the ground.
●  Email the White House: The International Rescue Committee has an email form through which you can urge the Biden administration to take immediate steps to ensure "vulnerable Afghans have pathways to safety." The group is also asking for donations.
Short URL: https://www.thestand.org/?p=101155
Posted by
David Groves
on Aug 18 2021. Filed under
NATIONAL
. You can follow any responses to this entry through the
RSS 2.0
. Both comments and pings are currently closed.