L&I webinars explain changes in agriculture overtime pay
(Este mensaje se repetirá en español.)
The following is from the Washington State Department of Labor and Industries (L&I):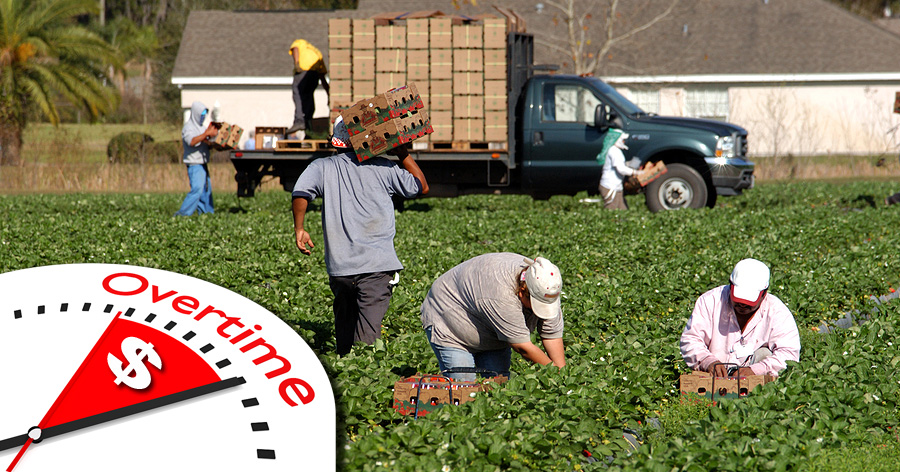 TUMWATER (Aug. 27, 2021) — While dairy workers already have the right to earn overtime, Engrossed Substitute Senate Bill 5172 grants the same right to agricultural workers starting in 2022. The law includes a three-year phase-in schedule which means agricultural workers will be entitled to earn overtime pay after they work 55 hours in a workweek in 2022, 48 hours in 2023, and 40 hours in 2024.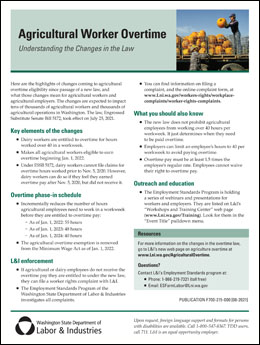 To help employers and employees understand these changes, the Employment Standards Program's outreach team is hosting a series of webinars, including sessions in Spanish. The Spanish webinars will be held at 6 p.m. on the last Tuesday of the month, beginning Aug. 31. The English and Spanish webinars are listed on L&I's "Workshops and Training Center" web page. Look for them in the "Event Title" pulldown menu.
In addition to the webinars, the program can do a similar presentation to individual groups. To request a presentation, send an email to the program's Farm Labor Unit.
There is more information about this law on L&I's Spanish agricultural wages web page.
Seminarios web en inglés y español explican los cambios a la ley de horas extras en la agricultura
Ahora que los trabajadores de lecherías ya tienen el derecho al pago de horas extras, el Proyecto de Ley del Senado 5172 extiende el mismo derecho a los trabajadores agrícolas a partir del 2022. La ley incluye un horario de incorporación gradual de 3 años, lo que significa que los trabajadores agrícolas tendrán derecho a recibir pago por horas extras cuando, dentro de una semana laboral, trabajen más de 55 horas en el 2022, más de 48 horas en el 2023 y más de 40 horas en el 2024.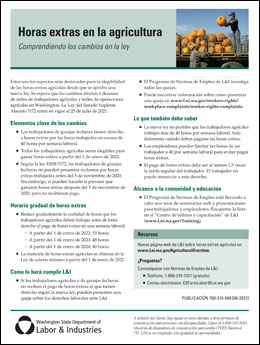 Para ayudar a los empleadores y a los trabajadores a entender estos cambios, el equipo de alcance del programa de Normas de Empleo está organizando una serie de seminarios web, que incluyen seminarios en español. Las sesiones en español se darán el último martes del mes, comenzando el 31 de agosto.
Los seminarios web en inglés y español se encuentran en la página de Talleres y capacitación de L&I. Búsquelos bajo el menú de "Event Title" (título del evento).
Además de los seminarios web, el programa puede hacer presentaciones similares a grupos pequeños. Para pedir una presentación, envíe un correo electrónico a la Unidad de Trabajo Agrícola del programa.
Hay más información sobre esta ley en la página web de salarios agrícolas de L&I
Short URL: https://www.thestand.org/?p=101468
Posted by
David Groves
on Aug 27 2021. Filed under
STATE GOVERNMENT
. You can follow any responses to this entry through the
RSS 2.0
. Both comments and pings are currently closed.