Get #VoteReady to build worker power
Register to vote or update your voter information, then tell friends and family to do the same
By CHERIKA CARTER
---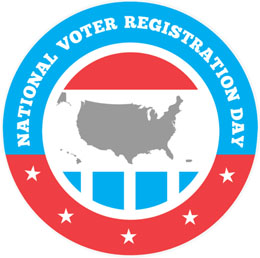 (Sept. 28, 2021) — Family it's been a while since we had a Cherika's Corner column, but guess who's back? And it's National Voter Registration Day! Are you #VoteReady? Check your Washington state voter registration here.
Local elections are critical this year to ensuring that working people have a voice and ensuring that Washington works for all of us. Local elected leaders play a key role in making decisions about what will impact working families the most. Our record-setting voter turnout of 2020 should be celebrated and built upon. To move forward together as Washingtonians and emerge strong from the pandemic, we must keep participating in large numbers in in all elections and exercising our freedom to vote. The more of us that cast a ballot in every election for champions for working people, the more we will have leaders who share our working family values and make the promise of our democracy real for us all.
The leaders we elect this Fall are the ones who manage our schools, public transportation and infrastructure, our ports, the quality of our public hospitals and so much more. It is up to us to register and vote in large numbers, so that we can hold them accountable to our working families values and build a democracy at all levels of government that works for all of us of all colors and backgrounds.
Election Day, Tuesday, Nov. 2 is 34 days away! So get #VoteReady. Check you voter registration here, and make sure your information is up to date. Once you check your registration, share this link with three friends. If you or your friends need to register or update voter information, know that in Washington you can register to vote or update your voter registration online or by mail.  To register or update your information by mail, print this voter registration form, fill it out, and mail it to your local election office. You can also register to vote in person if you prefer. You can register or update your address online or by mail until 8 days before an election. You may also register in-person through Election Day.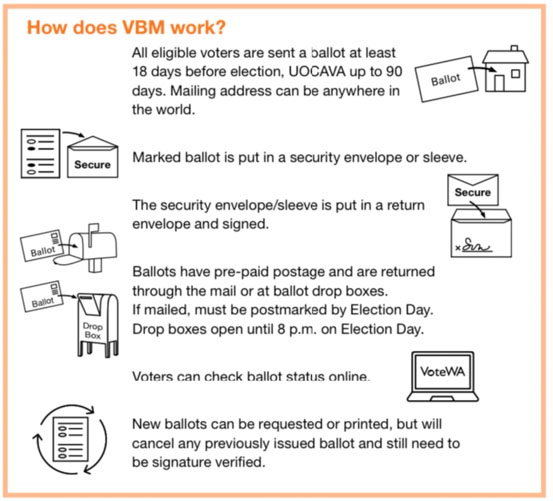 Washington is a Vote-By-Mail State, so Washington voters receive and return their ballots through our Union Siblings in the U.S. Postal Service, or return ballots at drop boxes. Ballots are mailed 18 days prior to an election and will be mailed by Oct. 15 for this year's election. Additionally, voter's pamphlets, with information about the candidates and issues, are sent to every household in Washington before ballots are issued.
While voting is simple, easy, safe, and reliable for us here in Washington state, across the country voting rights are under attack. Just this year 14 states enacted 22 new laws that restrict access to the vote.
The survival of democracy anywhere depends on working people to defend it everywhere. We always have, and we always will. America's labor movement is committed to strengthening democracy at the ballot box and in our workplaces. That is why we are working hard to pass both the PRO Act and the For the People Act.
Democracy and the labor movement are one and the same. Every member gets one vote, and each vote counts the same. The PRO Act will give millions of workers the freedom to form a union without the fear of intimidation or retaliation. The For the People Act—or S. 1—will protect voting rights, which are under attack across the United States. Since Jan. 1, 14 states enacted 22 new laws that restrict access to the vote, and 48 states had legislators who tried to introduce restrictive voting legislation. We need a solution: These laws are motivated by racist and baseless voter fraud allegations that seek to prevent future elections from achieving the historic turnout seen in 2020.
Ensuring the For the People Act becomes law is a crucial component of the broader effort to make our electoral system fair and accessible to all voters, especially people of color who have been historically disenfranchised at the ballot box, and who are being targeted today.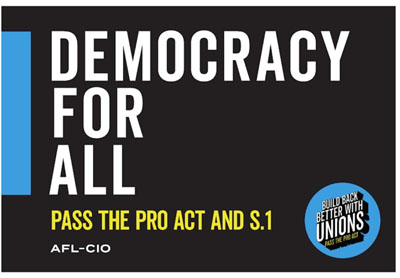 So, what would this legislation do? 
● Make it easier to vote in federal elections and overturn laws designed to suppress the vote.
● End congressional gerrymandering.
● Overhaul federal campaign finance laws.
● Bolster safeguards against foreign interference in our election process.
● Strengthen government ethics rules and more.
Right now, the Senate is using arcane rules—specifically the filibuster—to override the will of the people and block legislation like the PRO Act and the For the People Act. While it takes 50 votes to pass legislation in the 100-member Senate, the filibuster creates a de facto 60-vote threshold in the Senate for major legislation to be debated or considered. Let's be clear: The filibuster is an artifact of Jim Crow and a creature of white supremacy. Procedural roadblocks must be removed. Paths must be cleared. Laws must be signed. The American people voted for a Workers First Agenda. It is time for Congress to protect and honor that vote with action.
If you or someone you know needs to update their voter information or register to vote in Washington state, voter registration forms must be received by an election's office no later than Oct. 25, and online voter registration must be completed by midnight. Additionally, you can register in-person at a County Election Office through 8 p.m. Election Day on Tuesday, Nov. 2.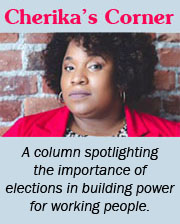 Democracy works best when we all vote. So update your voter registration today if you need and encourage your friends to do the same, and call your Senators and let them know we need to pass the PRO-Act and S.1, the For the People Act – so that Elections across this county are fair and accessible for all of us no matter our color or background.
---
Cherika Carter is Political and Strategic Campaigns Director for the Washington State Labor Council, AFL-CIO.
Short URL: https://www.thestand.org/?p=102296
Posted by
David Groves
on Sep 28 2021. Filed under
OPINION
. You can follow any responses to this entry through the
RSS 2.0
. Both comments and pings are currently closed.