One day longer: Support Warrior Met strikers
As Alabama coal strike enters 7th month, please contribute to UMWA's Strike Aid Fund
TUSCALOOSA, Ala. (Oct. 4, 2021) — Some 1,100 members of the United Mine Workers of America have begun their seventh month of an Unfair Labor Practice strike against Warrior Met Coal in Alabama. The strike began on April 1 against Warrior Met, which was formed after the bankruptcy of Walter Energy and operates several coal mining facilities across the state, after the company failed to offer a fair contract to workers who had made sacrifices to save the company from bankruptcy.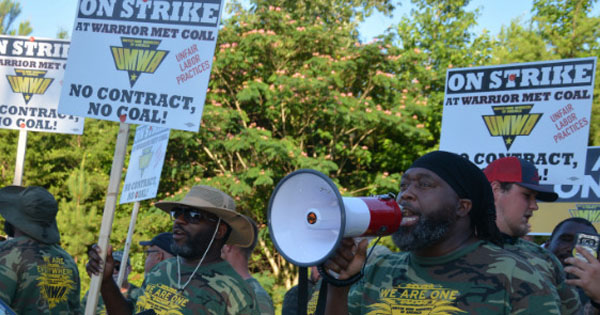 TAKE A STAND — Please make a generous contribution to the UMWA's Strike Aid Fund for the Warrior Met strikers. These donations are being used to help these union siblings in their time of need and provide additional support on top of the selective strike benefits they receive.
BACKGROUND — In 2016, due to a series of questionable management decisions, Walter Energy filed for bankruptcy, but the workers decided to save their company, preserve their jobs and their communities by sacrificing wages, time off from work, loss of overtime pay and an end to full healthcare coverage.
Their sacrifices totaled $1.1 billion over five years in cost savings and helped the company reach revenues in excess of $4.3 billion. The result of these sacrifices and an unheard-of financial comeback for the company was Warrior Met's blatant mistreatment of its workers, forcing them to work most holidays and complete 12-hour shifts reaching up to seven days a week.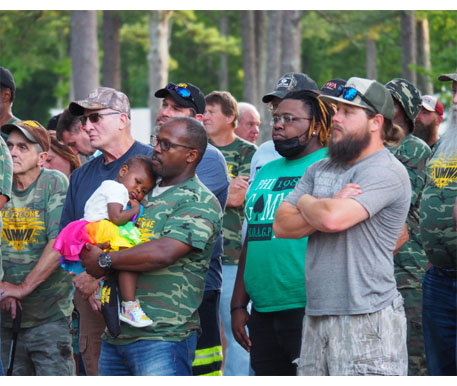 The National Labor Relations Board Regional 10 Director recently found merit in Unfair Labor Practice charges about Warrior Met's bad faith bargaining and its failure to provide the union with information that the company is obligated to provide in contract negotiations.
"This is welcome news, but is no great surprise," UMWA International President Cecil E. Roberts said. "We have seen this company act in ways contrary to American labor law from the outset of this strike. We have filed multiple Unfair Labor Practice charges in addition to those related to not bargaining in good faith.
"They have targeted our members and their families on the picket lines with vehicular assault and more," he said. "We will see where we go from here. We continue to call on the company to get serious about reaching an agreement that is fair and reasonable for both sides. As we wait, we continue our Unfair Labor Practice strike."
Last week, UMWA members ratified a new collective bargaining agreement at a different Alabama coal mine, the Shoal Creek metallurgical coal mine operated by Peabody Energy, raising hopes that Warrior Met would negotiate in good faith to end the strike.
Until that happens, as UMWA President Roberts reminded the crowd at a rally last week at Tannehill State Park in Tuscaloosa County, the union will not back down.
Short URL: https://www.thestand.org/?p=102484
Posted by
David Groves
on Oct 4 2021. Filed under
NATIONAL
. You can follow any responses to this entry through the
RSS 2.0
. Both comments and pings are currently closed.