WSLC updates position on vaccine mandates
Labor council adds that workers must have a voice in the consequences of vaccine mandates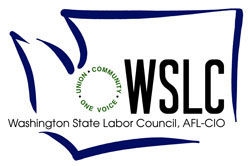 (Oct. 18, 2021) — The Washington State Labor Council, AFL-CIO has been meeting regularly with its affiliated unions on the issue of employer COVID-19 vaccine mandates since August. With today's deadline for termination under Gov. Jay Inslee's vaccine requirement — which affects most Washington state employees; higher education, childcare, and K-12 education employees; state contractors; and most healthcare and long-term care providers — the WSLC and its affiliates have updated previously issued principles that the state's labor movement shares:
1) All workers have the right to a safe workplace.

2) All workers should have a voice in vaccine mandates.

3) All workers should also have a voice in the consequences of vaccine mandates.

4) The only way to guarantee that workers have a voice in vaccine mandates and their consequences is through the power of a union.
With these principles in mind, the WSLC will continue to encourage all union members to get informed about how safe and effective the vaccines are — and to get their shots. The council will also support its affiliated unions and their members as they navigate the effects of any layoffs on the essential work they do and the critical services they provide.
---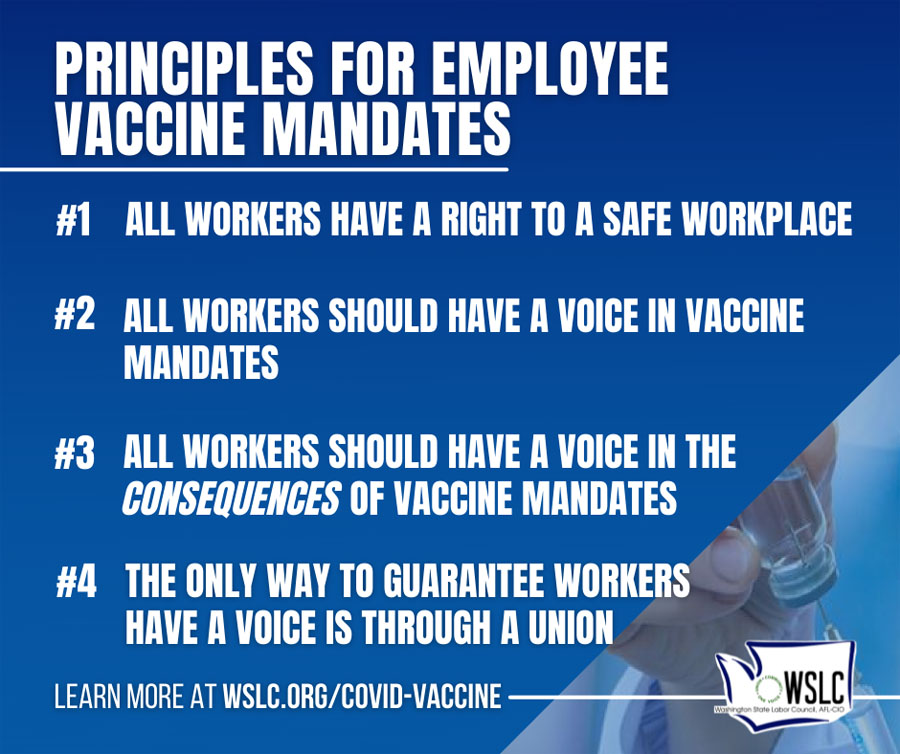 All workers have a right to a safe workplace. This right is fundamental. All workers must be protected from unsafe working conditions, including but not limited to: sickness, injury, discrimination or harassment. Amid the pandemic, workers must have access to personal protective equipment, prompt notification of COVID exposure, and mask mandates in indoor public spaces. This is both a workplace safety issue and a public health issue. COVID-19 vaccines greatly improve workplace safety and public health. That's why organized labor has consistently promoted vaccination among union members, assisted those who struggle with vaccine access, and advocated for stronger health and safety protections for working people.
All workers should have a voice in vaccine mandates. Whether issued by a private or public sector employer, unions have consistently maintained that the effects of vaccine mandates must be subject to bargaining. Low wage workers, Black, Indigenous workers and workers of color must have a voice in vaccine mandates and in raising working conditions for all workers. No employer should be able to impose a vaccination mandate without negotiating its terms. This does not mean unions "support" or "oppose" such mandates, it simply means that workers should have a voice in how they are implemented. For example, in the case of Gov. Jay Inslee's vaccine mandate, Washington's state employee unions have successfully negotiated provisions for paid leave for state employees to get vaccinated – which has been demonstrated to increase the likelihood someone will get the shot – and a more fair and consistent process for requesting exemptions, among other improvements.
All workers should also have a voice in the consequences of vaccine mandates. Critical industries across Washington were facing staffing shortages prior to vaccine mandates taking effect, especially in healthcare settings. Private and public employers that fire workers for failure to comply with vaccine mandates are creating a significant change in working conditions that affects all employees, many of whom are already feeling the strain of short staffing. Workers should have a voice in these changed working conditions. We know that lower wage workers and Black folks, Indigenous folks & people of color (BIPOC) continue to face vaccination barriers, and that BIPOC are disproportionately represented in essential industries subject to vaccine mandates. Employers' contingency plans for staffing and maintaining quality, humane, and safe public services and worksites must be a) clearly communicated and accessible to all employees, b) center the people who do the work and c) have input from impacted workers still on the job. These quality union jobs must not be filled by untrained, unvaccinated, potentially unqualified contractors or workers. One way to minimize the potential negative fallout is to ensure that terminated workers who subsequently become vaccinated are reinstated to their jobs. And finally, as the stress and anxiety of working amid the pandemic is exacerbated by mandate terminations, workers also deserve the unequivocal support and protection of employers when interacting with the public.
The only way to guarantee that workers have a voice in vaccine mandates and their consequences is through the power of a union. Workers without a union can have little recourse when new terms of employment, like a vaccine mandate, are imposed upon them. It's another reason why union membership is so important in protecting your rights – and safety — at work.
Get more information about how you can join together with co-workers and get a union contract that protects your rights at work. Or go ahead and contact a union organizer today.
Short URL: https://www.thestand.org/?p=102757
Posted by
David Groves
on Oct 18 2021. Filed under
W.S.L.C.
. You can follow any responses to this entry through the
RSS 2.0
. Both comments and pings are currently closed.