95% of federal workers comply | Strikesgiving | Costly ferry fix
Monday, November 22, 2021
---
COVID
► LIVE from the Seattle Times — Coronavirus daily news update, Nov. 22 — The latest count of COVID-19 cases in Washington totals 762,118 infections (14-day average of cases per day: 1,752) and 9,110 deaths.
► From the NY Times — As Thanksgiving approaches, U.S. virus cases tick upward once more — Cases are rising again in parts of the country, but more people are traveling, and health officials have largely stopped telling people to skip celebrations.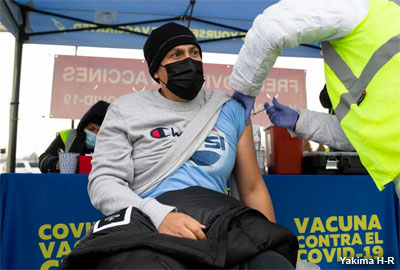 ► From the Yakima H-R — State reports: COVID hit communities of color harder; Yakima Valley groups press outreach efforts — It's been a stubborn data set during the pandemic: Rates of COVID-19 cases, hospitalizations and deaths are generally higher in communities of color than among white Washingtonians, according to the state Department of Health. Advocates say outreach efforts remain important, and vaccination rates among Latinos in Washington are improving.
► From KING 5 — Alaska Airlines fights flight attendant who says she got long-haul COVID at work — Alaska Airlines is taking a COVID-19 workers' compensation case centered on one of the company's flight attendants to court. In documents associated with the case, the company states it doesn't have the responsibility to pay wages and benefits to the worker, 54-year-old Shannon Bean of Bellevue, despite her claim she got the virus on a flight.
► From the Tri-City Herald — More changes on the COVID vaccine mandate for 11,000 Hanford workers — Nearly 11,000 workers at the Hanford nuclear reservation have been given more time to be fully vaccinated against COVID-19 or receive an exemption. There also appears to be a move by at least some employers at the site to allow accommodations that will allow more of those with approved religious or medical exemptions to continue working. However, the deadline extension does not cover about 300 Hanford site workers who are employed directly by DOE. They face a Monday, Nov. 22, deadline to prove they are vaccinated.
► From the AP — Official: More than 90% of fed workers got shots by deadline — In all, more than 95% of federal workers are in compliance with the Biden mandate, the official said, either by being vaccinated or having requested an exemption. Workers who are not in compliance are set to begin a "counseling" process that could ultimately result in their termination if they don't get a shot or secure an approved exception to vaccination.
► From the AP — Sen. Ericksen, sick with COVID in El Salvador, now in Florida — A former Washington state lawmaker says Republican state Sen. Doug Ericksen (R-Ferndale), who was sickened with COVID-19 in El Salvador, is now in stable condition at a Florida hospital after a medevac flight.
---
STRIKESGIVING

► From Teamsters 174 — Teamsters Local 174 on 'Unfair Labor Practice' strike at Gary Merlino Construction — At 5:30am on Friday November 19, pickets went up at Gary Merlino Construction plants in Renton and Seattle as workers walked off the job in an Unfair Labor Practice (ULP) strike. The strike was called after GMC management refused to bargain in good faith with Teamsters Local 174.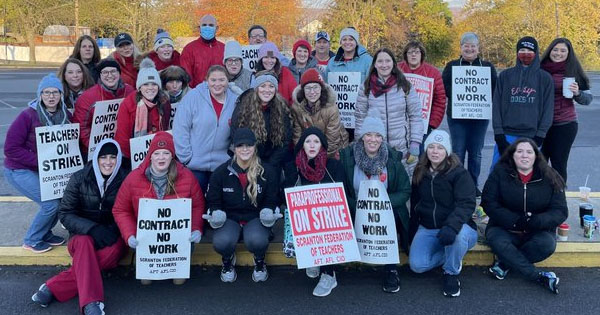 ► From the AP — Scranton teachers reach tentative deal, ending strike — Teachers reached a tentative contract agreement Friday with the Scranton (Penn.) School District, ending a 12-day strike. Students will return to class on Monday for the first time since Nov. 2 after union and district negotiators agreed on the terms of a new deal. Teachers had been working without a contract for more than four years.
► From the AP — Kellogg's to restart talks with striking cereal workers — The Kellogg Co. will reopen contract talks this week with its 1,400 cereal plant workers who have been on strike since Oct. 5. The Battle Creek, Michigan-based company said negotiations are scheduled to resume Monday with the BCTGM union that represents those workers.
► From the Houston Chronicle — 14,000 Kroger workers in Houston could go on strike before Thanksgiving — "With this (strike authorization) vote, Kroger grocery workers are sending a clear message that they are ready to stand up for the good pay, lower prescription costs, and quality healthcare they have earned on the frontlines of this pandemic," UFCW Local 455 President Brandon Hopkins said.
► From KTAR — Restaurant workers at Phoenix Sky Harbor Airport vote to authorize strike
---
LOCAL

► From the Kitsap Sun — Kitsap Regional Library's frontline staff say they're among the lowest paid in the state — Kitsap Regional Library's unionized staff (WPEA) has launched a public campaign to bring attention to their wages, which they say are some of the lowest for library staff in the region despite promises during the 2017 levy campaign that pay of library personnel would be aligned with other libraries in the region if the increase passed.
---
AEROSPACE
► From the Seattle Times — FAA memo reveals more Boeing 787 manufacturing defects, including contamination of carbon fiber composites — The litany of manufacturing defects on the 787 is expanding as Boeing engineers take apart planes and discover new or more widespread issues, a FAA internal memo indicates. The FAA memo points to new concerns about a previously unreported defect caused by contamination of the carbon fiber composite material during fabrication of the large structures that make up the 787's wing, fuselage and tail.
The Stand (April 21, 2016) — Jim McNerney's legacy at Boeing: $29 billion in unpaid 787 bills (by David Groves) — Former Boeing CEO Jim McNerney's outsourcing-on-steroids strategy for developing the Dreamliner must have looked pretty good on the back of that Chicago country club napkin. It promised to "spread the risk" associated with development costs among suppliers across the globe. As it turned out, the parts didn't fit together and, lacking necessary engineering expertise, some suppliers went full Radio Shack with their components. Ultimately, the 787 delays weren't measured in months, but in years, and the billions in costs mounted.
---
THIS WASHINGTON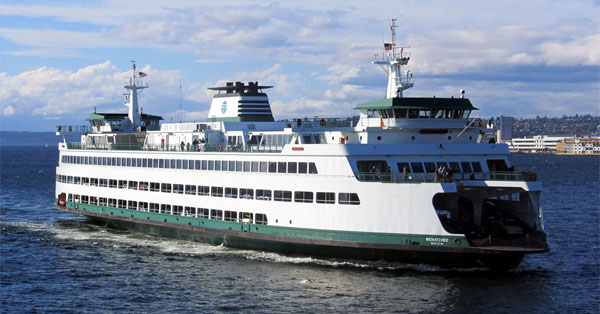 ► From the Seattle Times — How to make Washington State Ferries shipshape again — Unless leaders at Washington State Ferries can generate a tidal wave of new money and staffing ideas, the fleet could remain in dire straits through 2022 and beyond. Ferry district lawmakers are ready to push for money and recommendations in the 2022 session, while Gov. Jay Inslee is expected to issue his recommendations any day. Even with bipartisan agreement on the system's need for improvement, timelines to develop crew skills and replace aging vessels are measured in years. The agency is down to 1,769 employees as of late October, down 198 from two years before. Also, there are 20 ferries now, compared with an ideal 25 boats to cover all routes and allow time for maintenance.
► From KUOW — Tacoma liquid gas plant gets go-ahead from state pollution board — A liquified natural gas plant on the Tacoma waterfront has gotten the green light from the Washington Pollution Control Hearings Board. The board gave its final go-ahead for the controversial plant at the Port of Tacoma on Friday. The Puyallup Tribe and five environmental groups have been trying to stop Puget Sound Energy from opening the plant for years.
► From KGMI — Shewmake to challenge Ericksen for state Senate — The 42nd District Democratic State Representative says she'll challenge Sen. Doug Ericksen (R-Ferndale) for the Senate seat. Ericksen may be vulnerable after winning re-election by just 46 votes in 2018.
---
THAT WASHINGTON
The Stand (Nov. 19) — Build Back Better bill passes U.S. House — AFL-CIO's Liz Shuler calls it "one of the most transformative investments in our country's history."
► From NBC News — Paid leave, immigration: What's likely to change as Senate weighs Build Back Better Act —  President Joe Biden's safety net and climate change package passed the House on Friday and goes to the Senate next, where it is likely to be changed before it can become law. Some provisions of the $1.68 trillion bill may be removed or revised to win the support of all 50 Democratic-caucusing senators.
► From the NY Times — GOP donors back Manchin and Sinema as they reshape Biden's agenda — The two Democratic senators are attracting campaign contributions from business interests and conservatives as progressives fume over their efforts to pare back the president's domestic policy bill.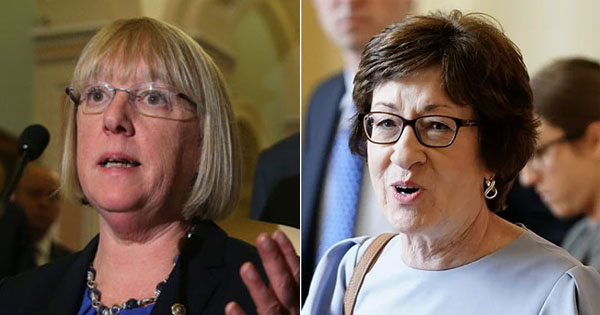 ► From The Hill — Two women could lead a powerful Senate spending panel for first time in history — Sens. Patrick Leahy (D-Vt.) and Richard Shelby (R-Ala.), chairman and vice chairman of the Senate Appropriations Committee, are prepared to retire at the end of their terms next year, and two senior members of the upper chamber's largest committee are in line to succeed the pair. Sens. Patty Murray (D-Wash.) and Susan Collins (R-Maine), whose shared experience serving on the committee and in the upper chamber span decades, are poised to take their male colleagues' places.
---
NATIONAL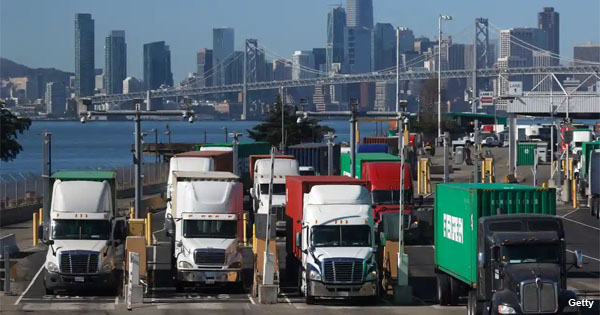 ► From the Guardian — 'Indentured servitude': low pay and grueling conditions fueling U.S. truck driver shortage — The trucking industry's main trade body has said America is short about 80,000 drivers, a figure that's made headlines around the country. Truckers say the problem isn't a shortage of qualified drivers; there's plenty of people who have been through the training programs and hold a commercial driver's license. The rot, they say, is far more systemic: low pay, long hours and an industry that treats drivers like "cannon fodder", churning out new recruits who inevitably quit because the job is so grueling.
► From Business Insider — 2 million 'missing' workers are immigrants who never came to the U.S. because of Trump-era policies — American businesses are feeling the impact of the current labor shortage as they struggle to hire amid a record high wave of people quitting — and Trump-era immigration policies could be to blame.
---
The Stand posts links to Washington state and national news of interest every weekday morning by 10 a.m.
Short URL: https://www.thestand.org/?p=103854
Posted by
David Groves
on Nov 22 2021. Filed under
DAILY LINKS
. You can follow any responses to this entry through the
RSS 2.0
. Both comments and pings are currently closed.