The following is from the MLK Labor Council: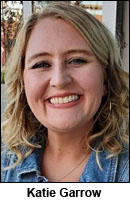 SEATTLE (Nov. 18, 2021) — Katie Garrow was sworn in Wednesday night to serve as the Executive Secretary-Treasurer of the MLK Labor Council. Katie was nominated at the September Delegates Meeting and won unanimously. Garrow, who is a member of Laborers Local 242, will serve a three-year term.
In addition to the election of Garrow, Dustin Lambro (Teamsters Local 117) and Stefan Moritz (Unite Here Local 8) were re-elected as President and Vice President respectively. At-Large Board members and Trade Section Representatives were also elected to three-year terms.
"I am honored to have the opportunity to lead our local labor movement at this critical time," said Garrow. "I join my voice in the chorus of other women, people of color, LGBTQ people, and young workers who are taking responsibility for the current state of the labor movement and looking to grow it."
Garrow previously served as Deputy Executive Secretary-Treasurer of MLK Labor working under Nicole Grant, who opted not to run for a third term to lead the Labor Council. Garrow has also worked as a Union Representative at PROTEC17 and organized domestic workers in the San Francisco Bay Area.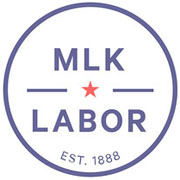 "I've been a part of MLK Labor for almost ten years now, first as a delegate and later as staff. In that time, I've seen this Labor Council transform into one of the strongest and most progressive labor bodies in the country," Garrow said. "My vision is to continue the great work we've been doing by helping workers win strong contracts, bringing the benefits of a union to unorganized workers, and fighting for racial and social justice. My generation — millennials — is the first in American history to be worse off than our parents. We're saddled with debt and have no retirement plans. But we know that union favorability is at the highest point in 50 years. Last month was deemed Striketober. The mass exodus of workers quitting is being dubbed the Great Resignation. People want a future where all workers have a living wage and dignity, and these are things that unions must organize around."
Garrow was born into a working-class family in Washington's Grays Harbor County, where her father was a union boilermaker and her mother worked in rural economic development. She witnessed firsthand the decline of such logging towns like hers in the area. Consequently, she is rooted in the plight of the rural working class, but is also passionately devoted to making the labor movement relevant and representative of women, people of color, and LGBTQ workers who have been left out and at times excluded from our unions and American prosperity. Katie earned a BA in Spanish from Pacific Lutheran University. She is currently engaged to be married to a public school teacher. They have two daughters.
The Martin Luther King, Jr. County Labor Council is the central body of labor organizations in King County, Wash. It is affiliated with the national AFL-CIO, the central labor organization in the United States, representing more than 13 million working people. MLK Labor Council's mission is to unify all labor organizations in King County to build power and strength for all workers. Learn more here.
---
The Stand (Oct. 19) — Nicole Grant to lead 350 Seattle, fight for climate justice