Nurses to WA State Legislature: Address hospital staffing crisis
Healthcare unions launch WA Safe + Healthy campaign
SEATTLE (Dec. 14, 2021) — A coalition of healthcare workers launched the WA Safe + Healthy campaign on Monday calling on Washington legislators to pass safe staffing standards that protect healthcare workers from dangerously high patient loads.
"We cannot wait another year – we need enforceable safe staffing standards now that allow us to do our jobs safely and give patients the care they deserve," said Ademola Adeyemo, a certified nursing assistant in the surgical unit at UW Medical Center – Northwest in Seattle and a member of SEIU Healthcare 1199NW. "For years we have been sounding the alarm about chronic staffing shortages, which existed well before COVID. We need solutions now."

Throughout the pandemic healthcare workers have worked tirelessly and put their own lives at risk to protect their communities, despite being burned out and at the breaking point. In new polling released by the WA Safe + Healthy campaign conducted among members of UFCW 21, SEIU Healthcare 1199NW and Washington State Nurses Association – who collectively represent more than 71,000 nurses and other healthcare workers in Washington – a staggering 84 percent of Washington healthcare workers said they feel burned out. Concerningly, 49 percent reported they're likely to leave the healthcare profession in the next few years. Among those who said they were likely to leave, 70 percent said one of the biggest reasons was short staffing.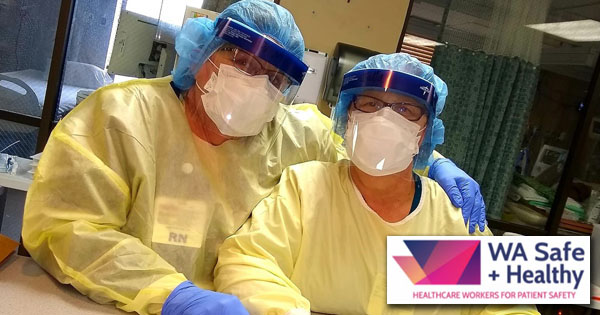 "I've been a nurse for 26 years, and I've never seen so many colleagues leaving," said Julia Barcott, a critical care nurse at Astria Toppenish Hospital and WSNA union leader. "They are retiring early, they are leaving to become travelers, and they have gone to less stressful jobs in clinics or freestanding surgical centers to get out of the pressure cooker that has become bedside care. This has meant that we are scrambling to cover our patients' needs – it's bad for nurses and healthcare workers, and it's bad for patients."
Washington has faced a staffing shortage for years, but the pandemic further exacerbated longstanding short-staffing issues. Healthcare workers have asked hospital executives for help to make their jobs manageable and to improve safety for healthcare workers and patients, but they've been ignored. In total, the WA Safe + Healthy campaign is calling on lawmakers to:
●  Pass safe staffing standards that protect healthcare workers from dangerously high patient loads and create adequate enforcement to ensure hospitals follow them.
●  Enforce existing overtime and meal and rest break laws to ensure healthcare workers are getting their legally required break time and end the abuse of mandatory overtime.
●  And invest in workforce development to increase the number of healthcare workers entering the field, an important part of addressing the healthcare staffing shortage but only alongside safe staffing standards that also protect them from the massive burnout and unmanageable conditions our healthcare workers are currently facing – and leaving.
"You can't begin to address the long-term staffing shortage without first addressing the massive burnout and exhaustion healthcare workers are facing," said Derek Roybal, a cardiovascular tech at Providence Sacred Heart in Spokane and a member of UFCW 21. "In no other industry could you expect to attract a new generation to enter the field by promising them that in a year they'll be burned out, under-valued and overwhelmed. Safe staffing standards and enforcements that ensure hospital executives will finally follow them are the only way to begin solving this crisis."
Just as the hospital staffing shortage pre-existed COVID, the crisis won't disappear when the pandemic ends. Washington's healthcare workers need legislators to pass enforceable safe staffing standards for the health and safety of workers and patients.
---

The WA Safe + Healthy campaign is a coalition of healthcare workers calling on Washington legislators to pass safe staffing standards for the health and safety of both workers and patients. Collectively, the Washington State Nurses Association, UFCW 21 and SEIU Healthcare 1199NW represent more than 71,000 healthcare workers in the state of Washington. Learn more at wasafeandhealthy.com, and follow the campaign on Facebook and Twitter.
Short URL: https://www.thestand.org/?p=104319
Posted by
David Groves
on Dec 14 2021. Filed under
STATE GOVERNMENT
. You can follow any responses to this entry through the
RSS 2.0
. Both comments and pings are currently closed.