Nationwide support for striking ice cream cake workers
SANTE FE SPRINGS, Calif. (Feb. 7, 2022) — More than 150 workers at the Jon Donaire Desserts production plant in Santa Fe Springs, Calif. — who make the ice cream cakes for Baskin-Robbins and Cold Stone Creamery that are sold throughout the United States, including at Safeway, Costco and Walmart — have been on strike since early November over wages, healthcare coverage and working conditions.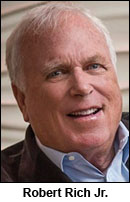 Robert Rich Jr., the CEO and owner of Rich Products Corp., which owns the Jon Donaire Desserts plant, has a net worth of $4.9 billion. In the first year of the pandemic, Rich Products reported more than $4 billion in revenue. But the workers producing the ice cream cakes that have made the Rich family rich are struggling to get fair wages and safe working conditions.
The AFL-CIO is working to raise national awareness of the strike. AFL-CIO President Liz Shuler will join the striking Jon Donaire workers' picket line on Saturday, Feb. 12 and AFL-CIO central labor councils across the country are holding leafleting actions outside stores that sell Jon Donaire Desserts to inform customers and store managers about the dispute.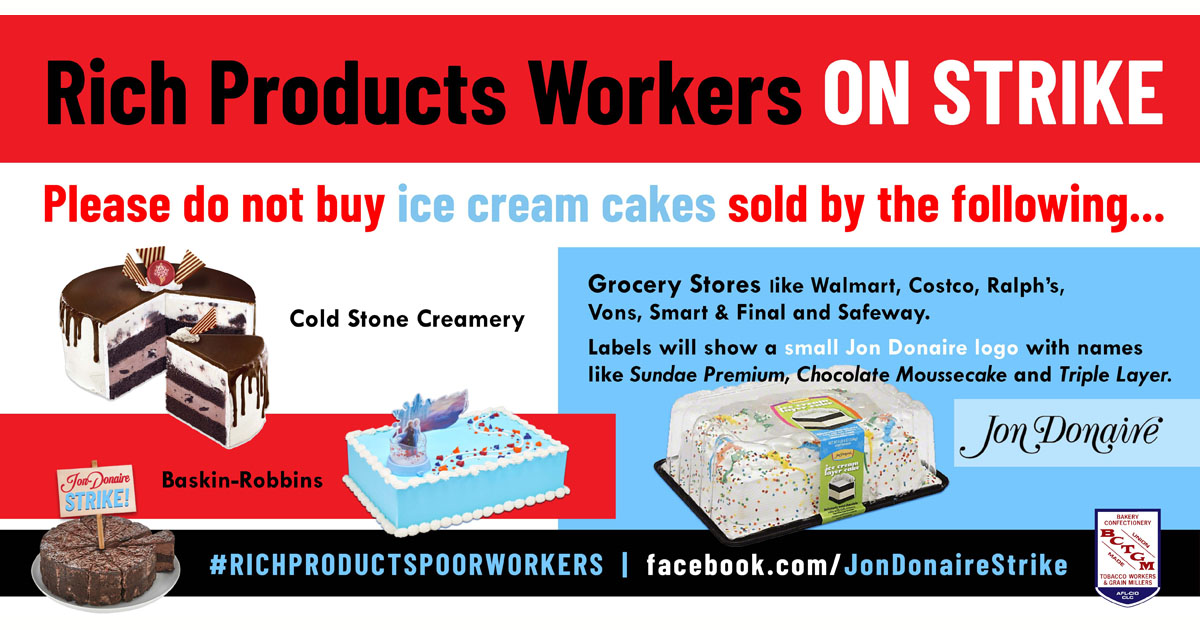 TAKE A STAND — The Bakery, Confectionery, Tobacco Workers and Grain Millers' International Union (BCTGM) is urging union members and community supporters: DO NOT BUY ice cream cakes sold by Cold Stone Creamery and in grocery stores like Costco and Safeway with labels showing a small Jon Donaire logo. You can also support these workers by following and sharing their updates on social media at Facebook.com/JonDonaireStrike and on Twitter and Instagram, and using #RichProductsPoorWorkers.
Rich Products has offered small wage increases to the Jon Donaire workers represented by BCTGM Local 37, but only if the workers accept major increases in out-of-pocket healthcare costs. The union is asking for $1/hour raises each year for three years with no cuts to their healthcare costs.
"Right now, we're paying around $130 a month for health care," 12-year Jon Donaire worker Miguel Perez told The Guardian. "They want to increase it to $480 for a single person and $780 for a family plan." He added:
"The Rich Corporation is not fulfilling its obligation to take care of its employees. They had us working through the whole pandemic. Everybody showed up to work. We all met our quotas as far as production [is concerned], and now that the contract is up they're trying to nickel-and-dime us into an unacceptable raise."
For more information, visit Facebook.com/JonDonaireStrike.
Short URL: https://www.thestand.org/?p=105653
Posted by
David Groves
on Feb 7 2022. Filed under
NATIONAL
. You can follow any responses to this entry through the
RSS 2.0
. Both comments and pings are currently closed.