Rep. Smith: Concrete employers must return to bargaining table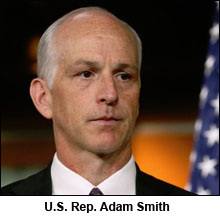 SEATTLE (Feb. 14, 2022) — U.S. Rep. Adam Smith (D-Wash., 9th) issued the following statement on Friday regarding the months-long Unfair Labor Practice strike taking place across King County by members of Teamsters Local 174. The ongoing strike against the region's six major concrete suppliers has resulted in thousands of layoffs.
"For nearly ten weeks now, workers across King County have demanded better wages and benefits from their employers. Amidst thousands of workers being laid off, it has been reported that employers are now refusing to come to the bargaining table. This standstill comes at the expense of working people and hurts families. The actions by employers seem to indicate a greater interest in undermining unions rather than coming to the table to negotiate in good faith.
"For far too long, we have seen large corporations prioritize their own profits and shareholders at the expense of workers. That is why we have seen an increase in strikes across the country by workers demanding fair pay, better benefits, and a safer workplace. I firmly believe in the right to organize and the importance of unions for American workers, their families, and the strength of our economy. I am fighting in Congress to protect collective bargaining rights and strengthen worker protections.
"The failure to a reach a resolution in King County means that many transportation projects across the county – such as the reopening of the West Seattle Bridge and numerous Sound Transit projects – are at a standstill. This ultimately damages our community at a time when the region's transportation infrastructure network is in desperate need of improvements. I urge the employers to come back to the table in good faith so that the parties can reach an agreement to get workers fair pay and benefits and projects moving forward again."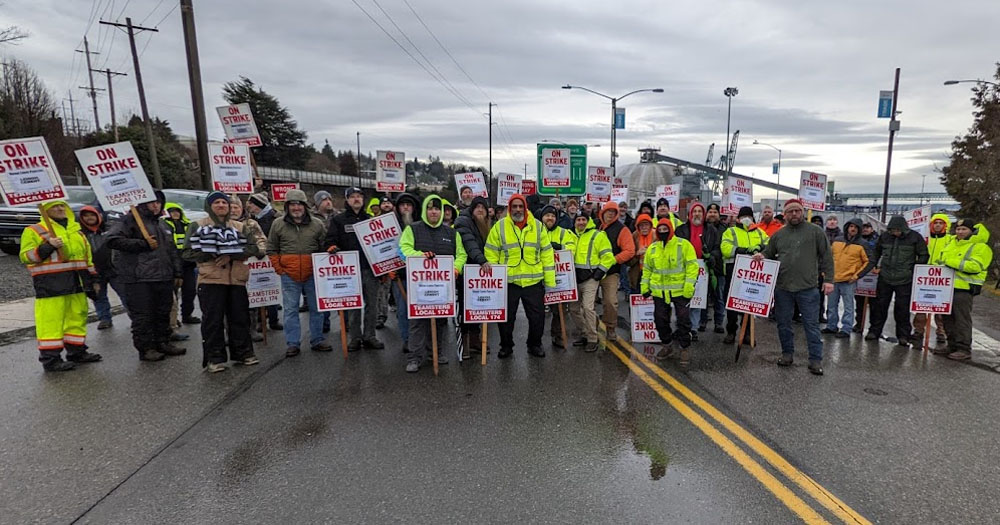 TAKE A STAND — Here's how you can support these striking workers and help them hold the line "one day longer." Make a contribution to the Teamsters Local 174 Merlino Heavy Highway and Sand & Gravel / Cement Industries Striking Workers Assistance Fund. Checks made out to "Teamsters 174 Worker Assistance Fund" can be mailed to: Teamsters Local 174, 14675 Interurban Ave. S. Suite 303, Tukwila, WA, 98168.
You can also visit a picket line from 7 a.m. to 3 p.m. — donations of firewood for burn barrels, food, drinks are greatly appreciated — at the following locations:
Calportand
Seattle – 5900 West Marginal Way SW
Kenmore – 6425 NE 175th St
Snoqualmie – 5601 396th Dr SE
Cadman
Seattle – 5225 E Marginal Way S
Redmond – 18816 NE 80th St
Lehigh Cement
Seattle – 5225 E Marginal Way S
Stoneway
Seattle – 3803 E Marginal Way S
Merlino
South Park – 9125 10th Ave S
Learn more at Teamsters174.net.
PREVIOUSLY at The Stand:
Teamsters' concrete strike enters 3rd month with no progress (Feb. 4)
In strike's 6th week, Teamsters shut down Port of Everett (Jan. 12)
Stop Grinch bosses from stealing Christmas for Teamsters families (Dec. 15)
AFL-CIO's Fred Redmond visits Teamsters picket (Dec. 8)
Concrete solidarity: Strike grows in King County (Dec. 6)
Gary Merlino drivers' ULP strike continues (Nov. 29)
Short URL: https://www.thestand.org/?p=105941
Posted by
David Groves
on Feb 14 2022. Filed under
LOCAL
. You can follow any responses to this entry through the
RSS 2.0
. Both comments and pings are currently closed.