Starbucks workers 'burnt out, sick and tired'
As company continues union-busting tactics, employees strike in Olympia and another store in Seattle files to unionize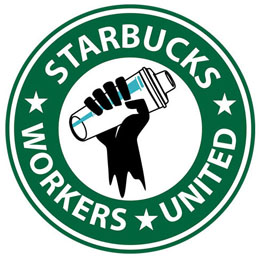 OLYMPIA (March 30, 2022) — One month ago, workers at a Starbucks in Olympia joined employees at more than 170 locations in Seattle and across the nation in announcing their intention to join together in a union. The workers at the coffee giant's Cooper Point Road store cited "abysmal working conditions" amid soaring profits for the corporate coffee giant as their reason for unionizing with Starbucks Workers United.
Since then, the Cooper Point workers say they have experienced retaliation from Starbucks management, including cut hours, threats, intimidation, and more. Workers organizing at Starbucks locations nationwide have reported similar retaliatory tactics from Starbucks, including illegal firings. Federal labor officials have filed charges against the company for illegal retaliation against pro-union workers, who are guaranteed under the National Labor Relations Act the freedom to choose whether they want to unionize free from employer intimidation, harassment and retribution.
But as pro-union Starbucks workers across the nation continue to file Unfair Labor Practice charges against the company for such behavior, the workers at Olympia's Cooper Point went a step further. They shut the place down.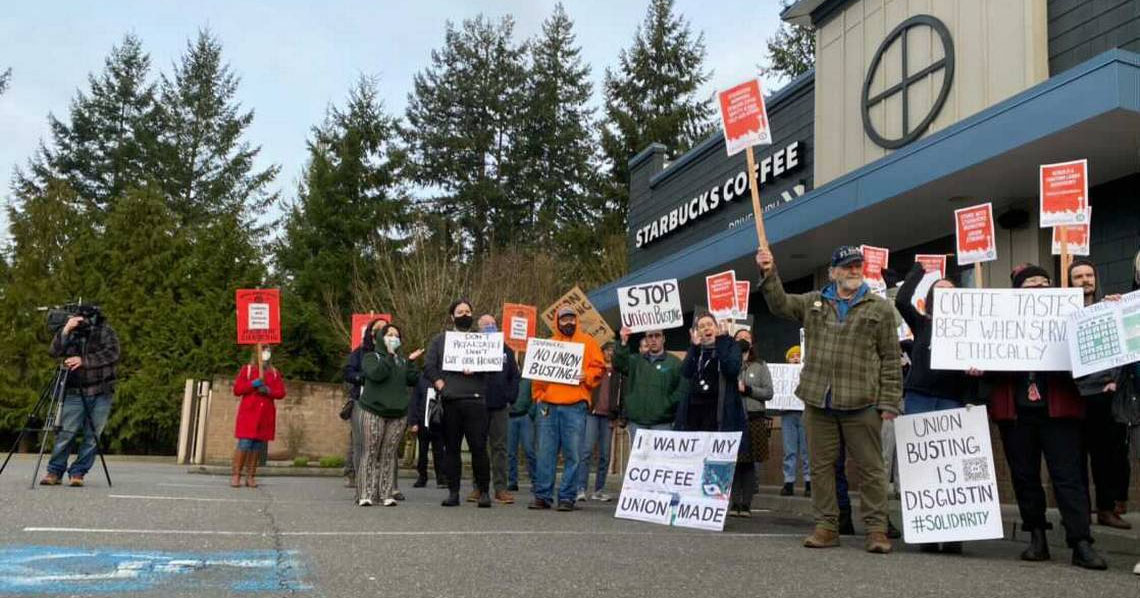 Last Thursday, March 24, the Cooper Point Starbucks workers held a one-day strike to protest "cut hours, intimidation, making threats and false statements against union organizers… (and) enforcing policies that have not previously been enforced," according to the workers' official strike notice. A crowd of up to 70 Starbucks employees and their supporters picketed the popular location all day.
"Our store manager has drastically cut hours; some partners only get eight hours a week," said barista Madison Barriga.
In an interview with The Olympian on March 29, Barriga said management hasn't said a word about the strike. There aren't any plans for more strikes yet, but employees will be outside the store this week to give patrons information on the union and the working conditions.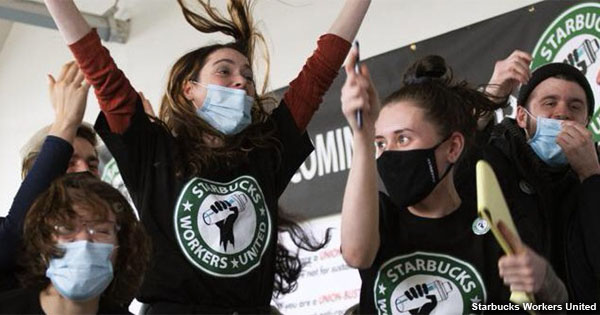 Despite Starbucks reported anti-union tactics, their employees continue to file for union elections — and vote "Union Yes!"
Today, workers at Seattle's East Olive Way store filed for a union election, hoping to join their sister location at Broadway & Denny as a fully unionized Starbucks. In their letter to Temporary CEO Howard Schultz, the Olive Way workers write:
"We are burnt out, sick, and tired. We are burnt out from running a business with only three people on the floor at a time. We are sick of the lies about everything from hours and wage increases for both us and our managers, to the actual functions of workers unions and how our own benefits work. We are tired of the constant backpedaling on promises made internally and in public, including being told this is a special circumstance happening to just our store, when we know from communicating as a true community of partners that this is happening to all of us everywhere. We are tired of the unabashed intimidation tactics and laughable attempts at union-busting that Corporate has subjected all its workers to, from community stores to Roasteries and beyond."
Meanwhile, the union announced Tuesday that the "Merchants Drive Starbucks in Knoxville, Tennessee just WON their union vote and will become the first unionized Starbucks store in the south."
TAKE A STAND — PNW Starbucks Workers United has created a Relief Fund via GoFundMe to "provide financial relief to Starbucks workers in the Pacific Northwest for income we lose as we take the collective actions needed to win the workplace we deserve." Show your solidarity by making a contribution today.
Follow the Starbucks Workers United Twitter feed for the latest updates on union filings and elections.
The Stand (Feb. 14) — Tell Starbucks: Reinstate fired workers, stop union busting!
Short URL: https://www.thestand.org/?p=107335
Posted by
David Groves
on Mar 30 2022. Filed under
LOCAL
. You can follow any responses to this entry through the
RSS 2.0
. Both comments and pings are currently closed.