U.S. Senate passes Postal Service Reform Act
In 'monumental victory' for USPS workers, bill heads to Biden to become law
WASHINGTON, D.C. (March 9, 2022) — In a 79-19 vote, the U.S. Senate passed the Postal Service Reform Act of 2022 (H.R. 3076) on Tuesday. Following the House's 342-92 passage on Feb. 8, the bill will now be sent to President Joe Biden for his signature to become law. This bipartisan legislation, supported by multiple unions representing U.S. Postal Service employees, will improve the financial stability of the Postal Service.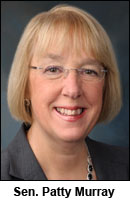 Both Washington Sens. Patty Murray and Maria Cantwell voted "yes." All members of the state's House delegation also supported the bill, with the exception of Rep. Cathy McMorris Rodgers (R–5th), who voted "no."
"For families in Washington state, the Postal Service is an essential part of life. We rely on its services to keep in touch with loved ones, exercise our right to vote, get the medications we need, and so much more," said Sen. Murray. "With passage of the Postal Service Reform Act, the USPS will finally get back on solid financial footing and deliver more reliable service to the people of Washington state. Not only is this legislation good for communities everywhere, it's also a win for the postal workers that we all count on to deliver for America."
Labor leaders also hailed the legislation's passage.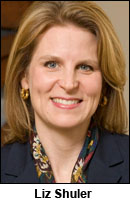 "Today's final passage of the Postal Service Reform Act is a culmination of 15 years of efforts to fund and strengthen our U.S. Postal Service," said AFL-CIO President Liz Shuler. "The overwhelming bipartisan support is a recognition of how critical the USPS is to our everyday lives. During this pandemic, we relied heavily on postal workers to deliver everything, from medication to election ballots to Social Security and pandemic relief checks, and as usual, the USPS did not disappoint."
"The passage of this legislation, on a strong bipartisan basis, is a monumental victory for postal workers, the wider postal community, and the communities we are proud to serve," said Mark Dimondstein, President of the American Postal Workers Union. "This legislation strengthens the public Postal Service, a national treasure that has connected us for over 250 years."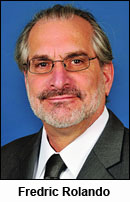 "This is a monumental victory for letter carriers and all Americans who depend on the Postal Service for affordable and high-quality universal service," said Fredric Rolando, President of the National Association of Letter Carriers. "I want to congratulate and thank all the NALC members who lobbied their members of Congress to win passage in the Senate and the House. Thanks to your support, dedication and action, bipartisan postal reform, that was 12 years in the making, has finally passed in both chambers."
Key reforms in the Postal Service Reform Act include:
●  Eliminating the Burdensome Prefunding Requirement — The Postal Service Reform Act would eliminate the onerous prefunding requirement for retiree healthcare imposed in 2006 that has hurt the Postal Service financially and added billions in liabilities to the Postal Service's balance sheet. No private company has faced such an aggressive requirement, which mandated the Postal Service set aside billions of dollars annually to cover future retiree health benefits for current employees, no matter their age, contributing to 15 years of losses. The Postal Service estimates this provision would drastically reduce its prefunding liability and allow it to save roughly $27 billion over 10 years.
●  Six-Day Delivery — The Postal Service Reform Act would permanently require the Postal Service to maintain its standard of delivering at least six days a week.
●  Medicare Integration — The Postal Service Reform Act would require future Postal Service retirees, who have been paying into Medicare their entire careers, to enroll in Medicare. Currently, roughly a quarter of postal retirees do not enroll in Medicare even though they are eligible. This means the Postal Service is stuck paying far higher premiums than any other public or private sector employer. By more closely integrating Medicare, the Postal Service estimates it could save approximately $22.7 billion over 10 years.
●  Non-Postal Services — The Postal Service Reform Act would allow the Postal Service to partner with state, local, and tribal governments to offer non-postal services (for non-commercial purposes) that provide enhanced value to the public, as long as they do not detract from core postal services and provided the agreements cover their costs.
●  Service Performance Transparency — The Postal Service Reform Act would require the Postal Service to develop a public-facing, online dashboard with national and local level service performance data updated each week to provide additional transparency and promote compliance with on-time delivery of mail.
In addition to the provisions listed above, the bill includes the following provisions to improve the effectiveness of the Postal Service:
Regular reporting to Congress on Postal Service operations and financial performance to enable accountability of stated cost savings, revenue, and infrastructure investment goals;
A Postal Regulatory Commission (PRC) review of cost attribution guidelines to ensure cost and pricing accuracy;
A study on operational inefficiencies in the Postal Service's handling of flats such as catalogs and magazines;
Adjustments to the considerations the Postal Service must make when deciding which mode of transportation to use to deliver mail in order to ensure consistency and reliability;
The expansion of special rates for local newspaper distribution to promote local news organizations;
Increased funding control for the PRC to support its mission of regulating the Postal Service;
The consolidation of the PRC's small Inspector General Office into the more robust Postal Service Office of Inspector General.
Thank you to all the union members and supported who urged members of Congress to support this important legislation!
The Stand (Feb. 11) — Tell our U.S. senators to support Postal Service Reform Act
Short URL: https://www.thestand.org/?p=106635
Posted by
David Groves
on Mar 9 2022. Filed under
NATIONAL
. You can follow any responses to this entry through the
RSS 2.0
. Both comments and pings are currently closed.