Retirees give McMorris Rodgers 'Zero Award' for voting record
The following is from the Washington State Alliance for Retired Americans: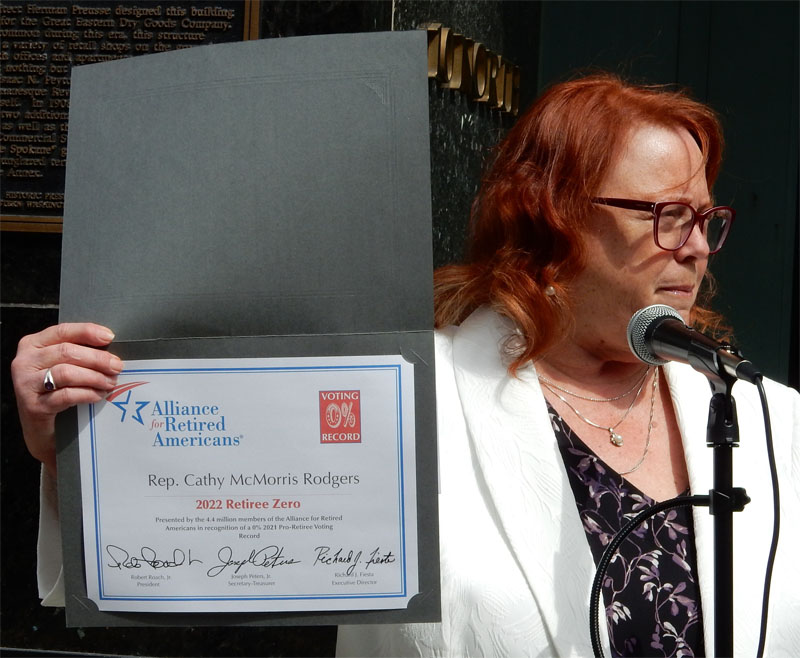 SPOKANE (April 28, 2022) — Area retiree members of the Washington State Alliance for Retired Americans gathered in Spokane at the office of Rep. Cathy McMorris Rodgers on Monday to present her with a Retiree "Zero Award" for earning a score of 0% in the Alliance's 2021 Voting Record.
Each year the Alliance for Retired Americans publishes a Congressional Voting Record, a measure of how members of Congress and Senators voted on issues important to retirees and older Americans. McMorris Rodgers was the only member of Congress from Washington state to earn a score of zero percent in the 2021 report.
"Rep. McMorris Rodgers has taken more than $544,000 from pharmaceutical corporations since 2021 — that is more any other Member of Congress in the entire nation — and has voted against common sense legislation that would lower the prices retirees pay for their prescription drugs," said Jackie Boschok (pictured above), President of the Washington State Alliance for Retired Americans. "Already this year, drug corporations have raised the price on over 450 medicines. It is time for her to put seniors and retirees ahead of drug corporations."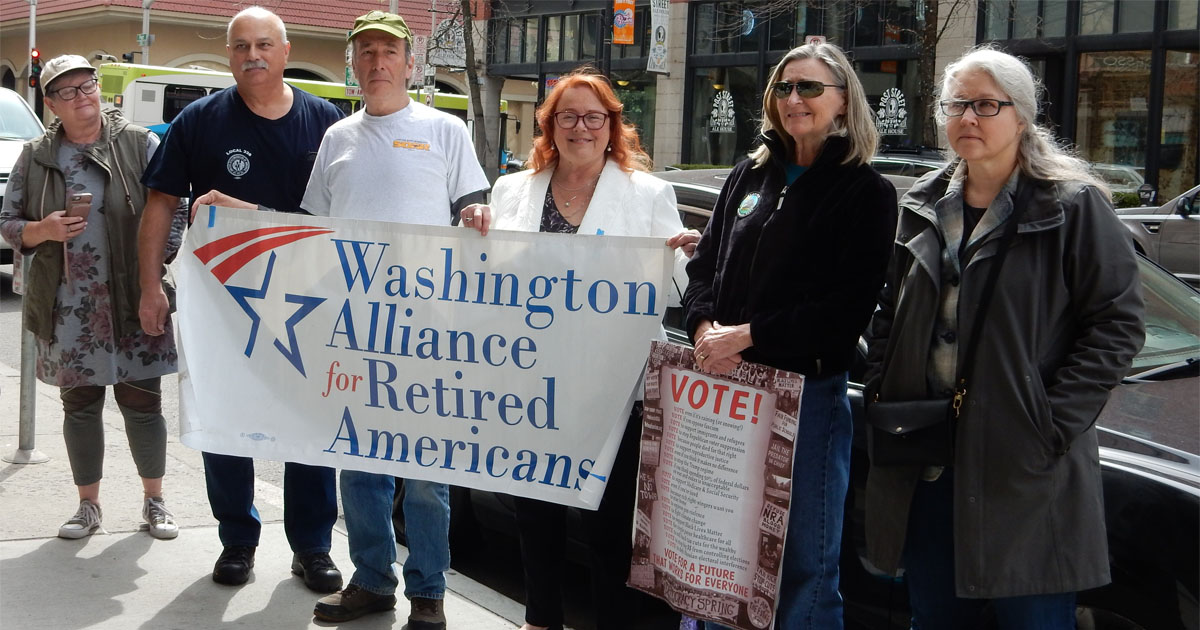 Spokane Regional Labor Council Secretary-Treasurer Tina Morrison (pictured at far right) also addressed Monday's gathering on how bad Rep. McMorris Rodgers has been on important labor issues such as Protecting the Right to Organizing (PRO) Act, safer work places, and ensuring the voting rights of all citizens.
Pharmaceutical corporations continue to contribute millions of dollars to U.S. senators and representatives as part of a sophisticated, multifaceted effort to influence health care lawmaking and spending priorities.
"We must address the fact that drug corporations currently have monopoly power to set their own prices and keep raising them anytime they want to boost their profits," Boschok added. "We need to allow Medicare to negotiate lower prescription drug prices. And that is not going to happen as long as Representatives like Congresswoman McMorris Rogers are taking that much money from the drug lobbyists."
The Washington State Alliance for Retired Americans has more than 93,000 members across the state, and works to educate, mobilize and advocate for retirement security for all.
Short URL: https://www.thestand.org/?p=108104
Posted by
admin
on Apr 28 2022. Filed under
LOCAL
. You can follow any responses to this entry through the
RSS 2.0
. Both comments and pings are currently closed.