AFL-CIO on inflation: Good jobs, wages are the solution
Take the AFL-CIO survey to explain what issues matter to you
WASHINGTON, D.C. (May 3, 2022) — Workers are frustrated and worried. A big part of their concern now is that rising costs are eating into their paychecks. In 2021 alone, prices went up by 7.1 percent.
But the AFL-CIO wants to make one thing clear: increasing wages for workers isn't causing inflation.
America's unions want to set the record straight on what's really causing inflation, and to start promoting solutions that will effectively address rising prices. The AFL-CIO also wants to hear directly from union members about the issues that matter most.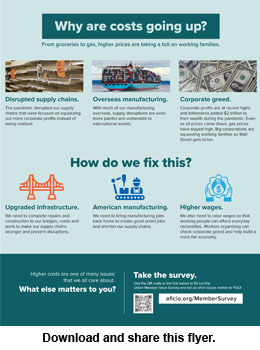 TAKE A STAND — Download, share and post this AFL-CIO flyer — versión en Español aquí — that lays out the real reasons for the skyrocketing cost of living, and what union members can do to create a better economy. ALSO, take this AFL-CIO survey to explain what issues matter most to you. 
The flyer reads:
Why are costs going up? From groceries to gas, higher prices are taking a toll on working families.
DISRUPTED SUPPLY CHAINS — The pandemic disrupted our supply chains that were focused on squeezing out more corporate profits instead of being resilient.
OVERSEAS MANUFACTURING — With much of our manufacturing overseas, supply disruptions are even more painful and vulnerable to international events.
CORPORATE GREED — Corporate profits are at record highs and billionaires added $2 trillion to their wealth during the pandemic. Even as oil prices come down, gas prices have stayed high. Big corporations are squeezing working families so Wall Street gets richer.
How do we fix this?
UPGRADED INFRASTRUCTURE — We need to complete repairs and construction to our bridges, roads and ports to make our supply chains stronger and prevent disruptions.
AMERICAN MANUFACTURING — We need to bring manufacturing jobs back home to create good union jobs and shorten our supply chains.
HIGHER WAGES — We also need to raise wages so that working people can afford everyday necessities. Workers organizing can check corporate greed and help build a more fair economy.
Bottom line: Good jobs and good wages are not the cause of increasing costs. They are the solution.
Short URL: https://www.thestand.org/?p=108229
Posted by
admin
on May 3 2022. Filed under
NATIONAL
. You can follow any responses to this entry through the
RSS 2.0
. Both comments and pings are currently closed.