Study: Amazon fails to comply with its policy, ILO standards
Company repeatedly violates international labor standards on freedom of association, says UC Berkeley study
BERKELEY, Calif. (May 18, 2022) — Amazon's just-announced "freedom of association policy" fails to comply with international human rights standards for workers involved in union organizing, finds a report published this week by the UC Berkeley Labor Center and Berkeley Law's Center for Law and Work.
The report, Failure to Deliver: Assessing Amazon's Freedom of Association Policy under International Labor Standards, provides a legal analysis of Amazon's new policy pledging to fulfill International Labor Organization and United Nations norms on workers' organizing rights even when national labor law does not require meeting these international standards. Failure to Deliver finds that Amazon's policy on its face is non-compliant with global norms, and Amazon management's anti-union campaign tactics, both before and after issuing the policy in March 2022, continue to violate international standards.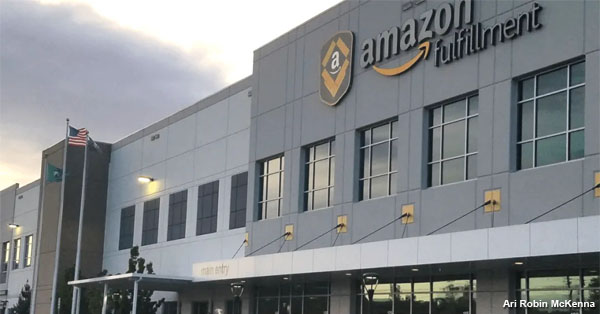 Amazon's freedom of association policy declares, "We respect and support the Core Conventions of the International Labour Organization (ILO), the ILO Declaration on Fundamental Principles and Rights at Work, and the UN Universal Declaration of Human Rights." And it adds, "We respect freedom of association and our employees' right to join, form, or not to join a labor union or other lawful organization of their own selection, without fear of reprisal, intimidation, or harassment."
However, it contains no specific references to ILO Conventions 87 and 98, which create what the study calls the "polestar international standard" on freedom of association: non-interference in workers' organizing. These Conventions together prohibit "imposing pressure, instilling fear, and making threats of any kind that undermine workers' right to freedom of association," in addition to prohibiting discrimination against workers for union activity. The report finds, however, that even after announcing its freedom of association policy, Amazon has carried out aggressive anti-union campaigns that impose pressure and instill fear among workers considering voting for union representation.
"This legal assessment shines a spotlight on the gap between Amazon's claim to uphold global human rights and labor standards and what the company is actually doing in violation of these international norms," says Lance Compa, an international labor law expert and author of the study. "Looking at either the details of Amazon's new policy or Amazon's practices on the ground, it's clear the company fails to meet the international standards it cites."
Failure to Deliver points to Amazon's repeated anti-union actions that violate the international standard requiring non-interference:
●  Portraying unions and union representatives as only interested in personal gain, not workers' concerns;
●  Suggesting that management would only be responsive to workers' concerns without a union;
●  Repeatedly warning that "things could get worse" if employees choose union representation;
●  Warning that Amazon will replace workers who exercise the right to strike;
●  Refusing to allow workers to hear from union representatives inside the workplace in non-work areas and on non-work time.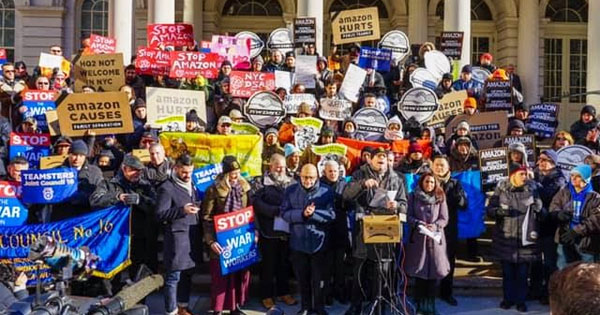 Particular attention in the report is given to examining management tactics in recent union organizing efforts by the Retail, Wholesale and Department Store Union (RWDSU) at an Amazon fulfillment center in Bessemer, Ala., and by the Amazon Labor Union (ALU) at a warehouse in Staten Island, N.Y. Amazon employees at each facility were reportedly flooded with anti-union messages through websites, text messages, and "captive audience" meetings in the weeks leading up to National Labor Relations Board (NLRB) elections at the two sites.
A majority of the workers at the Staten Island facility voted for representation, despite Amazon's strenuous anti-union campaign, but the company has refused to accept the results and instead has begun a process of objections and appeals that could take years to resolve, at least temporarily nullifying workers' freedom of association, the report maintains. In Bessemer, results of the NLRB election for RWDSU representation are still pending while the status of over 400 challenged ballots is resolved.
The report recommends that Amazon produce a more credible freedom of association policy that includes processes to ensure proper implementation and remediation when the policy is violated. The report also recommends the company negotiate an agreement on a freedom of association framework with national and global unions whose affiliates represent Amazon workers or to whom Amazon workers have turned for organizing assistance.
"The findings of this analysis should prompt Amazon to develop a genuine freedom of association policy that safeguards workers' organizing rights and moves the company toward a healthy collective bargaining relationship when its employees choose union representation," says Catherine Fisk, Berkeley Law professor and faculty director of the Center for Law and Work.

Founded in 1964, the UC Berkeley Labor Center works to address the most critical challenges affecting working families in California and across the nation. The center provides timely, policy-relevant research on labor and employment issues and carries out training and education programs for labor leaders and students.
Short URL: https://www.thestand.org/?p=108650
Posted by
David Groves
on May 18 2022. Filed under
NATIONAL
. You can follow any responses to this entry through the
RSS 2.0
. Both comments and pings are currently closed.