Delegates set WSLC's course with resolutions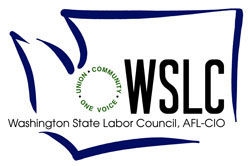 SEATTLE (July 25, 2022) — At last week's 2022 Constitutional Convention of the Washington State Labor Council, AFL-CIO, hundreds of delegates representing the unions that comprise the WSLC debated and approved resolutions that will guide the WSLC's policies and priorities in the coming year. Resolutions were approved on topics ranging from abortion rights to minimum train crew sizes.
See all of the approved 2022 WSLC Resolutions here.
Among the 2022 Resolutions were:
Resolution 2022.04 on CTC pay — The WSLC will work to improve pay for the workforce at Washington's 34 community and technical colleges (CTCs), where the State Board for Community and Technical Colleges estimates that CTC faculty are paid at least 12.5% less than peers in comparable states. Per this resolution, the WSLC will "prioritize addressing the issues of inadequate compensation and pay inequity for the CTC workforce in its 2023 legislative agenda."
Resolutions 2022.09 on health care — Although Washington state has made incremental progress in expanding Medicaid and creating a health insurance exchange that has increased healthcare access for many in the state, the real goal has always been to assure that health care is considered a human right — and not a commodity — and available to all. This resolution calls on the WSLC to initiate and lead a dialogue in the Labor Movement in 2022 and its Central Labor Councils on how best to achieve universal health care in our state."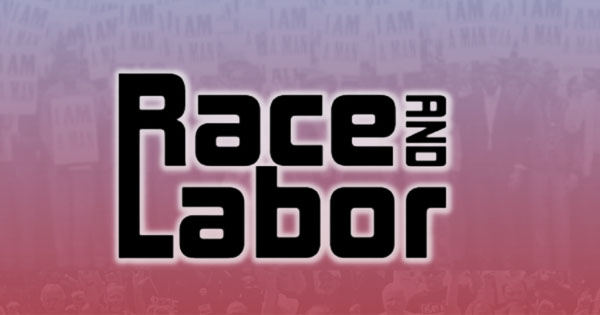 Resolution 2022. 10 on Race and Labor — The WSLC wil continue and expand its groundbreaking Race and Labor work with the passage of this "Resolution Race and the Labor Movement 4.0." A series of resolutions over the past decade have called on the WSLC to build what has become a nationally recognized program to teach union leaders/members about the institutional racism and systemic policies that disadvantage Black, Indigenous, and people of color (BIPOC) and divide the working class. Under this year's resolution, the WSLC "urges every union member, union leader and labor organization in Washington state to take on the work of Race & Labor because change within our movement at all levels and within our organizations is necessary."
Resolution 2022.22 on tax incentives — Washington state government has made real progress in recent years by insisting that businesses that receive state tax incentives meet their promises to create good jobs by requiring minimum labor standards. This resolution calls on the WSLC to "advocate legislatively for the implementation of prevailing wage and apprenticeship utilization standards for state tax incentives or tax breaks and grants for businesses and/or developers for construction in this state."
Resolution 2022.25 on abortion rights — In the wake of the U.S. Supreme Court's Dobbs v. Jackson Women's Health Organization opinion, this resolution affirms that the WSLC "will defend the reproductive freedom of working people including the right to safe, accessible abortion, recognizing that attacks on reproductive rights are attacks on workers' rights."
Other resolutions included stopping the privatization of Medicare under the ACO REACH pilot program, working to address Washington's affordable housing crisis, beginning a long-term plan to adopt a state constitutional amendment that would ban anti-union "Right to Work" policies in Washington state, and many more. Multiple resolutions were also approved to clarify the WSLC's institutional policies by amending its own constitution. See all of the approved 2022 WSLC Resolutions here.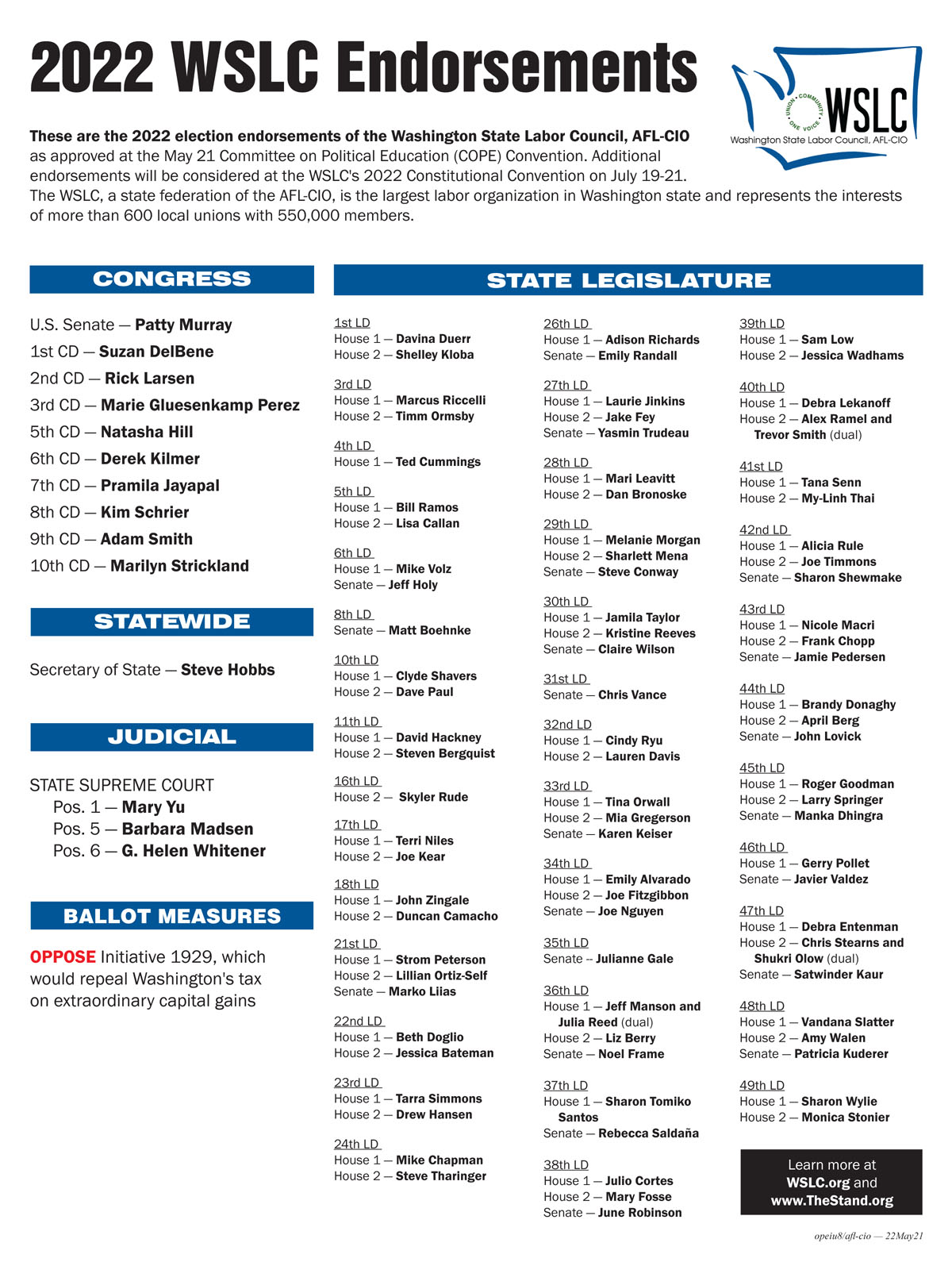 ELECTION ENDORSEMENTS — WSLC delegates at last week's convention also voted to endorse some additional candidates for Washington State Legislature, supplementing the work of the WSLC's COPE Endorsing Convention held in May. The candidates who earned the WSLC endorsement last week are:
●  Michaela Kelso for State House Pos. 2 in the 6th Legislative District
●  Kelli Hughes Ham for State House Pos. 1 in the 19th LD
●  Cara Cusack for State House Pos. 2 in the 19th LD
●  Jamie Smith for State House Pos. 1 in the 25th LD
●  Jesse Saloman for State Senate in the 32nd LD
●  Sandra Kaiser for State House Pos. 2 in the 35th LD
●  Emijah Smith for State House Pos. 2 in the 37th LD
Voters in Washington state have received their Primary Election ballots for the Aug. 2 election. Union members and their families are urged to support candidates who support working families. See the full list of WSLC-endorsed candidates.
Also, union volunteers are needed for the WSLC's Labor Neighbor program to get out the union vote and support those candidates. Get more information about how you can participate.
Short URL: https://www.thestand.org/?p=110017
Posted by
David Groves
on Jul 25 2022. Filed under
TAKE A STAND!
,
W.S.L.C.
. You can follow any responses to this entry through the
RSS 2.0
. Both comments and pings are currently closed.