Kent teachers strike | NLRB charges Starbucks | Workers winning unions
Thursday, August 25, 2022
---
LOCAL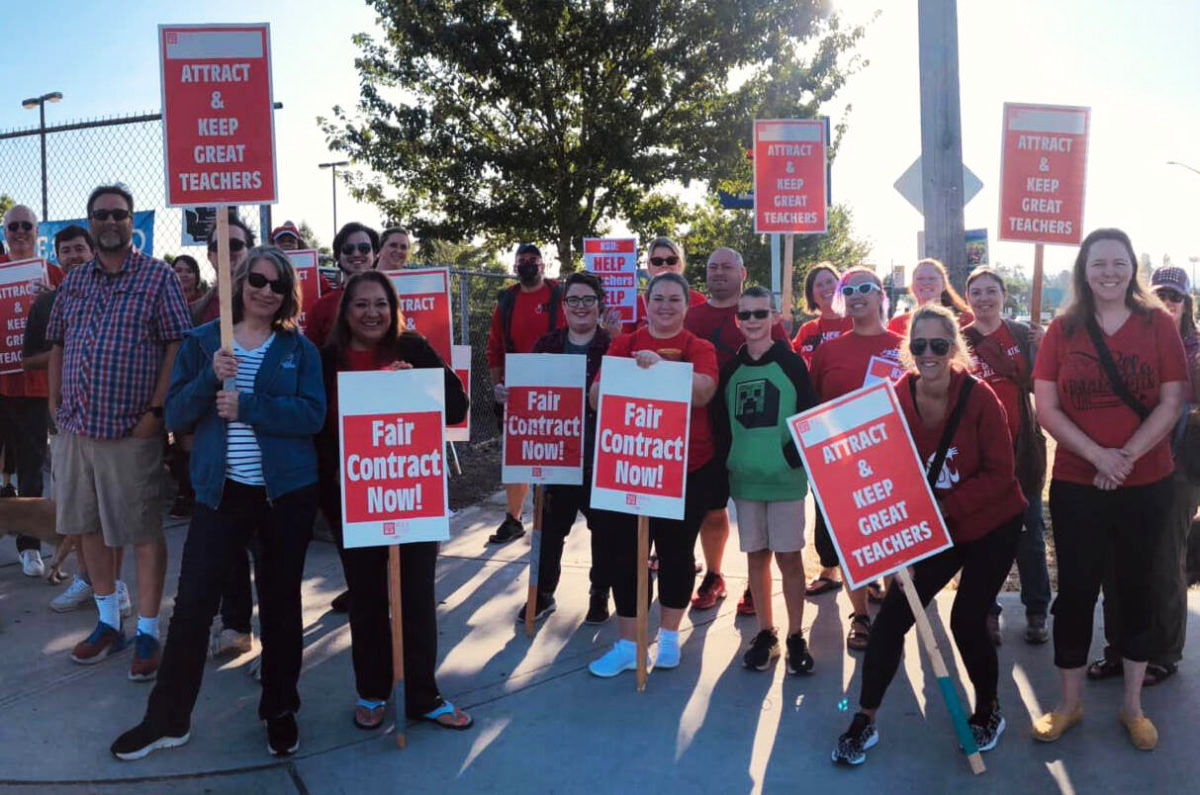 ► From the Seattle Times — First day of school for Kent students delayed as educators strike — Students were supposed to start the new school year on Thursday, one of the earliest start dates in the Seattle area, but the district and teachers' union could not come to an agreement on a contract. Kent Education Association (KEA) members voted Monday night to strike if negotiations weren't wrapped up by Wednesday. Teachers and staff planned to show up at their schools on Thursday morning with picket signs.
TODAY at The Stand — Kent teachers strike Thursday after failed contract talks — Come show your support for educators! There will be strike lines at all schools during school hours.
MORE coverage from the Kent Reporter, KING, KIRO, KOMO, and Q13.
► From the Olympian — North Thurston teachers set to picket Thursday morning, union says — The North Thurston Education Association says their members are set to picket Thursday morning over lack of a contract and teacher workloads. Teachers plan to gather at 7:45 a.m. at North Thurston High School, then march to district headquarters on College Street.
► From the Spokesman-Review — Spokane Public Schools approves $550 million budget, new 3-year contracts for teachers — The Spokane school board unanimously approved a half-billion-dollar budget Wednesday night while also agreeing to a labor deal that will delay the start of classes by an hour on Mondays during the school year.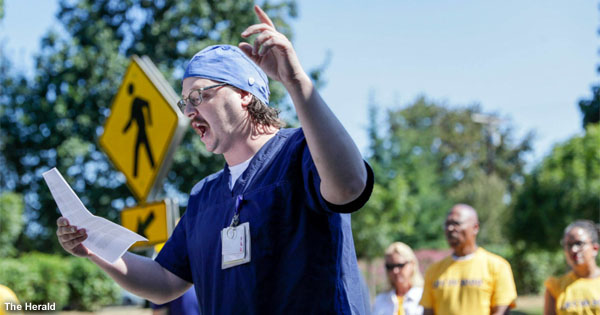 ► From the (Everett) Herald — Providence nurses: Patients, staff suffered as leaders 'stood in silence' — A "leaflet action" was organized by UFCW 3000 on Wednesday as nurses continued to speak out about staffing shortages and safety concerns in Everett. Health care workers said Providence leaders aren't doing enough to recruit or retain staff. Some called for a reinstatement of extra shift bonuses, so staff can receive extra compensation for coming in on their day off. Many demanded hazard pay and retention bonuses to show appreciation for those who have stuck it out. Said Heidi DeBauge, a trauma nurse in the emergency room:
"Upper management has stood in silence as we've watched our departments hemorrhage nurses. There's no hazard pay. There's no incentives. There's no exit interviews to explore why their staff is leaving."
MORE local coverage from KIRO and KOMO.
► From the South Seattle Emerald — WeTrain Washington celebrates pilot meat cutting program graduates — On Aug. 11, WeTrain Washington celebrated its Meatcutter Pre-Apprenticeship Program graduates at the South Seattle College Georgetown campus. Attendees enjoyed barbecued New York strip steaks at the event. WeTrain Washington is a new training and education nonprofit affiliated with UFCW 3000 and partnered union grocers.
► From the Seattle Times — Zeeks pizza chain to pay $409K after alleged service charge violation — The Seattle-based pizza chain Zeeks will pay delivery drivers about $409,000 after allegedly failing to disclose how much of its delivery charge was paid to drivers. The settlement announced Wednesday is Zeeks' second in recent years.
---
THIS WASHINGTON



► From the Tri-City Herald — 'Very nasty disease.' Sen. Murray has plan to save lives of Hanford nuclear workers — New legislation proposed by Sen. Patty Murray (D-Wash.) would save lives of Hanford nuclear reservation workers, according to medical experts and union officials. A federal program to provide help for workers who are at risk for developing a debilitating and incurable lung condition, chronic beryllium disease, has not kept up with medical advances, according to medical experts. The current federal standards to diagnose beryllium sensitivity, which indicates that workers are at risk of developing chronic beryllium disease, "are outdated and put people at risk," said Murray during a visit with Hanford workers Wednesday at the pipefitters union Local 598 labor hall in Pasco. It is "a very nasty disease," said Jeff McDaniels, president of the Hanford Atomic Trades Council. "It is close to asbestosis."
TODAY at The Stand — Murray works to help Hanford workers exposed to beryllium
► From the Tri-City Herald — All K-8 students could have access to dual language learning under new OSPI proposal — K-8 students in Washington could have more access to dual language programs under a new plan announced by State Superintendent of Public Instruction Chris Reykdal on Wednesday.
► From the Seattle Times — WA ferry delays hit highest mark in past decade — Washington ferries are running behind schedule this year more than they have in the past decade, with a consistent decline in on-time performance.
► From the Seattle Times — WA ferry that crashed near West Seattle dock is out until next year
---
AEROSPACE



► From the Seattle Times — Boeing reports safety oversight improved, though some engineers remain wary — Just shy of 14% of Boeing safety engineers who work on certification of new aircraft on behalf of the FAA perceive interference from management in their work, according to a new survey commissioned by the company. And almost a quarter expressed concern about retaliation if they reported any such interference.
---
STARBUCKS UNION-BUSTING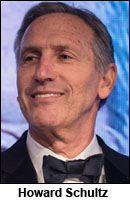 ► From the Washington Post — Starbucks illegally withheld raises from union workers, labor board says — Starbucks illegally withheld wages and benefits from thousands of unionized baristas, the NLRB alleged in a complaint Wednesday. The NLRB seeks back payments and benefits for unionized workers since May and to require interim CEO Howard Schultz to read a statement to workers about their union rights. The board, which is tasked with enforcing labor laws that protect union rights, said Starbucks's denial of benefits and raises to union workers was intended to discourage union organizing.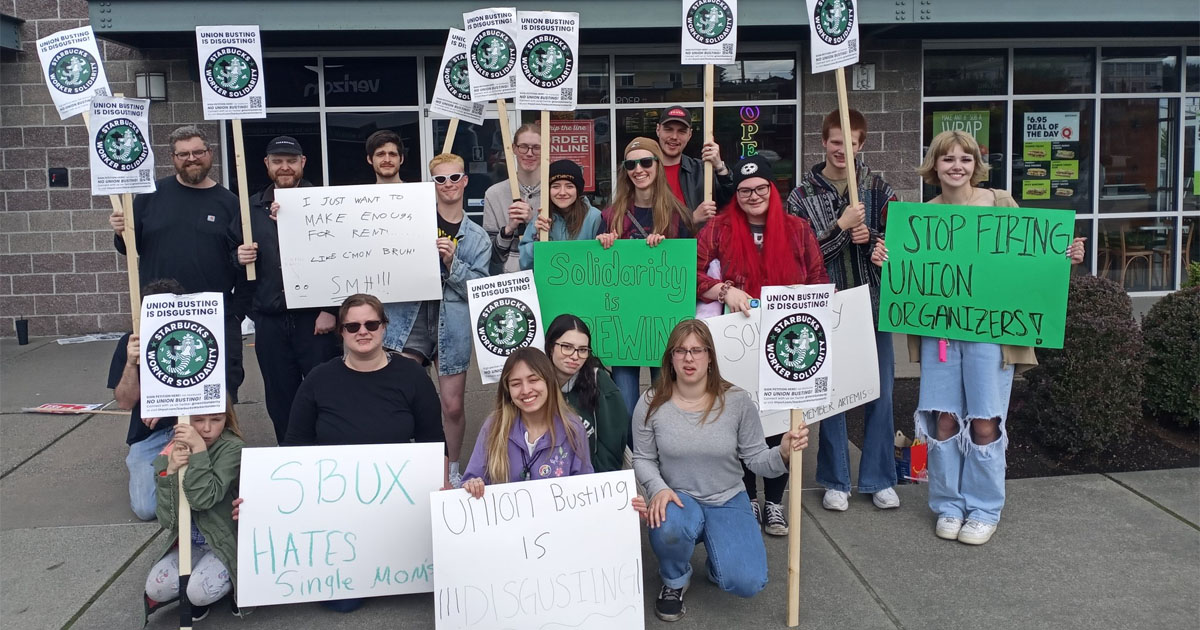 ► From The Guardian — Starbucks creating 'culture of fear' as it fires dozens involved in union efforts — More than 85 workers at Starbucks who were heavily involved in union organizing efforts at giant coffee chain have been fired over the past several months, according to the workers group Starbucks Workers United. Workers have filed numerous unfair labor practice charges over the firings and a federal judge recently ordered the reinstatement of seven workers in Memphis, Tennessee, who were fired in February, a ruling Starbucks has said it disagrees with and intends to appeal.
► From Vox — Starbucks has only started bargaining with 3 of more than 200 unionized stores. Here's why. — Workers at a Starbucks right outside the University of Texas campus in Austin filed to unionize in March and won their election by a landslide in June. It's now nearing the end of August, and union workers say their requests to begin bargaining for a contract have largely been ignored by Starbucks. Some workers believe the coffee company is using these delays as one of many union-busting tactics meant to prevent workers from exercising their right to organize: The longer it takes to create and agree on a contract with the company, the longer it will take for union workers to actually enjoy the benefits of being in a union and the more likely the union movement will lose momentum.
TAKE A STAND — Sign the No Contract, No Coffee pledge.
EDITOR'S NOTE — Memo to Howard: It ain't working…
---
THAT WASHINGTON
► From The Hill — Three more states ban abortion as trigger laws take effect — Idaho, Tennessee and Texas will officially join eight other states that have banned abortion through "trigger" laws, legislation designed to take effect immediately or upon quick state action the moment Roe v. Wade no longer applies. Those laws jumped into action as soon as the Supreme Court issued its decision on the Dobbs v. Jackson Women's Health Organization case in June, effectively overturning Roe and ending a nearly 50-year precedent that protected abortion as a constitutional right.

EDITOR'S NOTE — At the 2022 Convention of the Washington State Labor Council, AFL-CIO, union delegates from across the state voted to approve Resolution 2022.25 on abortion rights. In the wake of the U.S. Supreme Court's Dobbs v. Jackson Women's Health Organization opinion, this resolution affirms that the WSLC "will defend the reproductive freedom of working people including the right to safe, accessible abortion, recognizing that attacks on reproductive rights are attacks on workers' rights."
The Stand (June 27, 2022) — Amid attacks on abortion rights, unions must fight back (by Shaunie Wheeler James and Cherika Carter) — We have the tools to transform protests into concrete actions defending bodily autonomy.
► From the Washington Post — Judge blocks part of Idaho's abortion law from taking effect — The Biden administration on Wednesday scored its first legal victory since the Supreme Court overturned Roe v. Wade, convincing a judge to block the portion of an Idaho law that criminalizes performing an abortion on a woman to protect her health.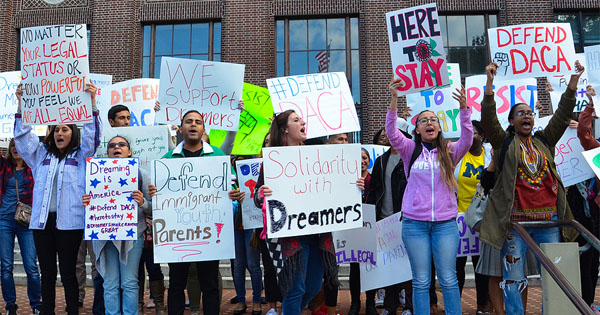 ► From Roll Call — Biden administration issues final rule on protections for 'Dreamers' — The Biden administration finalized a rule Wednesday to fortify the Obama-era Deferred Action for Childhood Arrivals program as it faces legal challenges, aiming to preserve protections for hundreds of thousands of "Dreamers." The rule, set to go into effect Oct. 31, codifies into federal regulation the 2012 program that shields more than 600,000 undocumented immigrants from deportation and allows them to work legally in the U.S. For the past 10 years, the program has been governed by a Department of Homeland Security memorandum.
► From the AP — Student loan forgiveness could help more than 40 million — More than 40 million Americans could see their student loan debt reduced — and in many cases eliminated — under the long-awaited forgiveness plan President Joe Biden announced Wednesday. Fulfilling a campaign promise, Biden is erasing $10,000 in federal student loan debt for those with incomes below $125,000 a year, or households that earn less than $250,000. He's canceling an additional $10,000 for those who received federal Pell Grants to attend college.
---
NATIONAL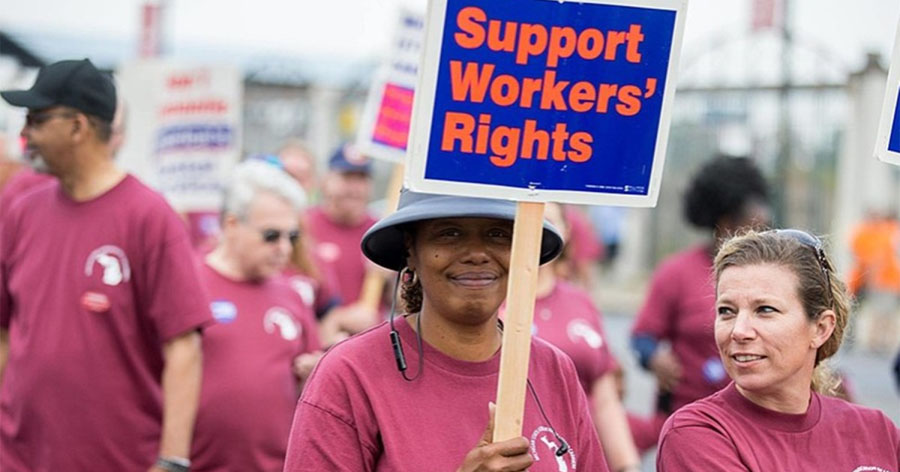 ► From Bloomberg Law — ANALYSIS: Biggest influx of union workers isn't from Starbucks — Union organizers are having a banner year, racking up heyday-evoking win totals at the National Labor Relations Board. And with new union locals popping up at Starbucks locations seemingly every day, it's easy to presume that baristas are the driving force behind the unionization surge. But a closer look at the NLRB's election results for the first half of the year reveals that labor's huge gains aren't just the result of a Starbucks spillover. Unions prevailed in 639 NLRB elections in the first half of the year, according to Bloomberg Law's just-released NLRB Election Statistics report. That's the highest H1 win total for labor in nearly 20 years.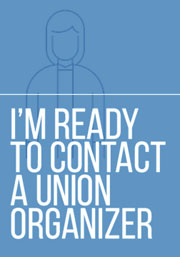 EDITOR'S NOTE — Ready for a voice at work? Get more information about how you can join together with co-workers and negotiate a fair return for your hard work. Or go ahead and contact a union organizer today!
► From NPR — Columbus school board, teachers' union reach "conceptual agreement" to end strike — The Columbus school board and the district's teachers' union have reached a "conceptual agreement" to end the strike that began Monday. The Columbus Education Association said the agreement was reached Thursday at 2:38 a.m., more than 13 hours after negotiations began on Wednesday afternoon. "We are very excited to bring this to our membership for ratification," said CEA president John Coneglio.
► From WSB — Delta pilots say negotiations with airline moving at 'snail's pace' — The Delta Airlines pilots union has taken a first step toward a potential strike, as contract negotiations with the airline drag on.
► From the LA Times — 'Quiet quitting' is just a new name for an old reality (by Michael Hiltzik) — Indeed, one can find any number of old terms for the old concept. "Work-life balance" has been a perennial pursuit in the workforce. Unions in contract negotiations have historically imposed "work to rule" initiatives, in which members refuse the myriad little accommodations that employers sometimes ask for — declining overtime, for instance. They're the antecedents of "quiet quitting."
---
The Stand posts links to Washington state and national news of interest every weekday morning by 10 a.m.
Short URL: https://www.thestand.org/?p=110734
Posted by
David Groves
on Aug 25 2022. Filed under
DAILY LINKS
. You can follow any responses to this entry through the
RSS 2.0
. Both comments and pings are currently closed.