Inflation Reduction Act 'will transform lives'
UPDATE (Aug. 12, 2022) — The U.S. House of Representatives passed the Inflation Reduction Act on Friday, advancing the sweeping legislation to reduce healthcare and energy costs to President Biden's desk for signature. It passed 220-207 with all Democratic representatives voting "yes" and all Republicans voting "no."
---
AFL-CIO's Liz Shuler hails Senate passage of bill to reduce energy and health care costs, and calls for swift House passage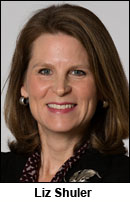 WASHINGTON, D.C. (Aug. 8, 2022) — AFL-CIO President Liz Shuler's statement on Sunday's victory for working people with the Senate passage of the Inflation Reduction Act:
"Today the Senate passed legislation that will transform the lives of working families at every level, and we urge the House of Representatives to pass this bill swiftly and send it to President Biden's desk.
"This bill will reshape the future and deliver real help to working families by reducing rising energy and health care costs. Enacting clean energy tax incentives with labor standards and domestic content requirements will create good-paying jobs in construction and manufacturing right here in America. And this legislation will address long overdue changes to our tax system that will finally make the most profitable corporations pay their fair share.
"The Inflation Reduction Act will reduce climate pollution by 40%, keeping President Biden's promise to make the United States a global leader in the fight against climate change. These incentives will spur the  economic transformation we need to address the climate crisis, make clean energy more accessible and affordable and direct investments to underserved communities. 
"The effects of this legislation will improve the lives of millions of Americans struggling to afford health care, seniors trying to pay for their prescriptions and future generations who will be able to see the impacts of drastically reduced carbon emissions. 
"While this bill represents an incredible step forward, we know the fight for climate and economic justice is not over. The AFL-CIO's 12.5 million members are united in support for this legislation, and we urge Congress to move quickly to get this passed and signed into law."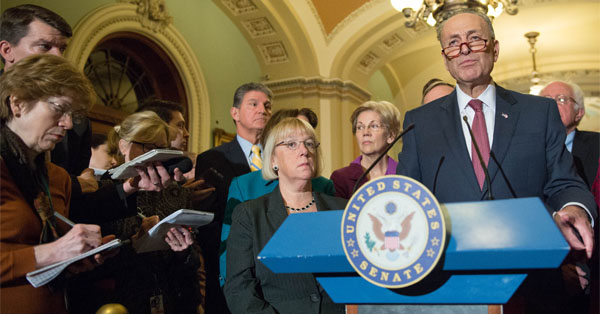 Sen. Patty Murray (D-Wash.), who joined Sen. Maria Cantwell (D-Wash.) in strongly supporting passage of the Inflation Reduction Act, on Sunday hailed not only the bill's healthcare and energy cost savings for Americans, but also the fact that it's fully paid for and will lower the deficit.
"This legislation won't just bring down families' every day costs, it will bring down the deficit—by more than $300 billion," Murray said. "Because every cent of this bill is paid for—and then some—by simply ensuring giant corporations pay their fair share in taxes. There's no reason a billion dollar corporation should pay less in taxes than a firefighter or a teacher in Walla Walla, Washington—just because the current system lets them skirt or even plain cheat on their taxes. That's not right. And Democrats won't let it fly any longer and no working or middle-class family in Washington state will see their taxes go up one penny."
Here is Murray's summary of the bill's key benefits:
LOWERING PRESCRIPTION DRUG COSTS
The Inflation Reduction Act will finally allow Medicare to negotiate lower prescription drug costs—something Senator Murray has been fighting to do for years—bringing down costs for patients and generating enormous savings for taxpayers. It will cap Medicare beneficiaries' out-of-pocket prescription drugs costs at $2,000 a year, cap their insulin costs at $35 a month, and cap price increases on their prescriptions at the rate of inflation so that drug makers cannot jack up prices to juice their own profits—helping Washington state's more than 2.5 million seniors save money on their prescriptions.
LOWERING HEALTH CARE COSTS
The Inflation Reduction Act will extend—for three full years—the health care tax credits Senator Murray championed in the American Rescue Plan to keep saving families money on health care. The tax credits have saved millions of Americans thousands of dollars on health care, spurred record enrollment on the exchanges, and helped bring our nation's uninsured rate to an all-time low. In Washington state, more than 60,000 new people have enrolled in coverage, two in five have found coverage for less than $100 a month, and 40,000 people have found coverage on Washington's exchange for less than $10 a month.
BUILDING A STRONGER CLEAN ENERGY ECONOMY, LOWERING ENERGY COSTS AND EMISSIONS
Washington state is a leader on tackling the climate crisis and the Inflation Reduction Act would only bolster those efforts. The Inflation Reduction Act would establish major cost-saving benefits for Washington state consumers with home energy rebates and consumer tax credits to invest in energy efficiency— rooftop solar, heat pumps, appliances, and more. It would also establish $4,000 tax credits for consumers purchasing used clean vehicles and up to $7,500 for new clean vehicles—encouraging manufacturers to put more clean vehicles on the market.
The climate provisions in the Inflation Reduction Act would implement major clean energy tax credits and grants that would spur a historic, first-of-its-kind economy-wide transition to clean energy—from our utilities to manufacturing industry. This would help build on and expand existing solar and wind energy production in Central and Eastern Washington to move us towards sustainable energy independence and takes steps to help rural communities and farmers across Washington state adapt to a rapidly changing climate.
The Inflation Reduction Act will help electrify ports like the Port of Seattle to help cut those emissions and make the air around them safer to breathe. The Inflation Reduction Act also funds research and development into cleaner aviation fuel and technology – much of which happens in Washington state.
You can find a summary on the climate and energy provisions of the Inflation Reduction Act here.
FULLY PAID FOR AND LOWERS THE DEFICIT BY ENSURING GIANT CORPORATIONS PAY THEIR FAIR SHARE
The Inflation Reduction Act would invest in re-building the Internal Revenue Service (IRS) to go after giant corporations and the very wealthiest cheating on their taxes. Importantly, it imposes a 15% Corporate Minimum Tax to ensure the wealthiest Americans and corporations simply pay their fair share of taxes. In sum, the revenue raising provisions of the Inflation Reduction Act will help reduce the deficit by more than $300 billion
Short URL: https://www.thestand.org/?p=110450
Posted by
admin
on Aug 8 2022. Filed under
NATIONAL
. You can follow any responses to this entry through the
RSS 2.0
. Both comments and pings are currently closed.