L&I interpreters overwhelmingly pick WFSE
Interpreters United chosen over phony Freedom Foundation-backed 'union'
The following is from the Washington Federation of State Employees, AFSCME Council 28 (WFSE):
OLYMPIA (Aug. 31, 2022) — Interpreters United (WFSE) won the representation election for Washington State Department of Labor & Industries (L&I) spoken language interpreters with 81.5 percent of valid ballots cast.
This is a win for interpreters and ALL workers. The billionaire-backed, anti-immigrant "Freedom" Foundation poured money into this race and didn't make a dent. Interpreters were not deceived. This may be the first time the Freedom Foundation has actively campaigned and set up a phony "union" to run in a representation election. Workers and organized labor should be vigilant for similar strategies that may play out elsewhere across the country.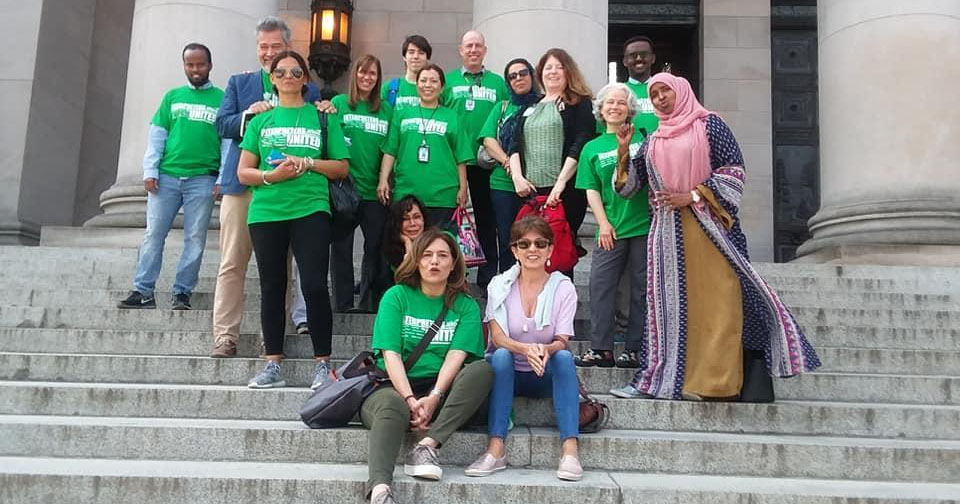 In this election, the keys to victory were rank-and-file activism and worker solidarity. The same will be true in any other elections the Freedom Foundation tries to enter. L&I interpreters themselves stood up and demanded better.
L&I interpreters overcame divisions that the Freedom Foundation tried to exploit and chose to work together for their own good, for the good of their profession and for patients — the injured workers that need competent interpreters to access workers' compensation and other services provided by the Department of Labor & Industries.
WFSE is so excited that L&I interpreters have joined our union family and our community of organized labor. Standing behind them are:
●  Fellow members of Interpreters United (WFSE), the first union of freelance spoken language interpreters in the United States.
●  More than 46,000 public service workers represented by WFSE in Washington state.
●  The 1.3 million public service workers represented by AFSCME, including staff court interpreters in New York and union siblings in Oregon, the second union of freelance interpreters in the country!
In addition to membership in the local union, council and national union above, L&I interpreters also now stand shoulder to shoulder with 550,000 rank-and-file members from 600 unions in the Washington State Labor Council, AFL-CIO (WSLC), the state's largest labor federation.
Now, with a collective voice that will be heard in the Washington State Legislature, at the bargaining table, and in the clinics, Interpreters United will begin the work of improving conditions for interpreters at the Department of Labor & Industries. Stay tuned.
Not a member of Interpreters United (WFSE) yet? Join the union today.
---
All workers in Washington state: If you ready for better wages and working conditions, get more information about how you can join together with co-workers and negotiate a fair return for your hard work. Or go ahead and contact a union organizer today!
Short URL: https://www.thestand.org/?p=110901
Posted by
David Groves
on Aug 31 2022. Filed under
STATE GOVERNMENT
. You can follow any responses to this entry through the
RSS 2.0
. Both comments and pings are currently closed.