Confronting Weyco greed | Amazon on defense | UFW wins
Friday, September 30, 2022
---
LOCAL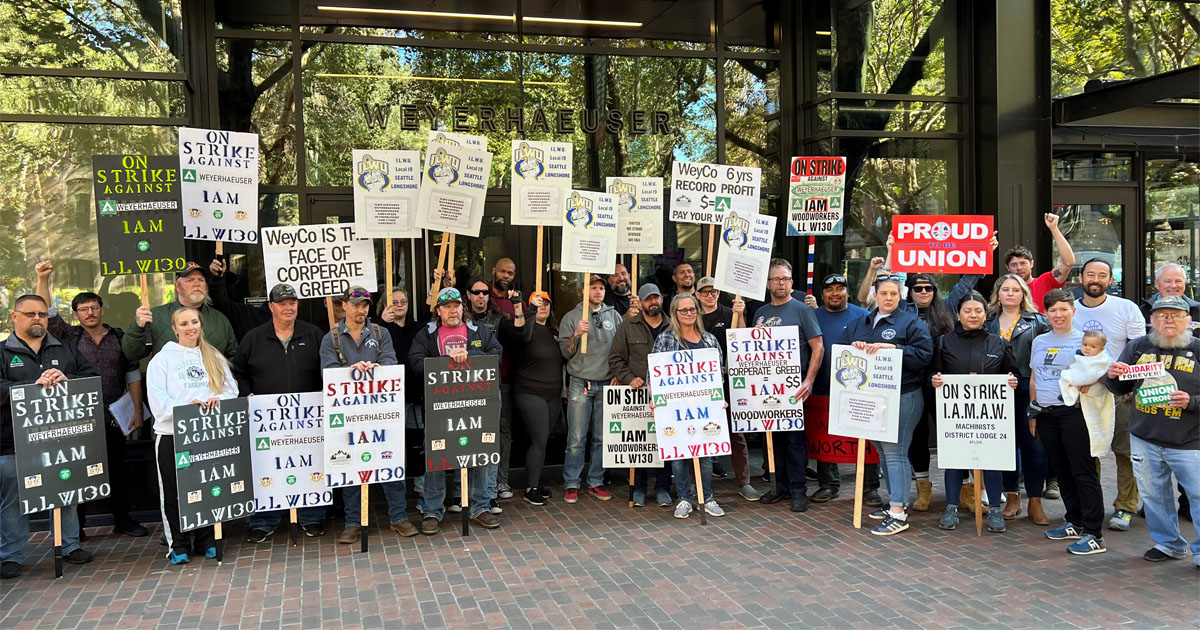 TODAY at The Stand — Weyco strikers rally at company's Seattle HQ — Striking Weyerhaeuser workers and their supporters rallied Thursday outside the company's Seattle headquarters to call for a fair contract from the nation's largest forest products company. The IAMAW District W24 bargaining team is scheduled to meet with the company today to resume bargaining.
► From KOMO — Weyerhaeuser employees on strike rally outside Seattle HQ, demand better wages — More than 1,100 employees who work for the timber company in Washington and Oregon have been on strike since Sept. 13. Striking Weyerhaeuser employee and IAMAW member Jason Williams said:
"The company has been making record profit. We went through a pandemic. We've been there strong with them and working with the company. Coming to this contract here, we thought, had high hopes that we'd at least get caught up with inflation and their proposal to us doesn't even come close to it."
► From KIRO — Weyerhaeuser employees picket outside company headquarters (video)
Solidarity with @MachinistsUnion woodworkers on strike! Weyco had more than 10 BILLION in revenue in 2021 but wants to cut healthcare benefits for the workers whose labor made that money. @Weyerhaeuser must do better for timber families! #DoBetterDevin #UnionStrong pic.twitter.com/V558EQlmu4

— Washington State Labor Council, AFL-CIO (@WAAFLCIO) September 29, 2022
► From the union-busting Columbian — Evergreen Public Schools paraeducators union rejects contract offer — The Evergreen Public School Employees large group union (PSE SEIU 1948) rejected the most recent contract offer from Evergreen Public Schools in a membership meeting late Wednesday night. Approximately 83 percent of the union — which represents about 1,000 employees in Evergreen, about 650 of which are paraeducators — voted against the deal.
► From the Kitsap Sun — Care standards group gives St. Michael Medical Center preliminary accreditation denial — The Joint Commission, a national health care standards group, gave the Silverdale hospital a preliminary denial of accreditation in early September after an in-depth site visit in August.
► From the Skagit Valley Herald — New carpenters training center unveiled in Burlington — A grand opening was held Thursday morning for the Northwest Carpenters Institute of Washington's Burlington Training Center. The carpentry apprenticeship program had been in Mount Vernon.
► From the Seattle Times — Seattle to honor fallen firefighters Friday
► From the Seattle Times — Seattle longshore workers keep the container ship industry afloat — This week's Pacific NW magazine story is about container ships and the largely unseen workforce aboard them, but there's another group of laborers behind those port fences who are critical to the operation: longshore workers.
---
ELECTION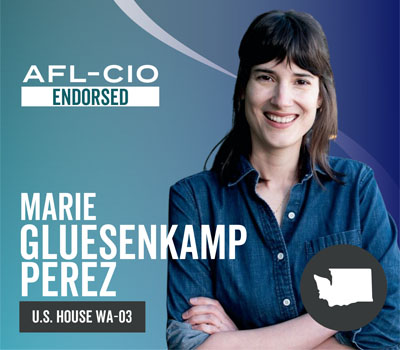 ► From Crosscut — Kent, Gluesenkamp Perez spar over immigration, Trump — The race in Washington's 3rd Congressional District presents a stark choice for voters when it comes to inflation, abortion and who should be called an American. Republican Joe Kent, an outspoken America First candidate endorsed by Trump, has been dogged by media reports of affiliations or interactions with various groups of right-wing street brawlers and other extremist elements. Democrat Marie Gluesenkamp Perez, a Democrat who co-owns an auto shop and lives in one of Washington's most rural counties, said: "Joe Kent wants to ban all immigration for 20 years to reestablish a white majority."
EDITOR'S NOTE — Marie Gluesenkamp Perez has been endorsed by the Washington State Labor Council, AFL-CIO.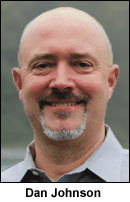 ► From the Cascadia Daily News — State candidate Johnson apologizes for 'antisemitic' Facebook post — Dan Johnson, a Republican candidate for the state House of Representatives in the 42nd Legislative District, apologized during a Bellingham City Club candidate forum. His Democratic opponent Joe Timmons said he found Johnson's social media posts to be "appalling" and "offensive."
---
THIS WASHINGTON
► From the (Everett) Herald — State Rep. Peterson appointed to Snohomish County Council — Despite concerns that he will struggle to balance two jobs, the Snohomish County Council voted unanimously Thursday to appoint state Rep. Strom Peterson to fill its District 3 vacancy.
► From the Seattle Times — WA state ferries free for people 18 and under starting Saturday — Earlier this month, bus and other transit fares were lifted for young riders in most of Washington. It's part of a move by agencies across the state toward providing free rides for people 18 and under.
► From the (Centralia) Chronicle — Inslee declares emergency due to damaged SR 506 bridge — The damage occurred Sept. 22 to the bridge over I-5 when it was struck by an oversized logging truck.
---
AEROSPACE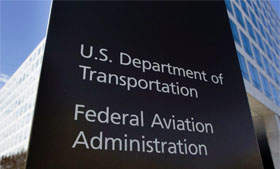 ► From the Seattle Times — With 2 MAX models at risk, Congress moves to give Boeing a break — The FAA sent a high-level letter to Boeing this month warning that the documents the manufacturer has provided for certification of the 737 MAX 7 model are wholly inadequate — making it unlikely that MAX 7 certification will be completed by a year-end deadline. Political action has begun in Congress, however, to provide Boeing the time and leeway it needs to complete the safety assessment documentation.
► From Reuters — Boeing to close S. Carolina plant Friday due to Hurricane Ian — Boeing said it anticipates resuming normal operations on Sunday.
► From the PSBJ — Canadian carrier places big order for Boeing 737 MAX 10s
---
THAT WASHINGTON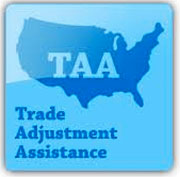 ► From the AFL-CIO — AFL-CIO to Republicans in Congress: Stop playing games with working families and reauthorize Trade Adjustment Assistance — "Trade Adjustment Assistance is a lifeline for workers displaced from their jobs by unfair trade policies," said AFL-CIO President Liz Shuler. "It's unacceptable that Republican leaders in Congress have once again put petty politics above the needs of working people by blocking the reauthorization of this critical program in upcoming appropriations legislation."
► From Roll Call — Stopgap funding bill passes Senate; House vote on deck Friday — The Senate passed a short-term spending measure Thursday, sending to the House a bill that would avoid a partial government shutdown next week and boost aid to Ukraine.
► From Politico — DHS waives Jones Act for Puerto Rico to supply fuel after hurricane — The Department of Homeland Security's choice to suspend the Jones Act — which typically allows only U.S.-flagged ships to transport maritime cargo between U.S. ports — will allow additional diesel into Puerto Rico, days after the territory was hit by Hurricane Fiona.
► From the Washington Post — GOP states sue Biden administration to overturn student debt relief — Seven Republican-led states sued on Thursday to overturn President Biden's plan to cancel up to $20,000 in student debt for millions of borrowers, as conservatives advance legal challenges to one of the administration's signature economic policy initiatives.
► From the AP — Unpaid internships face new scrutiny as barriers to careers — Close to half of all internships are unpaid, putting them out of reach for students who need wages to keep up with their bills, even if the work has nothing to do with their intended careers. Unpaid internships are facing new scrutiny from colleges, state lawmakers –- and even the White House, which announced its interns this fall will be paid for the first time to help remove " barriers to equal opportunity " for low-income students.
---
NATIONAL
► From the PS Business Journal — Analyst: Amazon 'playing defense' with move to boost pay for warehouse workers — The Seattle-based e-commerce giant said it will spend $1 billion over the next year to boost the average starting pay from $18 per hour to $19. The pay bump comes at a time when the company is facing a tight labor market and serious unionization efforts across its logistics network.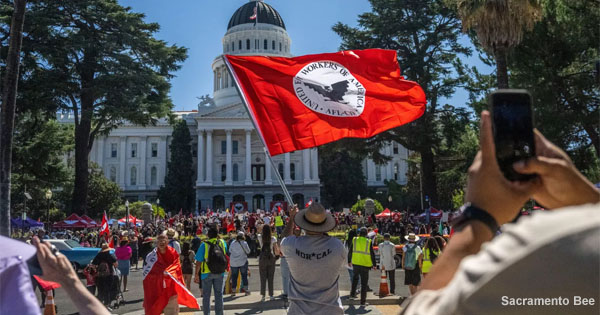 ► From the LA Times — Newsom signs UFW bill aimed at helping California farmworkers organize — After previously indicating he might veto the measure, Gov. Gavin Newsom signed a new law Wednesday that will make it easier for agricultural laborers to join unions, a hard-fought win for the United Farm Workers. The signature came after union members and their supporters made a 335-mile pilgrimage from Delano, Calif., to Sacramento and then camped out in front of the state Capitol for weeks as dignitaries visited — a vivid and theatrical display of political heft.
► From KRON — SFO Airport restaurant workers strike ends after tentative deal reached — The three-day strike that started Monday with about 1,000 workers with the union Unite Here Local 2 caused many of the restaurants to close this week, but an agreement was reached late Wednesday between the union and the restaurants and the union's bargaining committee unanimously approved it.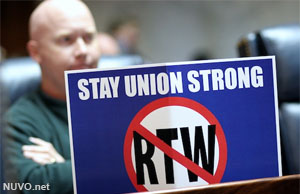 ► From Vox — Two states, two visions for the future of labor — Two midterm ballot measures, in states roughly 500 miles apart, offer two visions of labor rights in America. The first referendum, in Illinois, would seek to codify collective bargaining rights in the Illinois constitution. In Tennessee, a state where unions have comparatively much less strength, voters will decide on the opposite question: whether to codify "right-to-work" in their state constitution.
► From Vox — How Medicaid expansion keeps winning — Six times since 2017, voters in a state have weighed in directly on whether to expand Medicaid and make more low-income adults eligible for free public health coverage. Six times, the ballot measure has passed. That undefeated streak could extend to seven wins in South Dakota this November.
► From KFGO — Bismarck Bobcat workers vote to unionize, plant employs 700 — Workers at Bobcat's Bismarck, ND manufacturing facility voted in favor of USW union representation in a secret ballot election overseen by the NLRB on Wednesday.
EDITOR'S NOTE — Ready for a voice at work? Get more information about how you can join together with co-workers and negotiate a fair return for your hard work. Or go ahead and contact a union organizer today!
► From the Guardian — Geico workers accuse company of aggressive tactics to deter union push — Workers at an office of insurance giant Geico have embarked on a unionization campaign in the face of what they say are aggressive and unfair management tactics to prevent them from forming a labor union.
---
T.G.I.F.
► This morning, The Unprepared Staff of The Stand decided to choose a TGIF video by putting our iTunes song library (yes, we still have one of those) on shuffle and selecting the first song that played. The winner was this 1977 gem by the Electric Light Orchestra. Fun fact: The song was the popular choice to be the theme song for the U.S. version of The Office television series, but it had already been chosen to be the theme for a different NBC series that premiered the year before, the forgettable airport drama LAX. Doh!
---
The Stand posts links to Washington state and national news of interest every weekday morning by 10 a.m.
WASHINGTON IS A UNION STATE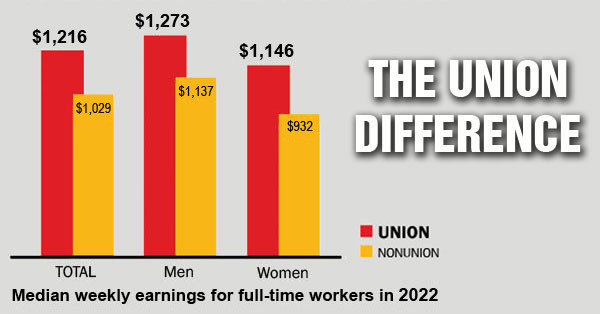 CHECK OUT THE UNION DIFFERENCE in Washington state: higher wages, affordable health and dental care, job and retirement security.
FIND OUT HOW TO JOIN TOGETHER with your co-workers to negotiate for better working conditions and respect on the job. Or go ahead and contact a union organizer today!