How you can support local educators seeking fair contracts
(Sept. 6, 2022) — Educators in multiple school districts across Washington state are fighting for fair contracts that respect their work and create learning environments where students can thrive. In Kent, teachers are on Day 6 of a strike. In Port Angeles, teachers approved a new contract and averted a strike. Here are updates from those and other districts — and opportunities for you to show your solidarity and support. (Get the latest updates on teachers' actions in the Daily News at The Stand.)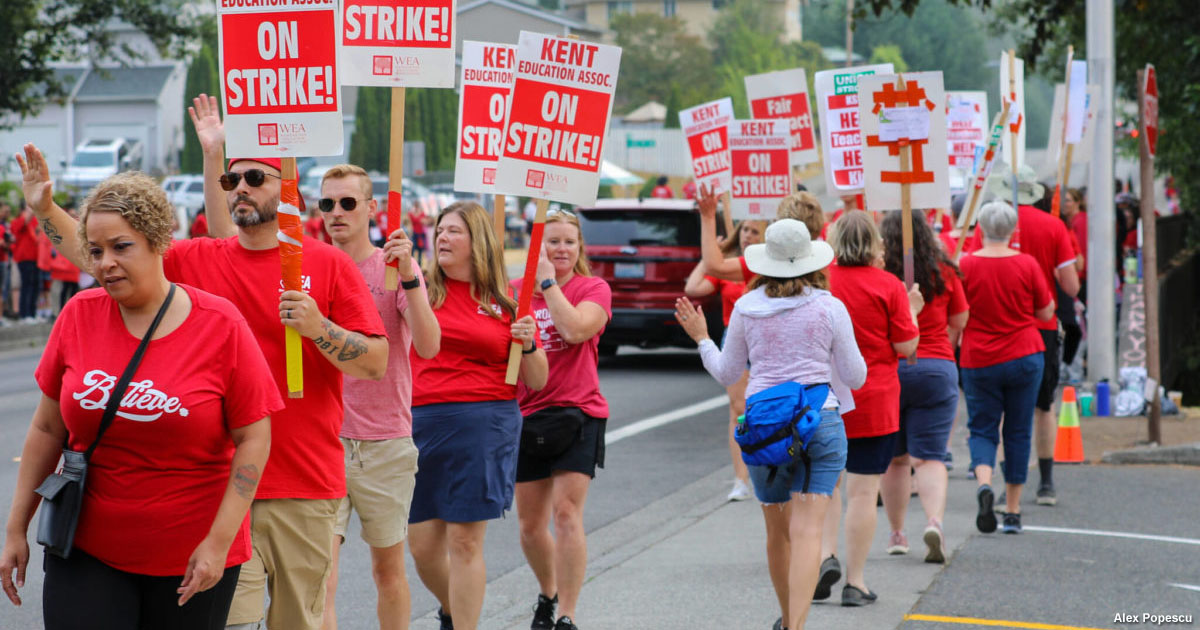 ► From the Kent Reporter — Day 8 of Kent teachers' strike: No school on Tuesday, Sept. 6 — The teachers' strike enters its eighth day on Tuesday, Sept. 6 after a weekend of negotiations between the Kent School District and the teachers' union failed to reach a contract agreement. The union's primary goals are better pay, more mental health services for students and smaller class sizes and caseloads.
TAKE A STAND — Join Kent Education Association educators on the picket lines from 8 a.m. to 2:30 p.m. at all schools. Supporters can send a message to the Kent School Board and superintendent to urge them to reach a fair and equitable agreement with the KEA.
► From the Seattle Times — Seattle teachers prepare for a strike as negotiations continue — More than a hundred Seattle educators gathered on Labor Day at Judkins Park, stapling and taping signs to wooden pickets in preparation for a potential strike. On Tuesday, Seattle teachers will find out if they have enough votes to authorize a strike. Then it comes down to whether the Seattle Education Association and Seattle Public Schools can strike a deal before Wednesday, the expected first day of classes.
► From KOMO — Seattle teachers reject district's call to work, without contract Wednesday
TAKE A STAND — You can send a message urging the Seattle school administrators to settle a fair contract with Seattle Education Association members.
► From KING — Eatonville teachers to strike next this week if contract agreement isn't met — Teachers in the Eatonville School District plan to strike next this week if they aren't able to reach a contract agreement with the district. Members of the Eatonville Education Association (EEA), the union that represents teachers, voted Tuesday to authorize a strike on Sept. 7, which is the first day of class.
TAKE A STAND — Sign and share petition for Eatonville educators.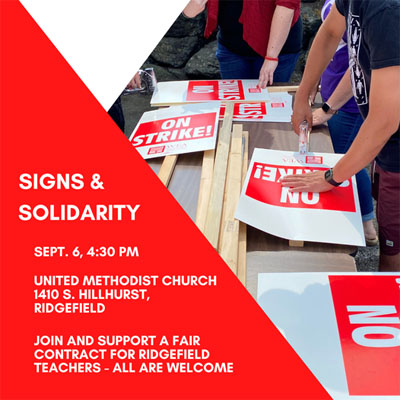 ► From the Ridgefield Education Association — Signs & Solidarity event today — Join members of the REA today for Signs & Solidarity event at 4:30 p.m. at United Methodist Church, 1410 S. Hillhurst, to show Ridgefield teachers you support a fair contract for students and staff. Ridgefield teachers have begun school without a contract but are prepared to strike if they do not reach agreement ASAP on a fair contract.
TAKE A STAND — Send a message to the Ridgefield School Board telling them to offer a fair contract to their teachers.
► From the Peninsula Daily News — Schools to start on time in Port Angeles — The Port Angeles School District and the Port Angeles Education Association reached a tentative agreement for a new contract on Monday, possibly averting a strike the union membership authorized if it did not have one in place by today.
EDITOR'S NOTE — Via Facebook, the PAEA has voted to approve the agreement.
Short URL: https://www.thestand.org/?p=111059
Posted by
David Groves
on Sep 6 2022. Filed under
LOCAL
. You can follow any responses to this entry through the
RSS 2.0
. Both comments and pings are currently closed.