'Most hated man in Britain' will no longer attend Seattle event
UPDATE (Sept. 30, 2022) — After a public outcry from the international labor movement and elected officials, P&O Ferries CEO Peter Hebblethwaite will no longer be attending the Interferry Conference in Seattle next week! The leafletting action scheduled for Monday morning, Oct. 3 has therefore been CANCELLED.
---
SEATTLE — P&O Ferries CEO Peter Hebblethwaite, who has become known as "the most hated man in Britain," is coming to Seattle next week and the international labor movement is not happy about it.
In March 2022, Hebblethwaite fired nearly 800 workers — represented by Nautilus International and the RMT (U.K. maritime unions) — on a pre-recorded Zoom call with just 30 minutes notice. They were to be replaced with agency workers on short-term contracts paid on average £5.15 per hour, below the UK minimum wage. This was done without notice or consultation with trade unions, and without notifying the secretary of state as required under the law. Hebblethwaite later admitted he knew his actions were illegal, but he would do it again.

That hasn't stopped the organizers of the Interferry Conference, an international ferry industry convention being held next week in Seattle, from inviting the disgraced Hebblethwaite to speak at their event on the "Power and People" theme of the conference, as part of a ferry leaders panel. The UK unions, the International Transportation Federation (ITF), and Congressional leaders have expressed outrage and demanded that Hebblethwaite be disinvited, but the conference refused.
So on Monday, Puget Sound-area transportation unions are going to make sure that Hebblethwaite and the Interferry Conference hears from them.
TAKE A STAND
*** THIS LEAFLETING ACTION HAS BEEN CANCELLED ***
The ITF, a global federation of transportation unions that includes MM&P, MEBA, ILWU, IBU, Teamsters and others, is planning a leafleting action on Monday, Oct. 3 from 7:30 to 9:30 a.m. outside the Bell Harbor International Conference Center, 2211 Alaskan Way in Seattle, where the conference begins at 9 a.m. All union members and supporters of international labor rights are encouraged to attend and participate.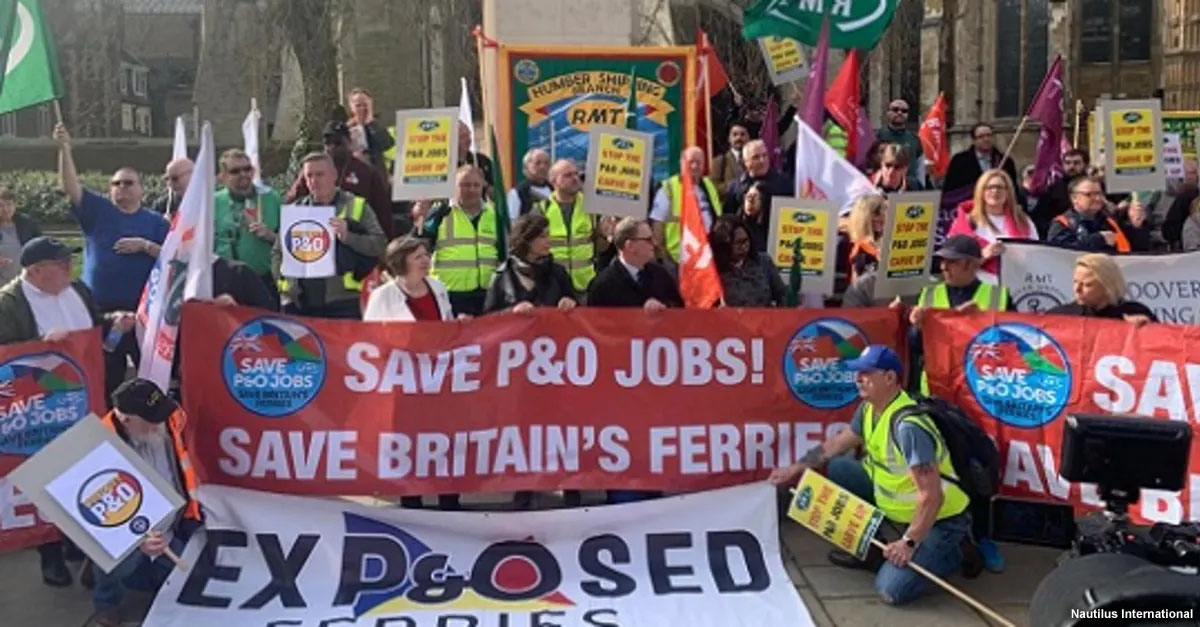 Following his actions in March 2022, Hebblethwait was voted Europe's worst employer by the Congress of the European Transport Workers' Federation (ETF) in Budapest in May. He has faced repeated calls for his resignation from across the political spectrum, including from the then-Secretary of State for Transport Grant Shapps and former Prime Minister Boris Johnson.
And yet, the Interferry Conference has cordially invited him to come to Seattle to speak about "Power and People."
Congressman Peter DeFazio, Chairman of the House Committee on Transportation and Infrastructure also wrote a letter to Interferry Conference CEO Mike Corrigan to urge Hebblethwaite's removal from the agenda.
"(Hebblethwaite's) participation puts a stain on the reputation of Interferry's conference," DeFazio wrote. "Employers like that have no place at an Interferry conference, let alone one that is co-hosted by the Washington State Ferries and takes place in the United States. His presence on the "Power and People" panel is an insult to all seafarers."
"Peter Hebblethwaite stated in front of an official UK Parliament hearing that he knew he actions were illegal," wrote ITF maritime coordinator Jacqueline Smith in a letter to Corrigan. "Therefore, I find it incomprehensible that he should be invited to speak on an official panel promoted by an industry group… This conveys entirely the wrong message to not only seafarers, but also the public and the wider industry."
The Puget Sound-area labor movement plans to send a message of their own on Monday, Oct. 3 in Seattle. Join them!
Short URL: https://www.thestand.org/?p=111668
Posted by
admin
on Sep 30 2022. Filed under
LOCAL
. You can follow any responses to this entry through the
RSS 2.0
. Both comments and pings are currently closed.