State minimum wage adjustment protects workers, communities
OLYMPIA (Sept. 30, 2022) — Advocates for Washington's working families hailed today's announcement of the 2023 cost-of-living adjustment in the state minimum wage. This adjustment will help working families keep up with rising costs and boost the economy in local communities.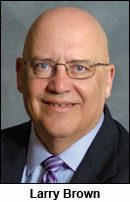 "The voter-approved cost-of-living adjustment to our minimum wage ensures that workers and families don't fall further behind when inflation is eating away at paychecks," said Larry Brown, President of the Washington State Labor Council, AFL-CIO. "This adjustment will help them keep up with the higher costs of food, housing, transportation, and other basic necessities. It will also boost the economies of our local communities where these wages are spent.
"Washington voters approved these automatic adjustments to take the politics out of minimum wage policy, and it is working just as the people of Washington intended," he added.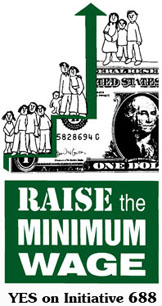 Voters overwhelmingly approved ballot initiatives in 1998 and again in 2016 that required annual adjustments in the state minimum wage based on rising consumer prices. Based on those rising costs in the past year, the state announced today that Washington's minimum wage will go from $14.49 per hour to $15.74 per hour on Jan. 1, 2023. At the updated minimum wage, a full-time worker will still be earning less than $32,800 per year.
Policies like the inflation-adjusted state minimum wage are among the reasons why Washington is consistently ranked among the best states to work and as one of the best states for businesses.
Some corporate lobbying groups blame rising wages for inflation. But it's clear that this year's inflation surge has nothing to do with wages – or inflation wouldn't be an issue in states like Idaho that still adhere to the $7.25 federal minimum wage, which has been frozen for more than 13 years. Blaming workers for inflation ignores both the pandemic-related supply chain issues and the record-breaking profits that corporations have experienced.
"Corporate CEOs exploiting the pandemic are to blame for inflation, not workers," Brown said. "In the past year, greedy CEOs have raised prices on essentials from food to gas to reap extraordinary profits at the expense of working people and our local economies. This voter-approved adjustment is the right thing to do to protect Washington's lowest-paid workers and their communities."
Short URL: https://www.thestand.org/?p=111683
Posted by
admin
on Sep 30 2022. Filed under
STATE GOVERNMENT
. You can follow any responses to this entry through the
RSS 2.0
. Both comments and pings are currently closed.