Weyerhaeuser strike continues; support the picket lines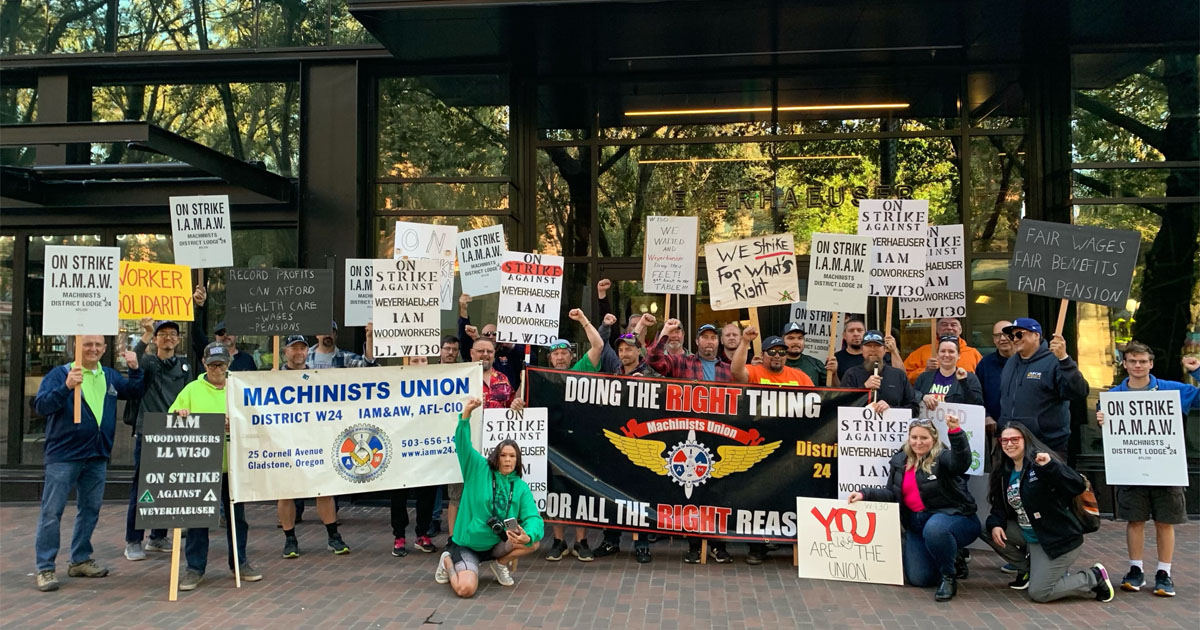 UPDATE (Sept. 20, 2022) — Dozens of striking Weyerhaeuser workers and their supporters picketed outside the company's Seattle headquarters on Tuesday morning.
TAKE A STAND — Stand with striking Weyerhaeuser workers by signing this petition to tell Weyerhaeuser: Timber workers and their families deserve living wages, good health care, and a secure retirement!
---
IAMAW negotiators ready to bargain, but Weyerhaeuser makes them wait
LONGVIEW, Wash. (Sept. 19, 2022) — More than 1,100 Weyerhaeuser employees represented by IAMAW District W24 continue their strike against the nation's largest forest products company after negotiations held Friday failed to result in a contract agreement. Although the union's bargaining team stands ready to meet any day at any time, the next negotiation session isn't scheduled until Thursday, Sept. 22.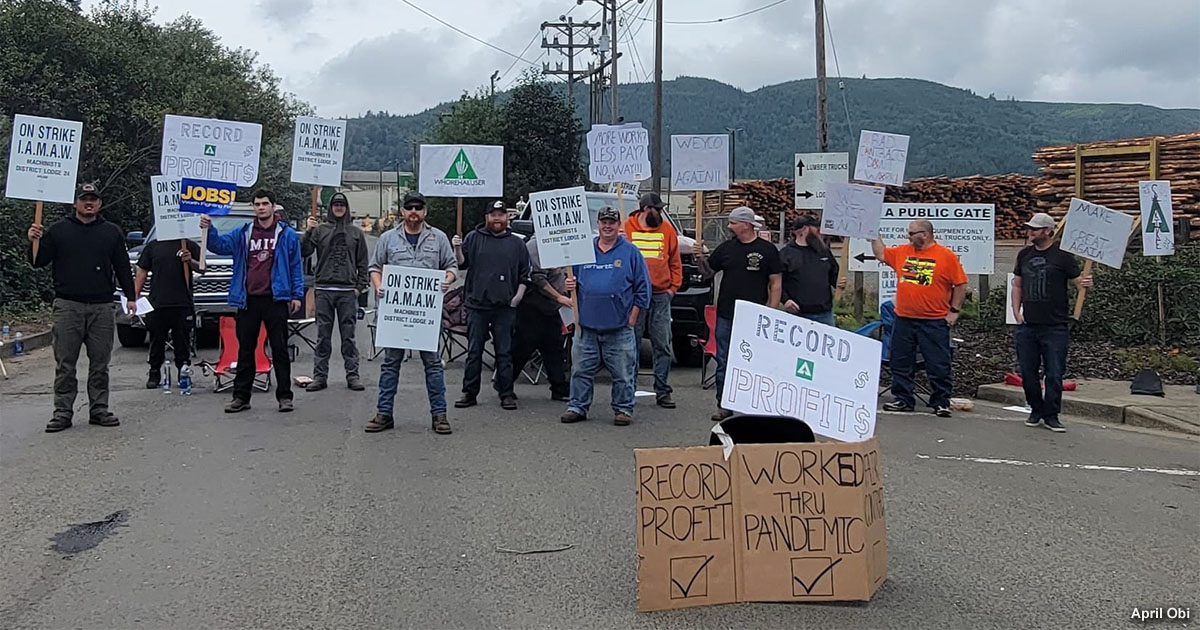 On Sept. 2, Weyerhaeuser workers overwhelmingly voted down the company's latest contract proposal because general wage increases were too low, vacation time was cut, employees were asked to pay for healthcare premiums for the first time since the 1990s, and retirement benefits weren't improved. This from a company that reported its "2021 financial performance was the strongest on record," with a roughly 69% increase in net earnings from 2020 to 2021.
The workers have been on strike since Sept. 13.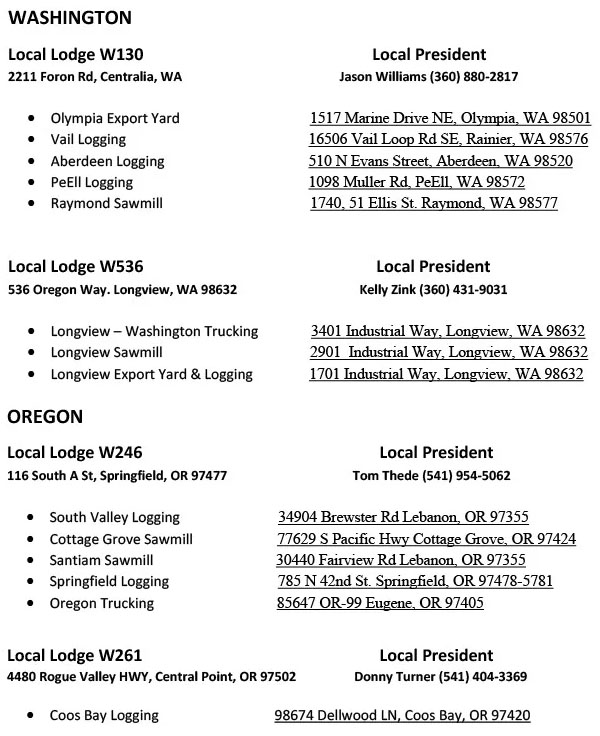 TAKE A STAND — Show your solidarity by joining picket lines at Weyerhaeuser facilities and donating food/supplies at the these locations. The union says "community support (on the strike lines) has been amazing" and "each location would appreciate you stopping by; hold a sign, talk with us, bring a treat or two, anything to show your support."
The IAMAW bargaining team posted the following update on Friday:
Our over 1100 members are holding the line. We have struck 4 lumber mills, including two of the nation's largest producing mills in Longview, WA, and Cottage Grove, OR. We have struck for our work in the over 2.6 million acres of forest in the NW. We have struck the thousands and thousands of logging and highway roads our truck drivers drive. We struck because that work is essential to our community's economy, it is essential for Weyerhaeuser to continue to reap record profits, and is vitally essential for each and every IAM member that works at Weyerhaeuser to provide for their families and have a secure future.
The community support has been amazing. Our picket lines have seen thousands of people show their support. Every honk is a call to bring Weyerhaeuser back to the table. Every wave is a statement that we are behind you. The boxes of homemade cookies, the store-bought bags of hamburgers, and the boxes of donated meals from little mom-and-pop restaurants has strengthened our resolve. Thank you, to all that have shown support. We are in this until we get a fair contract. And we will be here until we do!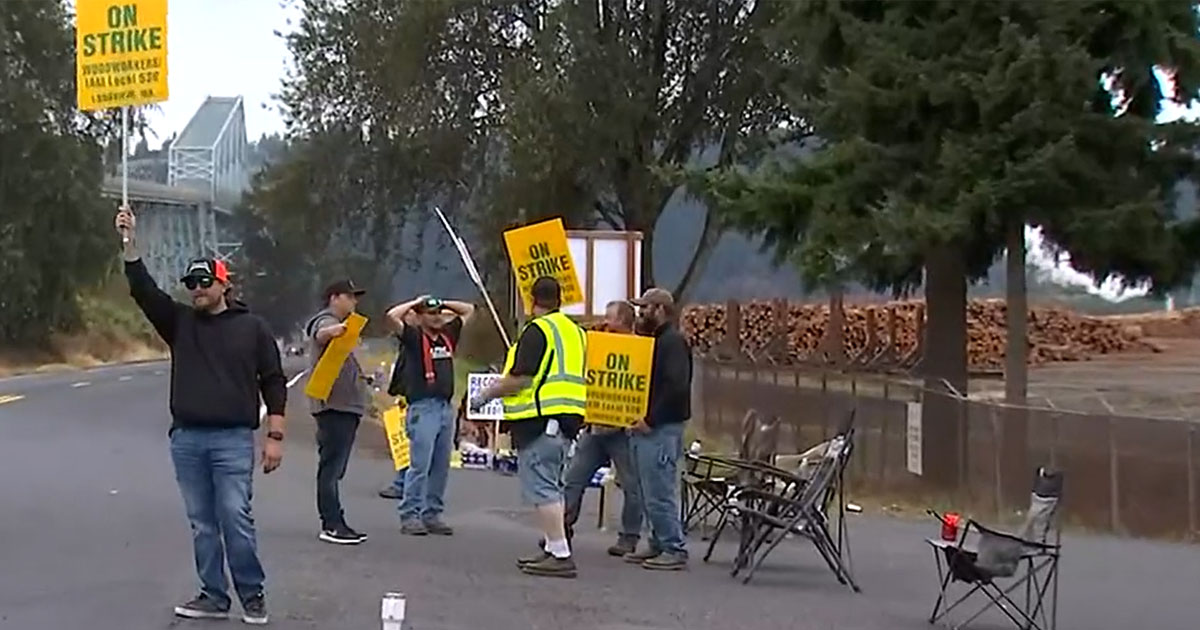 Also on Friday, Diana Winther, President of the Cowlitz-Wahkiakum Central Labor Council, sent this letter to Weyerhaeuser management urging them to "return to the bargaining table promptly and in good faith, and present a proposal that meets the needs of the membership and properly recognizes their contribution to your business":
Longview was shaped by mills such as your facility on Industrial Way, and the families that live in this town are proud to do the work necessary to create lumber, to drive log trucks, and to maintain the machinery that keeps Weyerhaeuser running. But your lack of respect for their efforts have left them no choice but to withhold their labor and take to the street instead of walking through your gates for their shifts.
As a coalition of diverse unions – from educators to laborers, nurses, millwrights, office professionals, and plumbers – the Cowlitz-Wahkiakum Central Labor Council writes to express its profound disappointment in how you have chosen to treat your workforce. The members of Woodworkers W 536 lAMA W helped make 2021 your strongest financial performance on record. To report returning over $2 billion in cash to shareholders and then expect the membership to accept a meaningless 15% raise when coupled with a 30% increase in their health care costs sends a clear and painful message – you do not truly value them or their work.
It is our position that Weyerhaeuser needs to reassess its values. Your website showcases Weyerhaeuser being named one of the world's most ethical companies by Ethisphere multiple times. Yet it is challenging to imagine a less ethical action than demanding your employees take an economic step backwards in a time of record inflation. Elsewhere on your website you brag about your reputation for "conducting business honestly, fairly and with integrity." Yet rather than demonstrating your integrity by doing "the right thing the right way" and presenting a proposal that honestly reflects your substantial financial success, you have forced work stoppages in multiple states with an insulting and unfair last, best, and final offer.
It is the position of the Cowlitz-Wahkiakum Central Labor Council that Weyerhaeuser leadership must return to the bargaining table promptly and in good faith, and present a proposal that meets the needs of the membership and properly recognizes their contribution to your business. This is what is necessary for your workforce, for our community, and even for your shareholders, and it is what the Cowlitz-Wahkiakum Central Labor Council expects of such an historic anchor company such as Weyerhaeuser.
Short URL: https://www.thestand.org/?p=111355
Posted by
David Groves
on Sep 19 2022. Filed under
LOCAL
. You can follow any responses to this entry through the
RSS 2.0
. Both comments and pings are currently closed.