Crime at Starbucks, Amazon | Sickness in Congress | Fed's war on wages
Thursday, December 1, 2022
---
LOCAL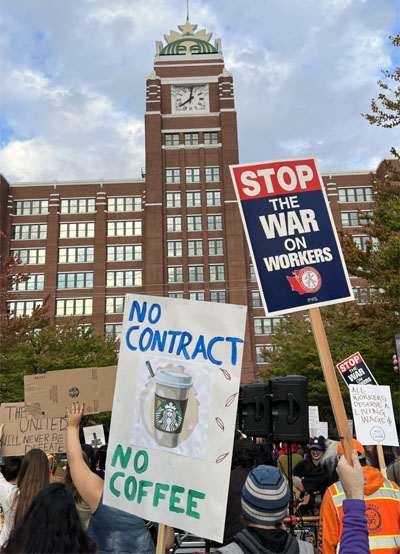 ► From Bloomberg — Starbucks illegally refused to negotiate with union, NLRB rules — Starbucks violated labor law by refusing to bargain with unionized workers at its Seattle megacafe, the National Labor Relations Board ruled Wednesday. The decision, issued unanimously by the one Republican and two Democratic members of the labor board, orders Starbucks' subsidiary Siren Retail to negotiate with the new union at Starbucks Reserve Roastery on Capitol Hill. Employees there voted in April to join Starbucks Workers United, the labor group which has prevailed in elections at around 250 of the coffee chain's U.S. sites over the past year. The company plans to appeal the decision.
The Stand (Nov. 29) — Tell Starbucks: Stop union-busting closures — The company has announced the closure of another unionized store in Seattle.
► A related story from Vice — Amazon is refusing to comply with a federal judge's order, emails show — Amazon is refusing to fully comply with a requirement to tell its employees that it was ordered by a federal judge to stop retaliating against unionizing employees, according to a motion filed by the NLRB. The federal cease-and-desist order required that Amazon stop "discharging employees because they engaged in protected concerted activity" and "interfering with, restraining, or coercing employees."
The Stand (Nov. 23) — Tacoma Art Museum opts for union busting — Museum board votes to deny voluntary recognition to employees, despite more than 80% support.
TAKE A STAND — Show your solidarity with TAM workers by signing the community support letter. Also, be sure to follow TAM Workers United on Instagram and Twitter for the latest updates.

► From the Kitsap Sun — Port Orchard Safeway worker adds voice in D.C. opposing proposed Kroger-Albertsons grocery merger — With a "stop the merger" sign in hand, Naomi Oligario of Port Orchard, a 37-year Safeway employee, on Tuesday joined fellow UFCW 3000 members on Capitol Hill in speaking out against a proposed merger of the country's two largest grocers, Kroger and Albertsons, ahead of a Senate hearing. Oligario said:
"We are all concerned with this proposed merger and the $4 billion giveaway to rich shareholders instead of investing in us — the workers who helped make the profits. We need safer stores. Our customers need lower prices. We need more competition. Not less."
The Stand (Oct. 14) — Grocery unions decry proposed Kroger-Albertsons merger
► A related story from the Wall Street Journal — Kroger's sales continued to climb in third quarter — Kroger has seen its top line grow each quarter this year while consumers remain willing to pay higher prices for essentials. Grocery chains, which fared better than other retailers during the pandemic, have managed to continue that successful run in the past year.
► From the Tri-City Herald — Job fair to hire 1,700 workers. Pay is among the highest in Eastern WA — Some of the highest paying employers in the Tri-Cities area are looking for candidates for up to 1,700 positions. The Department of Energy and its contractors at the Hanford nuclear reservation site adjacent to Richland are holding a virtual job fair for all skill levels Dec. 7 and 8.
---
THIS WASHINGTON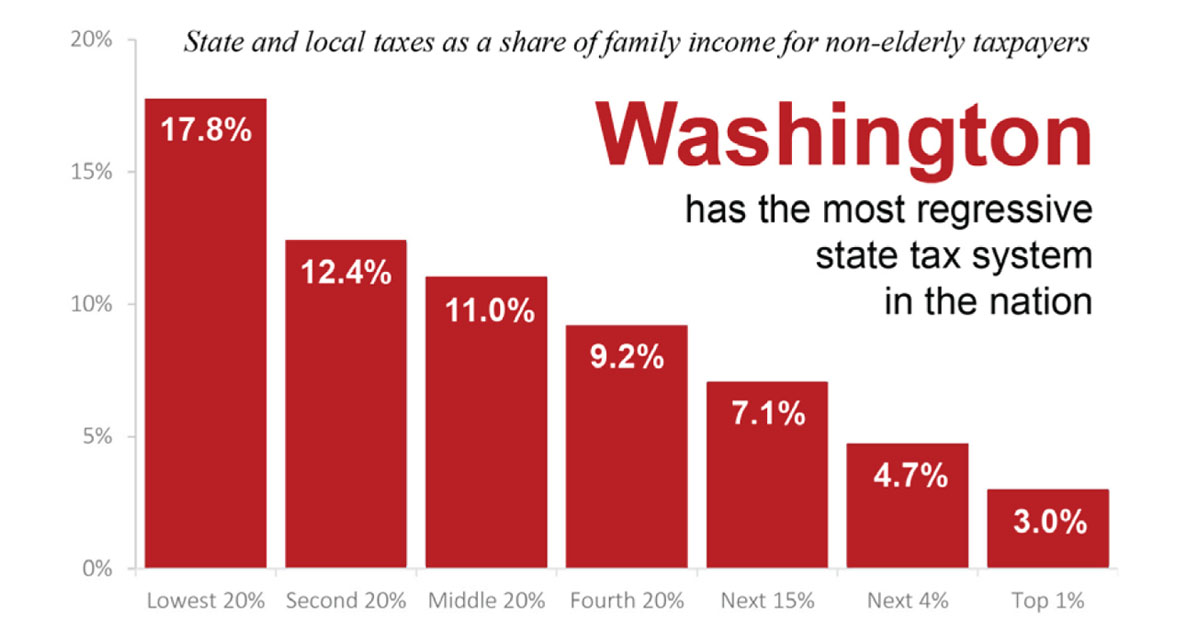 ► From the Seattle Times — WA Supreme Court clears way for state to collect capital-gains tax — Washington can collect a new state capital gains tax, following a Washington Supreme Court order Wednesday that comes as the justices are about two months from hearing a challenge to the tax's constitutionality. The state Supreme Court issued a stay Wednesday on a lower-court ruling from March that said the tax was unconstitutional. The stay allows the Department of Revenue to administer and collect the 7% tax on the sale and exchange of assets like stocks and bonds, pending the court's decision. The tax only applies to profits over $250,000.
► From the WA State Budget & Policy Center — Court made right move on rulemaking for Washington state's capital gains tax (by Misha Werschkul) — Although this ruling is not a final decision on the constitutionality of the tax, it allows the state Department of Revenue to move forward necessary administrative work.
► From the Olympian — WA workers compensation premiums set to increase in January — Beginning Jan. 1, worker's compensation premiums will increase by 4.8%, L&I announced Wednesday, citing wage increases and rising medical costs for the rate increase.
The Stand (Sept. 21) — L&I proposes 4.8% increase in 2023 workers' comp rates
---
ELECTION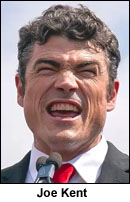 ► From the union-busting Columbian — Joe Kent plans to pay for recount in 3rd Congressional District race — Republican Joe Kent's campaign says it will pay for an official recount of ballots in Washington's 3rd Congressional District race, which he lost to Democrat Marie Gluesenkamp Perez. She won by a margin of 2,629 votes, or 0.83 percent — enough to avoid an automatic recount.
EDITOR'S NOTE — Will Kent's "employer" pay the nearly $50,000 cost?
► From the (Everett) Herald — Shavers wins by narrow margin as Dems flip seat in 10th District — Democrat Clyde Shavers won by 211 votes against incumbent state Rep. Greg Gilday. It's close enough for a recount.
---
RAILROAD CONTRACT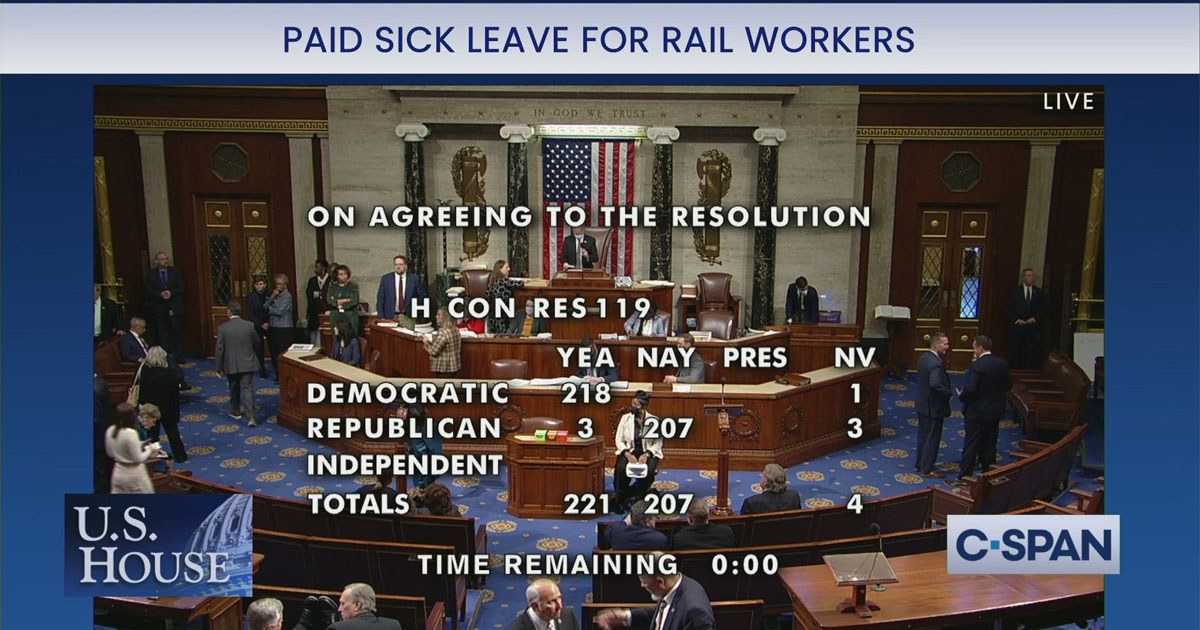 ► From the AP — House votes to avert rail strike, impose deal on unions — The U.S. House moved urgently to head off the looming nationwide rail strike on Wednesday, passing a bill that would bind companies and workers to a proposed settlement that was reached in September but rejected by some of the 12 unions involved. The measure passed by a vote of 290-137 and now heads to the Senate… House Speaker Nancy Pelosi added a second vote Wednesday that would add seven days of paid sick leave per year for rail workers covered under the agreement. However, it will take effect only if the Senate goes along and passes both measures. The House passed the sick leave measure by a much narrower margin, 221-207, as Republicans overwhelmingly opposed it.
EDITOR'S NOTE — Every member of Washington's delegation voted in favor of the binding contract agreement except Rep. Cathy McMorris Rodgers (R-5th). On the second vote, every Democratic representative from the state voted in favor of sick leave for rail workers, and every Republican voted against it. The AFL-CIO Transportation Trades Dept. tweeted:
"We are grateful to @HouseDemocrats and the 3 lone @HouseGOP members whose courage moved them to vote YES and stand with workers. These elected leaders are true champions of working people. To every ally who stands with rail workers in this historic fight: please contact your Senators (here or here) and demand that they vote YES on paid sick leave for rail workers. To the 207 House Republicans who voted against a mere seven days of sick leave for the nation's essential freight rail workforce, we will remember this. Today, you stood against working people and sided with literal robber barons. You abandoned your working class constituents."
The Stand (Nov. 30) — AFL-CIO urges Congress to pass paid sick days for rail workers
► From HuffPost — Bernie Sanders mocks GOP senators who claim to care about rail workers — "It would be hard for me to understand how you can be talking about a Republican working-class party if you're not going to vote to support paid guaranteed sick leave for railroad workers who today have none," Sanders said.
► From The Hill — Rail strike bill is rare rift between Democrats, unions — Senators predict they will have at least 60 votes to pass legislation approved by the House Wednesday to stop a nationwide railway strike, but a companion proposal to give railway workers more sick leave doesn't have much Republican support.
► From Politico — Dems' rail-strike challenge: Save the economy and your ties to unions — Progressives pushed for paid sick leave in any agreement, and party leaders glided a two-step solution through the House. It may not survive the Senate buzzsaw.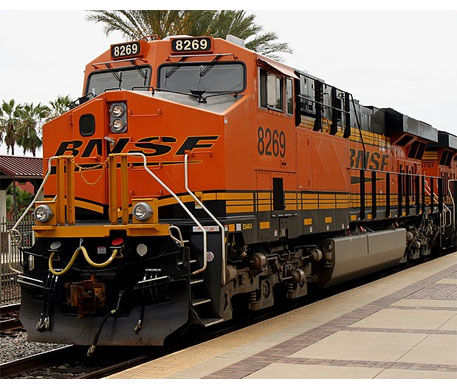 ► From the LA Times — Greedy railroads are to blame for rail strike threat. Why should Congress help them? (by Michael Hiltzik) — The rail strike is being provoked by railroad managements that have absolutely refused to give in on a central goal of the rail unions: the provision of paid sick leave. The contract Biden wants to impose was negotiated by union leaders and railroad managements under the eye of the Biden administration. It requires one paid sick day per year, in an industry in which some leading companies don't provide any. Meanwhile, the railroads are absolutely swimming in profits — more than enough to have satisfied the unions' demand and have tens of billions of dollars left over.
---
FED'S WAR ON WAGES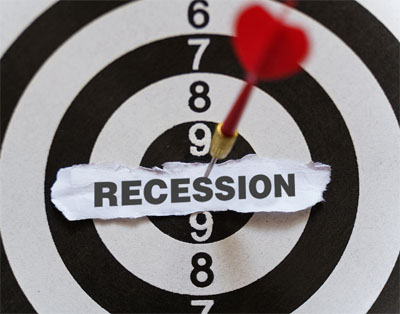 ► From the AP — Powell: Fed to keep rates higher for longer to cut inflation — The Federal Reserve will push rates higher than previously expected and keep them there for an extended period, Chair Jerome Powell said Wednesday in remarks likely intended to underscore the Fed's single-minded focus on combating stubborn inflation… The Fed chair singled out strong hiring and wage gains as the main driver keeping services costs high. Paychecks, on average, have jumped about 5% in the past year, before inflation, the fastest pace in four decades. "We want wages to go up strongly, but they've got to go up at a level that is consistent with 2% inflation over time," Powell said. Wage growth at about 3.5% a year would fit that criteria, he said.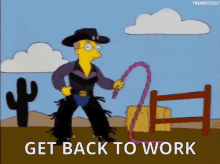 EDITOR'S NOTE — What is the Fed combating? Consumer inflation or wage growth? There isn't one mention of corporate profits in this report. Not one. The Fed is trying to manufacture unemployment — and maybe even a recession — by raising interest rates to address what it and Corporate America consider a "worker shortage" to try to force people back into lower wage jobs.
► A related story from The Hill — Corporate profits hit record high in third quarter amid 40-year-high inflation — Corporate profits in the nonfinancial sector hit a record high of $2.08 trillion in the third quarter even as 40-year-high inflation continues to squeeze American consumers.
► From the AFL-CIO (Nov. 2) — Federal Reserve's interest rate hike devastating for working people — AFL-CIO President Liz Shuler: "Working people should not be the target of lowering inflation — it should be corporations that are earning record profits."
---
THAT WASHINGTON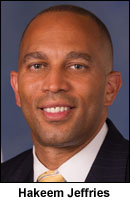 ► From the AFL-CIO — AFL-CIO celebrates new House Democratic leaders as champions for working people — AFL-CIO President Liz Shuler: "The election of Minority Leader Hakeem Jeffries, Minority Whip Katherine Clark and Caucus Chair Pete Aguilar is a victory for working people."
► From Roll Call — Labor Department finds compromise in ESG investment rule — The DOL's rule reverses the Trump administration on retirement plan investments.
► From the Washington Post — Trump's dinner with antisemites provides test of GOP response to extremism — Republicans are showing increasing willingness to criticize Trump over his meeting with white nationalist Nick Fuentes and Ye, the rapper formerly known as Kanye West who has issued anti-Jewish diatribes.
---
NATIONAL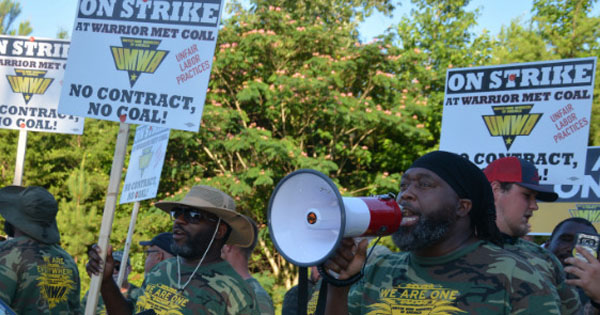 ► From NPR — Alabama coal miners begin their 20th month on strike — Hundreds of coal miners in Brookwood, Ala., reached a milestone Thursday: They've spent 20 months on strike. That's well past the six-week average for strikes, according to Bloomberg Law. The miners believe it's the longest strike in Alabama's history. They have continued demanding their employer, Warrior Met Coal, restore the pay and benefits that were cut in 2016 as a cost-saving measure to keep the mines from shutting down.
TAKE A STAND — Please contribute to the UMWA's Strike Aid Fund for the Warrior Met strikers to help them stay out "one day longer." These donations are being used to help these union siblings in their time of need and provide additional support on top of the selective strike benefits they receive.
► From the IAM — Almost 3,000 JetBlue ground workers to vote on IAM representation — The International Association of Machinists and Aerospace Workers announced that the National Mediation Board, the federal agency that conducts union representation elections in the airline industry, has determined that an election for almost 3,000 JetBlue ground operations workers will take place. The voting period will be scheduled shortly by the NMB.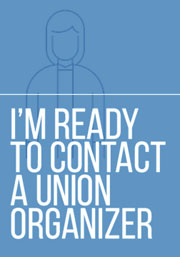 ► From the Guardian — Trader Joe's workers upset about new work schedule policy: 'a veiled threat' — The grocery is pressuring part-time employees to add work hours, a constraint on some with parenting or school commitments
EDITOR'S NOTE — Ready for a voice at work? Get more information about how you can join together with co-workers and negotiate a fair return for your hard work. Or go ahead and contact a union organizer today!
► From the LA Times — Taxpayer money can build transit projects — and a stronger middle class. L.A. Metro shows how (editorial) — The L.A. County Metropolitan Transportation Authority is slated to adopt a policy to ensure that companies building the agency's buses and rail cars pay good wages and provide workforce training or apprenticeships, and ensure at least 10% of workers are considered "disadvantaged," including those on public assistance, veterans, people with felony records and young people leaving foster care.
► From Politico — DeSantis-backed school boards begin ousting Florida educators — Republican Gov. Ron DeSantis put his weight behind dozens of conservative school board candidates across Florida during the midterms. Now they're in office — and are purging some educational leaders who enforced COVID-19 mandates.
---
INTERNATIONAL
► From the NY Times — Who made your World Cup jersey? — Garment workers in Myanmar earn less than $3 a day to produce soccer apparel for Adidas. Some say they were fired after asking factory owners for a raise.
FROM The Stand's Calendar — The Pay Your Workers Campaign invites all to join Bangladeshi labor leader Kalpona Akter and allies at a "Red Card for Adidas" protest at noon TODAY (Thursday, Dec. 1) at the UW Bookstore, 4326 University Way NE in Seattle. Participants will demand that Adidas pay their workers, respect labor rights across the supply chain, and negotiate directly with garment worker unions. Get more information.
---
The Stand posts links to Washington state and national news of interest every weekday morning by 10 a.m.
Short URL: https://www.thestand.org/?p=112929
Posted by
David Groves
on Dec 1 2022. Filed under
DAILY LINKS
. You can follow any responses to this entry through the
RSS 2.0
. Both comments and pings are currently closed.