WA healthcare system 'is failing us' | We're #2 | Gangsta Dionne
Friday, January 6, 2023
---
THIS WASHINGTON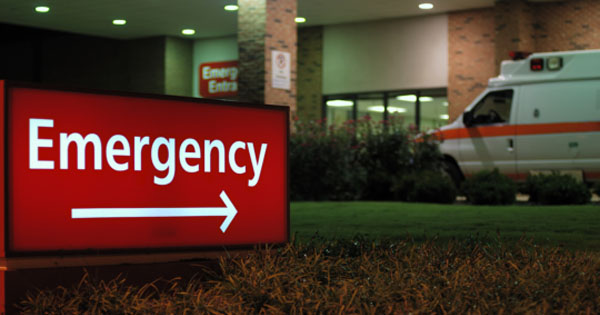 ► From the Seattle Times — WA hospitals, health care unions split on best way out of staffing crisis — When state lawmakers begin the 2023 legislative session on Monday, they'll find themselves in the middle of a growing debate between health care unions and hospitals, who, despite agreeing the region's medical staffing crisis is worsening, offer different perspectives about how to move forward. "Our current system is failing all of us," said Jane Hopkins, president of SEIU Healthcare 1199NW. "There are more than enough of us health care workers who want to be at the bedside, serving our communities and providing our patients the best care possible. But we can't give that level of care under unsafe staffing conditions and within the current state of the health care system."
TODAY at The Stand — WA healthcare workers renew fight for safe staffing standards — Nurses and other healthcare workers warn that the staffing crisis, a result of massive burnout among healthcare workers fueled by unsafe conditions and short staffing, has only gotten worse since last session.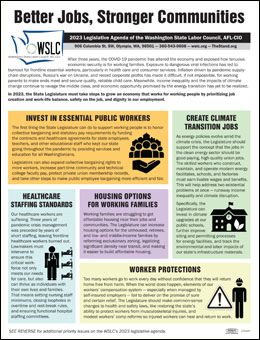 The Stand (Jan. 5) — WSLC announces 2023 legislative agenda — Priorities include Healthcare Staffing Standards: Three years of pandemic crisis management was preceded by years of short staffing, leaving frontline healthcare workers burned out. Lawmakers must intervene to ensure this critical workforce not only meets our needs for care, but also can thrive as individuals with their own lives and families. That means setting nursing staff minimums, closing loopholes in overtime and rest-break rules, and ensuring functional hospital staffing committees.
► From KING — Washington legislators look to fill open job positions across the state — Abortion rights and new gun laws will face long debates in the upcoming legislative session, but lawmakers from both parties appear to have found common ground on a less-controversial topic: finding ways to boost hiring. Legislators from both parties said the state needs to do more to place citizens in unfilled jobs that are seeing shortages like teaching, nursing and law enforcement.
► From KIRO — Inslee, lawmakers focus on workforce amid tech layoffs and shortage in other industries
► From the (Everett) Herald — Sutherland to pay $2.5K to settle ethics violation complaint — Republican state Rep. Robert Sutherland will pay $2,500 to settle a complaint alleging he violated state ethics law last March, when he berated and swore at a House security official and then bragged about it at a political rally hours later on the Capitol campus.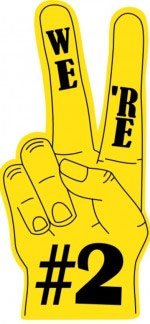 ► From The Hill — Here are the best states for work-life balance — Connecticut is the best state in the country for workers looking to achieve an optimal work-life balance, according to results of a new ranking. The northeastern state was joined by Washington, New York, California, and Rhode Island, respectively, in the top five spots.  Global employment experts at Remote ranked the states for work-life balance, based on a range of metrics including minimum wage, sick leave, overall public happiness and LGBTQ+ inclusivity.
► And a related story from The Hill — Here are the states with the longest life expectancy — The top three in the study: Hawaii (average life expectancy 80.7), Washington (79.2), and Minnesota (79.1).
---
AEROSPACE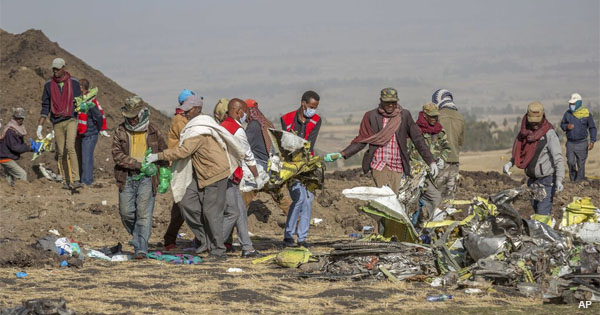 ► From the Seattle Times — Final report on Boeing 737 MAX crash sparks dispute over pilot error — French aviation safety authorities this week joined U.S. investigators in a harsh critique of the final report by Ethiopian authorities into the March 2019 crash of a Boeing 737 MAX. The long-delayed Ethiopian government report into the crash of Ethiopian Airlines Flight 302 that killed all 157 people on board laid blame solely on Boeing.
► From the Washington Post — Engineer who lost sister in 737 MAX crash to serve on Boeing safety panel — MIT lecturer Javier de Luis is among 24 people the Federal Aviation Administration has assembled to review Boeing's safety practices.
► From CBS News — American Airlines retaliated against employees who reported toxic fumes, OSHA says — Federal investigators allege that American retaliated against flight attendants who reported illnesses caused by toxic fumes.
---
THAT WASHINGTON
► From the NPR — House Republicans seek a deal with a 12th speaker vote on the horizon — Though the speaker showdown has been described as political theater, it has some serious consequences: The House can't get anything done until it has a speaker, including organizing committees, swearing in new members and passing even emergency legislation should a disaster occur.
► From HuffPost — Debacle over House Speaker election may raise national security concerns — House committees, including those on the military and foreign affairs, can't operate, which lawmakers and intelligence experts say could draw allies' alarm.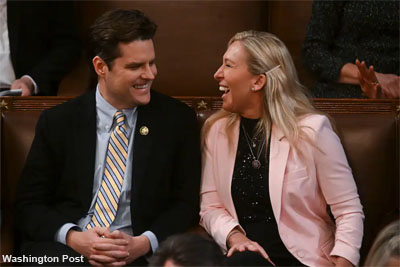 ► From the Washington Post — What McCarthy's concessions could cost him — and the GOP — Committee assignments and requests for subcommittee chairmanships that ignore seniority might be the most personal aspect of all this. The McCarthy holdouts have also sought to obtain a certain number of seats on the influential House Rules Committee — enough seats, it would seem, to join with Democrats to prevent virtually anything from reaching the floor. But that latter issue also points to the broader significance of the concessions: They risk allowing the House Freedom Caucus and its allies to gum up the works in a closely divided House.
► From Politico — Corporations gave $10M to election objectors after pledging to cut them off — After Jan. 6, numerous corporations said their PACs would stop or pause contributions to those who objected to the election results. It didn't last long.
► From The Onion — Incredibly productive House of Representatives assembles for 8th vote in just 3 days
---
NATIONAL
► From the Washington Post — Economy adds 223,000 jobs in December, showing resilience and cooling — The U.S. economy added 223,000 jobs in December, even as some industries are experiencing a slowdown, reflecting the unusual forces at work in the post-pandemic labor market that is both resilient and cooling.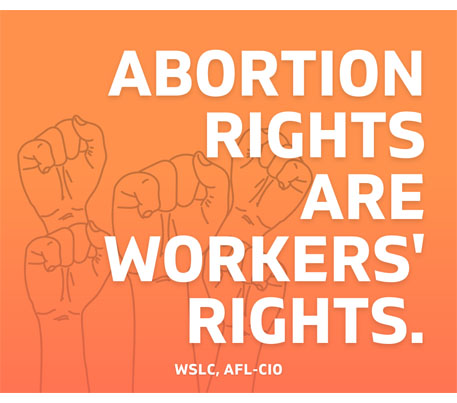 ► From the AP — Idaho Supreme Court upholds near-total abortion ban — The decision comes just hours after the South Carolina Supreme Court released its opinion striking down the state's six-week abortion ban under a privacy clause in the state's constitution.
► From the AP — South Carolina Supreme Court strikes down state abortion ban — The South Carolina ban on abortions after cardiac activity is no more after the latest legal challenge to the state's 2021 law proved successful.
The Stand (June 27, 2022) — Amid attacks on abortion rights, unions must fight back (by Shaunie Wheeler James and Cherika Carter) — We have the tools to transform protests into concrete actions defending bodily autonomy.
► From the Washington Post — $330,000 to $1.8 million? Video game workers question public salary ranges. — The video game industry has a big footprint in California. A new pay transparency law in the state has raised as many questions as answers.
---
INTERNATIONAL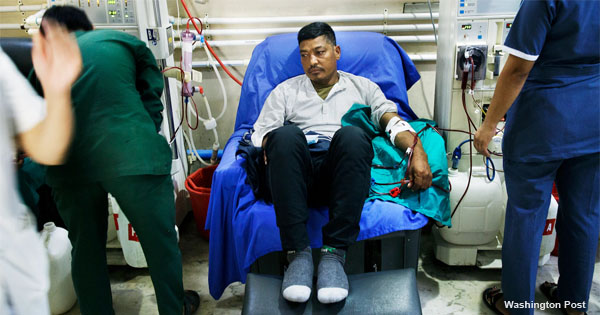 ► From the Washington Post — The world's torrid future is etched in the crippled kidneys of Nepali workers — In recent years, scientists and groups including the International Labor Organization have increasingly warned about the deadly, yet often overlooked, link between exposure to extreme heat and chronic kidney disease. Exactly how heat scars and cripples the microscopic tubes in the organs is still debated, researchers say, but the correlation is clear.
► From the NY Times — 'OK, Mexico, save me': After China, this is where globalization may lead — As American companies seek to limit their exposure to the pitfalls of making goods in China, some are moving production to Mexico.
---
T.G.I.F.
► The new documentary "Dionne Warwick: Don't Make Me Over" (which premiered on CNN Jan. 1 and is now streaming on HBO Max — trailer here) includes lots of folks paying tribute to the legendary singer. Our favorite might be Snoop Dogg describing the day that he, Tupac Shakur and Suge Knight were summoned to Warwick's home for a 7 a.m. meeting. She proceeded to demand that they call her a "bitch" to her face and see how it made them feel, and gave them a lecture about their misogynistic lyrics. "She was checking me at a time when I thought I couldn't be checked," Snoop said. "We were the most gangsta as you could be, but that day at Dionne Warwick's house, I believe we got out-gangstered that day."
Here's Warwick singing a Burt Bacharach/Hal David song released 60 years ago about a woman asking her former lover to leave her alone.
---
The Stand posts links to Washington state and national news of interest every weekday morning by 10 a.m.
Short URL: https://www.thestand.org/?p=113390
Posted by
admin
on Jan 6 2023. Filed under
DAILY LINKS
. You can follow any responses to this entry through the
RSS 2.0
. Both comments and pings are currently closed.