Will the Tacoma Art Museum Board do the right thing?
Board will meet with TAM Workers United, decide on union recognition March 31

UPDATE (April 3, 2023) — The Tacoma Art Museum Board of Trustees did not announce their decision after its meeting on Friday, March 31. When it does, we will report that news here at The Stand.
TACOMA (March 30, 2023) — During the Tacoma Art Museum Board of Trustees meeting last week, elected officials and other supporters of TAM Workers United — a union with more than 80% support among union-eligible voters at the museum — rallied and called on the Board to either voluntarily recognize TAM Workers United or agree to an independent union election that will allow all workers to stay together in one union.
They finally listened. It took five months for the Board to agree to meet with TAM Workers United, but that will now happen this Friday, March 31 from 3 to 5 p.m. TAM Workers United will announce the result of the Board's vote outside the museum at 5 p.m.
"They have heard you, and there will be action," said Helen McGovern-Pilant, TAM's Interim
Executive Director, to assembled supporters following the March 23 rally in support of TAM Workers United.
TAKE A STAND — Send the Board a message here and urge them to vote to voluntarily recognize TAM Workers United.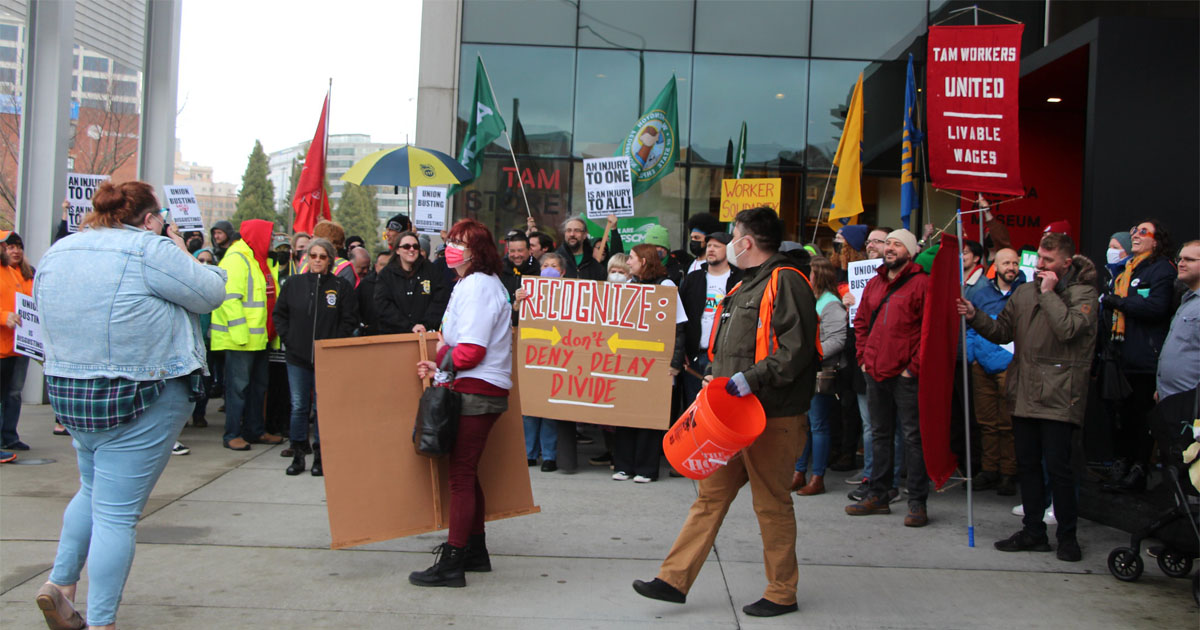 The breakthrough in the union drive comes as serious equity issues have been raised at the museum, particularly given that management's desire to only recognize the union via a National Labor Relations Board (NLRB) election would further that inequity.
Numerous local elected officials sent letters to the Board leading up to the rally that urged the Board to voluntarily recognize TAM Workers United or otherwise allow the workers to remain
together in one union. These included state senators, Tacoma Mayor Victoria Woodards, and
the entire Tacoma City Council.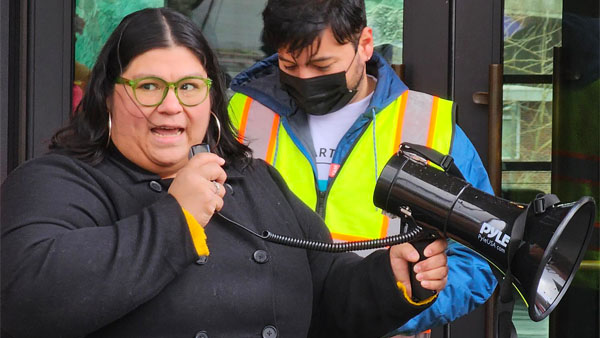 "We're not leaving the frontline workers behind and we're not leaving the security guards behind," said Tacoma City Council Member Olgy Diaz at the rally. "It's racial justice. It's worker justice."
The lowest-paid workers at TAM are in Visitors Services and Security. These workers represent the most diverse segment of the museum's workforce by any metric. They stand to gain the most, both in terms of workplace safety and quality of life, by forming a union.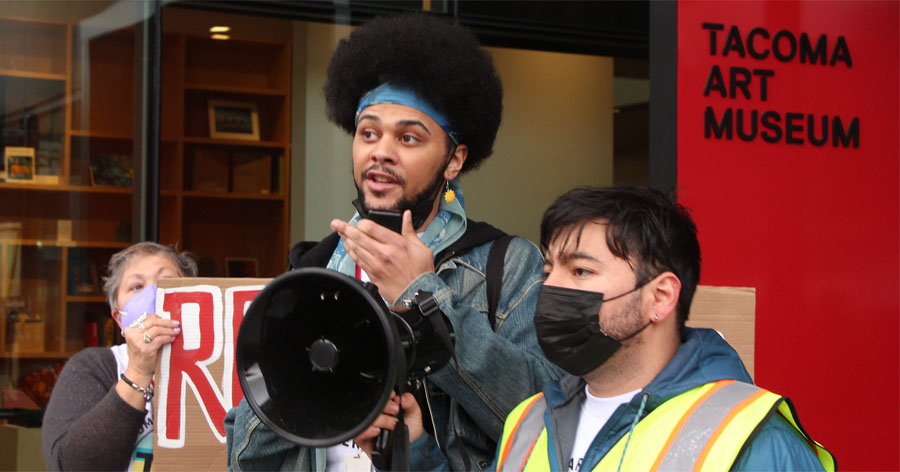 "We're some of the most important people at TAM," said Miles Byrd, who works in visitors
services. "We are very valuable and it's time we're treated as such."
TAM caps visitors services workers' hours at 29.5 a week, meaning they are ineligible for health benefits. They do not earn a living wage per MIT's Living Wage Calculator, even when calculated for a single adult with no children. Workers state they are unable to afford to take time off even when they are sick.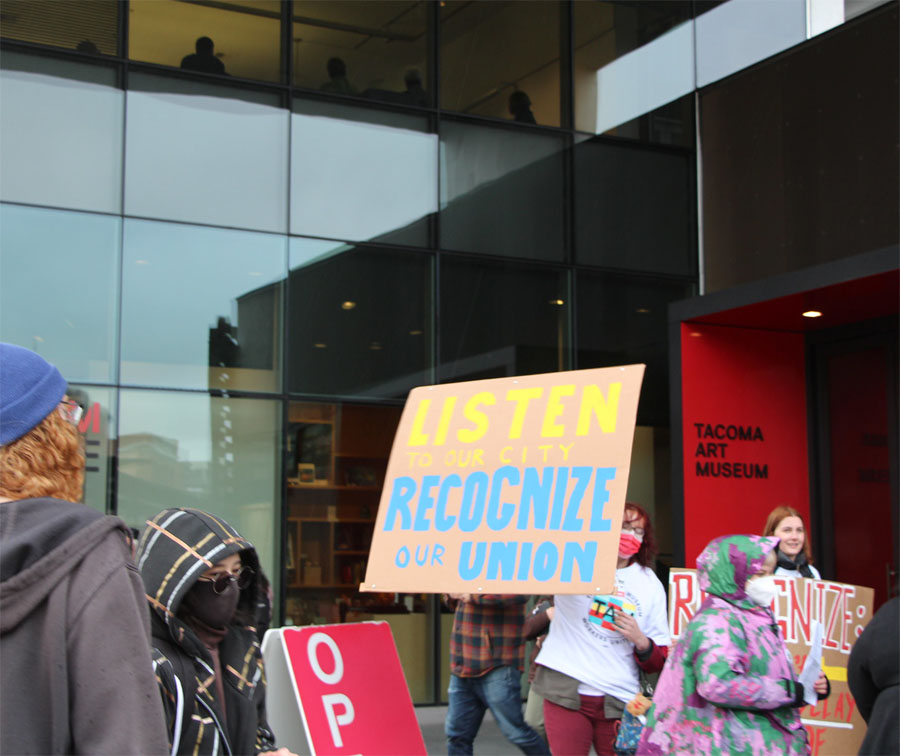 The only way for these workers to remain in the same union as the rest of their coworkers is if TAM voluntarily recognizes their union or if TAM agrees to have the union certified through an independent third-party election, as the Brooklyn Museum of Art, the Baltimore Museum of Art, and others have done.
An NLRB election would exclude security workers due to a "guard exclusion" clause that was added to the National Labor Relations Act in 1947 via the Taft-Hartley Act. The "guard exclusion" section was just one of countless provisions in the Taft-Hartley Act that was designed to benefit "professional" workers, who tend to be white, higher-income, cisgender and heterosexual.
The Taft-Hartley Act was drafted by segregationists and big business in 1947 in an attempt to prevent Black workers in the South, women, immigrants, and other marginalized communities from forming or joining unions. President Truman attempted to veto the Taft-Hartley Act, calling it a "slave labor bill." The U.S. Supreme Court warned that the "guard exclusion" made "the collective bargaining rights of guards distinctly second-class."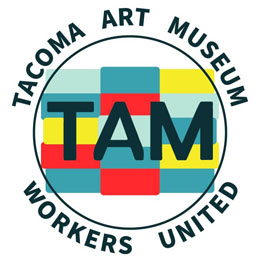 Staff at Tacoma Art Museum are choosing to form TAM Workers United to improve wages, working conditions, transparency and accountability from management, and to ensure an equitable future for the museum and their community.
AFSCME represents more cultural workers than any other union, including 10,000 museum workers at 91 cultural institutions in the public and private sector, and more than 25,000 library workers at 275 public and private libraries.
Short URL: https://www.thestand.org/?p=115569
Posted by
admin
on Mar 30 2023. Filed under
LOCAL
. You can follow any responses to this entry through the
RSS 2.0
. Both comments and pings are currently closed.