GOP holds economy hostage in effort to slash jobs, programs
AFL-CIO: McCarthy's reckless debt ceiling plan is an affront to working people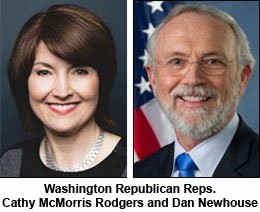 WASHINGTON, D.C. (April 27, 2023) — House Republicans on Wednesday voted 217-215 to pass legislation that would force major cuts in federal spending in exchange for extending the government's borrowing authority into next year. Washington Republican Reps. Cathy McMorris Rodgers and Dan Newhouse both voted to approve the "Limit, Save, Grow Act" while all eight Democratic representatives voted no.
The measure, which Democrats call the "Default on America Act," sets up a game of chicken that risks a first-ever default on the nation's debt, one that would be catastrophic for the U.S. economy. Republicans are making this threat to try to force President Joe Biden and the Senate Democratic majority to, among other things, permanently cancel student debt relief, create new work requirements for Medicaid and food stamps, slash IRS funds targeting wealthy tax cheaters, repeal renewable energy incentives, and claw back COVID relief funds earmarked for veterans' health care, troubled union pension funds, and other priorities.
"House Republicans just voted to threaten economic catastrophe and hold the full faith and credit of the U.S. hostage so they can cut families off from support they rely on and surrender our economic competitiveness to China," said Sen. Patty Murray (D-WA). "Let's be clear about what this means: Republicans are refusing to pay our nation's bills unless they can take a chain saw to our economy with draconian cuts that will kill nearly 800,000 jobs, hurt small businesses and working families, shrink our economy, and send us careening into a recession."
Ahead of Wednesday's vote, the AFL-CIO, America's largest labor federation representing more than 12.5 million working people, strongly urged Congress to reject House Speaker Kevin McCarthy's plan to careen our nation into default, which would tank the economy and put millions of workers at risk.
In a letter to Congress, the federation calls out the bill for posing an imminent threat to the retirement security of hundreds of thousands of Americans, cutting life-supporting benefits and programs for veterans, seniors, children and low-income families. This misguided legislation will also harm our economy by slashing vital federal investments in clean energy and new technologies that will expand domestic manufacturing and put millions of people to work
Here is an excerpt:
"By clawing back unused COVID-19 relief funds, the McCarthy plan would slash funding for veterans' medical care, vaccines, personal protective equipment and public transit agencies. It also could jeopardize the unspent funds in the multiemployer pension rescue plan—the "Butch Lewis Act"—that was included in the American Rescue Plan Act. Destroying the retirement income security of more than 1 million hardworking Americans is an outrageous and unacceptable price for a debt deal.
"The McCarthy plan also would dim hopes of transitioning to a cleaner energy economy and rebuilding our manufacturing base around clean energy jobs. The United States is in a position to become a dominant producer of high-tech goods—from wind turbines to solar to electric vehicles. Rescinding the Inflation Reduction Act's clean energy tax credits would cede the clean energy future to China and raise taxes on our businesses that are trying to remain globally competitive while combating climate change.
"The cuts in the McCarthy plan would fall disproportionately on the backs of federal workers and undermine the ability of government agencies to fulfill their mission to serve the American people."
In a floor speech against the bill Wednesday, Rep. Suzan DelBene (D-WA, 1st) said the measure is estimated to make the following cuts to Washington state:
4,800 preschool and child care slots would be eliminated
187,000 Washingtonians would lose food assistance
89,000 students would see the cost of college go up
17,000 Washington families would see an increase in their housing costs
164,500 veterans could lose medical care
371,000 Washingtonians could lose Apple Health (Medicaid) coverage
1.5 million seniors would have to wait at least 2 months longer for Social Security and Medicare assistance
Short URL: https://www.thestand.org/?p=116513
Posted by
David Groves
on Apr 27 2023. Filed under
NATIONAL
. You can follow any responses to this entry through the
RSS 2.0
. Both comments and pings are currently closed.