WSLC continues building a 'Path to Power'
Hundreds of union members and supporters have learned how to run a successful campaign for public office via the WSLC's candidate training program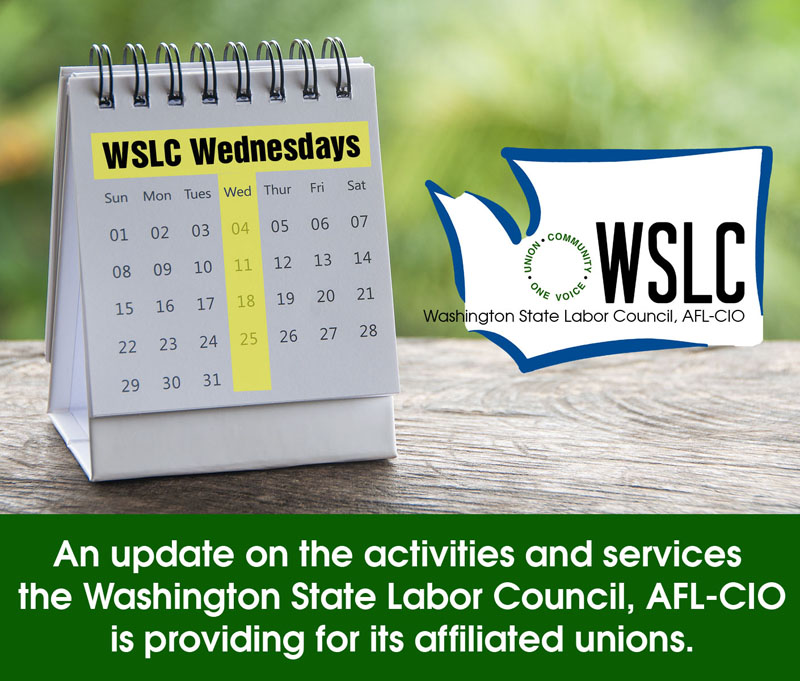 OLYMPIA (April 12, 2023) — Unions strive not only to win strong contracts for their members, but also to elect pro-worker candidates who will support policies that strengthen our communities and benefit all working people. There's no better place to find great candidates for public office than from labor's own ranks.
That's why the Political Department of the Washington State Labor Council, AFL-CIO seeks to build worker power not only by supporting the election of pro-worker candidates, but also by recruiting and training our own members and supporters to run for office.
On March 29-31, in partnership with its affiliated unions, the WSLC hosted its latest Path to Power political candidate training program in Olympia. This in-person training hosted by WSLC President April Sims and Secretary Treasurer Cherika Carter provided about 30 union members and local community activists with the tools and tips necessary to run a successful political campaign.
Path to Power training — facilitated by union political directors, campaign gurus, and elected leaders — covers fundraising, crafting an effective message, creating a campaign plan, building a campaign team, effective targeting, how to talk to voters, and more. Because many labor supporters may not have an opportunity to join a union at their workplace, the Path To Power program provides space for both union members and union supporters to learn to run successful campaigns.
Because this year's Path to Power training was held in Olympia, participants got to hear from some true labor champions in the Washington State Legislature. State Sen. Karen Keiser (D-Des Moines), a former WSLC staffer and OPEIU member, and Rep. Liz Berry (D-Seattle), who was a Path to Power participant herself, shared their campaign experiences and advice.
"The Washington State Labor Council and its affiliated unions continue to offer the Path to Power program because it works," Sims said. "Since 2017, we have identified and trained hundreds of union members and community partners to run for public office through this program. Many of them have been elected and are making a difference in their communities."
SEIU Local 925 member Chelsea McElroy is a great example.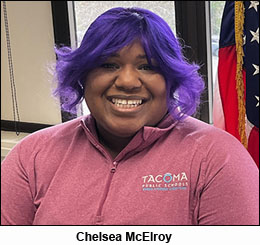 McElroy returned to this year's training to speak to participants about her successful 2021 campaign to become a member of the Tacoma Public School Board. One of the primary concerns she heard from the students was regarding the financial costs of campaigns. Asked for her advice about how much money a campaign requires, McElroy said, "Child care workers are broke, so I ran broke and I won broke, and I'm going to keep running and winning!"
Craig Woodard, a retired member of the International Union of Operating Engineers who was among the 2023 Path to Power cohort, called the training a "first-rate experience."
"For me the highlight was when all of the participants gave their three-minute stump speeches and received feedback from fellow participants. It was a good way to practice public speaking and to hear others share their thoughts and ideas," Woodard said. "All in all, it was a very comprehensive and useful program that laid out exactly what is involved with running for office. I also made some friends, and met people I want to be around!"
The WSLC thanks the following additional facilitators and guests for their participation in the 2023 Path to Power training:
Mike Adams — SEIU 775
"Landslide" Larry Brown — IAM 751 and Auburn City Councilmember
Cassie Carrillo — Washington Education Association
Samantha Casne — Washington Education Association
Djibril Diop — Washington Education Association
Maddie Foutch — SEIU 775
Erin Haick — SEIU 925
Matthew Hepner — Certified Electrical Workers of WA and East Wenatchee City Councilmember
Hillary Hunt — Washington Education Association
Dustin Lambro — UFCW 3000
Chris Lampkin — SEIU Healthcare 1199NW
Erin Lee — SEIU 775
Guillermo Mogollan — Teamsters 117
Zak Nelson — SEIU 925
Andrea Ornelas — LiUNA 242
Christine Reid — IBEW 77
Shaunie Wheeler James — Teamsters Joint Council 28
Bryan Yambe — Fife City Councilmember
Corina Yballa — MLK Labor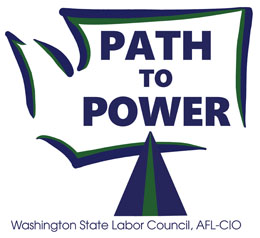 Thinking about running for public office? The WSLC will continue to offer Path to Power candidate trainings. Subscribe to The Stand to stay informed about when the next one is scheduled.
---
WSLC Wednesdays is a regular feature of The Stand where different departments of the Washington State Labor Council, AFL-CIO describe their recent activities and the services they are providing to WSLC-affiliated unions.
Short URL: https://www.thestand.org/?p=115893
Posted by
David Groves
on Apr 12 2023. Filed under
W.S.L.C.
. You can follow any responses to this entry through the
RSS 2.0
. Both comments and pings are currently closed.