An oppressive plant | Steps forward in Olympia | Off the cliff
Monday, May 8, 2023
---
LOCAL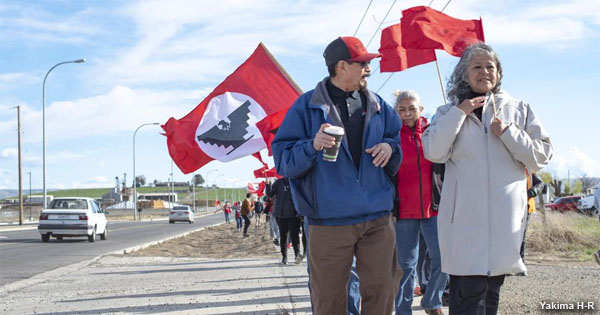 ► From the Yakima H-R — Farmworkers continue to speak out about conditions at Sunnyside mushroom plant — The owners of Ostrom Mushroom Farms sold the facility to Canadian mushroom grower Windmill Farms in February. It came after workers' call for a union and a lawsuit from the state attorney general's office. At an April 18 rally, workers resumed their public campaign for recognition and better working conditions. It was the first public action held in Sunnyside by United Farm Workers, a union that represents farmworkers, since the change in ownership. Workers with UFW spoke for the first time publicly about conditions at Windmill Farms, saying that they have not received sick days, the work environment is oppressive and local workers are being pushed out.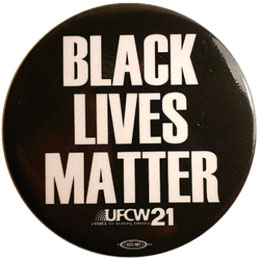 ► From KUOW — Grocery store union wins case for Black Lives Matter buttons — UFCW 3000, which represents more than 50,000 grocery store, retail, and other workers, celebrated a victory Friday, after a judge agreed with them and said they can wear their union-sponsored Black Lives Matter buttons at work.
► From KXLY — Second Harvest's Stamp Out Hunger program continues this week — "We are so grateful for the bounty provided year after year by our friends with the National Association of Letter Carriers through their Stamp Out Hunger program," said Jason Clark, president and CEO of Second Harvest. "Their colleagues in another community initiated the idea of moving from a food drive to more of a fund drive, and we agreed that's a good approach."
The Stand — NALC's Stamp Out Hunger® Food Drive will be May 13
---
JOB TRAINING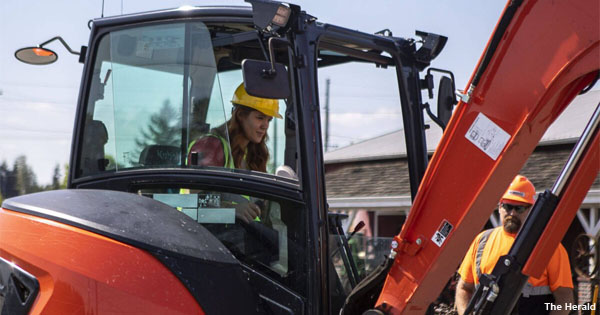 ► From the (Everett) Herald — Trade fair gives Snohomish County kids glimpse of college alternatives — Jose Lopez, a senior at Sultan High School,  took part last week in Trade Up, where high school juniors and seniors can learn about apprenticeships and job opportunities from local companies, labor unions and utilities. Of course, there was the equipment on display — from metal-engraving machines to "the claw," a fire-engine red Kubota KX057 excavator. Lopez left the event with some new leads. Community Transit mechanic. Cement mason or plasterer apprentice, earning $30 an hour from day one. "The pay looks good," Lopez said.
► From the News Tribune — Pierce County teenagers are graduating high school with jobs at Boeing. Here's how — Students are receiving training through the Sumner-Bonney Lake School District's Core Plus Aerospace program, a two-year course that provides hands-on learning, giving students the foundation to "fast track" a career with Boeing or any other manufacturing company, Core Plus instructor Trisha Fry said.
► From the Seattle Times — More WA high schoolers are taking advantage of classes focused on careers — Matt Kennedy is one of a growing number of career and technical education instructors across the state who are designing pathways that can lead directly to a job after high school, or help kids earn college credit in a technical field.
---
THIS WASHINGTON



► From the NW Labor Press — In Olympia, steps forward for workers — Washington's 2023 legislative session concluded April 23 with wins for worker safety, workers compensation, and affordable housing. Several bills backed by the Washington State Labor Council made their way to Gov. Jay Inslee's desk, and at least six already had his signature by the end of the 105-day "long session."
► From the Yakima H-R — State proposes permanent rules for temporary worker housing — The proposed changes focus on ventilation and communicable diseases and come after nine sets of emergency rules that were between May 2020 and September 2022 due to the COVID-19 pandemic.
► From the Spokesman-Review — Rep. Jaime Herrera Beutler considering run for governor's office — In the last few months, media outlets reported Herrera Beutler has been considering running for the state's top office since last fall, months after losing her re-election bid to the House of Representatives.
---
SOUTH OF THE BORDER

► From the NW Labor Press — Strike averted as Painters vote on new offer — More than 300 commercial, industrial and bridge painters in Painters Local 10 were poised to strike May 1 after rejecting an offer by Oregon Signatory Painting Contractors Organization that included about a total $8.12 raise over three years. At around 5 p.m. April 30, SPCO submitted an "11th hour" offer for $9.66 raises over three years, including a $3.66 raise in the first year. Local 10 postponed the walkout so members could vote on the new offer.
EDITOR'S NOTE — Update: Members of Painters Local 10 ratified the contract.
► From the NW Loabor Press — PSU Starbucks: Unionize on Friday, strike on Monday — Newly unionized baristas at a Starbucks shop on Portland State University campus walked off the job and shut down the store May 1 — just three days after voting 14-0 to join Starbucks Workers United.
► From the NW Labor Press — Shilling for the antiunion Freedom Foundation? Tulsi, say it isn't so! — Three years ago, Tulsi Gabbard was a union-endorsed Congresswoman from Hawaii's 2nd District, and a Democratic candidate for president. On Oct. 14, she'll take the stage in Hillsboro, Ore., at an event sponsored by the Freedom Foundation, the rabidly anti-union outfit that pays for mailings to try to talk public employees into resigning their union membership.
EDITOR'S NOTE — For more great labor news in Oregon and Southwest Washington, subscribe to the Northwest Labor Press!
---
THAT WASHINGTON
► From Reuters — Biden, McCarthy aim to break U.S. debt-ceiling standoff as default crisis looms — President Joe Biden and top Republicans and Democrats from Congress are set to sit down this week to try to resolve a three-month standoff over the $31.4 trillion U.S. debt ceiling and avoid a crippling default before the end of May.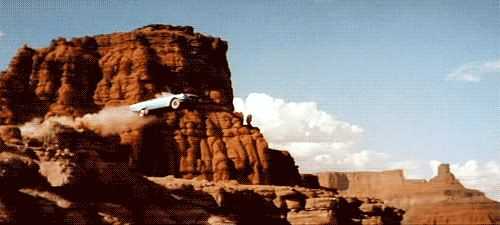 ► From the Spokesman-Review — Patty Murray is no stranger to debt limit standoffs, but she says this one is different — "The American economy right now is heading for a cliff, and last week the House Republicans voted to drive it off, full speed ahead," Murray said.
The Stand (May 5) — How Republican spending cuts will hurt Washington state
► From The Guardian — U.S. truck drivers push for better working conditions: 'We've lost our patience' — On May 1, a group of about 75 truck drivers protested outside the U.S. Department of Transportation offices to demand action on wage theft in the form of a lack of overtime pay and unpaid wait times for delivering or taking on loads, and a lack of transparency of freight bills that have contributed to cuts in drivers' compensation.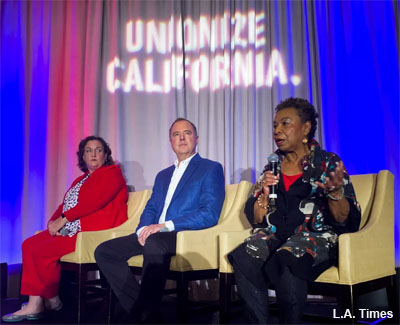 ► From the LA Times — Porter, Schiff and Lee each make the case they're the most labor-friendly Senate candidate — A California Labor Federation forum Sunday was the first time Reps. Barbara Lee, Katie Porter and Adam Schiff have appeared together in a campaign setting.
► From the NY Times — Corporate giants buy up primary care practices at rapid pace — Large health insurers and other companies are especially keen on doctors' groups that care for patients in private Medicare plans.
The Stand (May 4) — Piercing the myth: How privatizers got their mitts on Medicare (by Kip Sullivan) — Insurance companies decried Medicare's fee-for-service model. But then Congress let them replace it with something much worse.
► From The Onion — Clarence Thomas promises to adopt code of ethics for the right price
---
NATIONAL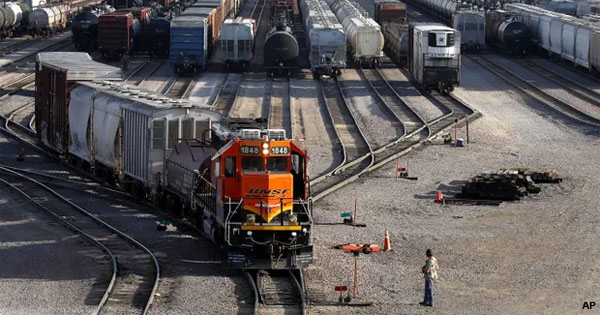 ► From the AP — Engineers frustrated with rails even as others get sick time — Tens of thousands of engineers remain frustrated with the lack of paid sick time and the demands railroads like BNSF are making in negotiations despite the deals that have been made this year for most of the other rail unions. The Brotherhood of Locomotive Engineers and Trainmen union says the railroads are still asking for too much in return for sick time instead of just providing the basic benefit it believes workers are entitled to.
► From the NY Times — 'It's going to be a while': No end in sight for Hollywood strike — The writers and entertainment companies remain far apart on several key issues, including money, and the standoff could last for months.
► From HuffPost — A Starbucks closed abruptly — and its workers say it was retaliation — Internal emails show the coffee chain was worried about negative press following a walkout by workers in Ithaca, New York.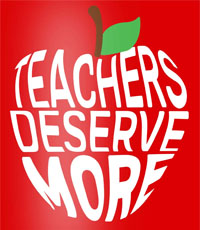 ► From the AP — Governors pushing pay increases, other perks, in effort to ease teacher shortages — As schools across the country struggle to find teachers to hire, more governors are pushing for pay increases, bonuses and other perks for the beleaguered profession — with some vowing to beat out other states competing for educators.
► From The Hill — Nearly half of baby boomers have no retirement savings — Fewer than half of working-age Americans have any retirement savings, according to Census data for 2020. Savings rates rise with age, but only to a point. In the 55- to –64-year-old boomer age group, 58 percent of Americans own retirement accounts.
EDITOR'S NOTE — You know who is more likely to have retirement benefits? Workers with a Union contract! Get more information about how you can join together with co-workers and negotiate for better wages, benefits and working conditions. Or go ahead and contact a union organizer today!
---
The Stand posts links to Washington state and national news of interest every weekday morning by 10 a.m.
WASHINGTON IS A UNION STATE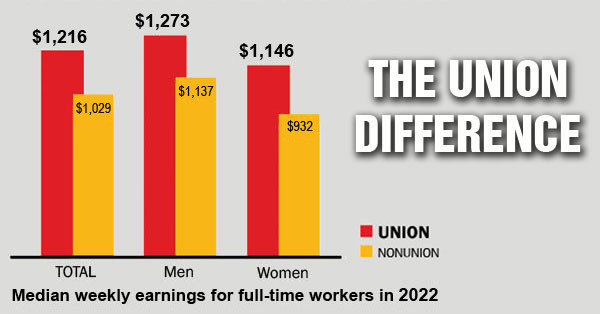 CHECK OUT THE UNION DIFFERENCE in Washington state: higher wages, affordable health and dental care, job and retirement security.
FIND OUT HOW TO JOIN TOGETHER with your co-workers to negotiate for better working conditions and respect on the job. Or go ahead and contact a union organizer today!