UA pipe trades' apprenticeship playoffs produce champions
By JIM HEDEMARK
Special to The Stand
---
SPOKANE (May 19, 2023) — While the Seattle Kraken were deep into their 2nd round Stanley Cup playoff run, the playoff season for the pipe trades was just beginning.
The 2023 Washington Pipe Trades Apprenticeship Competition was held May 11-12 in Spokane and hosted by the Spokane Plumbers and Steamfitters, UA Local 44. Here are a few sentiments that were shared during the 16-hour, two-day event:
"I have so much to pay forward, I owe so much to those who went before me," said a third-year Apprentice Welder.
"Meeting union family members from around the state was the best," said a fourth-year Apprentice Sprinklerfitter.
"The competition evolves with the technology and industry demands, but what stays the same is the bonds that are made," said a retired Welder and Competition Judge.
Here are your 2023 Washington State 2023 Pipe Trades Champions:
●  Plumber – Blake Cooper, UA Local 44
●  Steamfitter – Austin Barry, UA Local 26
●  Welder – Frank Near, UA Local 26
●  Sprinklerfitter – Sean Parker, UA Local 699
●  HVAC/R – Trish Orem, UA Local 598
For photos and other information from the event, visit and follow the Facebook page.
Our Evergreen State champions are now preparing to head to Las Vegas for the 11-state UA District 5 regional competition in June to determine which apprentices qualify for the International UA competition in Ann Arbor, Michigan, this August.
"It's not an easier path than college," UA Local 44 Director of Training Joe Krels told the Spokesman-Review in its coverage of the competition entitled, Pipeline for area pipefitters: Competition seen as critical recruiting tool and skill developer for a trade in demand. "But you can either pay someone else to get an education or you can get paid to receive an education."
"In our opinion, competition breeds success," UA Local 44 Business Manager Brett Wideman said. "That's what we are trying to showcase."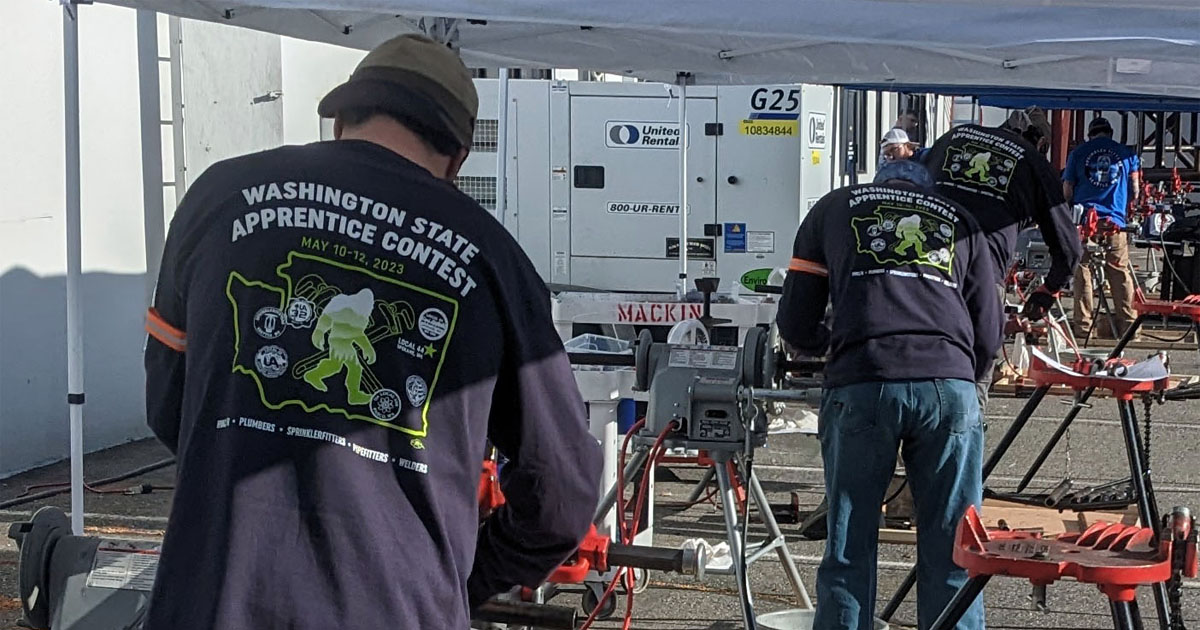 The UA Local 44 family, along with the entire UA Washington Pipe Trades, are rooting for Spokane's state Champion Plumber, Blake Cooper and all of our state champs to find further success at the next level.
"I expect great things from Blake (Cooper) and all of our Washington State Champions as they go forward," Krels said. "They have already made us proud."
In UA Local 598 HVAC/R service technician apprentice Trish Orem's case, her second year of competition is where she found state champion success. She will look you straight in the eyes and tell you that through the Union and her employer, Johnson Controls, she has earned a new lease on life.
"To be of service to my community as a service technician means everything to me," Orem said. "No project is ever the same as the last and that challenge keeps you on your toes and ready to learn."
UA Local 598 Training Director Danny Glenn said, "Trish is a sparkplug and a people person. She connects with clients and fellow Union members. And most importantly… she does the work, she honors the work."
UA Local 26 brought home two trophies to Western Washington. Apprentice Steamfitter Austin Barry and Welder Frank Near are definitely ones to watch at the regional competition next month.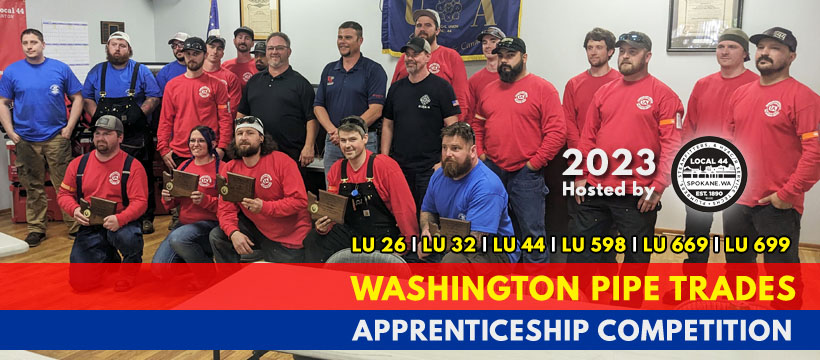 According to Seth Thompson, UA Local 26 Southwest Region Training Director, "Austin and Frank are great examples of how hard work pays off in the end. They have dedicated themselves to their craft, but in different ways. Austin is a quiet leader who lets his work do the talking for him. He stays levelheaded and keeps his emotions in check.
"Frank, in true welder form, is outspoken and lets his opinion be known, but I've never seen an apprentice put in more hood time than him," Thompson continued. "Just to win our state competition is an enormous accomplishment, but we are excited to see all of the Washington State Champions compete in Districts and feel good about their chances. I would be surprised if we weren't watching a few of them at the International Competition in August."
State Champion Sprinklerfitter Sean Parker, a UA Local 699 apprentice, showcases many skills that will continue to bring him success in the sprinklerfitter field.
"Sean is meticulous, hardworking, driven and passionate about what he does which should help him at the District 5 contest," said Steve Miller, UA Local 699 Training Director.
"Our state has a long tradition of sending Washington State Pipe Trades apprentices all the way to the national contest," said UA Local 32 Apprenticeship Coordinator P.J. Moss. "Everyone else on the West Coast knows that they need to step it up when they are competing against our Brothers and Sisters who win here. I'm excited for them to represent all of us."
I know that all readers of The Stand will join in rooting for our 2023 state pipe trades registered apprentice champions as they carry our flag forward. More importantly, here's to all registered apprentices and those who train them. It is impossible to deny the successful tradition of generations passing the knowledge and skills to the next.
Short URL: https://www.thestand.org/?p=117150
Posted by
David Groves
on May 19 2023. Filed under
LOCAL
. You can follow any responses to this entry through the
RSS 2.0
. Both comments and pings are currently closed.