Univ. of Washington strikers are holding the line for all of us
WSLC, union movement are rallying behind UW researchers as the state's largest public employer attempts to evade wage standards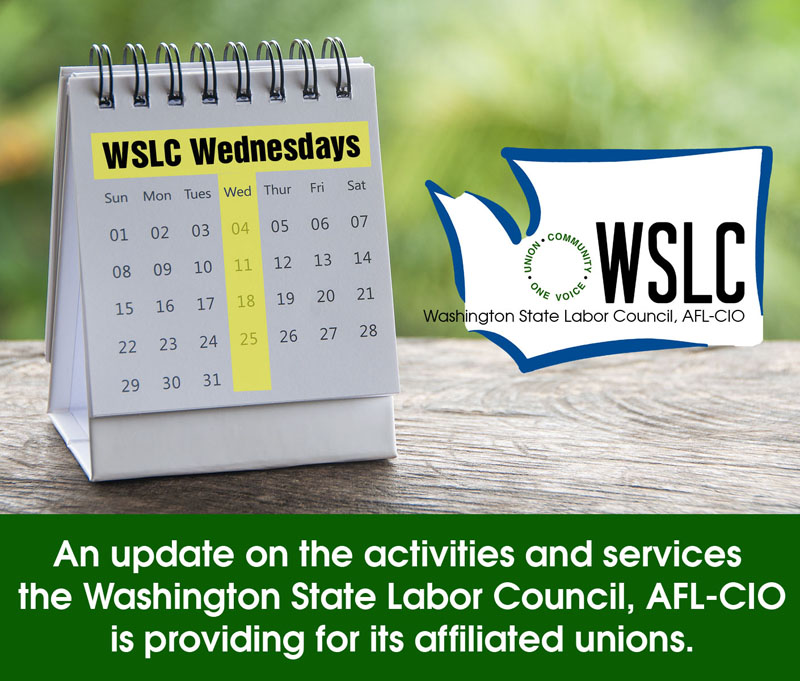 By SARAH TUCKER
---
(June 14, 2023) — On June 7, more than 2,400 Postdocs and Research Scientists/Engineers (RSEs) at the University of Washington walked out on strike. These workers, the lifeblood of research at the university, are demanding a fair contract with living wages, and without burdensome reporting requirements that are incompatible with the nature of their work.
As Postdocs and RSEs took to the picket line, the Washington State Labor Council, AFL-CIO and our state's broader labor family have been rallying with them and helping to get the word out about this strike, which has serious implications for all workers in Washington.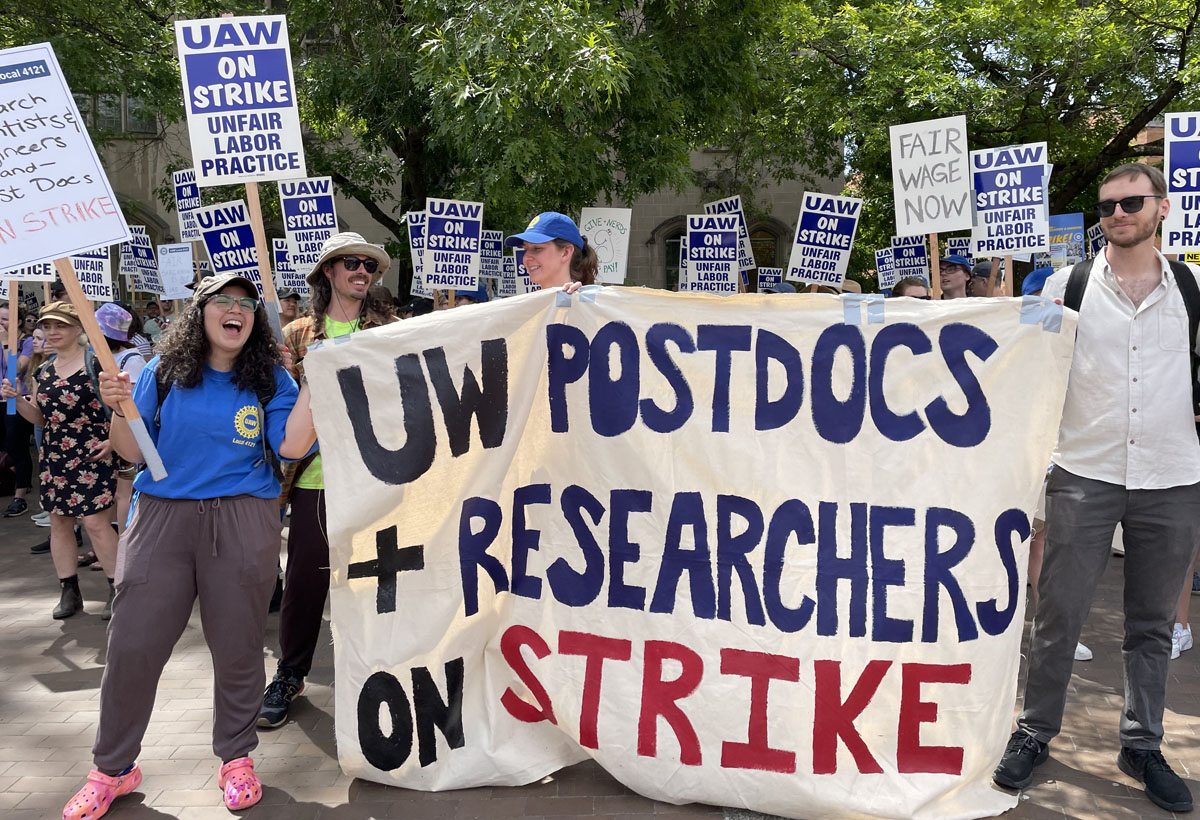 From a bird's eye view, this is a strike like many others – underpaid, overworked employees are demanding fair pay from a highly resourced, withholding boss. But while the general contours of the strike seem standard, what lies underneath is anything but.
At the crux of this strike is an essential question: can the largest public employer in Washington state refuse to pay workers the wage standards required by law?
That's the position UW administration has tried to push through at the table for months. You see, UW bosses want to be exempt from the living wage minimum for Washington state salaried employees, part of a law that working people not only voted for – but also put in the work to get on the ballot in the first place.
UW administrators even tried to persuade the state's Department of Labor and Industries to say these wage standards don't apply to Postdocs and RSEs. To their credit, L&I was not swayed. In the words of a striking UAW 4121 member: "Employers don't get to just evade the law because they think they're special. This hurts Postdocs, but it also hurts other workers in the state, too."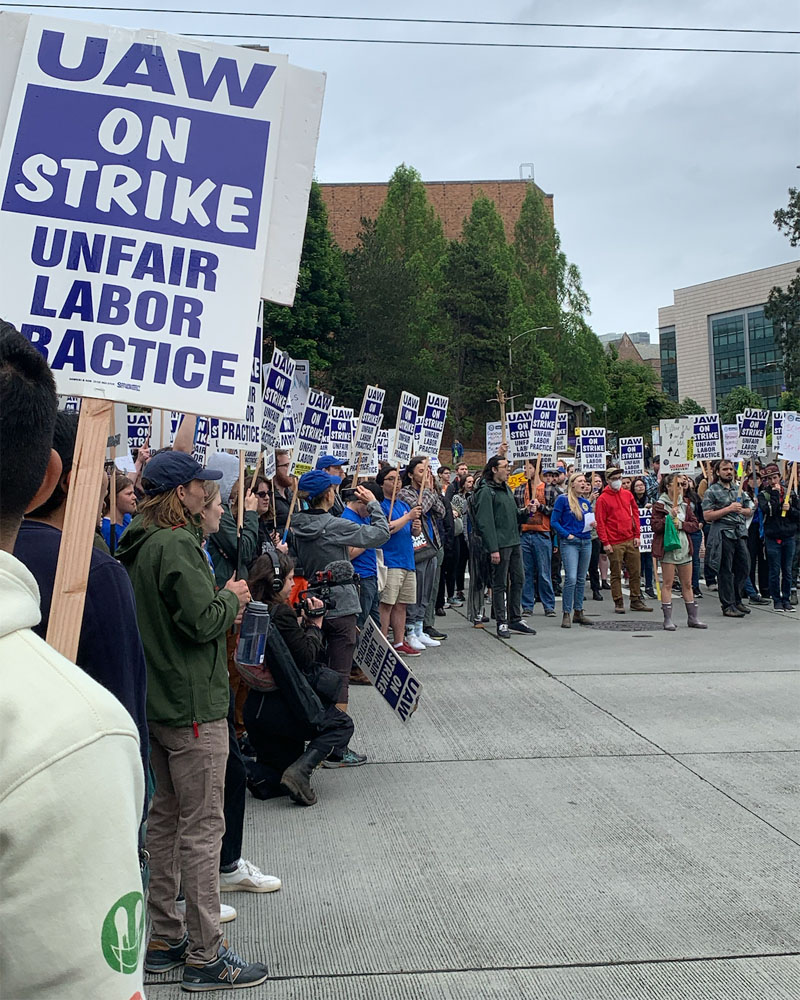 We have minimum wage standards for a reason; they form a floor for all wages, and a check on worker exploitation. That's why unions advocate for minimum wage laws, even though most of their members earn more than that. We know that without these standards, all workers are in a race to the bottom. What's more, the higher the floor, the higher the wages we can win at the bargaining table. And the more money in workers' pockets, the stronger local economies are.
This is what's at stake: do working people hold the line on wages, or do we let an employer, funded by our tax dollars, exploit and underpay workers?
Do we allow a race to the bottom? UAW 4121 members say "no." And the WSLC and our affiliates are using our networks to spread the word.
At UAW actions, striking workers are joined by their labor siblings across industries. Friday's action drew a massive crowd to the picket line at 15th & Stevens Way, with members of WFSE, OPEIU, Teamsters, SEIU, UNITE HERE and many more representing in their union colors amid a sea of UAW blue that took over the intersection.
Striking is never easy. It takes tremendous courage, discipline – and frankly, optimism. At the WSLC, our communicators and organizers are here to support our union siblings as they organize, strike, and win strong contracts.
Right now, UAW 4121 members on strike are holding the line for all of us. Join the fight here.
---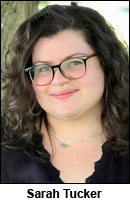 Sarah Tucker is Digital Organizer for the Washington State Labor Council, AFL-CIO. WSLC Wednesdays is a regular feature of The Stand where different departments of the Washington State Labor Council, AFL-CIO describe their recent activities and the services they are providing to WSLC-affiliated unions.
Short URL: https://www.thestand.org/?p=117647
Posted by
David Groves
on Jun 14 2023. Filed under
W.S.L.C.
. You can follow any responses to this entry through the
RSS 2.0
. Both comments and pings are currently closed.